Liebherr Crawler excavator R 900B Operation and maintenance manual – PDF DOWNLOAD
IMAGES PREVIEW OF THE MANUAL: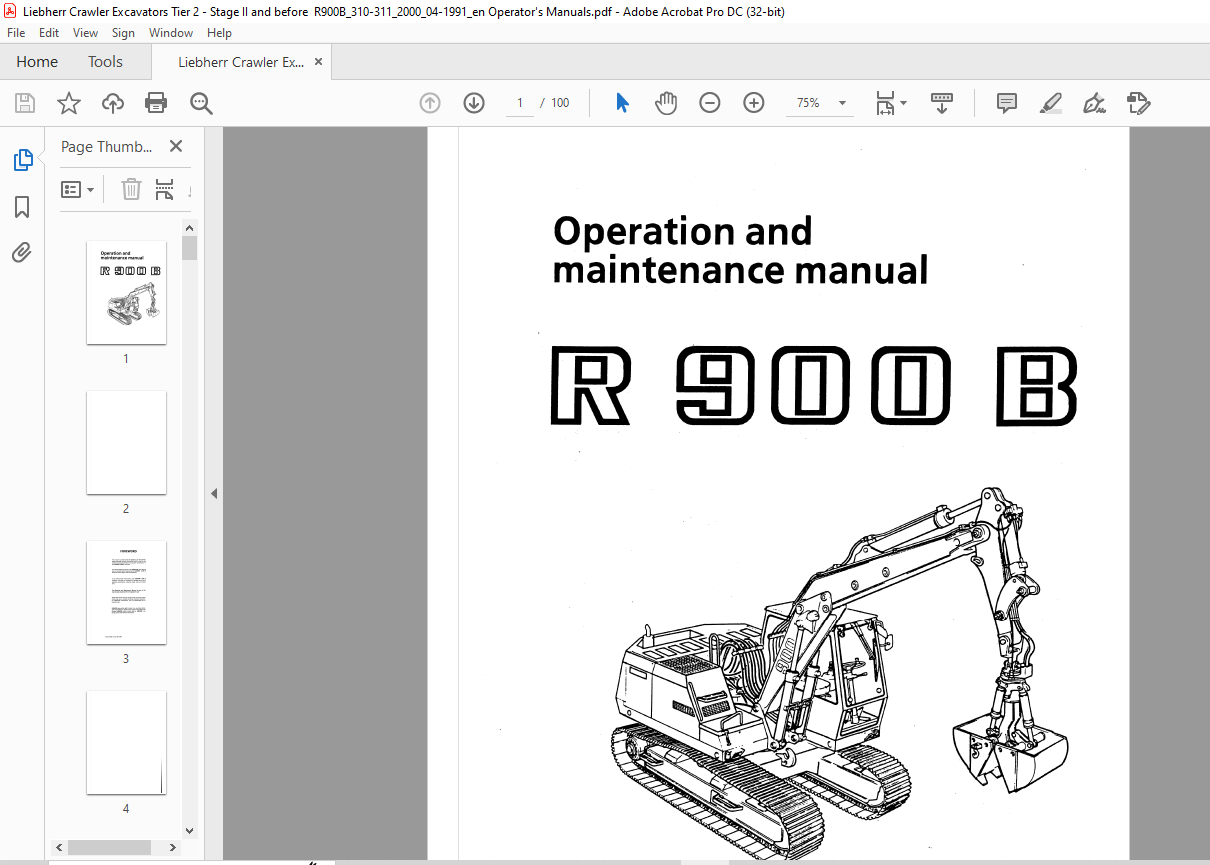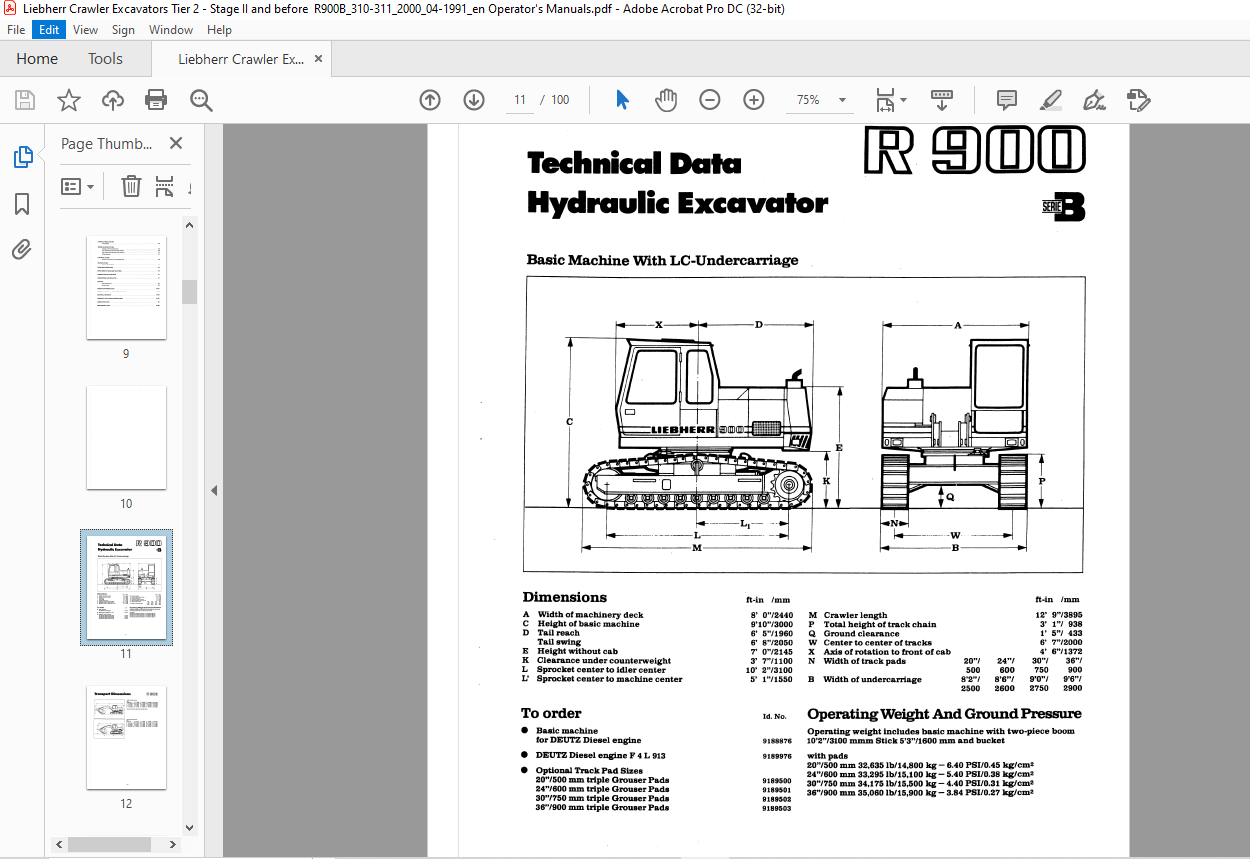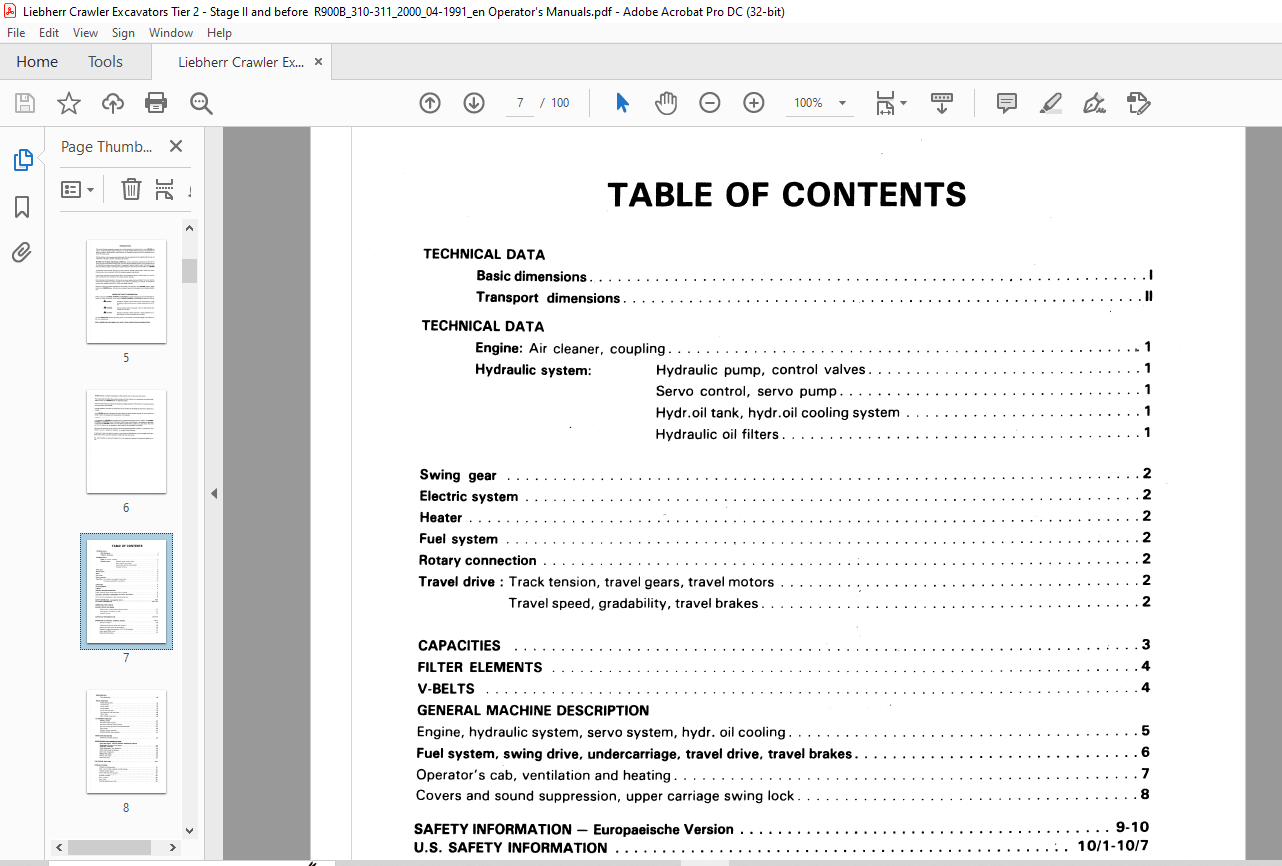 FILE DETAILS:
Liebherr Crawler excavator R 900B Operation and maintenance manual – PDF DOWNLOAD
Language : English
Pages : 100
Downloadable : Yes
File Type : PDF
Size: 15.0 MB
DESCRIPTION:
Liebherr Crawler excavator R 900B Operation and maintenance manual – PDF DOWNLOAD
FOREWORD
This manual is primarily for the operator and the maintenance crew and contains information that is vital for the correct and secure operation and proper maintenance of the LIEBHERR R 900 B excavator.
This manual should be given to the OPERATOR, who should read it carefully before operating the LIEBHERR R 900 B excavator and at regular intervals thereafter.
If you follow these instructions, your LIEBHERR R 900 B excavator will give you constant and reliable service with excellent performance, reducing repair costs and downtime.
The Operation and Maintenance Manual is part of the machine and should be left in the operator's cab.
Please take notice that we cannot honor any claims that could arise due to careless handling, improper operation, or inadequate maintenance, use of unauthorized oils or lubricants, etc.
LIEBHERR reserves the right to cancel any warranty claims, service contracts, etc. without prior notice if any other than Original LIEBHERR parts or parts sold by LIEBHERR are being used for maintenance and repairs.
INTRODUCTION
This manual has been prepared to acquaint you with the operation and maintenance of your LIEBHERR machine.
It contains important safety information, as well as valuable reference data such as capacities and tightening torques. Unless specific values are given, all threaded connections should be tightened according to the torque charts.
The descriptions in this manual are brief and precise. They are supported by photographs and drawings. All information is intended to simplify maintenance procedures.
WE URGE YOU TO READ THIS MANUAL CAREFULLY. Correct maintenance procedures will give the machine a long service life. Before starting a job, you must read the applicable section of the manual and know the maintenance procedure to be performed. It is essential to keep the machine, parts, tools, and your working area clean and orderly. Following the recommendations in this manual will help make your LIEBHERR equipment profitable, safe, and trouble-free.
To determine service intervals, use the hour meter. However, calendar intervals (daily, weekly, etc.) sometimes provide a more convenient method of scheduling required maintenance.
Under severe conditions such as extremely high or low temperatures, dusty or wet job sites, etc., more frequent maintenance than indicated by the schedule may be necessary.
Some drawings and photographs in this manual may show details that are different from your machine. Improvements in design may cause changes in your machine not reflected in this manual. All manuals are reviewed and updated periodically to include such design changes.
Should you have any questions regarding the information in this manual or your LIEBHERR machine, please contact your LIEBHERR dealer. They know your equipment best and are interested in your complete satisfaction.
TABLE OF CONTENTS:
Liebherr Crawler excavator R 900B Operation and maintenance manual – PDF DOWNLOAD
TECHNICAL DATA
Basic dimensions I
Transport dimensions 11
TECHNICAL DAT A
Engine: Air cleaner, coupling , 1
Hydraulic system: Hydraulic pump, control valves 1
Servo control, servo pump 1
Hydr oil tank, hydr oil cooling system 1
Hydraulic oil filters : 1
Swing gear 2
Electric system 2
Heater · 2
Fuel system 2
Rotary connection 2
Travel drive : Track tension, travel gears, travel motors _ 2
Travel speed, gradability, travel brakes 2
CAPACITIES 3
FIL TEA ELEMENTS 4
V-BELTS 4
GENERAL MACHINE DESCRIPTION
Engine, hydraulic system, servo system, hydr oil cooling 5
Fuel system, swing drive, undercarriage, travel drive, travel brakes 6
Operator's cab, ventilation and heating 7
Covers and sound suppression, upper carriage swing lock 8
SAFETY INFORMATION – Europaeische Version 9-10
U S SAFETY INFORMATION : 10/1-10/7
OPERATING THE R 900 B
BEFORE STARTING THE ENGINE
Engine oil level, cooling system, electrical system 11
V-belt tension, fuel system, air filter 11
Hydraulic oil level 12
CONTROLS & INSTRUMENTATION 1 3-14-15
DESCRIPTION OF CONTROLS, SYMBOLS, GAUGES 16-17
Starting the engine 16
Key positions 16
Energizing the electrical system (key position 1) 16
Starting the engine at O °C (32 °F) and above – • • _16
Starting the engine with preheat at -1 2 °C ( 1 0 °F) and above – 17
Engine speed (RPM) control 17
Engine shutoff procedure 17
OPERATORS SEAT
Seat adjustments 18
TRAVEL FUNCTIONS
Release parking brake , 19
Travel forward , : 19
Travel reverse 19
Counterrotation ' : 19
Turning with one track 19
Travel operation with hand levers 20
Travel brake 20
Upper carriage (swing lock) 20
ATTACHMENT OPERATION
Working position 22
Pilot (servo) valve functions : ~2
Pilot (servo) valve left (swing and stick) : , 22
Pilot (servo) valve right (boom and bucket/clamshell) 23
Swing brake – – ·, ;· 24
Hydraulic hammer· operation : · 25
Grapple/ciamshell rotator operation ; , : 2~
VENTILATION AND HEATING
Ventilation and heater operation • ; : _ 26
MAINTENANCE RECOMMENDATIONS
Deutz diesel engine – see Deutz Operation & Maintenance Manual_
Swing brake, bleeding the brake system 27
Swing gear travel gear · – 27
Track components: Track adjustment • 28
Check grouser pads for tightness 28
Clean track components 29
Repiace track chains· 29
Remove track chain 29
Install track chain 30
FUEL SYSTEM / FUEL TANK 30a
HYDRAULIC SYSTEM
Hydraulic oil cooling system 31
Tank – return oil filter, magnetic rod, filter change , • 31
Hydraulic system repairs , • 32
Suction hose from tank to pump 32
Bleeding the hydraulic pump · • 33
Hydraulic cylinders • 33
Servo system : 33
Servo filter · 33
Cleaning/replacing servo filter 33
HYDRAULIK BRAKE SYSTEM
Swing brake 34
ENGINE AIR INTAKE SYSTEM
Engine air filter maintenance 35
Dry cleaning the primary filter element 36
Wet cleaning the primary filter element 37
Safety element 37
ELECTRICAL SYSTEM
Battery maintenance, fuse replacement 38
HEATING SYSTEM
System maintenance 39
SWING RING LUBRICATION 40
REPLACEMENT OF WEAR AND TEAR ITEMS 40
PRESERVATION OF PISTON RODS 41
TRANSPORTING THE EXCAVATOR 41
FUSEBOX
Instrument panel 42
Junction box 43
OVERLOAD WARNING DEVICE 45-47
REMOVAL AND INSTALLATION OF ATTACHMENTS 48-56
ELECTRICAL SCHEMATIC 57-59
LUBRICANTS, FUEL AND OIL SPEOFICATIONS 61-65
LUBRICATION CHART 66
MAINTENANCE CHART 67-68
VIDEO PREVIEW OF THE MANUAL:
PLEASE NOTE:
This is the SAME exact manual used by your dealers to fix your vehicle.
The same can be yours in the next 2-3 mins as you will be directed to the download page immediately after paying for the manual.
Any queries / doubts regarding your purchase, please feel free to contact [email protected]
S.M