Lamborghini Diablo Vt 1993-1998 Workshop Service Manual
IMAGES PREVIEW OF THE MANUAL: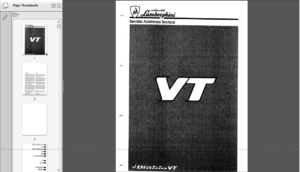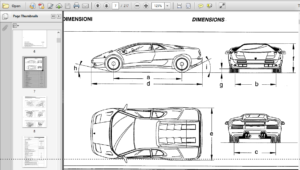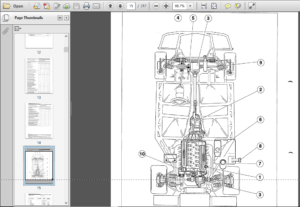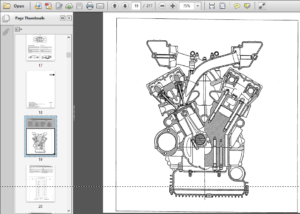 VIDEO PREVIEW OF THE MANUAL:
DESCRIPTION:
Proper service and repair are essential to the safety of the servicing technician and the safe reliable operation of a vehicle. If the replacement of a part is necessary, the part must be replaced with an equivalent pan'. Do not use a replacement part of lesser quality. The information contained in this manual has been prepared for the professional automotive technician in what in daily repair operations.
Accordingly, anyone who is unfamiliar with proper servicing procedures or who intends to use a replacement part, service procedure or special tool not recommended by Lamborghini , USA, Inc, must ensure that neither personnel nor vehicle safety will be jeopardized by the replacement part, procedure or tool selected.
TABLE OF CONTENTS:
GENERAL AND MAINTENANCE SCHEDULE
ENGINE
ELECTRONIC INJECTION-IGNITION SYSTEM LIE
CLUTCH
GEARBOX
REAR AND FRONT DIFFERENTIALS
BRAKES
SUSPENSIONS
AIR CONDITIONING SYSTEM
ELECTRICAL SYSTEM
SPECIAL TOOLS
PLEASE NOTE:
This is the SAME manual used by the dealers to troubleshoot any faults in your vehicle. This can be yours in 2 minutes after the payment is made.
Contact us at heydownloadss @gmail.com should you have any queries before your purchase or that you need any other service / repair / parts operators manual.