2004 Jeep Wrangler Tj Service Manual 4 Diagnostic Manuals
DESCRIPTION:
The information contained in this service manual has been prepared for the professional automotive tech- nlcianl involved in daily repair operations. Information describing the operation and use of standard and optional equipment is included in the Owner's Manual provided with the vehicle. Information in this manual is divided into groups.
These groups contain description. operation. diagnosis. testing. adjustments, removal. installation. disassembly.assembly procedures for the systems and compo- nents. To assist in locating a group title page. use the Group Tab Locator on the following page. The solid bar after the group title is aligned to a solid tab on the first page of each group. The first page of the group has a contents section that lists major topics within the group.
SCREENSHOT OF THE MANUAL: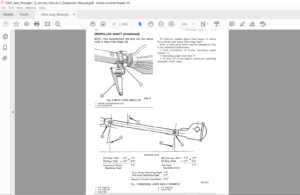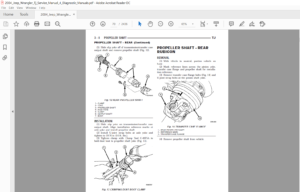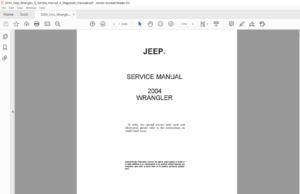 TABLE OF CONTENTS:
Introduction
0 Lubrication & Maintenance
2 Suspension
3 Differential & Driveline
5 Brakes
6 Clutch
7 Cooling
8A Audio/Video
8B Chime/Buzzer
8E Electronic Control Modules
8F Engine Systems
8G Heated Systems
8H Horn
8I Ignition Control
8J Instrument Cluster
8L Lamps
8N Power System
😯 Restraints
8P Speed Control
8Q Vehicle Theft Security
8R Wipers/Washers
8W Wiring
9 Engine
11 Exhaust System
13 Frame & Bumpers
14 Fuel System
19 Steering
21 Transmission and Transfer Case
22 Tires/Wheels
23 Body
24 Heating & Air Conditioning
25 Emissions Control
Component and System Index
VIDEO PREVIEW: