Liebherr R934b Litronic Hydraulic Excavator Operation Maintenance Manual
FILE DETAILS:
LANGUAGE:ENGLISH
PAGES:350+
DOWNLOADABLE:YES
FILE TYPE:PDF
VIDEO PREVIEW OF THE MANUAL:
IMAGES PREVIEW OF THE MANUAL: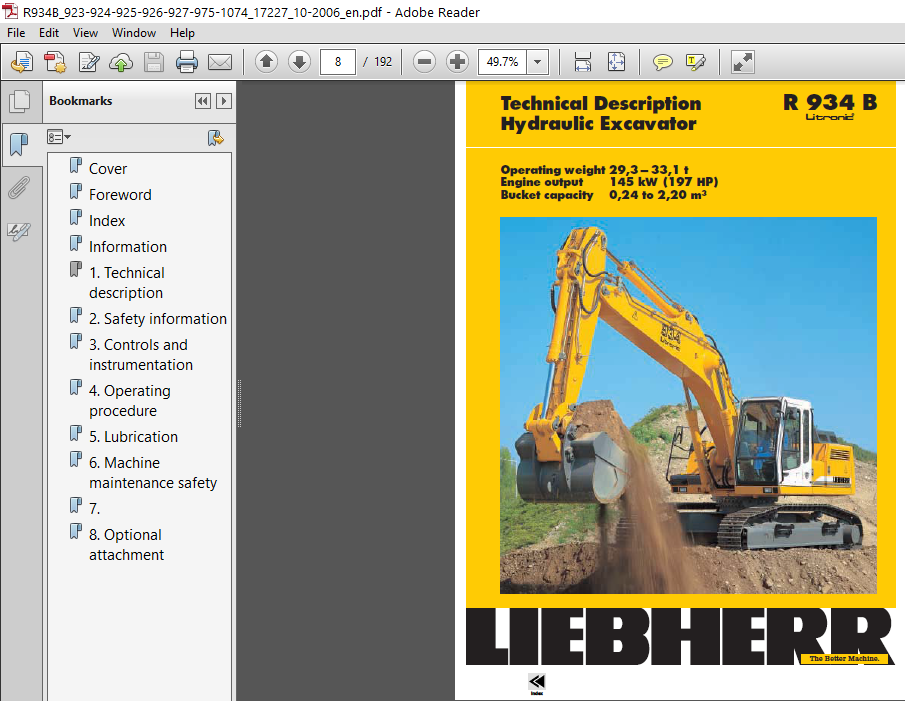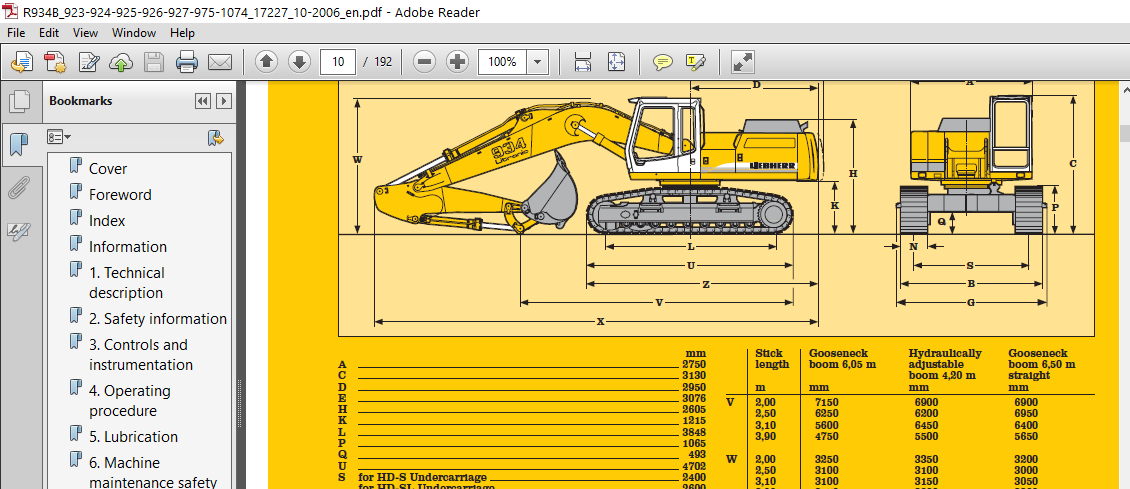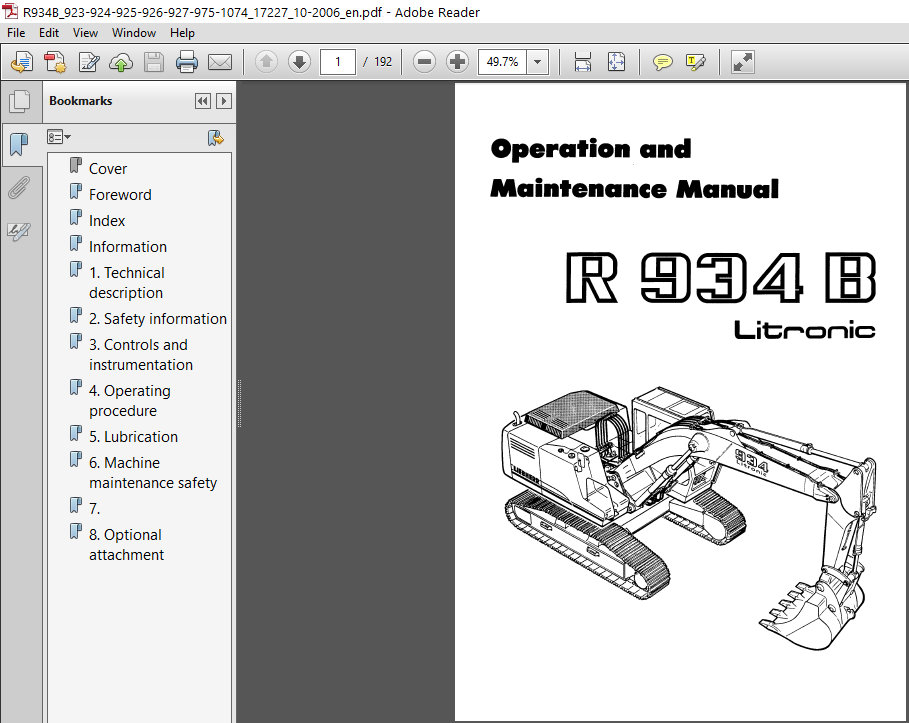 DESCRIPTION:
Liebherr R934b Litronic Hydraulic Excavator Operation Maintenance Manual
This manual is primarily for the operator and the maintenance crew and contains information which is vital to the correct and secure operation and proper maintenance of the LIEBHERR excavator. It inCludes: – Accident Prevention Guidelines – Operating instructions – Maintenance Instructions. This Operation and Maintenance manual should be given to the OPERATOR and any other person, who might work on the machine.
It is very important that should read the manual carefully before operating or working on the LIEBHERR excavator and at regular intervals thereafter, for example: – Operation, including installing and removing the attachments, trouble shooting during operation, removing production residue, care, disposing of operating and auxiliary fluids, – Maintenance work (maintenance, inspection, repair), — Transportation.
The manual will make it easier for the operator to get accustomed to the hydraulic excavator and to prevent any problems due to improper handling. All maintenance personnel should follow the operating and maintenance instructions and your LIEBHERR excavator will give you constant and reliable service with excellent performance, reducing repair costs and down time.
In addition to the operating and maintenance guidelines is this manual, additional local and national accident prevention guidelines and environmental regulations might be applicable and must be observed.
The Operation and Maintenance Manual is part of the machine and should be left in the glove compartment of the operator's cab. Please take notice that we cannot honor any claims which could arise due to careless handling, improper operation, inadequate maintenance, use of unauthorized oils or lubricants. non-observance of the safety instructions, etc.
LIEBHERR reserves the right to cancel any warranty claims. service contracts etc. without prior notice if any otherthan Original LIEBHERR parts or parts sold by LIEBHERR are being used for maintenance and repairs. This Operation and Maintenance manual contains all necessary Information to operate and maintain your Litronic track type excavator. However, should you need additional information or explanations, please contact LIEBHERR's Technical Documentation, Service school or Customer Service Department.
TABLE OF CONTENTS:
Liebherr R934b Litronic Hydraulic Excavator Operation Maintenance Manual
Cover
Foreword
Index
Information
 Technical description
 Safety information
 Controls and instrumentation
 Operating procedure
 Lubrication
 Machine maintenance safety
 Optional attachment
PLEASE NOTE:
This is the SAME MANUAL used by the dealerships to diagnose your vehicle
No waiting for couriers / posts as this is a PDF manual and you can download it within 2 minutes time once you make the payment.
Your payment is all safe and the delivery of the manual is INSTANT – You will be taken to the DOWNLOAD PAGE.
So have no hesitations whatsoever and write to us about any queries you may have : heydownloadss @gmail.com