Liebherr L512 L514 Stereo Wheel Loader Shop Manual
FILE DETAILS:
LANGUAGE:ENGLISH
PAGES:467
DOWNLOADABLE:YES
FILE TYPE:PDF
VIDEO PREVIEW OF THE MANUAL:
IMAGES PREVIEW OF THE MANUAL: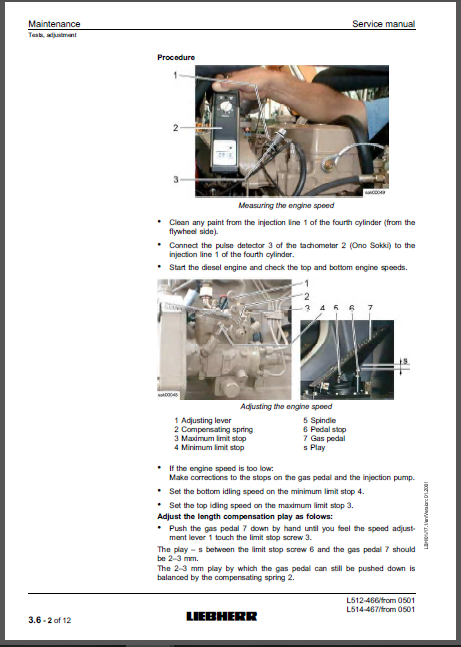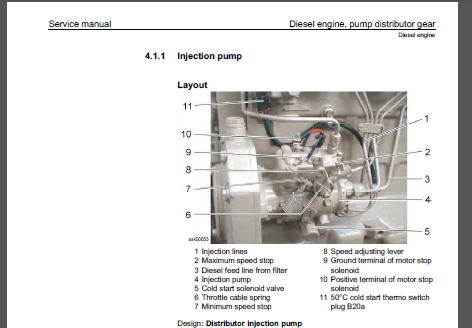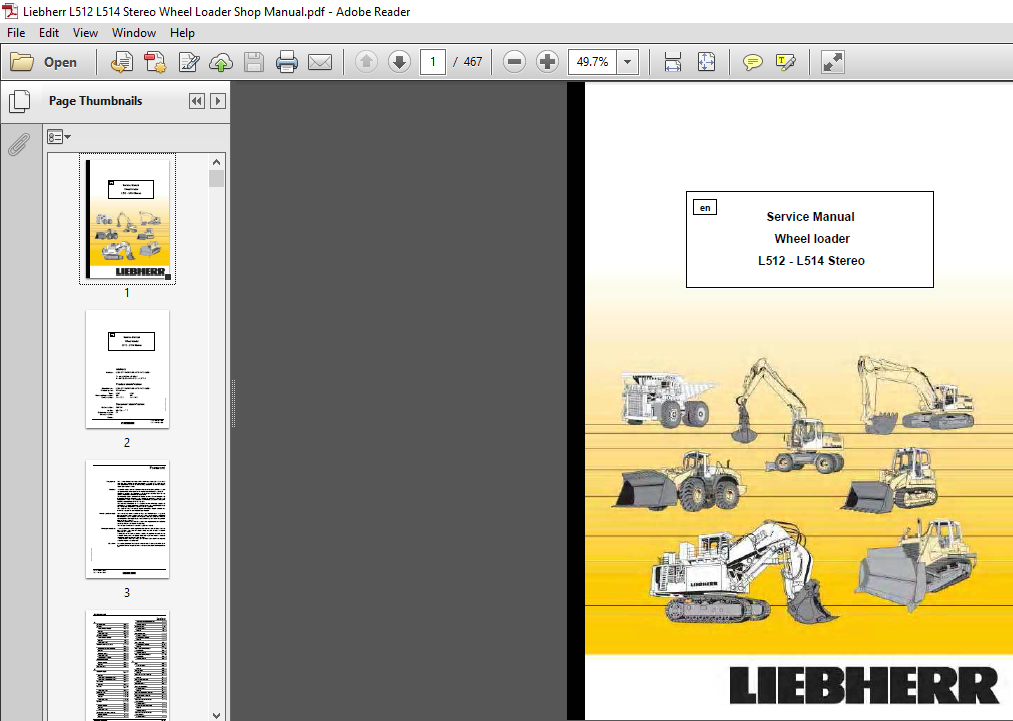 DESCRIPTION:
Liebherr L512 L514 Stereo Wheel Loader Shop Manual
Product identification
Manufacturer: LlEBHERR-WERK BISCHOFSHOFEN GMBH
Product group: Wheel loader
Type: L512 L514
Construction number: 466 467
Serial number: from 0501 from 0501
FOREWORD:
Target group :This Service Manual has been written for those whose job it is to make sure that the machines remain operational on a daily basis. This specificaliy includes the mechanics and workshop specialists at Liebherr dealers and Liebherr branch offices.
Contents :
In the first chapter you will find information about safety regulations as well as specifications of the special tools needed for maintenance and repair. Chapter 2 provides an overview of all important techniml data for the entire machine and the individual assemblies.
The following chapter, entitled Maintenance, contains the maintenance and inspection schedule, inspection and setting logs, lubrication schedules and filling quantity tables, a description of maintenance procedures and specifications for prescribed lubricants and fuels.
The technical description of the machine in the following chapters is divided into 15 functional groups. The design, function, and technical data for each group, components and parts will be explained.
This manual does not contain repair instructions. Repair manuals for individual components are available upon request.
How to use this manual :
This manual describes a variety of types and finished forms. In general.this information applies to the types and serial number groups specified in the footnotes. One exception is that specific type and serial number data are indicated at the beginning of each section (0.9. the technical specifica- tions of the components).
Whenever possible, parts and components are supplemented by indication of the identification number in the heading. This manual is available in German, English and French.
Working instructions :
It is imperative that safety regulations be observed with all tasks done on the machine. You will find information on this in the "General Information" chapter.
A complete set of tools in perfect condition is required for work on the machine, along with any special tools that might be needed. Absolute cleanliness must be observed with all tasks!
Sealing material such as Ohngs and surface seals should be replaced whenever repairs are carried out.
TABLE OF CONTENTS:
Liebherr L512 L514 Stereo Wheel Loader Shop Manual
General information
Product description
Maintenance
Diesel engine, pump distributor gear
Cooling system
Travel hydraulics
Working hydraulics
Steering system
Brake system
Electrical system
Transfer gear
Axles, tyres
Vehicle frame, ballast weight
Central lubrication system
Covering, cab access
Cab, heating, air-conditioning system
Lift arm, quick-change device
Attachments, accessories
PLEASE NOTE:
This is not a physical manual but a digital manual – meaning no physical copy will be couriered to you. The manual can be yours in the next 2 mins as once you make the payment, you will be directed to the download page IMMEDIATELY.
This is the same manual used by the dealers inorder to diagnose your vehicle of its faults.
Require some other service manual or have any queries: please WRITE to us at [email protected]