Hagie Hi-Tractor DTS 8 Operator's Manual 493377 – PDF DOWNLOAD
FILE DETAILS:
Hagie Hi-Tractor DTS 8 Operator's Manual 493377 – PDF DOWNLOAD
Language : English
Pages : 256
Downloadable : Yes
File Type : PDF
Size: 37.3 MB
DESCRIPTION:
Hagie Hi-Tractor DTS 8 Operator's Manual 493377 – PDF DOWNLOAD
SERIAL NUMBERS: U1210770001 thru U1210770100
SAFETY PRECAUTIONS:
Most accidents occur as the result of failure to follow simple and fundamental safety rules. For this reason, most accidents can be prevented by recognizing the real cause and doing something about it before the accident occurs.
Many conditions cannot be completely safeguarded against without interfering with efficient operation and/or reasonable accessibility.
Therefore, you must study this Operator's Manual and learn how to use the sprayer controls for safe operation. Likewise, do not let anyone operate without instruction.
TREAD WIDTH
• Select widest tread setting to fit between crop rows.
• Never manually adjust the tread width on sprayer until wheels have been properly
blocked. Loosen leg clamp bolts only enough for leg to slide on frame.
• If equipped with hydraulic tread adjust, never loosen leg mounting bolts to adjust
bearing clearance. Add additional shims only to gain clearance.
• Only adjust in or out while moving.
SPRAYER BOOMS
• Cradle booms when leaving sprayer unattended.
• Make sure booms are folded when cradled.
• Select a safe area before unfolding booms. Avoid power lines and overhead
structures.
GENERAL OPERATION SAFETY
• Do not adjust factory engine RPM settings.
• Operate engine at one bump up or 1800 RPMs' to assure proper charge pressure
for brakes to work properly .
• Start engine from the operator's seat only. Do not by-pass safety-start switch.
• Starting fluid is not recommended for use.
• Never run sprayer engine in a closed building. Proper exhaust ventilation is required.
• If equipped with ground speed sensing radar, do not look directly into radar beam. It
emits a very low intensity microwave signal which may cause possible eye damage.
TABLE OF CONTENTS:
Hagie Hi-Tractor DTS 8 Operator's Manual 493377 – PDF DOWNLOAD
I SAFETY/DECALS 4-13
II SPRAYER IDENTIFICATION 14-15
III SPECIFICATIONS 16-21
IV PREPARING TO OPERATE 22-26
V OPERATING INFORMATION 27-66
VI CALIBRATION 67-68
VII TRANSPORTING 69-70
VIII SERVICE AND MAINTENANCE 71-101
IX STORAGE 102-103
X TROUBLE SHOOTING 104-112
XI LIMITED WARRANTY 113
INDEX 114-116
240 ELECTRICAL 1-3
250 DRIVETRAIN 1-77
280 SOLUTION SYSTEM 1-55
VIDEO PREVIEW OF THE MANUAL:
IMAGES PREVIEW OF THE MANUAL: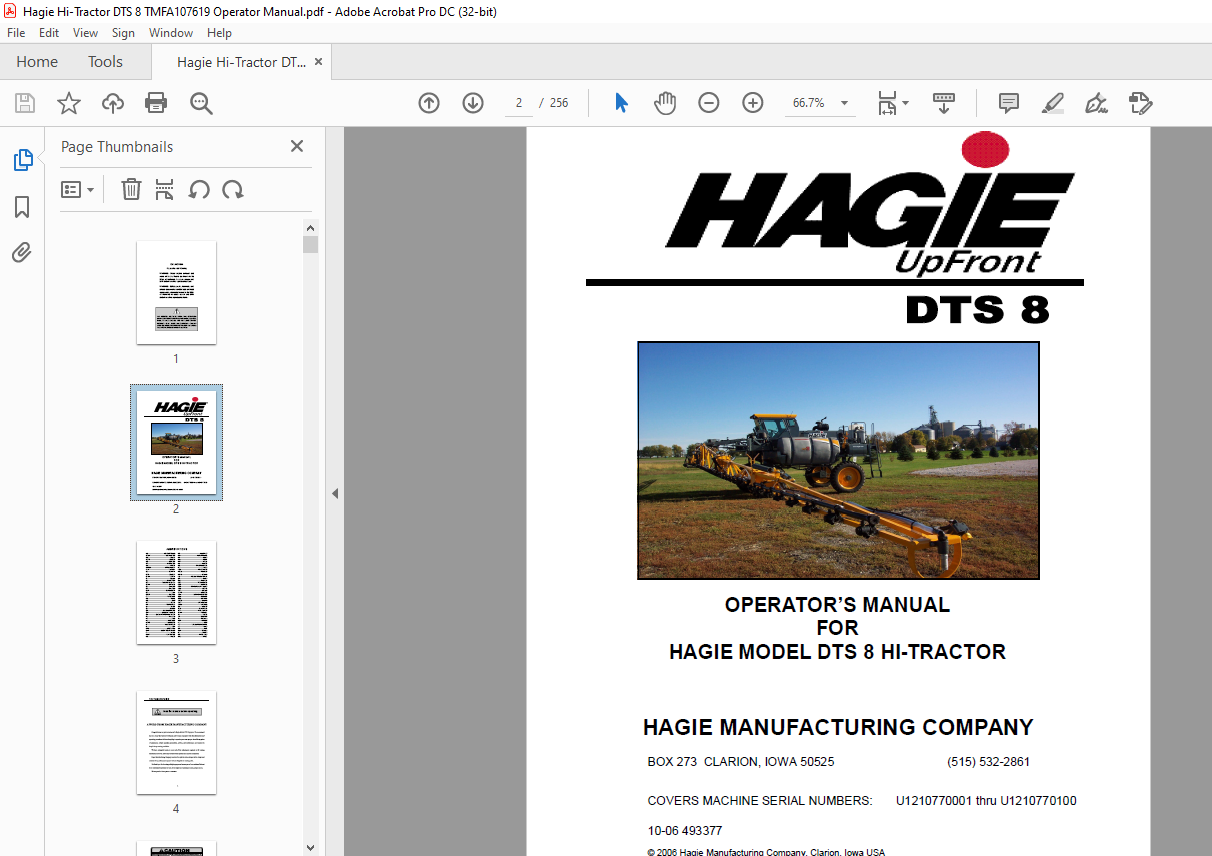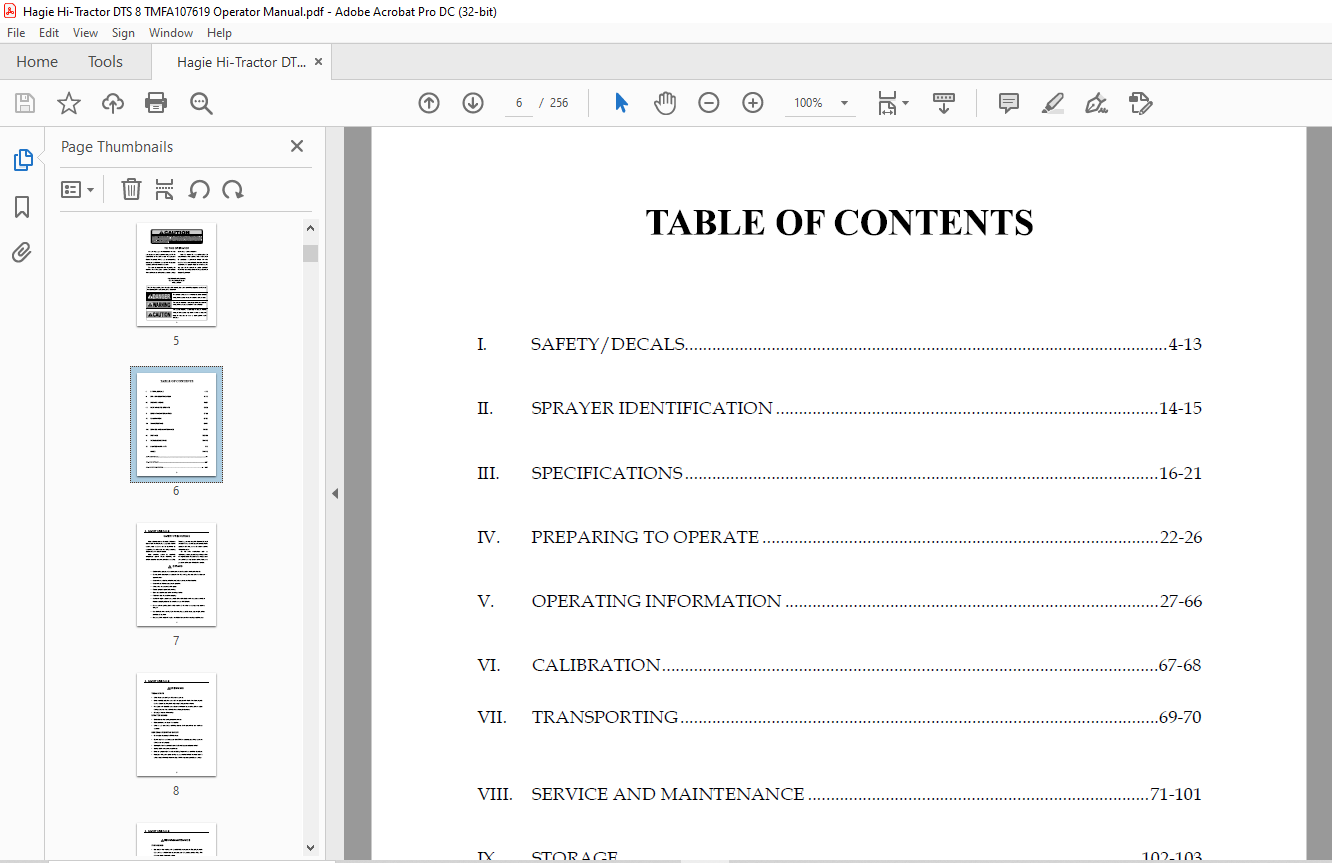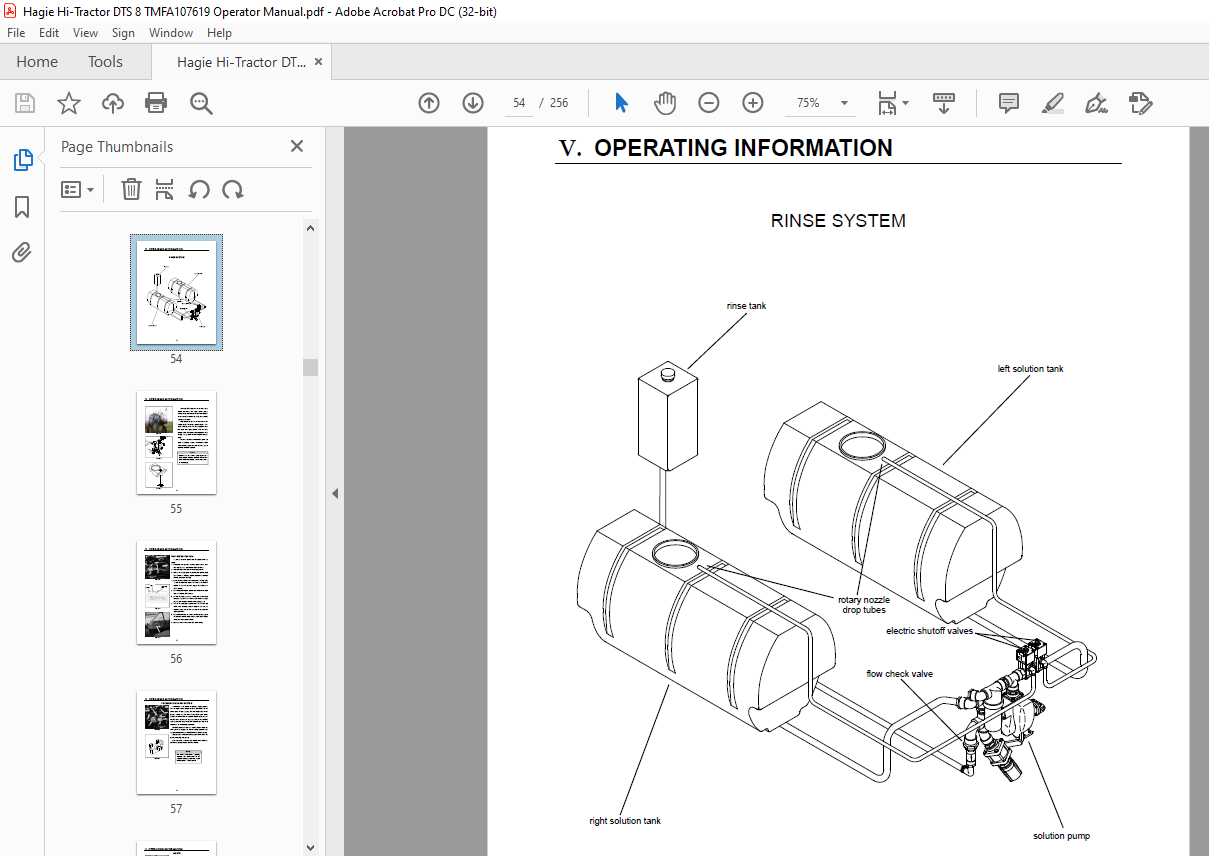 PLEASE NOTE:
This is the same manual used by the DEALERSHIPS to SERVICE your vehicle.
The manual can be all yours – Once payment is complete, you will be taken to the download page from where you can download the manual. All in 2-5 minutes time!!
Need any other service / repair / parts manual, please feel free to contact us at heydownloadss @gmail.com . We may surprise you with a nice offer
S.V