Hagie Hi-Tractor DTS 10 Operator's Manual 493493 – PDF DOWNLOAD
FILE DETAILS:
Hagie Hi-Tractor DTS 10 Operator's Manual 493493 – PDF DOWNLOAD
Language : English
Pages : 438
Downloadable : Yes
File Type : PDF
Size: 53.5 MB
DESCRIPTION:
Hagie Hi-Tractor DTS 10 Operator's Manual 493493 – PDF DOWNLOAD
SERIAL NUMBERS: U1411011001 thru U1411011200
SAFETY PRECAUTIONS:
Most accidents occur as the result of failure to follow simple and fundamental safety rules. For this reason, most accidents can be prevented by recognizing the real cause and doing something about it before the accident occurs.
Many conditions cannot be completely safeguarded against without interfering with efficient operation and/or reasonable accessibility.
Therefore, you must study this Operator's Manual and learn how to use the sprayer controls for safe operation. Likewise, do not let anyone operate without instruction.
Keep Riders off Machine:
Do not permit passengers to ride on the machine or in the cab. Passengers should only be allowed for instructional or diagnostic purposes. The passenger should be seated on the buddy seat next to the operator and should never be allowed to ride outside of the cab.
Remove Paint before Welding or Heating:
Avoid potentially toxic fumes and dust. Hazardous fumes can be generated when paint is heated by welding, soldering, or using a torch.
Do not use chlorinated solvents in areas where welding will take place.
Perform all work in an area that is well ventilated to carry toxic fumes and dust away.
Dispose of paint and solvents properly.
Avoid Heating near Pressurized Lines:
Avoid torching, welding, and soldering near pressurized hydraulic lines. Pressurized lines may accidentally burst when heat goes beyond the immediate flame area.
Handle Fuel Safely – Avoid Fires:
Always turn the engine off and allow it to cool before refueling.
NEVER smoke while refueling.
Do not fill the tank completely as fuel may expand and overflow.
Always clean up spilled fuel with soapy water.
Keep a fire extinguisher close when refueling.
Operate Safely:
Before moving the sprayer, ensure there are no obstacles or persons in the path of travel.
Never operate a machine in the same field as walking personnel.
Always drive at a reasonable field speed.
Do not operate the sprayer on a roadway with any solution in the tank. Additional weight from partially full or full solution tanks may cause erratic or increased stopping distance.
Do not operate the sprayer at transport speeds with a full tank. The wheel motors and planetary gear hubs are not rated to withstand high speeds under full loads and may overheat or blow out.
Ensure the SMV (Slow Moving Vehicle) and SIS (Spray Information System) emblem is in place and visible from the rear when traveling on public roadways.
Pull over to the side of the road before stopping.
Always come to a complete stop before reversing directions.
Keep a fire extinguisher close at all times.
Keep all shields in place.
Stay clear of all moving parts and keep others away when operating.
Avoid wearing loose-fitting clothing that may be blown or drawn into moving parts.
Do not activate the parking brake while the machine is in motion.
Stop slowly to avoid "nose diving".
Reduce speed for icy, wet, graveled, or soft roadway surfaces.
Use flashers/hazard warning lights, day or night, unless prohibited by law.
Keep away from overhead power lines. Serious injury or death may result if the machine contacts electrical wires.
Never fold/unfold the boom extension when the main boom is in the cradle.
Never operate the sprayer with one boom out of the cradle and the other boom in the cradle.
Do not adjust factory engine RPM settings.
Operate the engine at two pumps to assure proper charge pressure for brakes to work properly.
Never use starting fluid to assist engine start-up.
If equipped with ground speed sensing radar or light-sensing depth units, do not look directly into the radar beam. It emits a very low-intensity microwave signal which may cause possible eye damage.
TABLE OF CONTENTS:
Hagie Hi-Tractor DTS 10 Operator's Manual 493493 – PDF DOWNLOAD
I SAFETY/DECALS 4-16
II SPRAYER IDENTIFICATION 17-18
III SPECIFICATIONS 19-24
IV PREPARING TO OPERATE 25-30
V OPERATING INFORMATION 31-74
VI CALIBRATION 75-76
VII TRANSPORTING 77-79
VIII SERVICE AND MAINTENANCE 80-112
IX STORAGE 113-114
X TROUBLE SHOOTING 115-122
XI LIMITED WARRANTY 123
INDEX 124
TECHNICAL INFORMATION
240-ELECTRICAL 1-3
250-DRIVETRAIN 1-213
270-HYDRAULICS 1-37
280-SOLUTION SYSTEM 1-54
VIDEO PREVIEW OF THE MANUAL:
IMAGES PREVIEW OF THE MANUAL: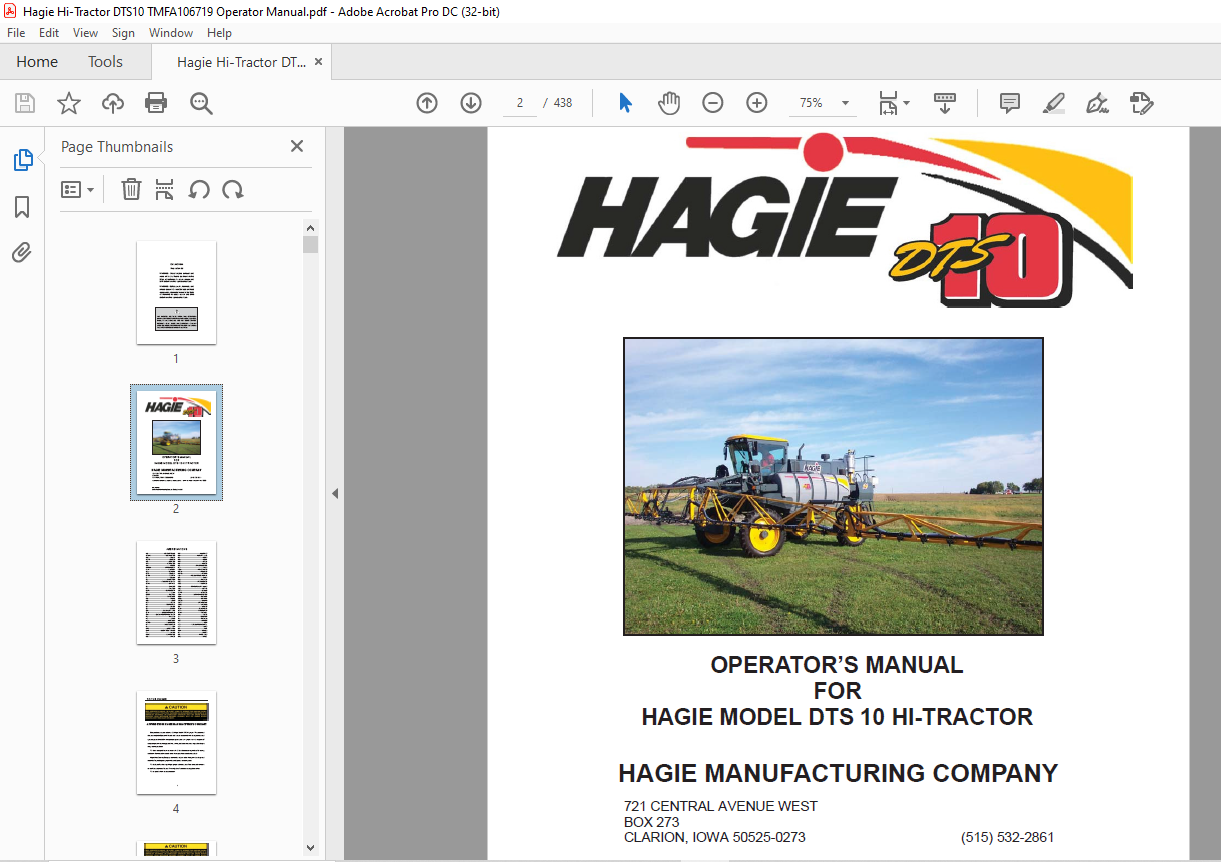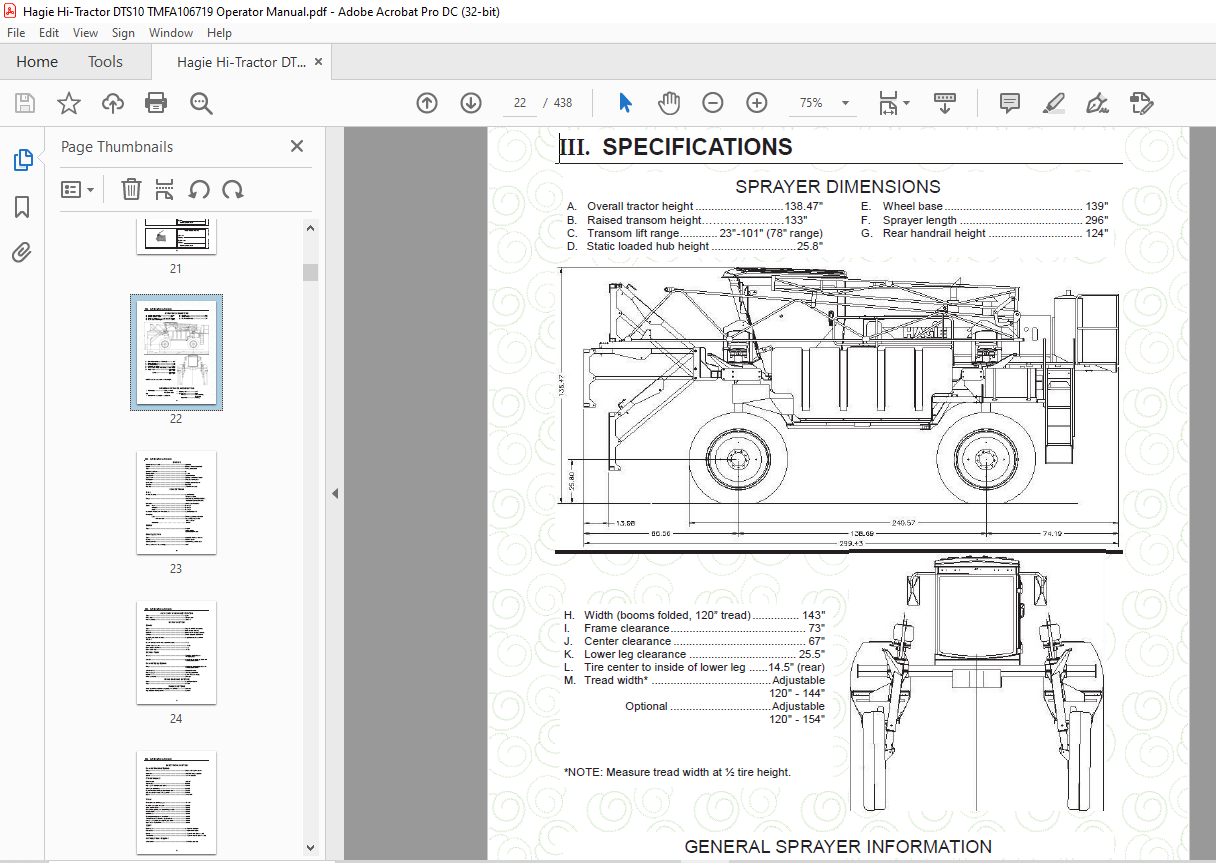 PLEASE NOTE:
This is not a physical manual but a digital manual – meaning no physical copy will be couriered to you. The manual can be yours in the next 2 mins as once you make the payment, you will be directed to the download page IMMEDIATELY.
This is the same manual used by the dealers inorder to diagnose your vehicle of its faults.
Require some other service manual or have any queries: please WRITE to us at [email protected]
S.V