Hagie Hi-Tractor 204SP DETASSELER Operator's Manual 493403 – PDF DOWNLOAD
FILE DETAILS:
Hagie Hi-Tractor 204SP DETASSELER Operator's Manual 493403 – PDF DOWNLOAD
Language : English
Pages : 362
Downloadable : Yes
File Type : PDF
Size: 53.2 MB
DESCRIPTION:
Hagie Hi-Tractor 204SP DETASSELER Operator's Manual 493403 – PDF DOWNLOAD
SERIAL NUMBERS: U1010880001 thru U1010880100
TO THE OPERATOR:
The following pages and illustrations will help you operate and service your new detasseler. It is the responsibility of the user to read the Operator's Manual and comply with the safe correct operating procedures and lubricate and maintain the product according to the maintenance schedule.
The user is responsible for inspecting the machine and having parts repaired or replaced when continued use of the product causes damage or excessive wear to other parts.
Keep this manual in a convenient place for easy reference when problems arise. This manual is considered a permanent fixture with this machine. In the event of resale, this manual should accompany the detasseler.
SAFETY PRECAUTIONS:
Most accidents occur as the result of failure to follow simple and fundamental safety rules. For this reason, most accidents can be prevented by recognizing the real cause and doing something about it before the accident occurs.
Many conditions cannot be completely safeguarded against without interfering with efficient operation and/or reasonable accessibility.
Therefore, you must study this Operator's Manual and learn how to use the sprayer controls for safe operation. Likewise, do not let anyone operate without instruction.
Tread Width:
Select the widest tread setting that fits between the crop rows.
Never manually adjust the tread width on the detasseler until the wheels have been properly blocked. Only loosen the leg clamp bolts enough for the leg to slide on the frame.
Outriggers:
Ensure the outriggers are locked down either when folded in or folded out.
General Operation Safety:
Do not adjust the factory engine RPM settings.
Start the engine from the operator's seat only. Do not bypass the safety-start switch.
Handle starting fluid with care. Keep it away from open flame and store it with the cap on in a cool place.
Never run the detasseler engine in a closed building. Proper exhaust ventilation is required.
If equipped with light-sensing depth units, do not look directly into the light beam. It emits a very low-intensity microwave signal which may cause possible eye damage.
Keep all shields in place.
Stay clear of all moving parts and keep others away when operating.
Avoid wearing loose-fitting clothing that may be blown or drawn into moving parts.
Never allow walking personnel in the same field as a detasseler.
Keep a fire extinguisher close at all times.
TABLE OF CONTENTS:
Hagie Hi-Tractor 204SP DETASSELER Operator's Manual 493403 – PDF DOWNLOAD
I SAFETY/ DECALS 4-12
II DETASSELER IDENTIFICATION 13-14
III SPECIFICATIONS 15-21
IV PREPARING TO OPERATE 22-33
V OPERATING INFORMATION 34-72
VI TRANSPORTING 73-77
VII SERVICE AND MAINTENANCE 78-106
VIII STORAGE 107-108
IX TROUBLE SHOOTING 109-125
X LIMITED WARRANTY 126
INDEX 127
TECHNICAL INFORMATION
240-ELECTRICAL 1-3
250-DRIVETRAIN 1-219
270-HYDRAULICS 1-9
VIDEO PREVIEW OF THE MANUAL:
IMAGES PREVIEW OF THE MANUAL: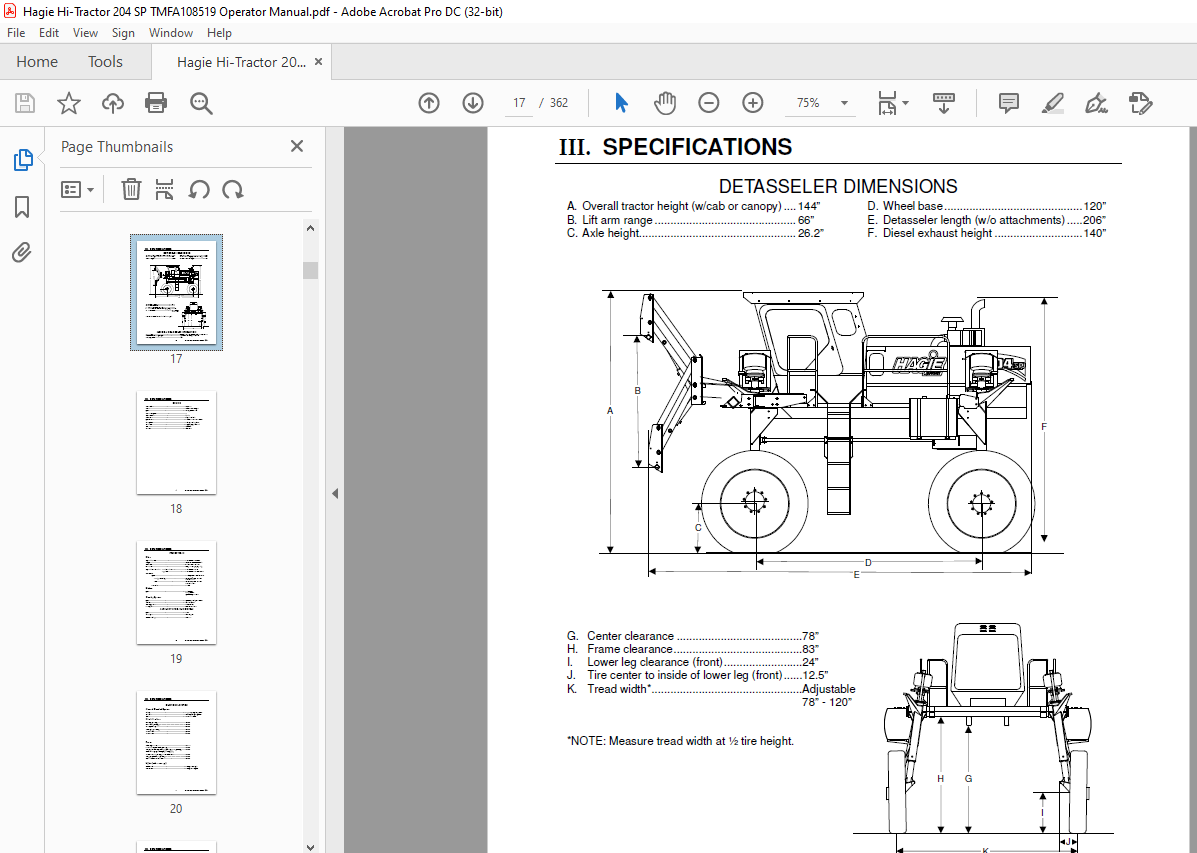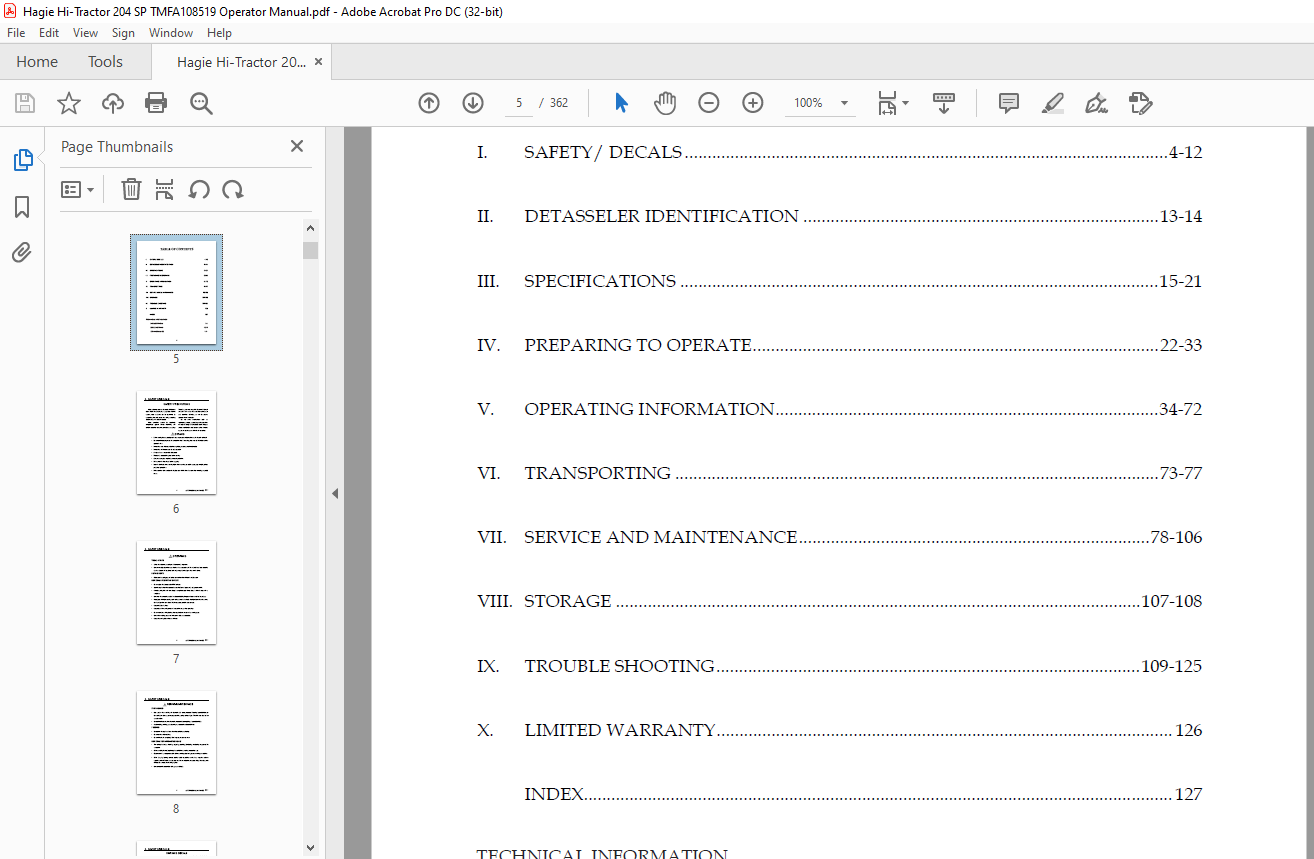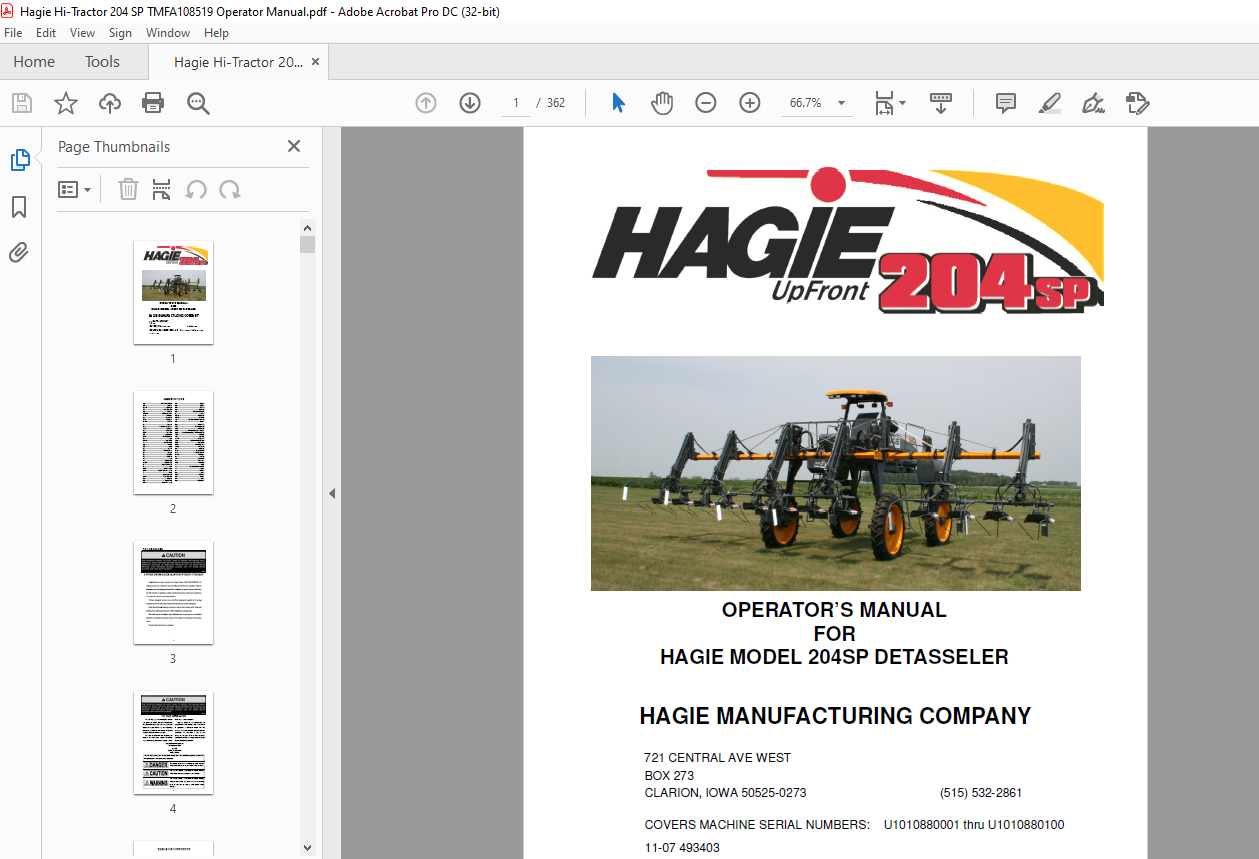 PLEASE NOTE:
This is the same manual used by the DEALERSHIPS to SERVICE your vehicle.
The manual can be all yours – Once payment is complete, you will be taken to the download page from where you can download the manual. All in 2-5 minutes time!!
Need any other service / repair / parts manual, please feel free to contact us at heydownloadss @gmail.com . We may surprise you with a nice offer
S.V