Hagie Hi-Tractor 204SP Operator's Manual 493596 – PDF DOWNLOAD
FILE DETAILS:
Hagie Hi-Tractor 204SP Operator's Manual 493596 – PDF DOWNLOAD
Language : English
Pages : 158
Downloadable : Yes
File Type : PDF
Size: 38 MB
DESCRIPTION:
Hagie Hi-Tractor 204SP Operator's Manual 493596 – PDF DOWNLOAD
INTRODUCTION:
The following patent decal is located on the rear left-hand frame and provides current patents issued on your machine. As with any piece of equipment, certain operating procedures, service, and maintenance are required to keep your detasseler in top running condition. We have attempted herein to cover all of the adjustments required to fit varying conditions. However, there may be times when special care must be considered.
This manual will aid you in the proper operation and service of your machine. It is the responsibility of the user to read the operator's manual and comply with the correct and safe operating procedures, as well as maintain the product according to the service information provided in the Maintenance and Storage Section elsewhere in this manual.
Photographs and illustrations used in this manual are of general nature only. Some of the equipment and features shown may not be available on your machine.
Information described in this manual was correct at the time of printing. Because of Hagie Manufacturing Company's continuous product improvement, certain information may not be included in this manual.
Keep this manual in a convenient place for easy reference, should problems arise. This manual is considered a permanent fixture of the product. In the event of resale, this manual should accompany the machine. If you do not understand any part of this manual or require additional information or service, contact Hagie Customer Support for assistance.
TABLE OF CONTENTS:
Hagie Hi-Tractor 204SP Operator's Manual 493596 – PDF DOWNLOAD
1 – INTRODUCTION
A Word From Hagie Manufacturing Company 1-1
About This Manual 1-1
Safety Messages Used In This Manual 1-2
Service and Assistance 1-2
Identification 1-2
Specifications 1-5
2014 Product Warranty 1-11
2 – SAFETY AND PRECAUTIONS
Safety Precautions 2-1
Seat Belt 2-4
Rotating Beacon 2-4
Emergency Stop 2-5
Operator Presence Switch (OPS) 2-5
Emergency Exit 2-6
Fire Extinguisher 2-6
Safety Decals 2-7
3 – OPERATING YOUR MACHINE
Seat – Operator 3-1
Seat – Operator (Air Suspended) 3-1
Operator's Station 3-2
4 – ENGINE AND DRIVE SYSTEMS
Engine – Starting 4-1
Engine Monitor – Cantrak 2600 4-2
Hydrostatic Drive 4-4
5 – HYDRAULIC SYSTEMS
Hydraulic System 5-1
6 – ELECTRICAL SYSTEMS
Batteries 6-1
Battery Disconnect Switch 6-2
Fuses 6-2
Circuit Breakers 6-3
7 – DETASSELING SYSTEMS
Detasseling System Components 7-1
Detasseling System – Operation 7-6
Tasseltrol®/LS System 12™ 7-8
Tasseltrol Flowchart 7-17
TABLE OF CONTENTS – 8 – MAINTENANCE AND STORAGE
Service – Fluids 8-1
Service – Filters 8-6
Service – Lubrication 8-10
Service – Belts 8-12
Service – Bolt Torque 8-13
Service – Air Springs 8-15
Service – Toe-In 8-15
Service – Tires 8-17
Service – Miscellaneous 8-17
Service Intervals 8-19
Storage 8-21
9 – MISCELLANEOUS
Transporting 9-1
Attachments – Assembly and Installation 9-6
Wheel Tread and Row Spacing 9-13
Handrail Extension – Removable 9-15
Troubleshooting 9-17
VIDEO PREVIEW OF THE MANUAL:
IMAGES PREVIEW OF THE MANUAL: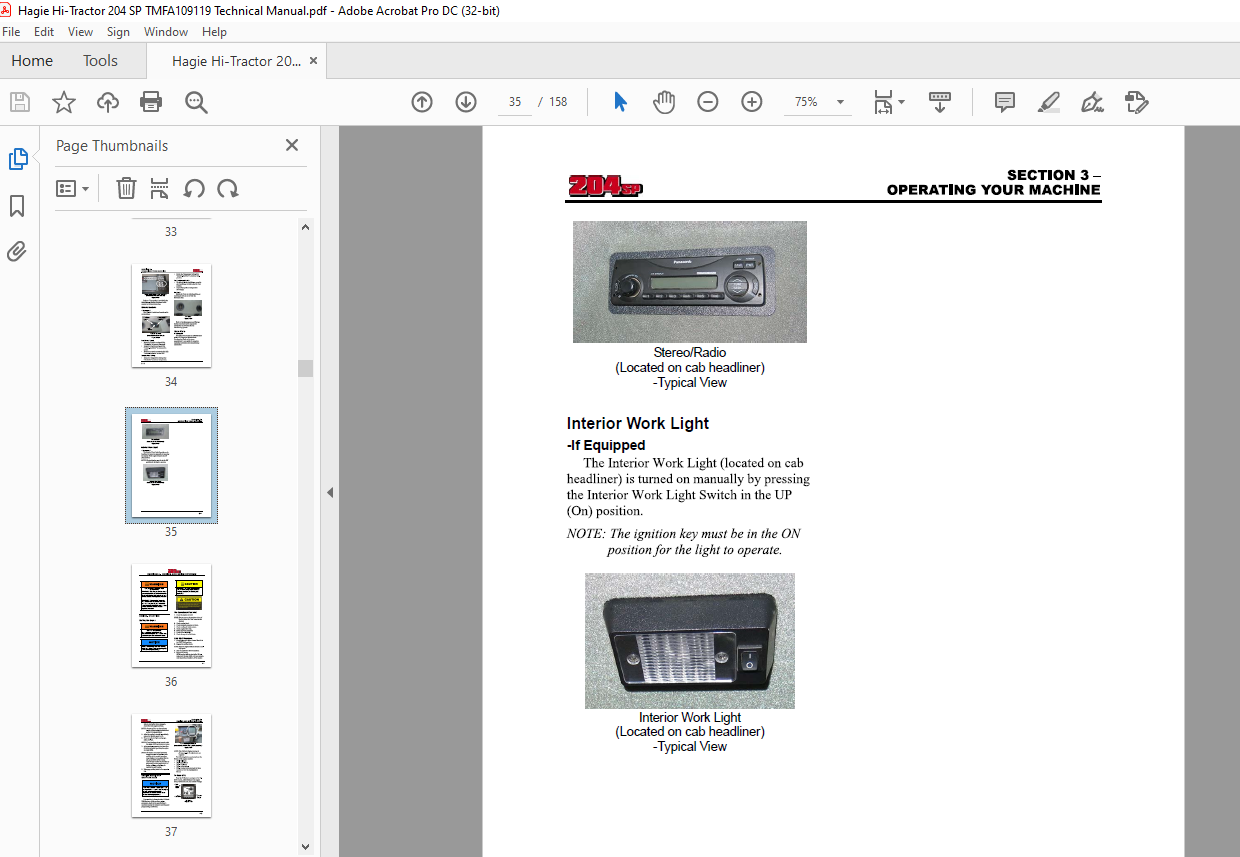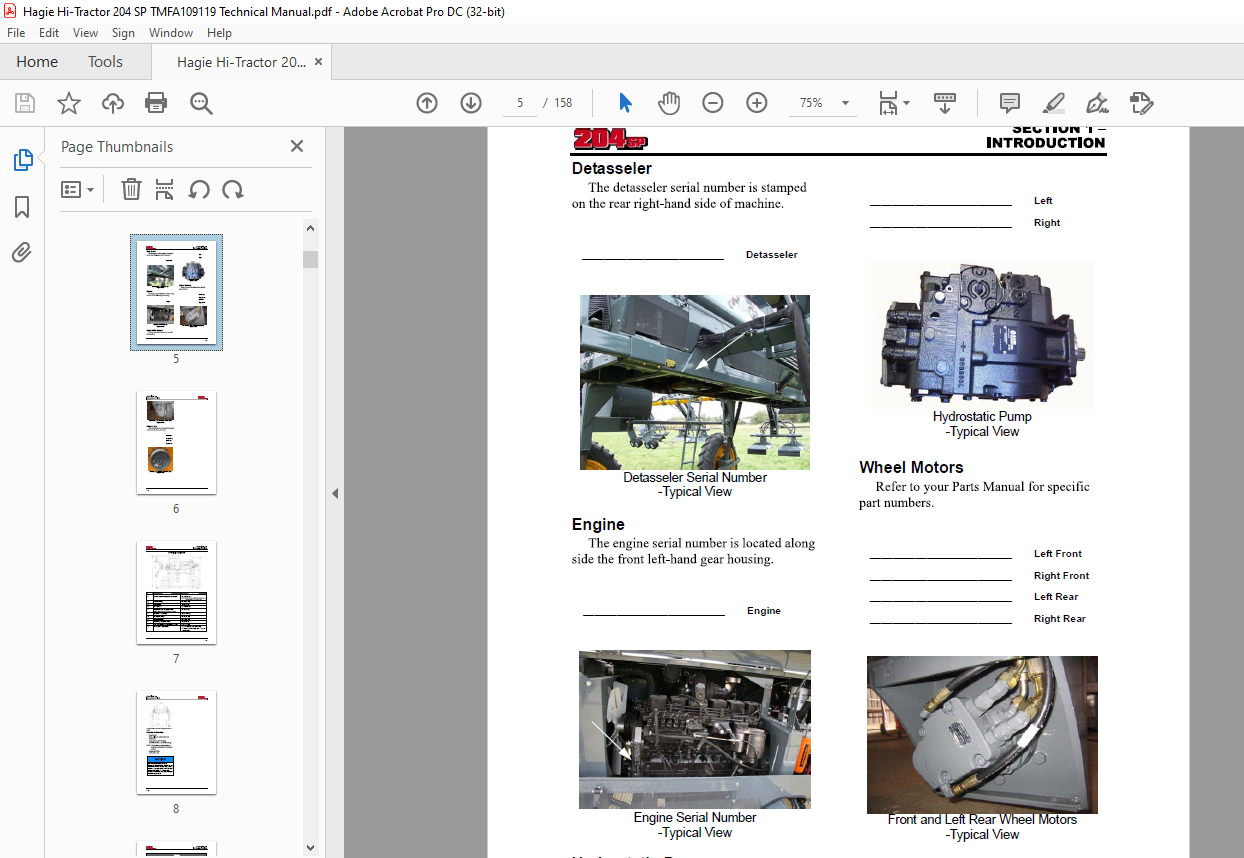 PLEASE NOTE:
This is the SAME manual used by the dealers to troubleshoot any faults in your vehicle. This can be yours in 2 minutes after the payment is made.
Contact us at [email protected] should you have any queries before your purchase or that you need any other service / repair / parts operators manual.
S.V