Fiatallis FG75 FG85 FG95 Articulated Motor Graders Operation & Maintenance Manual 75314574 – PDF DOWNLOAD
IMAGES PREVIEW OF THE MANUAL: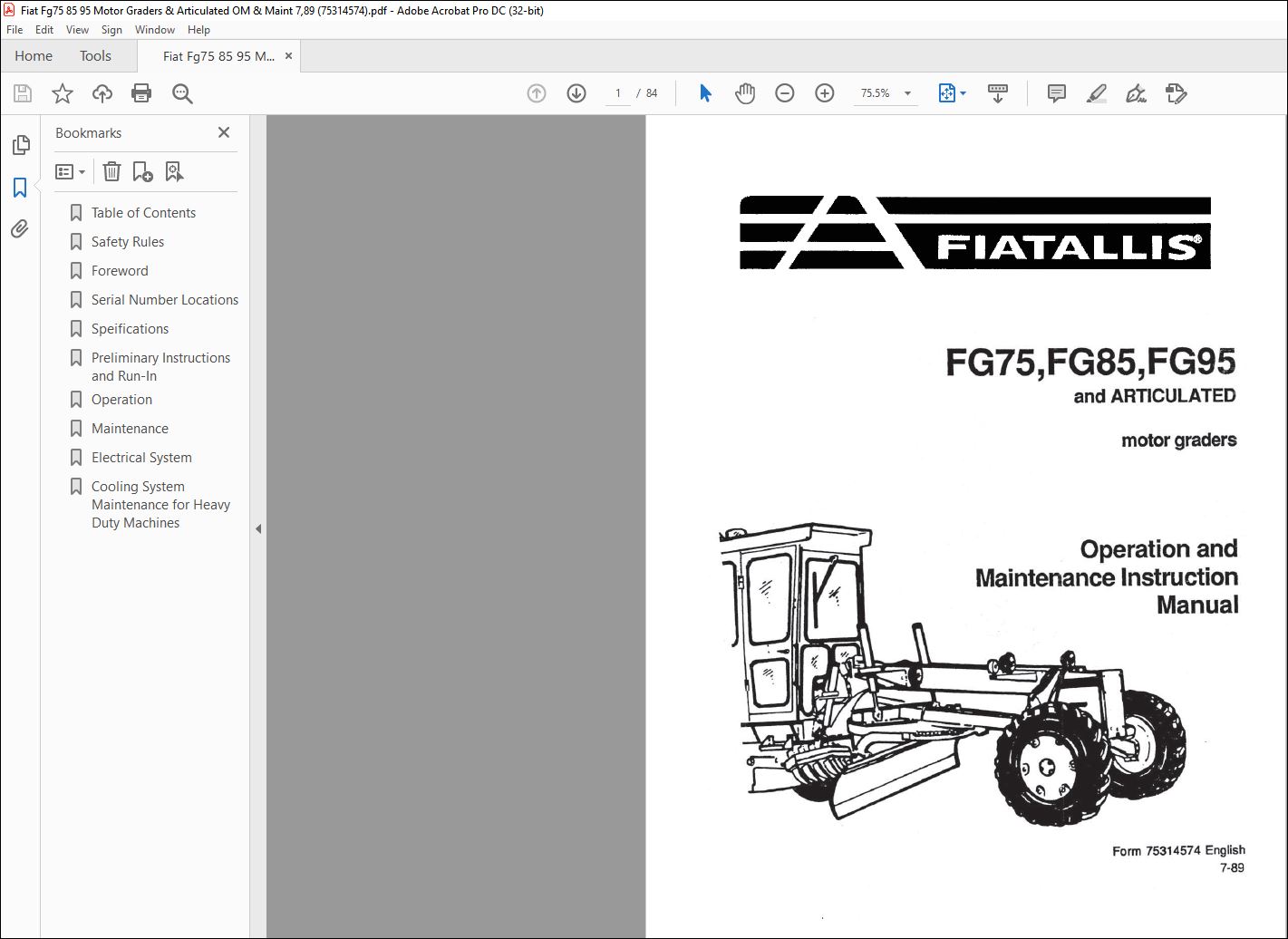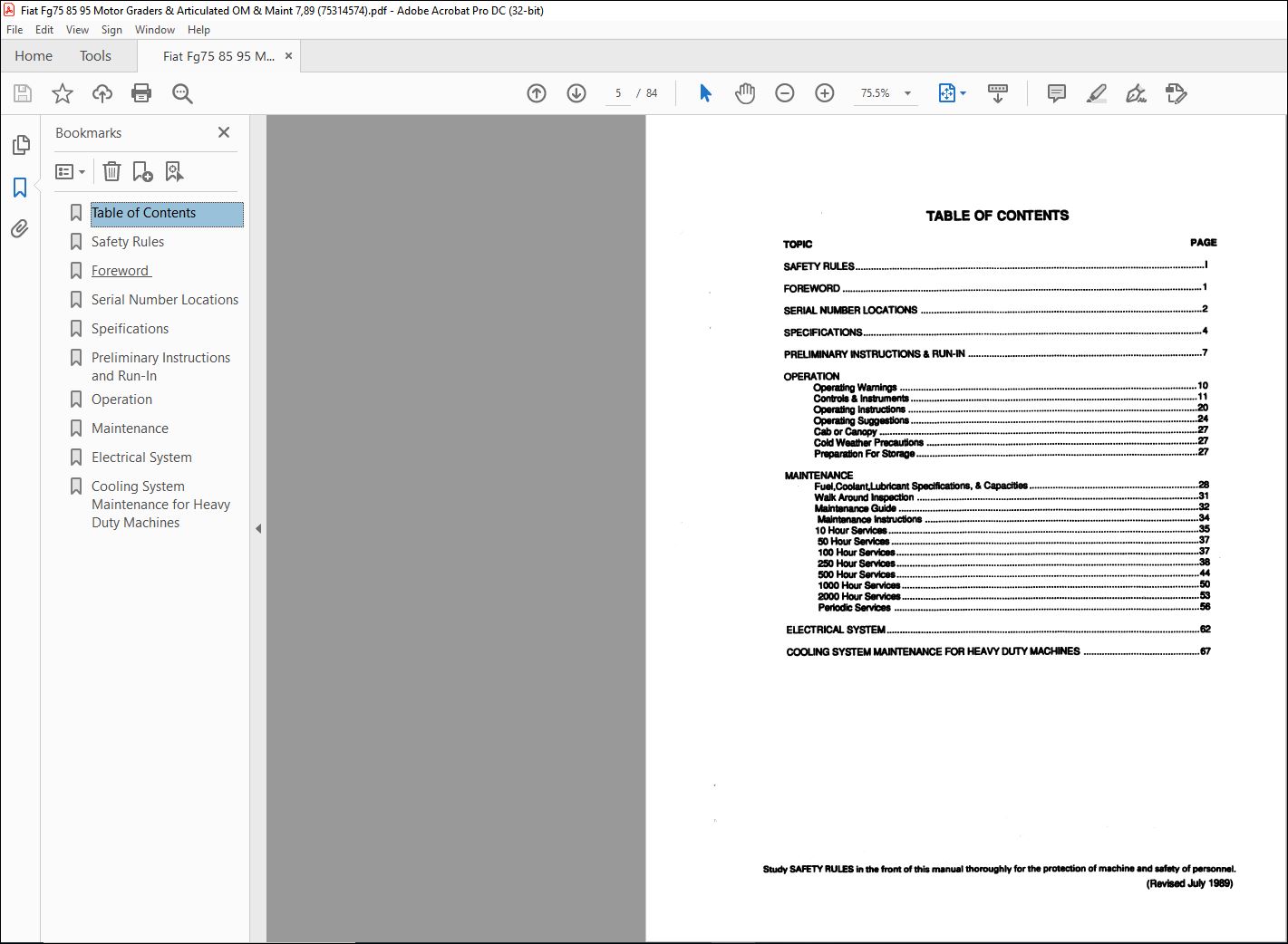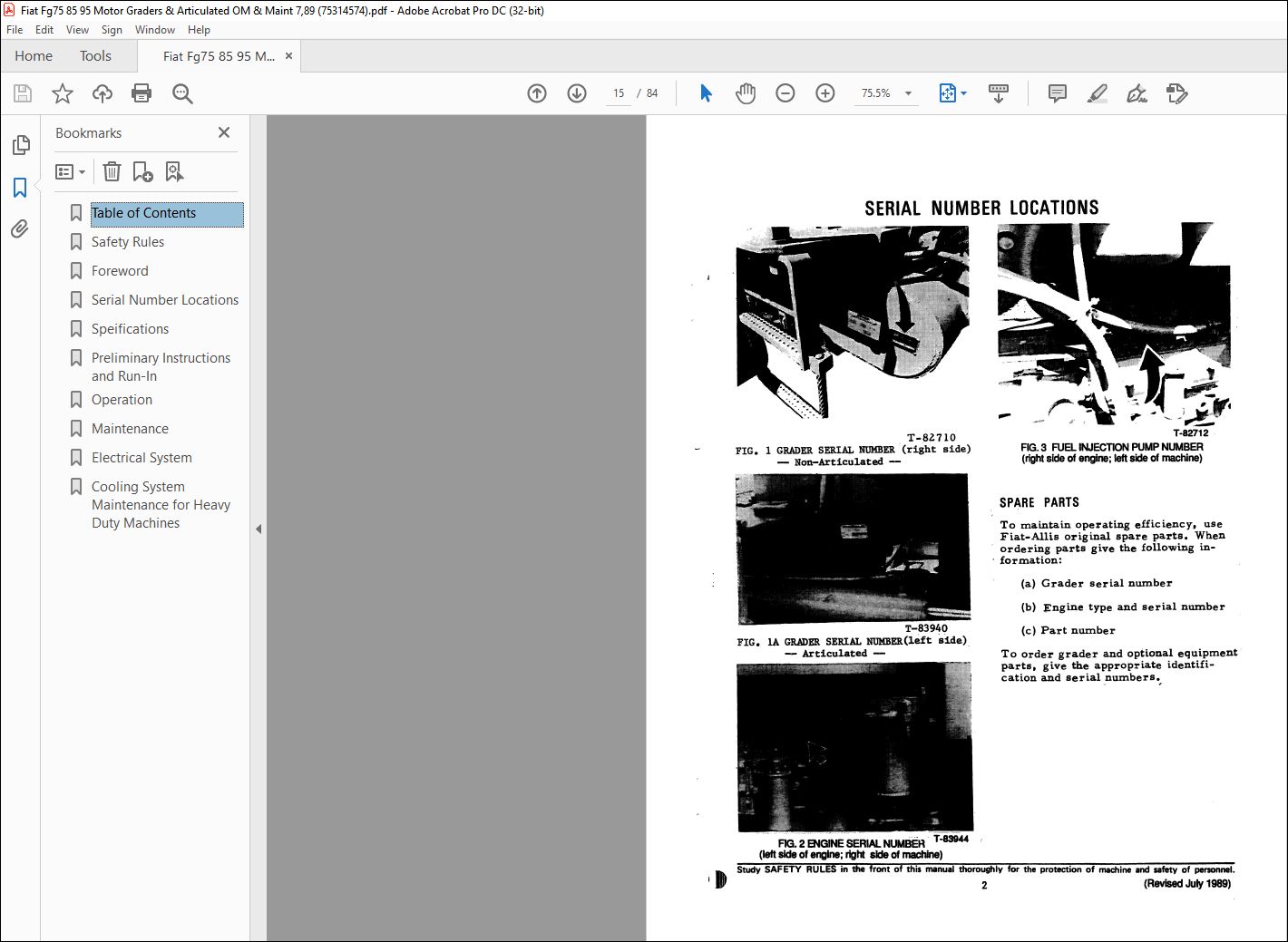 DESCRIPTION:
Fiatallis FG75 FG85 FG95 Articulated Motor Graders Operation & Maintenance Manual 75314574 – PDF DOWNLOAD
FG75 SIN 81A00101•UP
FG85 SIN 14800101-UP Non-Articulated
FOIi SIN 17U00101•UP
FG75 SIN 43S00101-UP
FG85 SIN 44Y00101•UP Arllculated
FG95 SIN 45M00101•UP
GENERAL:
Study the Operation and Maintenance Instruction Manual be· fore atarting, operating, maintaining, fueling, or aervicing machine. Read and head al machine-mounted safety signs before starting, operating, maintaining, fueling or servicing machine. Machine-mounted safety signs have been cobr coded yellow with black border and lettering for WARNING and red with white border and lettering for DANGER points.
Never attempt to operate the machine or its tools from any position other than seated in the operator's seat. Keep head, body, limbs, hands and feet inside operator's compartment at all times to reduce exposure to haz!fds outside the operator's compartment.
Do not allow unauthorized personnel to operate service or maintain this machine. Always check work area for dangerous features. The following are examples of dangerous work areas: sbpea, over hanga, timber, dernollllons, fire, high walls, drop off, back fills, rough terrain, ditch, ridgea, excavations, heavy traffic, crowded parking, crowded maintenance and closed areas. Use extreme care when in areas fuch as these. An operator must know the machine's capabiliti.
When working on slopes or near drop offs be alert to avoid loose or soft conditions that could cause sudden lipping or bas of control. Do not jump on or off machine. Keep two hands and one fool, or two feet and one hand, in contacl wilh atepa grab rails and handles at d limes.
Do not use controls or hcHs as hand holds when dimbing on or off machine. Hoses and controls are movable and do not provide a solid support. Conhols also may be inadvertently moved causing accidental machine or equipment movement. Keep aperalDr's compartment, stepping points, grab-rails and handles clear of foreign abjects, oil, grease, mud or snow accumulation to minimize the danger of 8lipping or stumbling.
Clean mud or grease from shoes before attempting to mount or operate the machine. Be careful of slppery condilions on alepping points, hand rails, and on the ground. Wear safety boots or shoes that have a high slip resistant material.
TABLE OF CONTENTS:
Fiatallis FG75 FG85 FG95 Articulated Motor Graders Operation & Maintenance Manual 75314574 – PDF DOWNLOAD
SAFETY RULES I
FOREWORD 1
SERIAL NUMBER LOCATIONS 2
SPECIFICATIONS 4
PRELIMINARY INSTRUCTIONS & RUN-IN 7
OPERATION
()peraling Warnings 10
Controls & Instruments 11
()peraling lnstrucliOns 20
()perating Suggestions 24
C8b or canopy :rt
Cold Weather Pl'8C8Utions :rt
Pnaparation For Storage :rt
MAINTENANCE
Fual,Coolant,Lubrlcant Specifications, & Capacities 28
Walk Around Inspection 31
Malntanance Gulde 32
Malntanance Instructions 34
1 O Hour Services 35
50 Hour Servical 'SI
100 Hour Services 37
250 Hour Services38
500 Hour Services 44
1000 Hour Services 50
2000 Hour Services – 53
Periodic Services 58
ELECTRICAL SYSTEM 62
COOLING SYSTEM MAINTENANCE FOR HEAVY DUTY MACHINES 67
VIDEO PREVIEW OF THE MANUAL:
PLEASE NOTE:
This is the SAME exact manual used by your dealers to fix your vehicle.
The same can be yours in the next 2-3 mins as you will be directed to the download page immediately after paying for the manual.
Any queries / doubts regarding your purchase, please feel free to contact [email protected]
S.V