Doosan Daewoo Dx225lc Excavator Workshop Parts Manual
FILE DETAILS:
LANGUAGE:ENGLISH
PAGES:700
DOWNLOADABLE:YES
FILE TYPE:PDF
VIDEO PREVIEW OF THE MANUAL:
IMAGES PREVIEW OF THE MANUAL: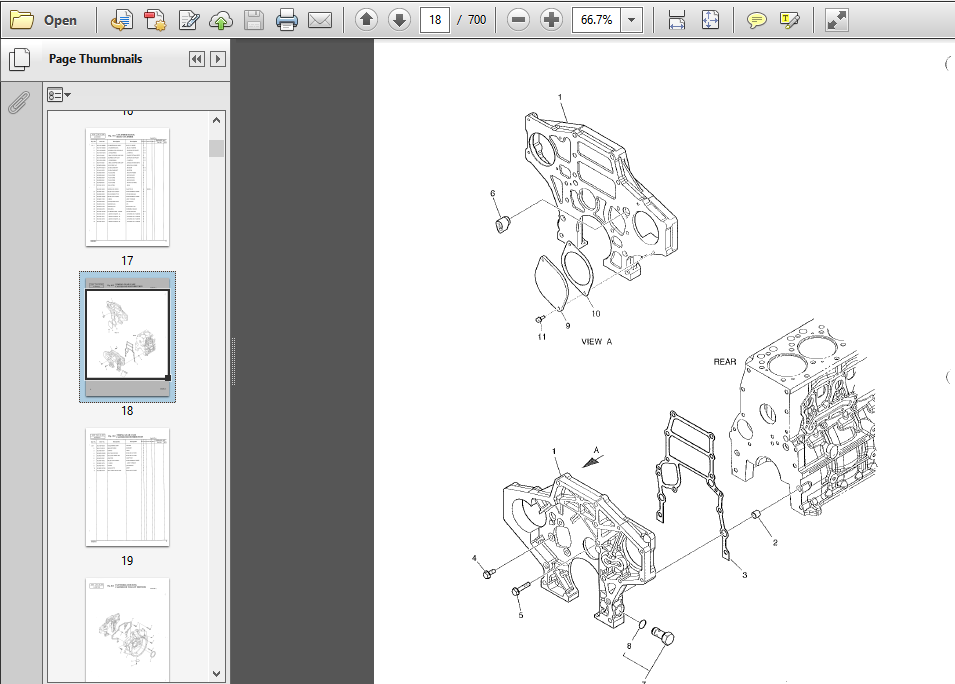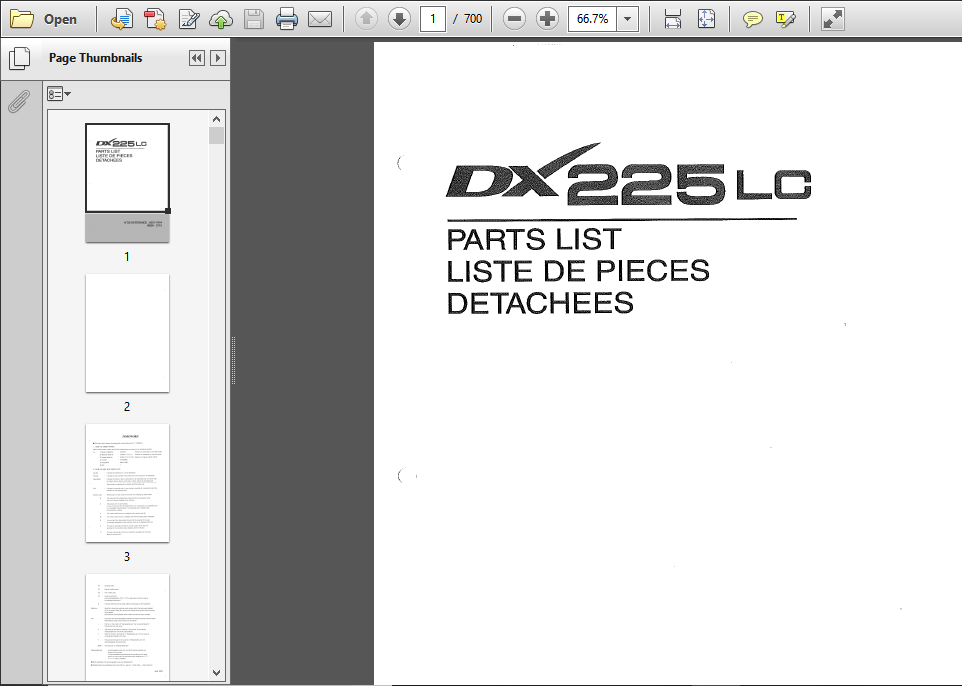 DESCRIPTION:
Doosan Daewoo Dx225lc Excavator Workshop Parts Manual 
This parts list is shown the equipment components parts of ' DXZZSLCJ .
1. HOW TO ORDER PARTS.
When ordering parts, please specify the follwing items as shown in the following example.
Ex. 1) Model of Machine 2 DX225LC (Shown on name plate on the side cover)
2) Machine Serial No : HEBKOWOOOOO (Shown on nameplate on the bed frame)
3) Engine Serial No 2 DLOSOOOOOOEA (Shown on Engine cylinder block)
4) Part No. 2 K1000698E
5) Description 2 MAIN PUMP
6) Q'ty : 1
2. HOW TO USE THIS PARTS LIST.
Key No. I It shows the reference no. on the illustration.
Part No. I It shows the part number of the parts which are included in an illustration.
Description : It shows the name of part. Components of an assembly part are shown with [0] marks and are shown on the line, or lines, below the assembly part. Also if the components with [a] mark is consists of further components part. These further components are shown with the marks [u].
Qty 2 It shows the quantity use for one machine. quantity of components show the quantity for one assembly part.
Service code : Abbreviations in this column have their own meaning as show below.  The parts with this abbreviation shows that the part requires some work on it before installing in the machine.
PLEASE NOTE:
This is not a physical manual but a digital manual – meaning no physical copy will be couriered to you. The manual can be yours in the next 2 mins as once you make the payment, you will be directed to the download page IMMEDIATELY.
This is the same manual used by the dealers inorder to diagnose your vehicle of its faults.
Require some other service manual or have any queries: please WRITE to us at [email protected]