Case Cx160c Tier 4 Crawler Excavator Operators Manual – PDF Download
CONTENTS:

1 GENERAL INFORMATION
Safety rules1-1
Safety rules1-2
Note to the Owner 1-3
Product identification1-5
Left, right, front and rear of the machine1-8
Electro-magnetic interference (EMC) 1-8
Description of the main components1-9
2 SAFETY INFORMATION
Safety rules2-1
Safety decals2-8
Hand signals 2-25
3 CONTROLS/INSTRUMENTS
ACCESS TO OPERATOR'S PLATFORM
Frame – Access/Exit 3-1
Position of the operator's compartment controls and accessories3-3
OPERATOR'S SEAT
Air suspension seat 3-5
FORWARD CONTROLS
Hand control levers and pedals 3-9
Windshield 3-14
Front lower window 3-15
Front right-hand console 3-16
System display and function control panel 3-17
Monitor switches 3-22
Menu screen display 3-25
Diesel particulate diffuser (DPD) 3-35
Clock adjustment 3-46
LEFT-HAND SIDE CONTROLS
Left-hand control arm3-47
Heating, ventilation or air-conditioning control 3-48
Function cancellation lever and safety bar 3-52
Cab internal lighting3-53
Emergency exit hammer 3-53
Tool quick coupler locking and unlocking control switch (Optional)3-54
Sliding windows on door 3-54
RIGHT-HAND SIDE CONTROLS
Right-hand control arm 3-55
Cab radio 3-56
Right-hand console 3-58
Coat hanger hook3-59
Cup holder 3-59
REARWARD CONTROLS
Fuse box 3-60
Magazine rack3-61
Refrigerated/heated compartment 3-62
Storage compartment3-62
OVERHEAD CONTROLS
Roof curtain3-63
Roof hatch3-63
Sun shield (optional) 3-63
EXTERIOR CONTROLS
Fuel tank 3-64
Rear view mirrors3-65
Rear view camera3-67
Front storage box3-67
Side doors3-68
Engine hood3-69
Lower panels 3-70
Windshield washer reservoir 3-70
Load handling eyes3-71
Towing holes 3-72
Safety valves (optional)3-73
Optional tool supply valves (optional)3-73
Fuel tank filler pump (if equipped) 3-74
Cab protection (ROPS and FOPS) 3-76
4 OPERATING INSTRUCTIONS
COMMISSIONING THE UNIT
Cab – Operating 4-1
Cab – Running-in Procedure4-3
STARTING THE UNIT
Anti-theft protection 4-4
Starting the engine4-7
Bringing the machine up to operating temperature 4-9
Engine operation 4-10
Operating the machine in hot or cold weather 4-11
Machine operation 4-12
STOPPING THE UNIT
Stopping the engine4-13
MOVING THE UNIT
Machine travel4-14
Handling the machine4-17
Load handling4-19
Operating the machine 4-21
Quick coupler (optional) 4-23
Lowering the attachment in the event of a failure4-28
Adjustment and mounting of rear view mirrors 4-29
Auxiliary hydraulic circuits4-32
Optional hand control levers configuration 4-38
PARKING THE UNIT
Parking the machine 4-39
5 TRANSPORT OPERATIONS
SHIPPING TRANSPORT
Transporting the machine 5-1
RECOVERY TRANSPORT
Towing 5-6
6 MAINTENANCE
GENERAL INFORMATION
Basic instructions6-1
Fluids, fuels and lubricants6-5
Fluid capacities and lubricant specifications6-9
Grease points6-10
Levels6-18
Engine6-20
Cooling system 6-23
Fuel system6-26
Releasing pressure in the hydraulic system 6-33
Hydraulic circuit6-35
Air filter 6-44
Swing reduction gear 6-47
Travel reduction gears 6-49
Tracks6-51
Track rollers and idler wheels6-54
Radiator and coolers 6-55
Fan and alternator drive belt 6-57
Adjustment of engine valve rocker clearances 6-58
Fuel tank filter6-58
Fire extinguisher (not supplied)6-59
Protecting the Electrical/Electronic Systems During Charging or Welding 6-59
Cab protection (ROPS and FOPS) (optional)6-61
Machine inspection and cleaning6-61
Checking the machine settings 6-61
Plastic and resin parts6-62
Checking the cylinders for leaks 6-62
Tooth tip wear limits on the backhoe bucket 6-62
Replacing a tooth on a backhoe bucket6-63
Replacing a backhoe bucket 6-64
Checking the opening of the quick coupler locking hook (optional) 6-66
Air conditioning 6-68
Diesel particulate diffuser (DPD) 6-72
Gas spring inspection6-73
Torque specifications 6-74
Fuses 6-75
Batteries6-77
Alternator 6-81
Starter motor 6-81
Bulb replacement 6-82
MAINTENANCE CHART
Maintenance Chart 6-85
STORAGE
Preparing for storage 6-88
Periodic checks6-89
Starting up after storage 6-90
7 TROUBLESHOOTING
FAULT CODE RESOLUTION
Engine troubleshooting7-1
8 SPECIFICATIONS
General specification8-1
Noise level8-4
Weight 8-4
Dimension 8-5
IMAGES: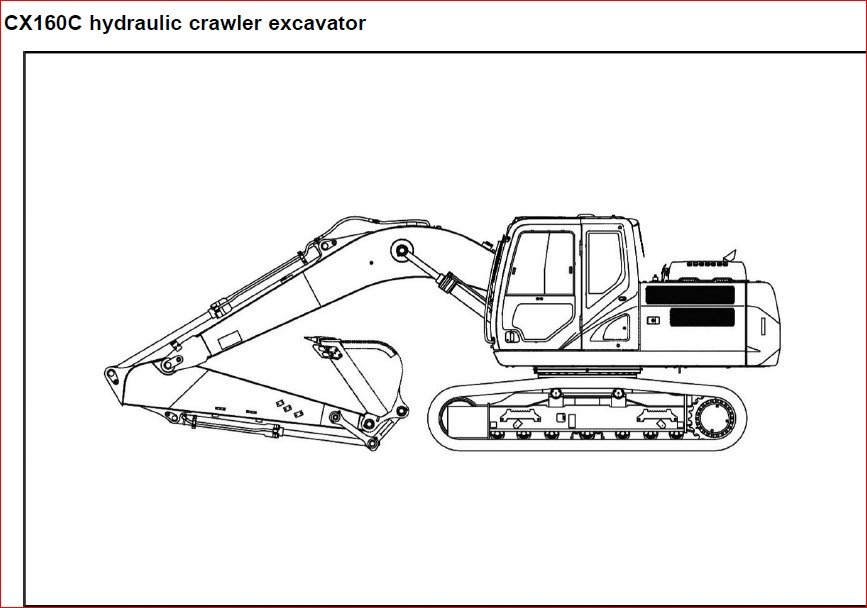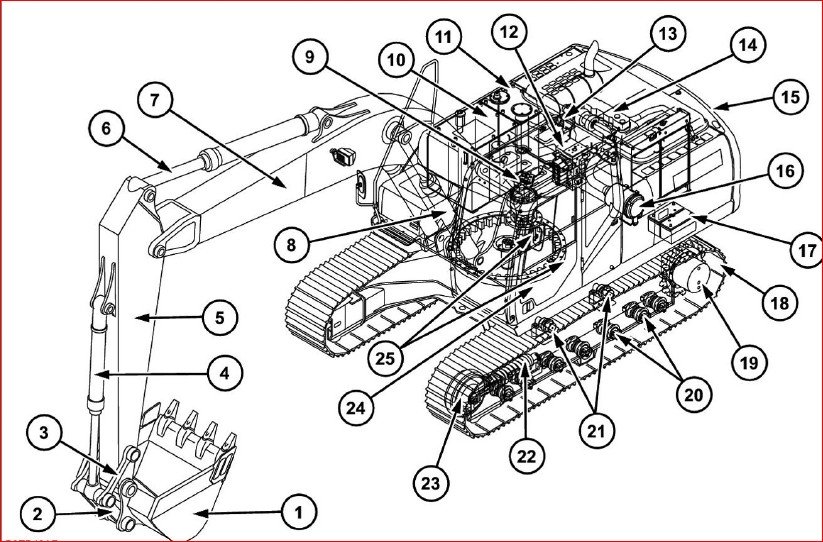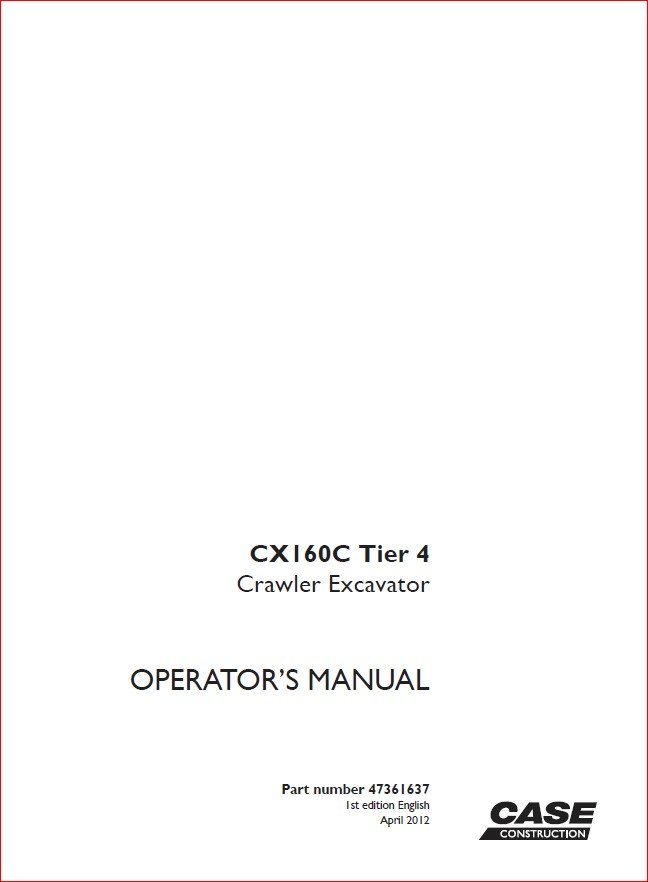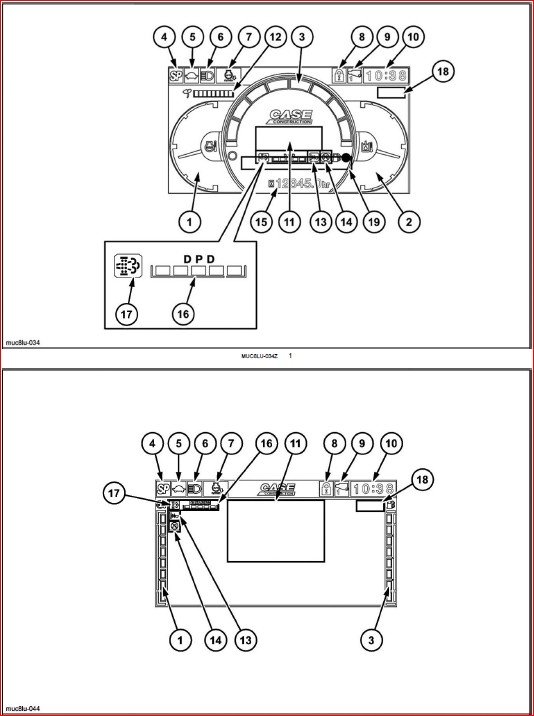 Note to the Owner:
Improper operation of this machine can cause injury or death. Before using this machine, make certain that every operator:
• Is instructed in safe and proper use of the machine.
• Reads and understands the Manual(s) pertaining to the machine.
• Reads and understands ALL Safety Decals on the machine.
• Clears the area of other persons.
• Learns and practices safe use of machine controls in a safe, clear area before operating this machine on a job site.
It is your responsibility to observe pertinent laws and regulations and follow CASE CONSTRUCTION instructions on machine operation and maintenance. Your machine has been designed and built to the highest standards of quality. It conforms to all current safety regulations. However, the risk of accidents can never be completely excluded. That is why it is essential to observe elementary safety rules and precautions. Read this manual carefully, paying particular attention to the instructions concerning safety, operation and maintenance so as to avoid the risk of injury while operating or servicing the machine. The standard attachments and tools of this machine are designed to carry out all kinds of earthmoving and rehandling operations. If you want to use this machine to handle a load (pipes, culverts, formwork, etc.), make sure that it is designed to carry out this kind of work. For this type of application, the machine must be equipped with safety valves, a load handling chart corresponding to the type of machine and its attachment and a load fixing point. All legal requirements must also be strictly observed. Do not use this machine for any application or purpose other than those described in this manual. If the machine is to be used for work involving the use of special attachments, accessories or equipment, consult your CASE CONSTRUCTION Dealer in order to make sure that any adaptations or modifications made are in keeping with the machine's technical specifications and with prevailing safety requirements. Any modification or adaptation which is not approved by the manufacturer may invalidate the machine's initial conformity with safety requirements. The machine must undergo regular inspections, the frequency of which varies according to the type of use. Consult your CASE CONSTRUCTION Dealer. ATTENTION: The engine and fuel system on your machine is designed and built to government emissions standards. Tampering by dealers, customers, operators and users is STRICTLY PROHIBITED BY LAW. Failure to comply could result in government fines, rework charges, invalid warranty, legal action and possible confiscation of the machine until rework to original condition is completed. Engine service and/or repairs must be done by a certified technician only. Your CASE CONSTRUCTION Dealer is at your disposal for any further information. He will also provide any aftersales service you may require, and genuine CASE CONSTRUCTION spare parts, your guarantee of quality and match. CASE CONSTRUCTION customer assistance is also available.  You can obtain manuals on the operation, maintenance and repair of your machine from your CASE CONSTRUCTION Dealer. To ensure quick and efficient service, consult your CASE CONSTRUCTION Dealer for assistance in ordering the correct manuals for your machine. Your CASE CONSTRUCTION Dealer can provide after-sales service and genuine CASE CONSTRUCTION spare parts, your guarantee of quality and match. CNH America LLC. Company reserves the right to make changes in the specification and design of the machine without prior notice and without incurring any obligation to modify units previously sold. The description of the models shown in this manual has been made in accordance with the technical specifications known as of the date of design of this document.
VIDEO PREVIEW:
PLEASE NOTE:
 This is the SAME exact manual used by your dealers to fix your vehicle.
The same can be yours in the next 2-3 mins as you will be directed to the download page immediately after paying for the manual.
Any queries / doubts regarding your purchase, please feel free to contact [email protected]