Wacker Neuson 803/803 Dual Power Track Excavators Operator's manual – PDF DOWNLOAD
IMAGES PREVIEW OF THE MANUAL: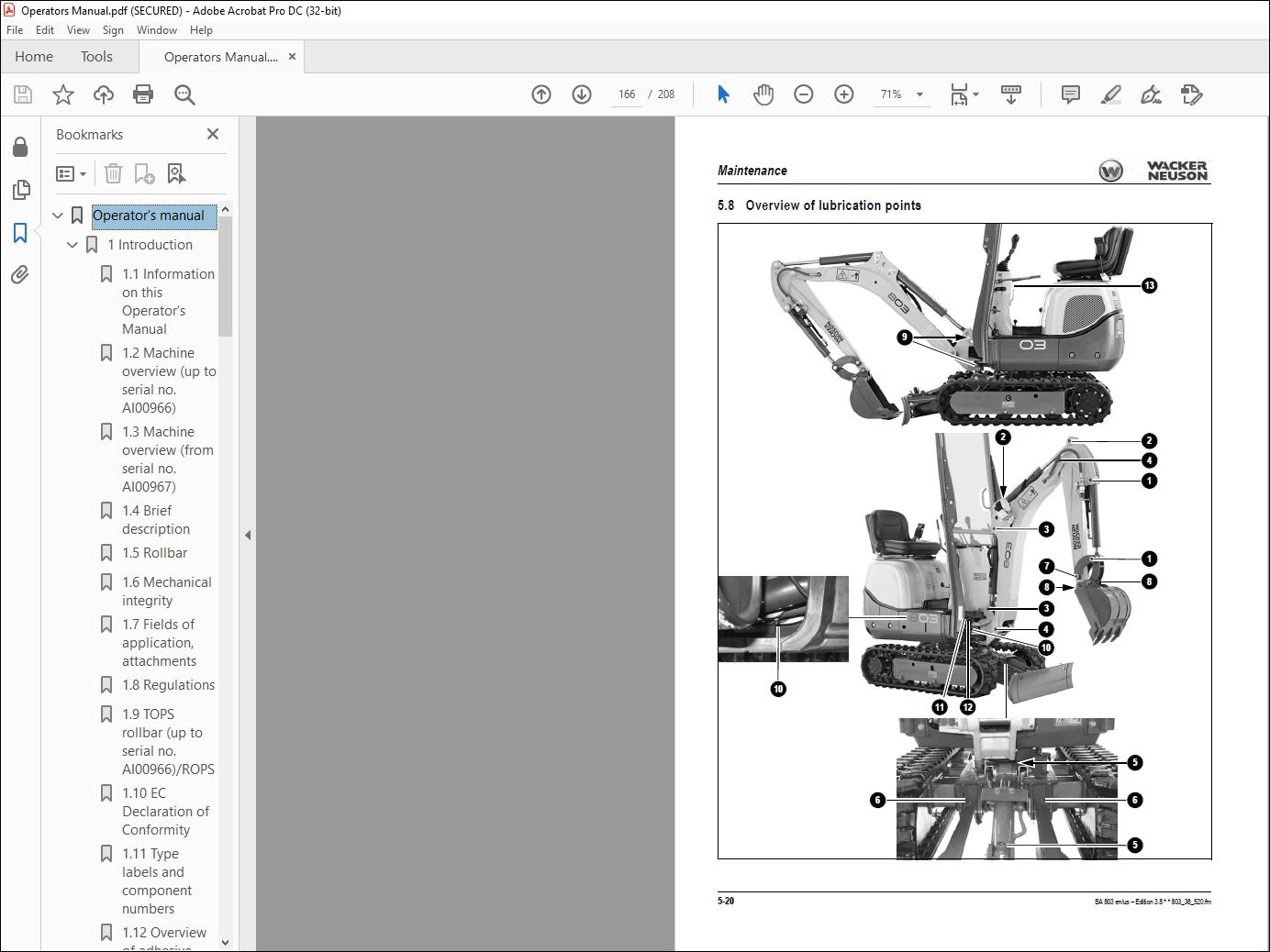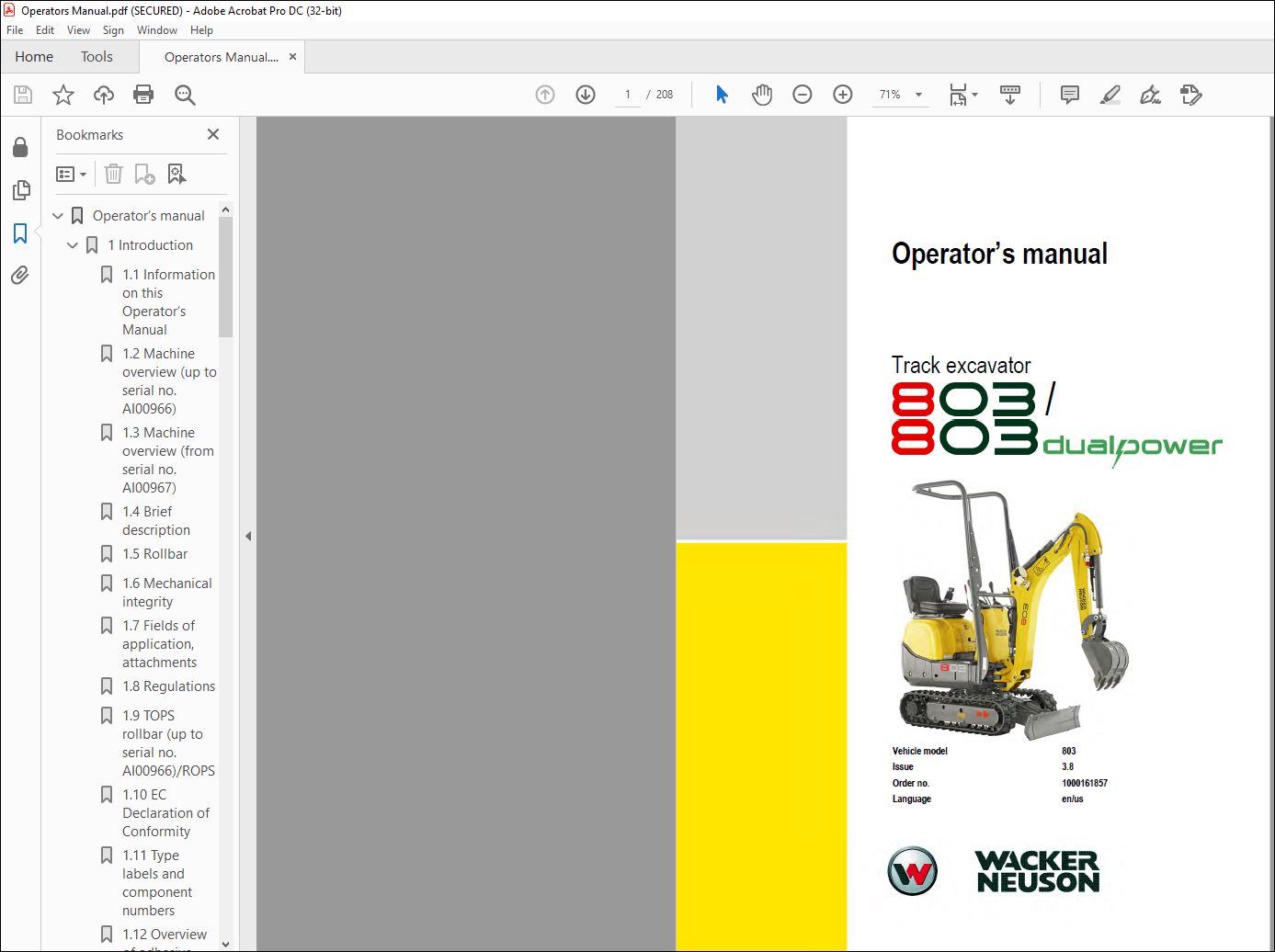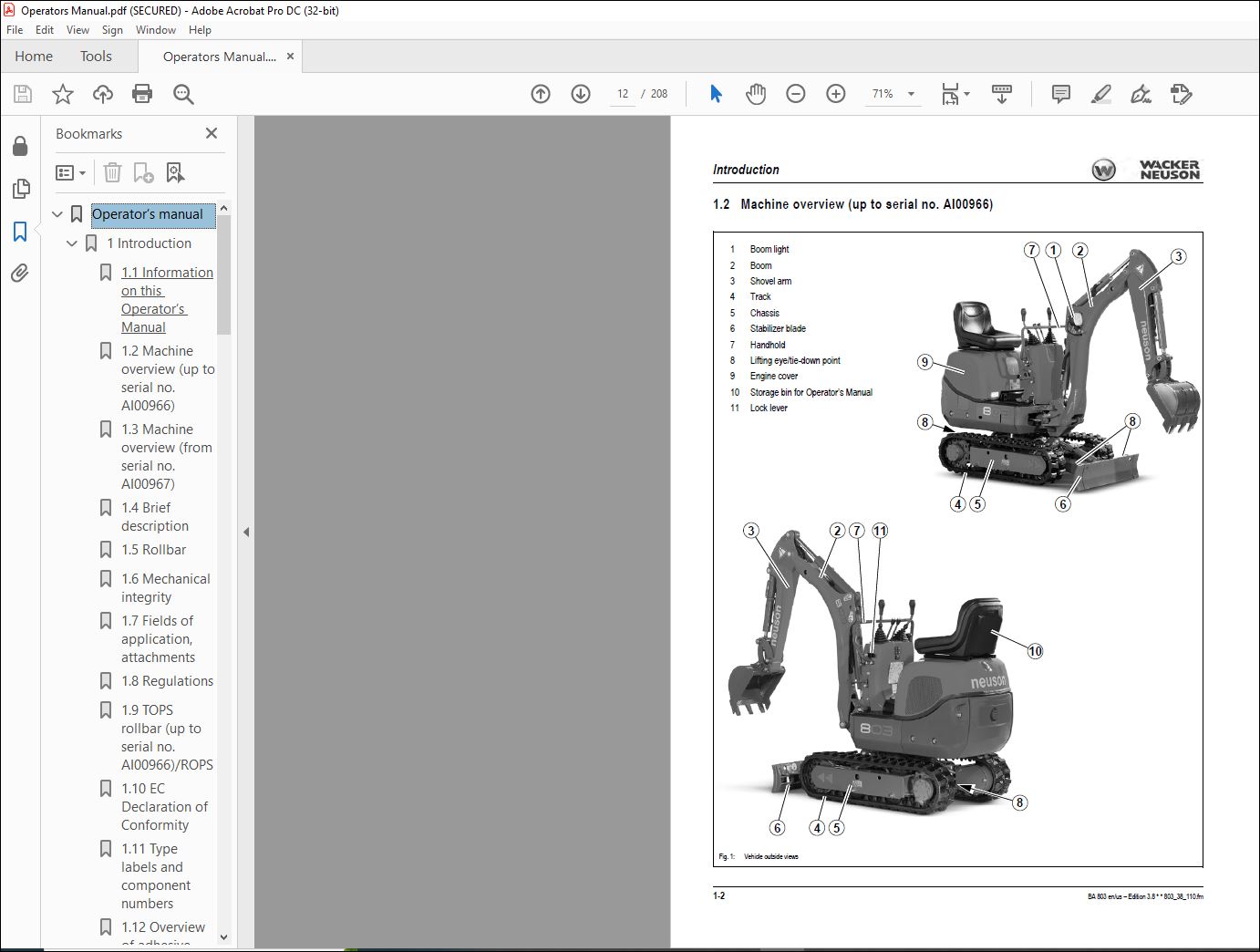 DESCRIPTION:
Wacker Neuson 803/803 Dual Power Track Excavators Operator's manual – PDF DOWNLOAD
1 Introduction
1.1 Information on this Operator's Manual
The Operator's Manual is stored in the storage bin at the rear of the seat. This operator's manual contains important information on how to work safely, correctly and economically with the vehicle. Therefore, it aims not only at new personnel, but it also serves as a reference for experienced personnel.
It helps to avoid hazardous situations and reduce repair costs and downtimes. Furthermore, the reliability and the service life of the machine will be increased by following the instructions in the Operator's Manual. This is why the Operator's Manual must always be kept at hand in the machine. Your own safety, as well as the safety of others, depends to a great
extent on how the machine is moved and operated. Carefully read the Operator's Manual before putting the machine into operation. This Operator's Manual will help to familiarize yourself more easily with the machine, thereby enabling you to use it more safely and efficiently. Follow chapter "Safety Instructions" in particular. As a rule, keep the following in mind:
Careful and prudent working is the best way to avoid accidents! Operational safety and readiness of the machine do not only depend on your skill, but also on maintenance and servicing of the machine. This is why regular maintenance and servicing is absolutely necessary. Extensive maintenance and repair work must always be performed by a Wacker Neuson service center. Use only original spare parts for repairs. This ensures operational safety and readiness of your machine, and maintains its value.
• Special equipment and superstructures are not described in this Operator's Manual.
• We reserve the right to improve the technical standard of our machines without  adapting the Operator's Manual.
• Modifying Wacker Neuson products and fitting them with additional equipment and attachments not included in our delivery program requires Wacker Neuson's written authorization, otherwise warranty and product liability for possible damage caused by these modifications shall not be applicable.
• Subject to modifications and printing errors. Your Wacker Neuson dealer will be pleased to answer any further questions regarding the machine or the Operator's Manual
TABLE OF CONTENTS:
Wacker Neuson 803/803 Dual Power Track Excavators Operator's manual – PDF DOWNLOAD
Introduction 1
Information on this Operator's Manual 1-1
Machine overview (up to serial no AI00966) 1-2
Machine overview (from serial no AI00967) 1-3
Brief description 1-4
Traveling drive 1-4
Operating hydraulics 1-4
Cooling system 1-4
Definition of the term "Protective Structure" 1-5
Explanation of abbreviations 1-5
Rollbar 1-5
Mechanical integrity 1-5
Responsibility for vehicle equipped with protective structures 1-5
Fields of application, attachments 1-6
Regulations 1-7
TOPS rollbar (up to serial no AI00966)/ROPS 1-7
EC Declaration of Conformity 1-8
Type labels and component numbers 1-9
Overview of adhesive labels 1-11
Overview of safety labels 1-16
Safety instructions 2
Identification of warnings and dangers 2-1
Warranty 2-2
Disposal 2-2
Designated use and exemption from liability 2-3
General conduct and safety instructions 2-4
Organizational measures 2-4
Selection and qualification of personnel, basic responsibilities 2-5
Safety instructions regarding operation 2-6
Normal operation 2-6
Operation with lowered TOPS rollbar (up to serial no AI00966) 2-9
Operation with lowered ROPS rollbar 2-9
Checks when reversing the machine 2-9
Lifting gear applications 2-10
Working with attachments 2-10
Transportation 2-10
Working in the area of underground electric lines 2-11
Working near overhead electric lines 2-11
Safety instructions for maintenance 2-12
Warning of special hazards 2-14
Electrical energy 2-14
Gas, dust, steam, smoke 2-14
Hydraulic system 2-14
Noise 2-14
Oil, grease and other chemical substances 2-15
Battery 2-15
Safety instructions regarding internal combustion engines 2-16
Tracks 2-16
Hammer operation 2-16
Safety instructions 2-16
Working with a hammer 2-17
Dual Power (option) 2-18
Table of Contents
1-2 BA 803 en/us – Edition 38 * * Ba803en3_8IVZfm
Table of Contents
Operation 3
Control stand overview (up to serial no AI00814) 3-2
Control stand overview (from serial no AI00815) 3-5
Display elements (overview) 3-6
Putting into operation 3-7
Safety instructions 3-7
Putting into operation for the first time 3-7
Running-in period 3-7
Check lists 3-8
Start-up checklist 3-8
Operation checklist 3-9
"Parking" checklist 3-9
Driving the excavator 3-10
Starter 3-10
Throttle 3-10
Travel signal (option) 3-11
Indicator lights and warning lights (overview) 3-11
Starting the engine: general 3-14
Procedure 3-14
Starting at low temperatures 3-14
When the engine has started 3-14
Engine and machine warm-up 3-14
Jump-starting the engine (supply battery) 3-16
Special instructions for machine travel on public roads 3-17
Machine travel position 3-17
Starting vehicle travel 3-17
Operating temperature range 3-17
Drive levers 3-17
ISO/SAE changeover (option) 3-18
Hydraulic brake 3-19
Stabilizer blade as a parking brake 3-19
Machine travel on slopes 3-20
Stabilizer blade operation 3-23
Changing the width of the stabilizer blade 3-23
Telescopic travel gear 3-25
Upper carriage lock 3-26
Parking the machine 3-27
Parking the machine on slopes 3-27
Light system 3-28
Power outlet 3-28
Seat adjustment 3-29
Access to the control stand 3-29
Telescopically extended travel gear 3-30
Lowerable TOPS rollbar (up to serial no AI00966) (option) 3-31
Lowering the rollbar 3-31
Raising the rollbar 3-32
Lowerable ROPS rollbar (up to serial no AI00966) (option) 3-33
Lowering the rollbar 3-33
Raising the rollbar 3-34
Lowering the rollbar 3-34
Raising the rollbar 3-34
Lowerable ROPS rollbar (from serial no AI00967) (option) 3-35
Lowering the rollbar 3-35
Raising the rollbar 3-36
Seat belt (option) 3-38
Engine cover 3-42
Battery master switch 3-44
BA 803 en/us – Edition 38 * Ba803en3_8IVZfm 1-3
Table of Contents
Towing the machine 3-45
Crane-lifting the machine 3-46
Loading and transporting the machine 3-48
Tying down the machine 3-49
Shatter protection (option) (from serial no AI00967) 3-50
Machine operation 3-52
General safety instructions 3-52
Control lever overview 3-54
Control lever on the left 3-54
Control lever on the right 3-54
Boom swivel controls 3-55
Boom swivel controls (up to serial no AI00975) 3-55
Boom swivel controls (from serial no AI00976) 3-56
Auxiliary hydraulics 3-57
Auxiliary hydraulics (up to serial no AI00975) 3-57
Auxiliary hydraulics (from serial no AI00976) 3-58
Auxiliary hydraulics (double-action option) (up to serial no AI00975) 3-59
Auxiliary hydraulics (double-action option) (from serial no AI00976) 3-60
Emergency lowering 3-62
Rotating the upper carriage 3-63
Upper carriage deceleration 3-63
Lock lever 3-64
Lock lever (up to serial no AI00814) 3-64
Lock lever (from serial no AI00815) 3-64
Dual Power (option) 3-65
Overview of connections 3-66
Coupling 3-67
Checking the hydraulic oil levels of the power unit and excavator 3-69
Changeover from HPU to diesel operation 3-70
Changeover from diesel to HPU operation 3-71
Uncoupling 3-72
Charging the excavator battery 3-73
Charging the battery with the power unit 3-74
Charging the battery with the mains 3-75
Dual-Power operation with rotating beacon 3-76
Relieve pressure from auxiliary hydraulics 3-77
Re-equipping attachments 3-78
Specific safety instructions 3-78
Removing a bucket 3-79
Installing a bucket 3-79
Lehnhoff mechanical quickhitch system (optional) 3-80
Maintenance schedule of Lehnhoff mechanical quickhitch system 3-84
Connections for auxiliary hydraulics 3-85
Connections for auxiliary hydraulics (stick hose routing option) 3-86
Attachments 3-87
Maintenance of attachments 3-87
Working with the standard bucket 3-87
Inadmissible work procedures 3-87
Excavator work position 3-88
Bucket position when digging 3-89
Excavating trenches 3-89
Loading 3-90
Grading 3-90
Excavating trenches sideways 3-90
Grading 3-92
Grading 3-92
Working on slopes 3-93
1-4 BA 803 en/us – Edition 38 * * Ba803en3_8IVZfm
Table of Contents
Malfunctions 4
Engine trouble 4-1
Maintenance 5
Introduction 5-1
Fuel system 5-2
Specific safety instructions 5-2
Refueling 5-3
Drain fuel 5-3
Stationary fuel pumps 5-3
Bleeding the fuel system 5-4
Fuel prefilter with water separator 5-5
Engine lubrication system 5-6
Checking the oil level 5-7
Adding engine oil 5-7
Engine cooling system 5-8
Specific safety instructions 5-8
Checking the coolant level/adding coolant 5-10
Cleaning the radiator 5-11
Air filter 5-12
Air filter (up to serial no AI00875) 5-13
Replacing air filter elements 5-13
Air filter (from serial no AI00876) 5-14
Replacing air filter elements 5-14
V-belt 5-15
Checking V-belt tension 5-15
Re-tension the V-belt 5-15
Hydraulic system 5-15
Important information on the hydraulic system 5-15
Checking the hydraulic oil level 5-17
Adding hydraulic oil 5-17
Important information on the use of biodegradable oil 5-18
Checking hydraulic pressure lines 5-19
Overview of lubrication points 5-20
Parking the machine 5-21
Swiveling cylinder lubrication points 5-21
Lubricating the live ring (ball bearing) 5-22
Lubricating the teeth of the live ring 5-23
Ball sockets (ISO/SAE changeover option) 5-24
Tracks 5-25
Checking track tension 5-25
Tightening the tracks 5-26
Traveling drive 5-27
Electrical system 5-28
Specific safety instructions 5-28
Servicing and maintenance at regular intervals 5-28
Instructions concerning specific components 5-29
Alternator 5-29
Battery 5-30
General maintenance 5-31
Cleaning 5-31
General instructions for all areas of the vehicle 5-31
Control stand 5-32
On the outside of the vehicle 5-32
Engine compartment 5-32
Threaded fittings and attachments 5-33
BA 803 en/us – Edition 38 * Ba803en3_8IVZfm 1-5
Table of Contents
Pivots and hinges 5-33
Preparatory work before taking out of service 5-33
Maintenance when out of service for a longer period of time 5-34
Putting into operation again 5-34
Fluids and lubricants 5-35
Oil change and filter replacement (hydraulics) 5-37
Maintenance plan (overview) 5-38
Maintenance label 5-43
Explanation of symbols on the maintenance label 5-43
Technical data 6
Chassis 6-1
Engine 6-1
Travel gear and swivel unit 6-2
Stabilizer blade 6-3
Operating hydraulics 6-3
Connection values of Dual Power option 6-3
Electrical system 6-3
Fuses behind the right-hand trim 6-4
Relays behind the right-hand trim 6-4
Fuses and relays with Dual Power option 6-5
Noise measurement 6-6
Vibration 6-6
Coolant compound table 6-9
Weight 6-9
Dimensions model 803 (up to serial no AI00966) 6-10
Dimensions model 803 with rollbar (from serial no AI00967) 6-11
Dimensions model 803 without rollbar (from serial no AI00967) 6-12
Lift capacity tables 803 6-13
Index
A
Abbreviations 1-1
Air filter 5-12
B
Biodegradable oil 5-18
C
Changeover from diesel to HPU operation 3-71
Changeover from HPU to diesel operation 3-70
Check lists 3-8
Cleaning the radiator 5-11
Crane-lifting bracket 3-46
D
Designated use and exemption from liability 2-3
Display elements (overview) 3-6
Driving on public roads 3-17
Driving the excavator 3-10
E
Entry and exit 3-29
G
Gradient angle 3-21
H
Hammer operation 2-16
I
Indicator lights and warning lights 3-11
Instrument panel overview 3-6
ISO/SAE changeover 3-18
L
Lateral angle of inclination 3-22
Legal regulations 1-7
Lehnhoff mechanical quickhitch system (optional) 3-80
Lifting gear applications 2-10
Light system 3-28
Lock lever 3-64
Lubricating the live ring (ball bearing) 5-22
Lubricating the teeth of the live ring 5-23
M
Maintenance
Adding coolant 5-10
Adding engine oil 5-7
Adding hydraulic oil 5-17
Air filter 5-13, 5-14
Biodegradable oil 5-18
Bleeding the fuel system 5-4
Check the hydraulic oil level 5-17
Checking the coolant level 5-10
Checking the engine-oil level 5-7
Cleaning 5-31
Electrical system 5-28
Engine and hydraulics cooling system 5-8
Engine lubrication system 5-6
fuel system 5-2
General maintenance 5-31
Hydraulic pressure lines 5-19
Hydraulic system 5-15
Instructions concerning specific components 5-29
Maintenance plan 5-38
Pivots and hinges 5-33
Servicing and maintenance at regular intervals 5-28
Threaded fittings 5-33
Track maintenance 5-25
V-belt 5-15
Maintenance schedule of Lehnhoff mechanical quickhitch system 3-84
Maintenance when out of service for a longer period of time 5-34
N
Noise levels 1-12
Notes
On the Operator's Manual 1-1
O
Operation 3-1
Before starting the engine 3-13
Control stand overview 3-2, 3-5
Parking the machine 3-27
Seat belt height adjustment 3-39, 3-41
Starting the engine 3-14
Starting vehicle travel 3-17
P
Putting into operation 3-2, 3-5
Check lists 3-8
Putting into operation for the first time 3-7
Safety instructions 3-7
R
Refueling 5-3
Relieve pressure from auxiliary hydraulics 3-77
Running-in period 3-7
Index
I
1-2 BA 803 en/us – Edition 38 * * Ba803en3_8SIXfm
Index
S
Safety instructions 2-1
General conduct 2-4
Identification 2-1
Lifting gear applications 2-10
Maintenance 2-12
Operating 2-6
Special hazards 2-14
Transportation 2-10
Seat belt 3-38
Seat belt height adjustment 3-39, 3-41
Shatter protection 3-50
Starting aid 3-16
T
Technical data 6-1
Chassis 6-1
Coolant compound table 6-9
Dimensions 6-10, 6-11, 6-12
Electrical system 6-3
Engine 6-1
Noise levels 6-6
Vibration 6-6
Work hydraulics 6-3
Track maintenance 5-25
V
vehicle
Brief description 1-4
Fields of application 1-6
Loading and transporting 3-48
Overview 1-2
W
Warranty 2-2
Working
Freeing the machine 3-90
Recommendations 3-90
Working on slopes
VIDEO PREVIEW OF THE MANUAL:
PLEASE NOTE:
This is the SAME MANUAL used by the dealerships to diagnose your vehicle
No waiting for couriers / posts as this is a PDF manual and you can download it within 2 minutes time once you make the payment.
Your payment is all safe and the delivery of the manual is INSTANT – You will be taken to the DOWNLOAD PAGE.
So have no hesitations whatsoever and write to us about any queries you may have : heydownloadss @gmail.com
S.M