Liebherr Wheel Loader L534-434 Operating Manual 13100 – PDF DOWNLOAD
FILE DETAILS:
Liebherr Wheel Loader L534-434 Operating Manual 13100 – PDF DOWNLOAD
Language : English
Pages :279
Downloadable : Yes
File Type : PDF
Size: 8.43  MB
DESCRIPTION:
Liebherr Wheel Loader L534-434 Operating Manual 13100 – PDF DOWNLOAD
Product identification
Manufacturer: Liebherr-Werk BischofshofenGmbH
Type:L534
Type no.: 434
from serial number:13100
FOREWORD
This operating manual has been written for the driver and for the maintenance personnel of the machine.
It describes:
— Chapter 1 – Product description
— Chapter 2 – Safety regulations
— Chapter 3 – Operation and handling — Chapter 4 – Malfunctions
— Chapter 5 – Maintenance
This operating manual must be carefully read before initial operation and should be read and used later at regular intervals by anyone responsible for working on the machine.
Working with or on the machine includes:
— Operation, including equipping, troubleshooting during operation, removing production debris, maintenance, removing operating and auxiliary materials.
— Servicing, including maintenance, inspection, and repairs.
— Transport or loading the machine.
This manual helps the driver to become acquainted with the machine and prevents malfunctions due to improper operation.
Observation of the operating manual by maintenance staff: — Increases reliability during operation
— Extends the service life of your machine
— Reduces repair costs and downtime
This manual must be kept with the machine. Place a copy within easy reach in the glove compartment in the driver's cab.
In addition to the operating manual, follow the instructions based on existing national accident prevention and environmental protection regulations.
In addition to the operating manual and applicable national and local legal accident prevention rules, observe the recognized technical regulations for safe and proper operation.
This operating manual contains all the information you need to operate and service your machine.
If you should, however, require more detailed explanations or information, our technical information and customer services departments will be happy to provide assistance.
You will understand that we cannot accept warranty claims for damage due to improper use, insufficient maintenance, use of non-approved consumables, or failure to follow the safety instructions.
LIEBHERR will cancel without prior notice all obligations such as warranty agreements and service contracts entered into by LIEBHERR and/or its agents if spare parts other than genuine LIEBHERR parts or those purchased from LIEBHERR are used for maintenance and repairs.
In extreme conditions, maintenance may be required more often than stated in the inspection schedule.
We reserve the right to alter the technical details of the machine regardless of the specifications and illustrations in these documents. The warranty and liability terms contained in LIEBHERR's general conditions of trade are not affected by the information in the manual. The information and illustrations in this manual may not be reproduced, distributed, or used for commercial purposes. All rights under copyright laws are expressly reserved.
IMAGES PREVIEW OF THE MANUAL: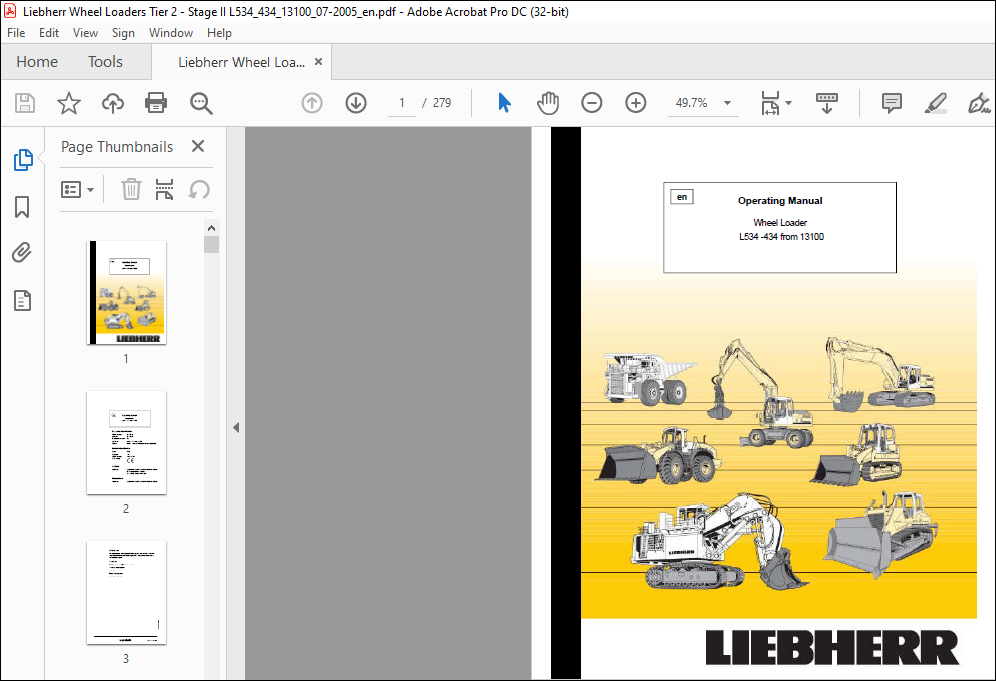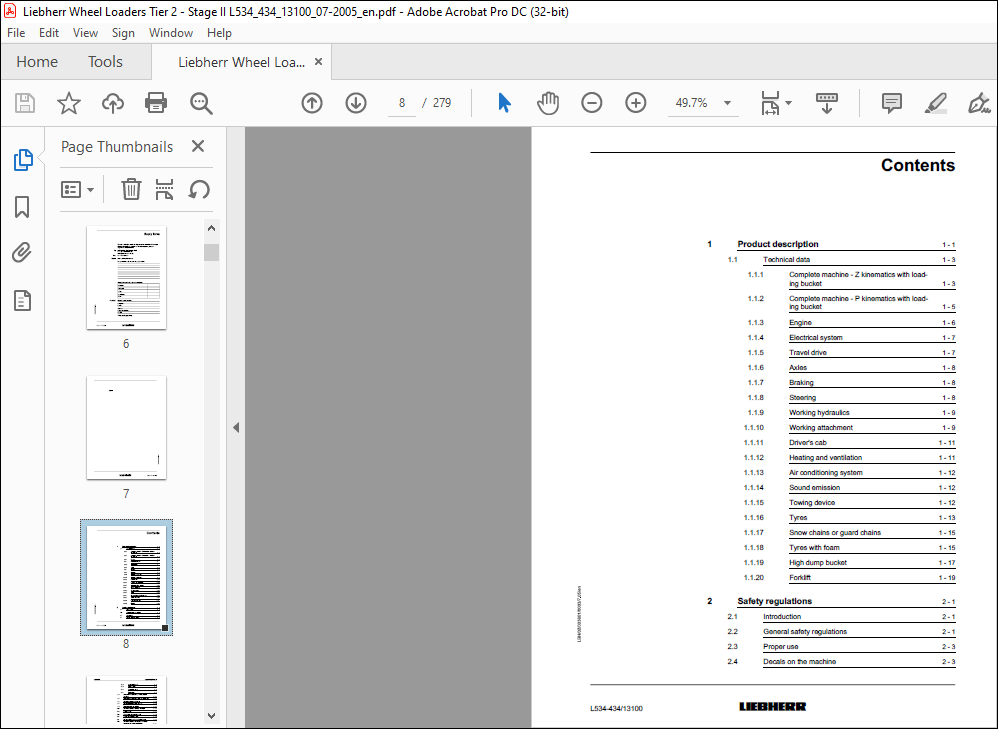 TABLE OF CONTENTS:
Liebherr Wheel Loader L534-434 Operating Manual 13100 – PDF DOWNLOAD

1 Product description 1-1
1.1 Technical data 1-3
1.1.1 Complete machine – Z kinematics with load-
ing bucket 1-3
1.1.2 Complete machine – P kinematics with load-
ing bucket 1-5
1.1.3 Engine 1-6
1.1.4 Electrical system 1-7
1.1.5 Travel drive 1-7
1.1.6 Axles 1-8
1.1.7 Braking 1-8
1.1.8 Steering 1-8
1.1.9 Working hydraulics 1-9
1.1.10 Working attachment 1-9
1.1.11 Driver's cab 1-11
1.1.12 Heating and ventilation 1-11
1.1.13 Air conditioning system 1-12
1.1.14 Sound emission 1-12
1.1.15 Towing device 1-12
1.1.16 Tyres 1-13
1.1.17 Snow chains or guard chains 1-15
1.1.18 Tyres with foam 1-15
1.1.19 High dump bucket 1-17
1.1.20 Forklift 1-19
2 Safety regulations 2-1
21 Introduction 2-1
2.2 General safety regulations 2-1
23 Proper use 2-3
24 Decals on the machine 2-3
241 Location of decals 2-4
24.2 Safety decals 2-4
243 Information decals 2-5
24.4 Type plates 2-9
Instructions on preventing crushing injuries
and burns 2-10
Instructions on preventing fires and explosions 2-10
Safety instructions for start-up 2-11
Safety precautions during start-up 2-11
Instructions for safe working 2-12
Safety instructions for driving on slopes 2-13
Parking safely 2-13
Transporting the machine safely 2-14
Towing the machine safely 2-14
Measures for ensuring safe maintenance 2-15
Safety instructions for maintenance work on
machines with hydro accumulators 2-17
Safety instructions for welding work on the
machine 2-18
Instructions for working safely on the working
attachment 2-18
Safety instructions for transporting the ma-
chine by crane 2-19
Safe maintenance of hydraulic hoses and hose
lines 2-19
Attachments and accessories 2-20
Protection against vibrations 2-20
Operation, Handling 3-1
Layout of control elements 3-1
Operation 3-3
3.21 Battery main switch 3-3
3.22 Cab access 3-3
3.23 Emergency exit 3-5
3.24 Driver's seat with mechanical suspension 3-6
3.25 Driver's seat with pneumatic suspension 3-11
3.2.6 Seat belt 3-15
3.27 Steering column and steering wheel 3-17
3.28 Ignition switch 3-18
3.29 Steering column switch 3-18
3.210 Lighting 3-20
3.2.11 Display unit 3-22
3.212 Switches on the instrument panel 3-27
3.2.13 Switches on the side console 3-29
3.2.14 LIEBHERR control lever 3-34
3.2.15 Control lever for additional working func-
tions 3-36
3.2.16 Heating and ventilation 3-37
3.2.17 Air-conditioning system 3-39
3.2.18 Interior cab lighting 3-41
3.2.19 Interior and exterior mirrors 3-41
3.2.20 Sun visor 3-42
3.2.21 Windshield wiper and washer system 3-42
3.2.22 Windshield washer fluid reservoir 3-44
3.2.23 LIEBHERR automatic lubrication system 3-45
3.2.24 TWIN automatic lubrication system 3-49
3.2.25 Audible reverse warning device 3-52
3.2.26 Visible reverse warning device 3-52
3.2.27 Reversible fan drive 3-53
3.3 Handling 3-54
3.3.1 Daily start-up 3-54
3.32 Starting the diesel engine 3-56
3.33 Driving 3-62
3.34 Shutting down the machine 3-74
3.35 Operating the lift arms 3-78
3.3.6 Working methods 3-88
3.3.7 Soot particle filter 3-101
3.38 Filling the tank using the filling pump 3-104
3.39 Operating the hydraulic quick-change de-
vice for Z lift arms 3-106
3.3.10 Operating the combined electrohydraulic
3.3.11 Operating the combined electrohydraulic
quick-change device with comfort control for
Z lift arms. 3-119
3.3.12 Operating the combined electrohydraulic
quick-change device for P lift arms 3-124
3.3.13 Forklift 3-131
3.3.14 Using the high dump bucket 3-133
3.3.15 Transporting the machine 3-135
34 Emergency operation 3-142
3.41 Towing the machine 3-142
3.4.2 Jump starting 3-149
4 Malfunctions 4-1
41 Service Code Table 4-2
411 Service code indication on the display 4-2
41.2 Diesel engine diagnosis 4-2
41.3 Visible and audible warning signals 4-3
41.4 Troubleshooting for the LIEBHERR auto-
matic lubrication system 4-5
415 Flashing codes for the TWIN automatic lu-
brication system 4-6
4.2 Eliminating malfunctions 4-8
4.21 Replacing fuses 4-8
5 Maintenance 5-1
5.1 Maintenance and inspection schedule 5-1
52 Lubricant chart, filling quantities 5-5
5.21 Table of filling quantities 5-5
522 Lubricant chart 5-6
53 Maintenance tasks 5-8
5.3.1 Preparatory tasks for maintenance 5-8
532 Checking the machine for external damage 5-13
53.3 Making sure the bolted connections are
tight 5-13
534 Sealing any leaks 5-13
535 Checking the engine oil level 5-14
5.3.6 Changing the engine oil 5-14
LIEBHERR L534-434/13100
Changing the engine oil filter 5-16
Replacing the fuel pre-filter 5-17
Changing the fuel fine filter 5-19
Draining off condensate from the fuel filter 5-20
Draining off condensate and sediment from
the fuel tank 5-21
Cleaning the air filter service cap and dust
extraction valve 5-21
Changing the air filter main element when
indicated by the vacuum switch 5-22
Checking and draining the soot particle filter
condensate separator 5-23
Checking the coolant level 5-24
Checking the coolant antifreeze concentra-
tion 5-25
Cleaning the cooling system 5-27
Checking the oil level in the hydraulic tank 5-28
Checking and cleaning the magnetic rod on
the hydraulic tank 5-29
Testing the steering 5-30
Lubricating the bearing points on the steer-
ing cylinders 5-30
Checking the service brake and parking
brake 5-31
Checking the indicator lamps and lighting 5-32
Checking the tightness of the wheels (once
after 50, 100 and 250 h) 5-33
Checking and lubricating the cardan shaft(s) 5-33
Checking the tyre pressure 5-34
Lubricating the articulation bearing and rear
oscillating bearing 5-35
Checking whether metered quantities are
adequate at the bearing points (grease col-
lars) of the central lubrication system 5-36
Checking the pipes, hoses and lubrication
points of the lubrication system 5-36
Greasing the cab door hinges 5-36
Cleaning or replacing the fresh air and
recirculated air filter 5-37
Lubricating the lift arms and attachment (Z
kinematics) 5-37
Checking the bearing bushings on the lift
arms (Z kinematics) 5-39
Lubricating the lift arms and attachment (P
kinematics) 5-39
Checking the bearing bushings on the lift
arms (P kinematics) 5-41
Lubricating and testing the quick-change
device 5-42
Cleaning the machine 5-43
Corrosion protection 5-44
Lubricants and fuels 5-46
Lubricating oils for diesel engines 5-47
Diesel fuels 5-49
Coolants for diesel engines 5-50
Hydraulic oils 5-52
Lubricating oils for the transmission 5-53
Grease for general lubrication points 5-54
 VIDEO PREVIEW OF THE MANUAL:
PLEASE NOTE:
This is the same manual used by the DEALERSHIPS to SERVICE your vehicle.
The manual can be all yours – Once payment is complete, you will be taken to the download page from where you can download the manual. All in 2-5 minutes time!!
Need any other service / repair / parts manual, please feel free to contact us at heydownloadss @gmail.com . We may surprise you with a nice offer
S.M