Liebherr LR2 622 632 Crawler Loader Series 2 Service Manual – PDF DOWNLOAD
FILE DETAILS:
Liebherr LR2 622 632 Crawler Loader Series 2 Service Manual – PDF DOWNLOAD
Language : English
Pages : 978
Downloadable : Yes
File Type : PDF
Size: 57.3 MB
DESCRIPTION:
Liebherr LR2 622 632 Crawler Loader Series 2 Service Manual – PDF DOWNLOAD
DECALS ON THE MACHINE:
Several safety decals are attached to the machine. The must be strictly observed to prevent death or
serious injury. The decals and the location of the decals on the machine are shown in the Operation
and Maintenance Manuals.(Please use them for more informations).
These safety decals must be checked regularly to insure they are still complete and legible.
Missing or illegible safety decals must always be replaced immediately.
GENERAL SAFETY GUIDELINES:
Study the Operation and Maintenance Manual before operating or working on the machine.
– Make certain that you have additional information for the special attachments of your machine,
read it and make sure you understand it.
Only trained and authorized personnel may operate, maintain, service or repair this machine.
– Make sure you are aware of the permissible minimum operator age, as stated by law.
Utilize only trained or specially trained personnel, make sure that everybody is aware of the person
/ persons responsible for the operation, installation of attachments, maintenance and repair of the
machine.
Determine the responsibility of the operator, (to include adherence to traffic regulations) and
permit him to refuse to carry out unsafe instructions or practices given by a third person.
Do not allow any personnel, either still to be trained or already in training, to work on the machine
unless that person is under the constant supervision of an experienced instructor or operator.
Periodically, check to see if all persons observe all safety guidelines and work cautiously, as noted in
the Operation and Maintenance Manual.
Always wear proper clothing when operating or working on the machine.
Avoid wearing rings, watches, bracelets, ties, scarves, open jackets, loose clothing such as
unbuttoned or unzipped jackets, etc. they are dangerous, could get caught in the machinery and
could cause serious injury!
Wear the proper safety equipment for certain work, such as safety glasses, safety shoes, hard hats,
gloves, reflective vests, ear protection.
Consult your employer or supervisor for specific safety equipment requirements and safety
regulations applicable to the job site.
Never use the safety lever, control levers or joysticks as handholds. This could trigger inadvertent
movement of the machine and cause serious accidents.
Never jump off the machine! Climb on and off the machine only by using the steps, rails and
handles provided. When climbing on or off the machine, use both hands for support and face the
machine.
Keep operator's cab, catwalks, steps, handrails and handles clean and free from oil, grease, mud,
snow and ice. These precautions will minimize the danger of slipping, stumbling or falling.
 Familiarize yourself with the emergency exit route through the right cab door.
If no other instructions were given, proceed as follows for maintenance and repairs:
– Park the machine on firm and level ground and lower the attachment to the ground.
– Bring all operating and control levers into neutral position.
IMAGES PREVIEW OF THE MANUAL: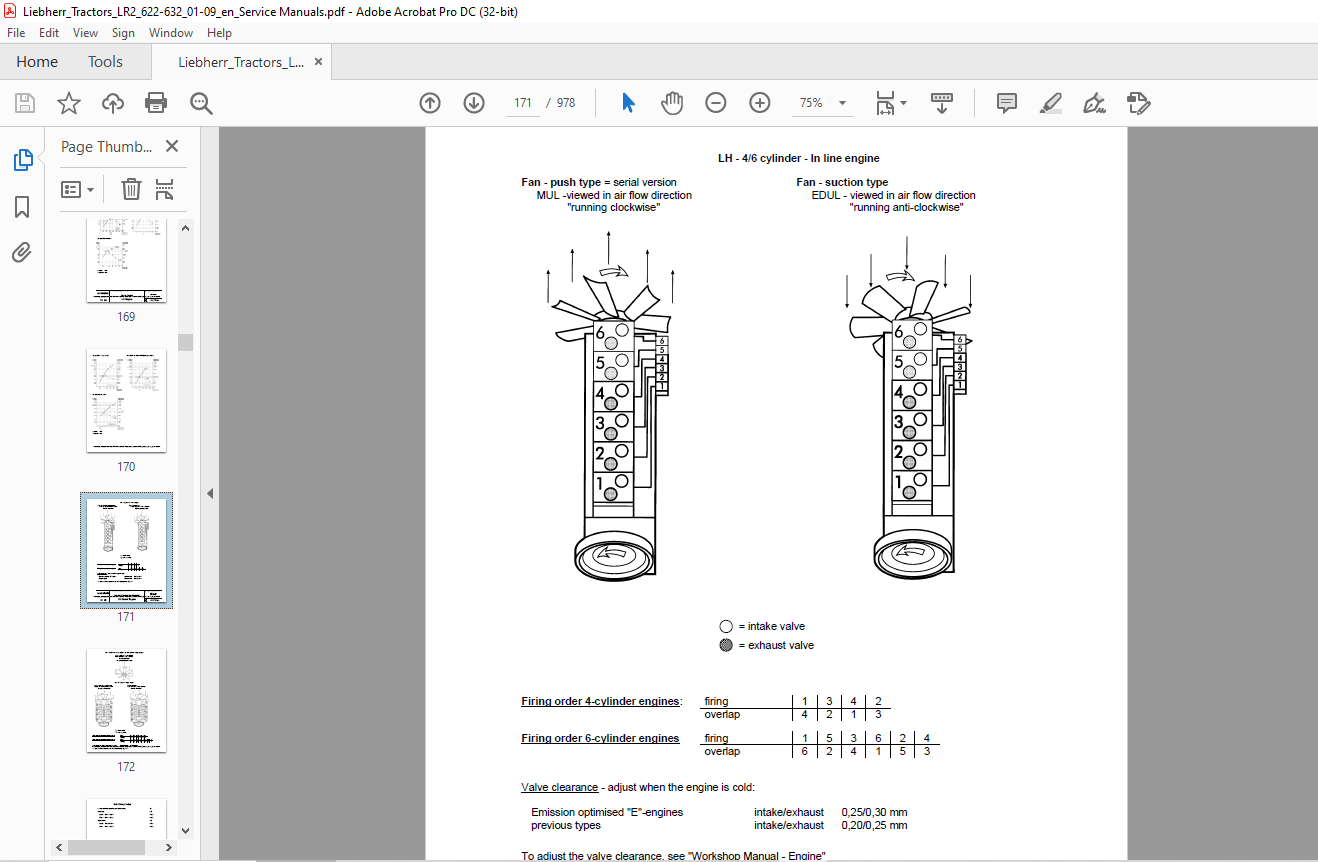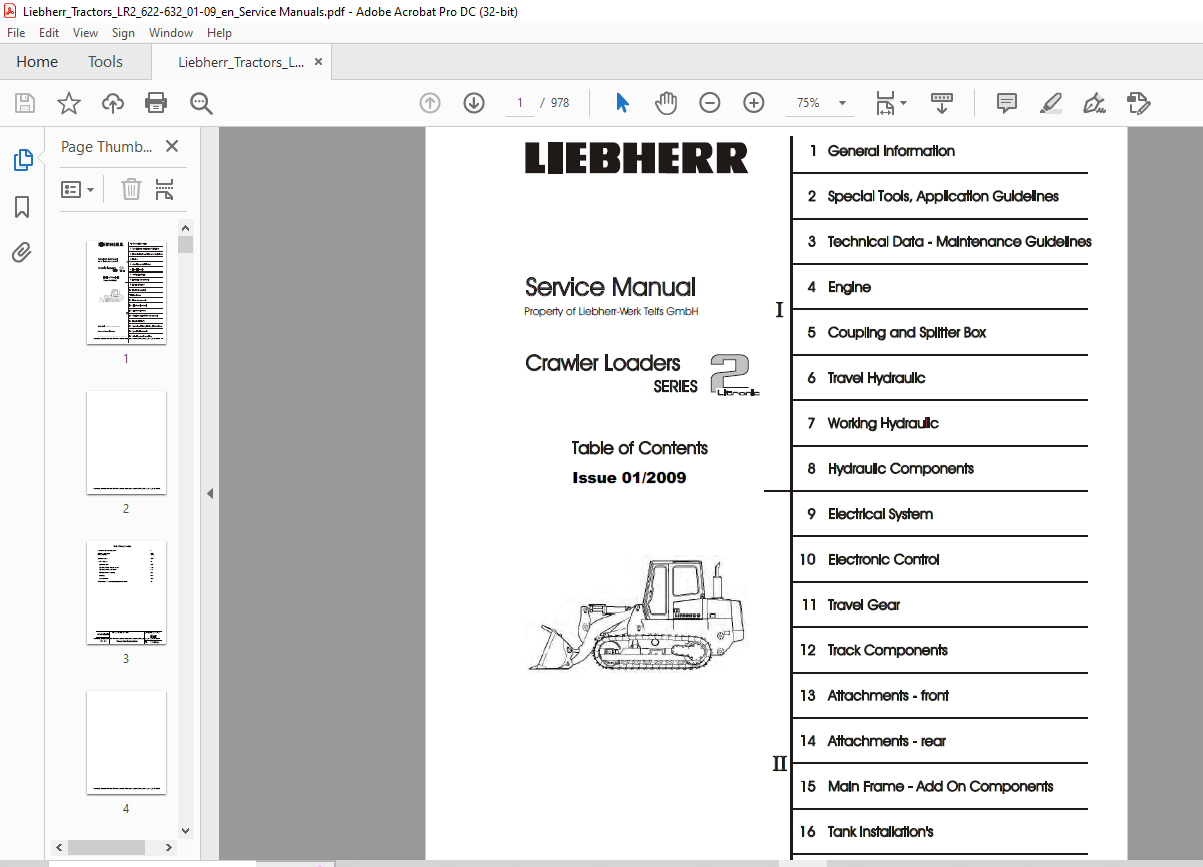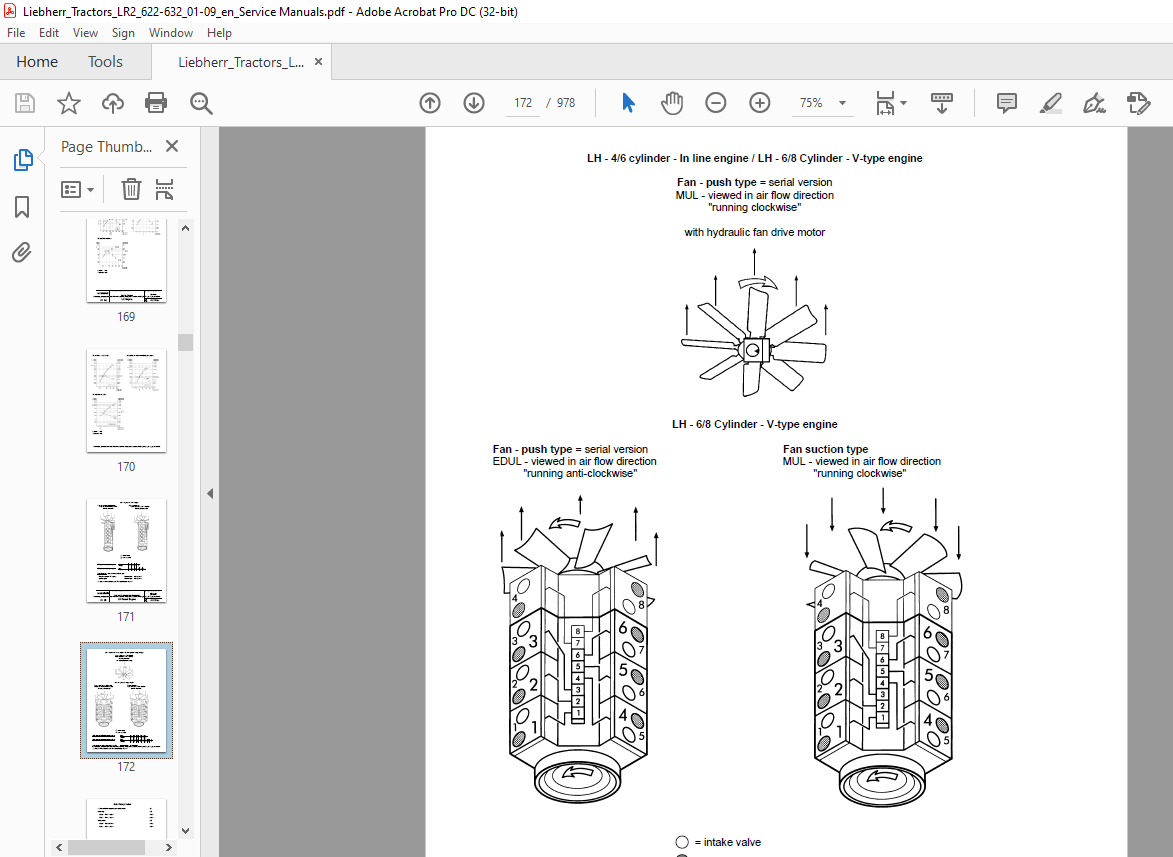 TABLE OF CONTENTS:
Liebherr LR2 622 632 Crawler Loader Series 2 Service Manual – PDF DOWNLOAD
General Information
Special Tools, Application Guidelines
Technical Data – Maintenance Guidelines
Engine
Coupling and Splitter Box
Travel Hydraulic
Working Hydraulic
Hydraulic Components
Electrical System
Electronic Control
Travel Gear
Track Components
Attachments – front
Attachments – rear
Main Frame – Add On Components
Tank Installation's
Operators Platform, Heater, Air Conditioner
Special Attachments
Miscellaneous Informations
VIDEO PREVIEW OF THE MANUAL:
PLEASE NOTE:
This is the same manual used by the DEALERSHIPS to SERVICE your vehicle.
The manual can be all yours – Once payment is complete, you will be taken to the download page from where you can download the manual. All in 2-5 minutes time!!
Need any other service / repair / parts manual, please feel free to contact us at heydownloadss @gmail.com . We may surprise you with a nice offer
S.V