Kobelco Mark-8 Series Sk350 Excavators Service Repair Workshop Manual Download
IMAGE PREVIEW: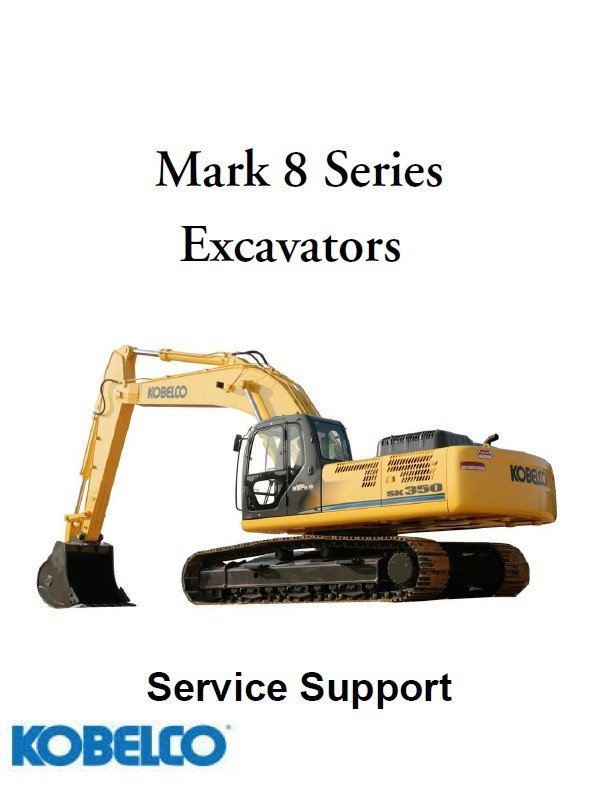 VIDEO PREVIEW:
TABLE CONTENT
MAIN HYDRAULIC COMPONENTS
TABLE OF CONTENTS
5 1 HYDRAULIC COMPONENTS 5-3
5 1 1 HYDRAULIC PUMP • REGULATOR 5-12
5 1 2 CONTROL VALVE 5-21
5 1 3 PILOT VALVE (ATT) 5-41
5 1 4 PILOT VALVE (TRAVEL) 5-45
5 1 5 SWING MOTOR UNIT 5-47
5 1 6 SWIVEL JOINT 5-49
5 1 7 Multi- Solenoid Manifold Block 5-89
SAMPLE PAGE
FAMILIARIZATION
All operators,service mechanics and personnel
responsible for operation,inspection and maintenance
of the machine should become thoroughly
familiar with the controls and components and their
functions before working with or on this equipment.
Study the information in this section to become
familiar With the controls and components of this
machine.
GENERAL MACHINE NOMENCLATURE
The Nomenclature drawing below (FIGURE
3.12),points out locations of major components of
the new series Hydraulic Excavator.
Study these areas and locate these components on
the machine.Specific information regarding these
components are explained on the following pages of
this section.
PLEASE NOTE:
This is the SAME MANUAL used by the dealerships to diagnose your vehicle
No waiting for couriers / posts as this is a PDF manual and you can download it within 2 minutes time once you make the payment.
Your payment is all safe and the delivery of the manual is INSTANT – You will be taken to the DOWNLOAD PAGE.  
So have no hesitations whatsoever and write to us about any queries you may have : heydownloadss @gmail.com