Description
Gilera Runner St125 Service Manual Runner St200 St 125 200
FILE DETAILS:
LANGUAGE:ENGLISH
PAGES:279
DOWNLOADABLE:YES
FILE TYPE:PDF
VIDEO PREVIEW OF THE MANUAL:
DESCRIPTION:
Gilera Runner St125 Service Manual Runner St200 St 125 200
Vehicle identification
Vehicle 125
Chassis prefix: ZAPM46100 ÷ 1001
Engine prefix: M461M
Vehicle 200
Chassis prefix: ZAPM46200 ÷ 1001
Engine prefix: M462M
This service station manual has been drawn up by Piaggio & C. Spa to be used by the workshops of Piaggio-Gilera dealers. It is assumed that the user of this manual for maintaining and repairing Piaggio vehicles has a basic knowledge of mechanical principles and vehicle repair technique procedures. Any significant changes to vehicle characteristics or to specific repair operations will be communicated by updates to this manual. Nevertheless, completely satisfactory work cannot be carried out without the necessary equipment and tools. It is therefore advisable to read the sections of this manual relating to appropriate tools, along with the appropriate tool catalogue.
Maintenance rules:
 Use original PIAGGIO spare parts and lubricants recommended by the Manufacturer. Non-original or non-conforming spares may damage the vehicle.
 Use only the appropriate tools designed for this vehicle.
 Always use new gaskets, sealing rings and split pins upon refitting.
 After removal, clean the components using non-flammable or low flash-point solvents. Lubricate all the work surfaces, except tapered couplings, before refitting these parts.
 After refitting, make sure that all the components have been installed correctly and work properly.
 For removal, overhaul and refit operations use only tools with metric measures. Metric bolts, nuts and screws are not interchangeable with coupling members with English sizes. Using unsuitable coupling members and tools may damage the scooter.
 When carrying out maintenance operations on the vehicle that involve the electrical system, make sure the electric connections have been made properly, particularly the ground and battery connections.
TABLE OF CONTENTS:
Gilera Runner St125 Service Manual Runner St200 St 125 200
Characteristics
Tooling
Maintenance
Troubleshooting
Electrical system
Engine from vehicle
Engine
Suspensions
Braking system
Cooling system
Chassis
Pre—delivery
Time
IMAGES PREVIEW OF THE MANUAL: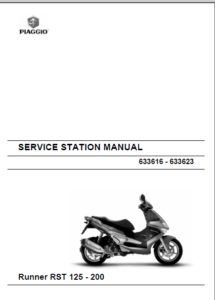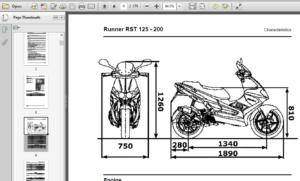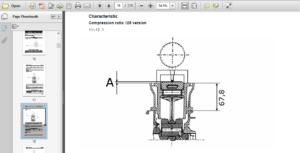 PLEASE NOTE:
This is not a physical manual but a digital manual – meaning no physical copy will be couriered to you. The manual can be yours in the next 2 mins as once you make the payment, you will be directed to the download page IMMEDIATELY.
This is the same manual used by the dealers inorder to diagnose your vehicle of its faults.
Require some other service manual or have any queries: please WRITE to us at heydownloadss@gmail.com