Daewoo Doosan Solar 250lc V Excavator Service Shop Manual
FILE DETAILS:
LANGUAGE:ENGLISH
PAGES:567
DOWNLOADABLE:YES
FILE TYPE:PDF
VIDEO PREVIEW OF THE MANUAL:
IMAGES PREVIEW OF THE MANUAL: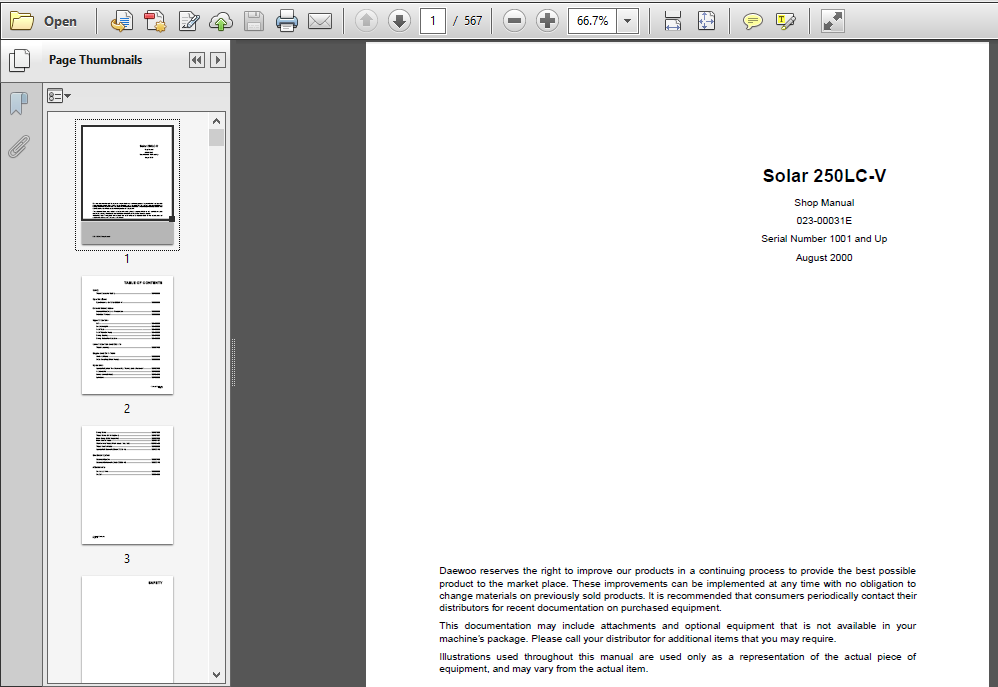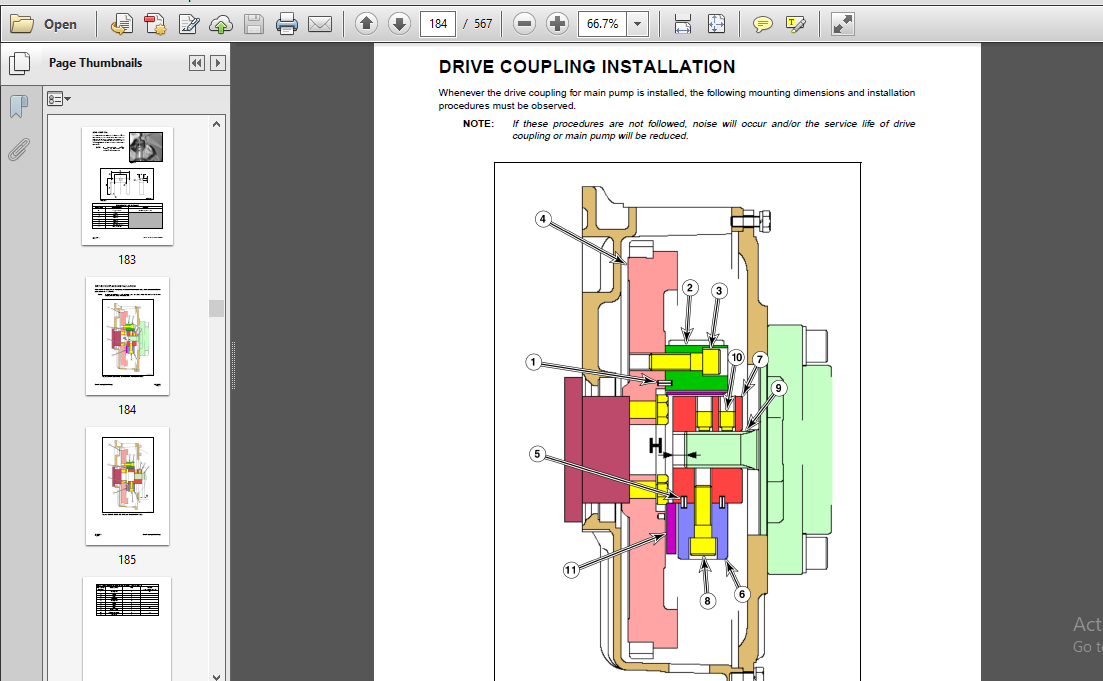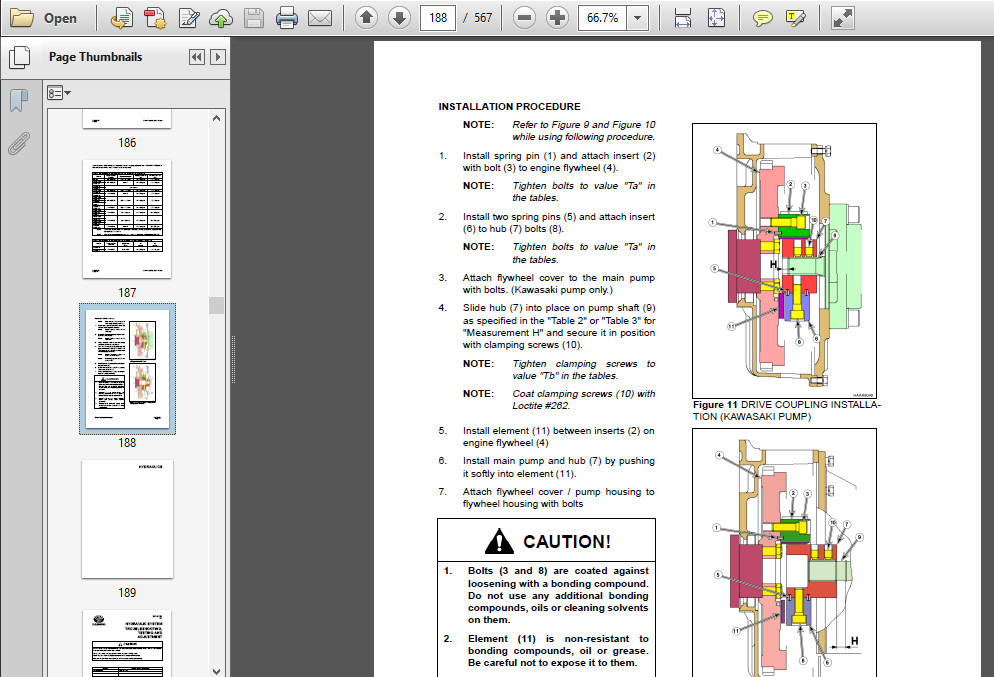 DESCRIPTION:
FOREWORD:
Daewoo reserves the right to improve our products in a continuing process to provide the best possible product to the market place. These improvements can be implemented at any time with no obligation to change materials on previously sold products. It is recommended that consumers periodically contact their distributors for recent documentation on purchased equipment. This documentation may include attachments and optional equipment that is not available in your machine's package. Please call your distributor for additional items that you may require.
GENERAL SAFETY ESSENTIALS ACCESSORY APPLICATIONS:
The excavator has been primarily designed for moving earth with a bucket. For use as a grapple or for other object handling, contact Daewoo for proper installation and application. Lifting-work applications (unless restricted or prohibited by local regulations) are permitted in approved lift configuration, to rated capacity only, with no side-loading. DO NOT use the machine for activities for which it was not intended. DO NOT use the bucket for lifting work, unless lift slings are used in the approved configuration. Use of an accessory hydraulic hammer (breaker), work in rough terrain, demolition applications or other hazardous operation may require installation of additional protective structures to safeguard the operator.
LIFTING CAPACITY RATING CONFIGURATION:
Lifting capacity ratings that are printed at the end of this safety section are based on the machine being level, on a firm supporting surface, with hooks and slings attached in approved configuration. Loads must be balanced and supported evenly. Use taglines to keep the load steady if wind conditions and large surface area are a problem. Work crew hand signals, individual tasks and safe procedures should all be universally understood before the lift is made.
TABLE OF CONTENTS:
Safety
Track Excavator Safety
Specifications
Specifications for Solar LC-V
General Maintenance
General Maintenance Procedures
Standard Torques
Upper Structure
Cab
Counterweight
Fuel Tank
Fuel Transfer Pump
Swing Bearing
Swing Reduction Gearbox
Lower Structure and Chassis
Track Assembly
Engine and Drive Train
Air-Conditioner
Drive Coupling (Main Pump)
Hydraulics
Hydraulic System Troubleshooting, Testing and Adjustment
Accumulator
Center Joint (Swivel)
Cylinders
Table of Contents
Page II
Swing Motor
Travel Motor (With Gearbox)
Main Pump (With Regulator)
Main Control Valve
Pilot Control Valve (Work Lever / Joystick)
Travel Control Valve
Hydraulic Schematic (Solar LC-V)
Electrical System
Electrical System
Electrical Schematic (Solar LC-V)
Attachments
Boom and Arm
Bucket
PLEASE NOTE:
This is the SAME exact manual used by your dealers to fix your vehicle.
The same can be yours in the next 2-3 mins as you will be directed to the download page immediately after paying for the manual.
Any queries / doubts regarding your purchase, please feel free to contact [email protected]