BT Toyota Forklift FBESF 10-15 Service Manual – PDF DOWNLOAD
FILE DETAILS:
BT Toyota Forklift FBESF 10-15 Service Manual – PDF DOWNLOAD
Language : English
Pages : 231
Downloadable : Yes
File Type : PDF
DESCRIPTION:
BT Toyota Forklift FBESF 10-15 Service Manual – PDF DOWNLOAD
FOREWORD:
This manual covers the service procedures of the BT Cargo range FBESF 10-15. Please use this manual for providing quick, correct servicing of the corresponding forklift models.
This manual deals with the above models as of April 1996. Please understand that disagreement can take place between the descriptions in the manual and actual vehicles due to change in design and specifications. Any change or modifications thereafter will be informed by Toyota Industrial Vehicles' Parts I Service News.
OPERATIONAL TIPS:
1 . Safe operation
(1) After jacking up, always support with rigid stands.
(2) When hoisting the vehicle or its heavy component, use wire rope(s) with a sufficient load capacity.
(3) Always disconnect the battery plugs before the inspection or servicing of electrical parts.
2. Protection of functional parts
( 1) After the end of vehicle inspection and/or maintenance, carefully check each connector for
perfect connection without omission before battery plug connection.
Omission of connection of any connector related to the controller, especially, may cause failure
of controller internal elements.
3. Tactful operation
( 1) Prepare the mechanic tools, necessary measuring instruments (circuit tester, megger, pressure
gauge, etc.) and SSTs before starting operation.
(2) Before disconnecting wiring, always check the cable color and wiring state.
(3) When overhauling functional parts, complicated portions or related mechanisms, arrange them
neatly to prevent confusion.
(4) When disassembling and inspecting precision parts such as the control valve, use clean rags
and operate in a clean location.
(6) Follow the described procedures for disassembly, inspection and reassembly.
(6) Replace, gaskets, packings and 0-rings with new ones each time of disassembly.
(7) Use genuine Toyota parts for replacement.
(8) Use specified bolt and nuts. Observe the specified tightening torque at the time of reassembly.
lf no tightening torque is specified, tighten the bolt or nut according to the standard tightening
torque table.
4. Grasping the problem
When a problem occurs, do not attempt immediate disassembly or replacement but first see if the
trouble requires disassembly or replacement for remedying.
TABLE OF CONTENTS:
BT Toyota Forklift FBESF 10-15 Service Manual – PDF DOWNLOAD
GENERAL
BATTERY
ELECTRICAL SYSTEM
SEVCON ADJUSTMENTS
MOTOR
DRIVE UNIT AND REAR WHEEL
FRONT AXLE
STEERING
BRAKE
MATERIAL HANDLING SYSTEM
MAST
CYLINDER
OIL PUMP
OIL CONTROL VALVE
HYDRAULIC PIPING
APPENDIX
IMAGES PREVIEW OF THE MANUAL: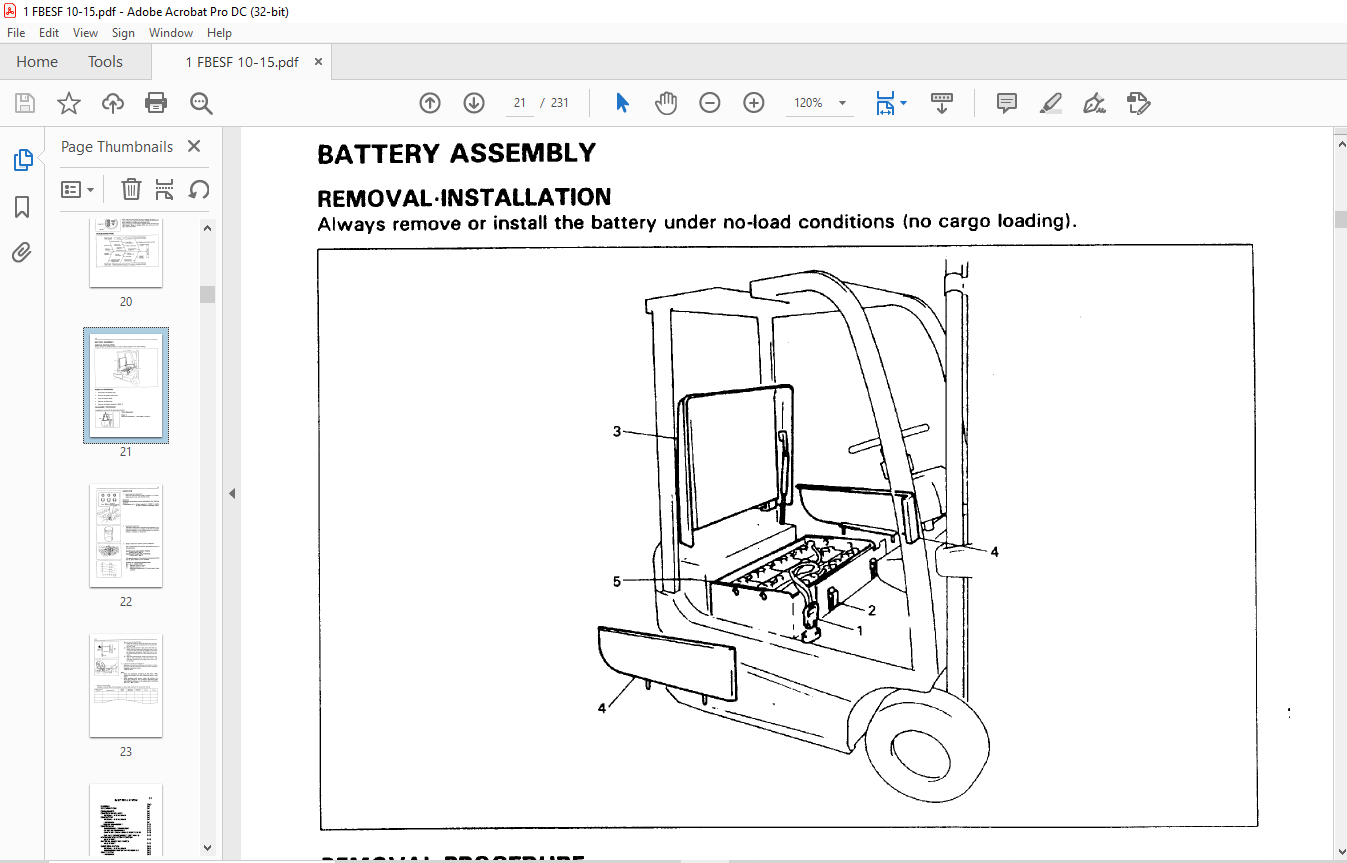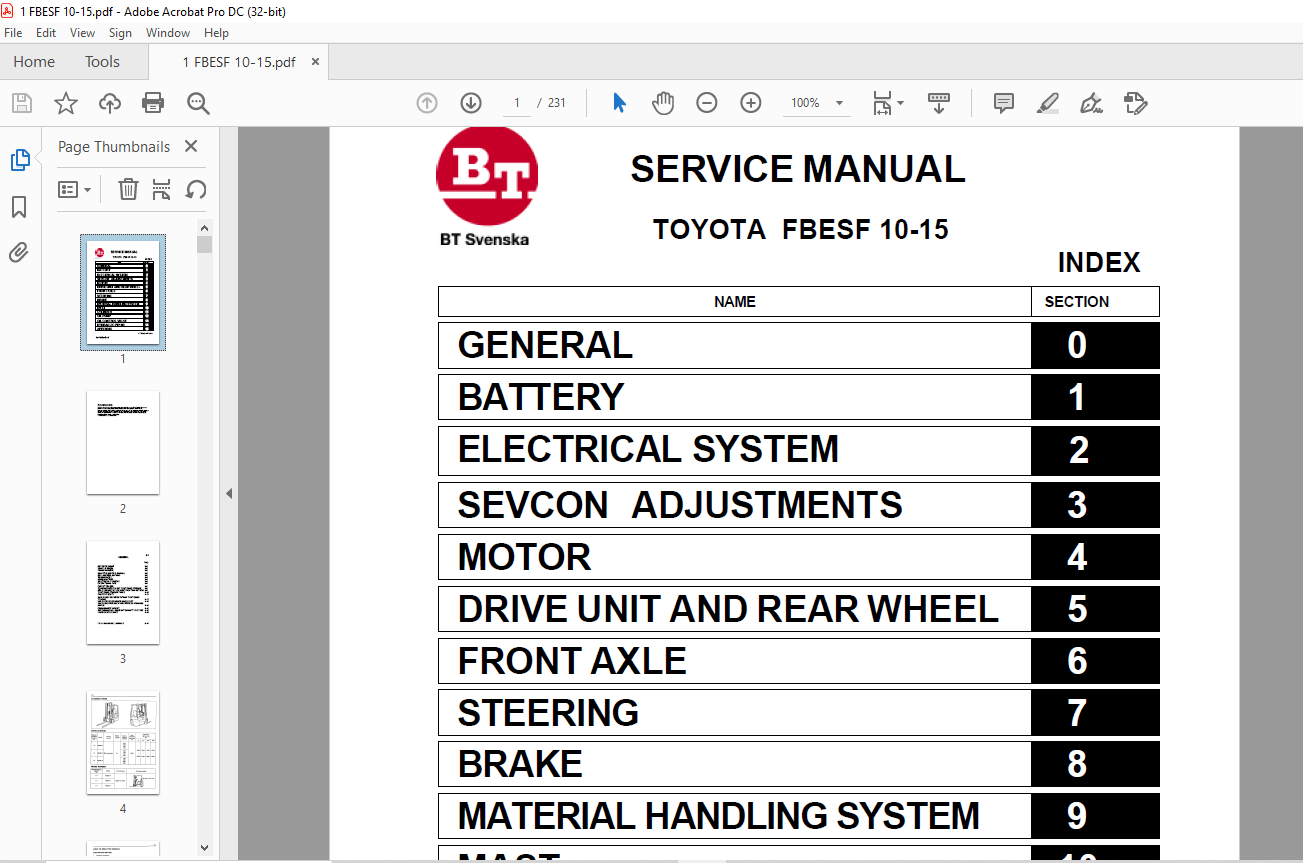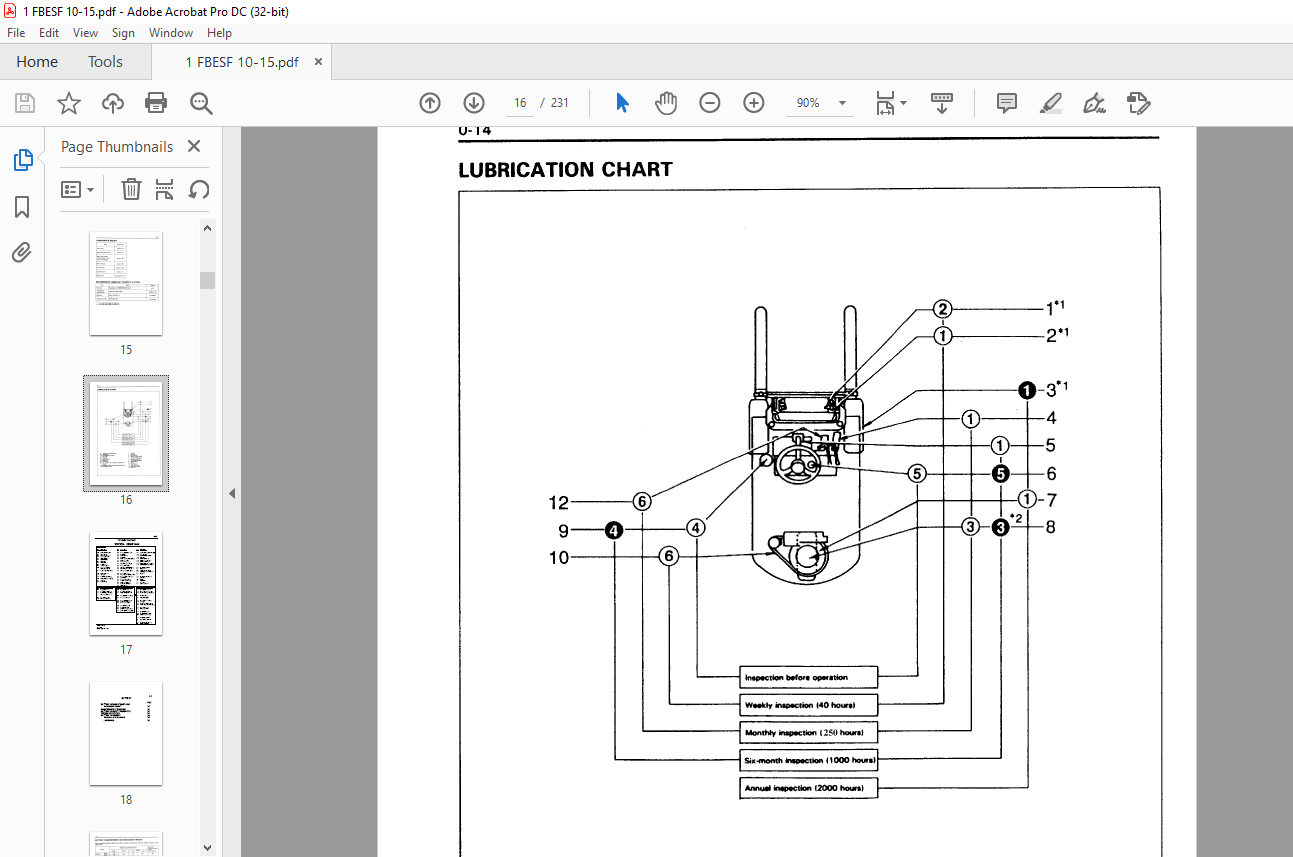 VIDEO PREVIEW OF THE MANUAL:
PLEASE NOTE:
This is the SAME MANUAL used by the dealerships to diagnose your vehicle
No waiting for couriers / posts as this is a PDF manual and you can download it within 2 minutes time once you make the payment.
Your payment is all safe and the delivery of the manual is INSTANT – You will be taken to the DOWNLOAD PAGE.
So have no hesitations whatsoever and write to us about any queries you may have : heydownloadss @gmail.com
S.V