Bobcat 953 Bobcat Loader Service Manual
FOREWORD ii
SAFETY INSTRUCTIONS v
SERIAL NUMBER LOCATIONS vii
DELIVERY REPORT vii
BOBCAT LOADER IDENTIFICATION viii
PREVENTIVE MAINTENANCE 1–1
HYDRAULIC SYSTEM 2–1
HYDROSTATIC SYSTEM3–1
DRIVE SYSTEM 4–1
MAIN FRAME 5–1
ELECTRICAL SYSTEM 6–1
ENGINE SERVICE 7–1
BICS™ SYSTEM 8–1
SPECIFICATIONS 9–1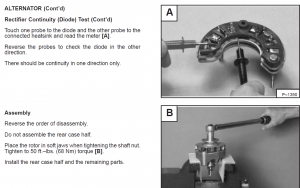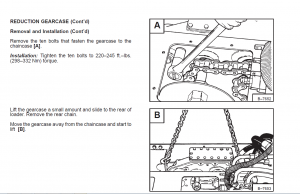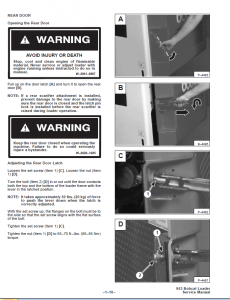 SAFETY INSTRUCTIONS (Cont'd)
• Wear tight fitting clothing. Always wear safety glasses when maintaining or servicing loader. Safety glasses, hearing
protection or loader special applications kit are required for some work. See your dealer for Melroe Safety equipment.
• Know where fire extinguishers and first aid kits are located and how to use them.
• Do not use the Bobcat loader where exhaust, arcs, sparks or hot components can contact flammable material, explosive
dust or gases.
• The engine compartment and engine cooling system must be inspected every day and cleaned if necessary to prevent
fire hazard and overheating.
• Check all electrical wiring and connections for damage. Keep the battery terminals clean and tight. Repair or replace any
damaged part.
• Check fuel and hydraulic tubes, hoses and fittings for damage and leakage. Never use open flame or bare skin to check
for leaks. Tighten or replace any parts that show leakage. Always clean fluid spills. Do not use gasoline or diesel fuel for
cleaning parts. Use commercial nonflammable solvents.
• Follow any environmental safety regulations when disposing of used fluids such as engine oil, grease or anti–freeze.
• Do not use ether or starting fluids on this engine. It has glow plugs. These starting aids can cause explosion and injure
you or bystanders.
• Always clean the loader and disconnect the battery before doing any welding. Cover rubber hoses, battery and all other
flammable parts. Keep a fire extinguisher near the loader when welding. Have good ventilation when grinding or welding
painted parts. Wear dust mask when grinding painted parts. Toxic dust or gas can be produced.
• Stop the engine and let it cool before adding fuel. No smoking!
• Use the procedure in the Operation & Maintenance or Service Manuals for connecting the battery.
• Use the procedure in the Operation & Maintenance or Service Manuals for cleaning the spark arrestor muffler.
A fire extinguisher is available from your local dealer. The fire extinguisher can be installed in the location shown [
FOREWORD
This manual is for the Bobcat loader mechanic. It provides necessary servicing and adjustment
procedures for the Bobcat loader and its component parts and systems. Refer to the Operation &
Maintenance Manual for operating instructions, starting procedure, daily checks, etc.
A general inspection of the following items must be made after the loader has had service or repair:
1. Check that the ROPS/FOPS
(Including sidescreens) is in
good condition and is not
modified.
2. Check that ROPS mounting
hardware is tightened and is
Melroe approved.
3. The seat belt must be correctly
installed, functional and in
good condition.
4. The seat bar and pedal
interlocks must be correctly
adjusted, clean and lubricated.
5. Machine signs must be legible
and in the correct location.
6. Steering levers and foot pedals
must return to neutral.
7. Check for correct function of
the work lights.
8. The parking brake must
function correctly.
9. Enclosure door latches must
open and close freely.
10. Bob–Tach wedges and
linkages must function
correctly and be in good
condition.
11. Safety treads must in good
condition.
12. Check for correct function of
indicator lamps (Optional on
some models).
13. Check hydraulic fluid level,
engine oil level and fuel supply.
14. Inspect for fuel, oil or hydraulic
fluid leaks.
15. Lubricate the loader.
16. Check the condition of the
battery and cables.
ii
953 Bobcat Loader
Service Manual
17. Inspect the air cleaner for
damage or leaks. Check the
condition of the element.
18. Check the electrical charging
system.
19. Check tires for wear and
pressure.
20. Inspect for loose or broken
parts or connections.
21. Operate the loader and check
all functions.
22. Check for any field
modification not completed.
Recommend to the owner that all
necessary corrections be made
before the machine is returned to
service.