1957 – 1962 FORD TRACTOR 600 800 SERIES OWNERS / OPERATORS MANUAL
FILE DETAILS:
LANGUAGE:ENGLISH
PAGES:67
DOWNLOADABLE:YES
FILE TYPE:PDF
VIDEO PREVIEW OF THE MANUAL:
IMAGES PREVIEW OF THE MANUAL: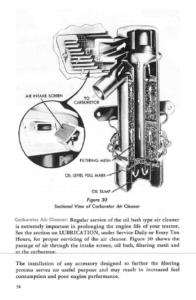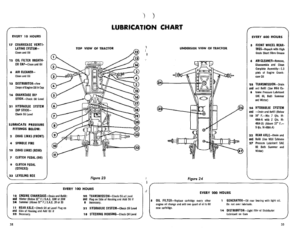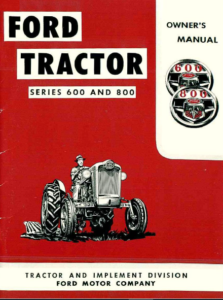 DESCRIPTION:
1957 – 1962 FORD TRACTOR 600 800 SERIES OWNERS / OPERATORS MANUAL
We wish to congratulate you on your choice of the new Ford Tractor. We are happy to have you as a customer and are confident that you will receive unequaled performance from your Ford Tractor. This manual has been prepared to acquaint you with the many features of your new Ford Tractor. Due to the selection of engines, transmissions, clutches and axles available with the new Ford Tractors, most of the information presented here is general and applies to both Series 600 and 800 tractors.
Where differences exist, specific information is presented for each series or model. Read this manual Carefully at your first opportunity and keep it in a convenient location for later reference. You will be particularly interested in the "break-in" instructions starting on Page 14, and the maintenance instructions starting on Page 27.
If, at any time, you have a question or problem concerning you new tractor, remember that your Ford Tractor and Implement Dealer is best qualified and equipped to serve your needs. With the proper treatment and service, your Ford Tractor should provide you with a long life of profitable and dependable service.
TRACTOR MODEL AND SERIAL NUMBER:
Ford Tractors are identified by the model numbers 640, 650, 660, 850 and 860. Thesenumbers identify . the type of tractor, engine, transmission, clutch and axle.
When ordering parts or requesting information from your Ford Tractor and Implement Dealer, always specify the Model and Serial Number of your Ford Tractor.
The Model and Serial Number is-lomted on the left front side of the transmission housing and should be recorded immediately in the space provided below.
TABLE OF CONTENTS:
1957 – 1962 FORD TRACTOR 600 800 SERIES OWNERS / OPERATORS MANUAL
Ford Tractor Series 600 & 800 Owners Manual................... 1
	Ford Farming.............................................. 2
	Tractor Service Policy.................................... 4
	Foreward.................................................. 5
	Tractor Model & Serial.................................... 6
	Controls & Instruments.................................... 7
		Seat, Light Switch, Ignition Switch................... 8
		Choke, Gear Shift, Starter, Throttle.................. 9
		Gauges And Pedals.....................................10
		Pedal Locks, PTO, Touch Control.......................11
		Fuel Shut-Off, Proff Meter............................12
		Ground, PTO & Belt Pulley Speeds......................13
		Engine Hours..........................................14
	Operation.................................................15
		Pre-Start Check, Break-In.............................16
		Starting & Operating the Tractor......................17
		Operating the Hydraulic System........................18
		Attached Implements...................................20
		PTO Operation.........................................22
		Belt Pulley...........................................23
		Wheel & Tread Adjustment..............................24
		Wheel Weight..........................................26
		Proof Meter Decal.....................................28
	Maintenance...............................................29
		Pre-Delivery, 50 Hour, Lubrication & Daily Service....30
		100 Hour Service......................................32
		600 Hour Service......................................33
		Lubrication Chart.....................................34
		Mechanical Maintenance ...............................35
			Cooling System....................................35
			Fuel System.......................................37
			Electrical System.................................40
			Engine............................................43
		Wheels, Brakes and Tires..............................47
		Tractor Storage.......................................50
	Accessories...............................................52
		Seat, Bumper, Selec-Trol Valve........................53
		PTO & Grease..........................................54
		Remote & Stabilizer Link..............................55
		Drawbar, Lighter......................................56
		Wheel Weights.........................................57
		Exhaust & Battery.....................................58
		Filters...............................................59
	Specifications............................................60
		General 600-800 Specifications........................61
		API Classifications...................................63
		Contents..............................................64
	Dearborn Equipment........................................66
Back Cover....................................................67

PLEASE NOTE:
This is the same manual used by the dealers to diagnose and troubleshoot your vehicle
You will be directed to the download page as soon as the purchase is completed. The whole payment and downloading process will take anywhere between 2-5 minutes
Need any other service / repair / parts manual, please feel free to contact heydownloadss@gmail.com . We still have 50,000 manuals unlisted