Volvo T450D Articulated Dump Truck Workshop Service repair Manual
FILE DETAILS:
FILE TYPE:PDF
MANUAL LANGUAGE:ENGLISH
DOWNLOADABLE:YES
PAGES:1900+
DESCRIPTION:
Engine The machine is equipped with a straight 6-cylinder, 4-stroke diesel engine. The engine is a direct-injected, turbocharged low-emission engine with intercooler. Electrical system The machine has four control units (ECU). I-ECU (for the instruments) is integrated with the information display unit, warning lights, and instruments, and gives the operator information via these. V-ECU (for the machine) receives signals from sensors on the machine that are sent to the I-ECU.
T-ECU controls the transmission. E-ECU controls the engine. Power transmission The planetary geartransmission is fully automatic. It has a torque converter with free-wheel stator and automatic direct clutch (lock-up) on all gears except reverse gears. The machine has six forward gears and two reverse gears. A hydraulic retarder is integrated in the transmission.
The dropbox with high/low range has a differential which eliminates stresses between the driven axles, which reduces tire and road wear as well as fuel consumption. The longitudinal differential is provided with a lock function. Together with the transmission, six gears forward in low range and six gears forward in high range are available.
In reverse, two gears in low range and two gears in high range are available. In low range, the dropbox automatically shifts to high range (6H) after 6 L The drive axles are equipped with a differential planetary gear hub reductions. All drive axles have differential lock.
TABLE OF CONTENTS:
Volvo T450D-SM
Volvo T450D-SM\0 General.pdf
Volvo T450D-SM\0 Safety.pdf
Volvo T450D-SM\1 Standard Parts, Service.pdf
Volvo T450D-SM\2 Engine with Mounting and Equipment.pdf
Volvo T450D-SM\3 Elec. System, Warning System, Information System, Instruments.pdf
Volvo T450D-SM\4 Power Transmission.pdf
Volvo T450D-SM\5 Brake.pdf
Volvo T450D-SM\6 Steering.pdf
Volvo T450D-SM\7 Frame and Wheel.pdf
Volvo T450D-SM\8 Machinery House, Cab, Exterior Trim Parts Anywhere.pdf
Volvo T450D-SM\9 Hydraulic System.pdf
SCREENSHOT OF THE MANUAL: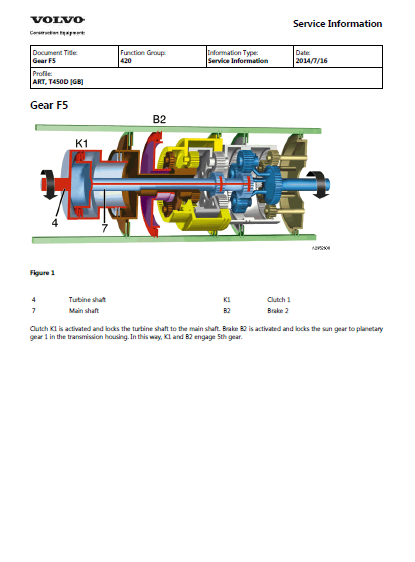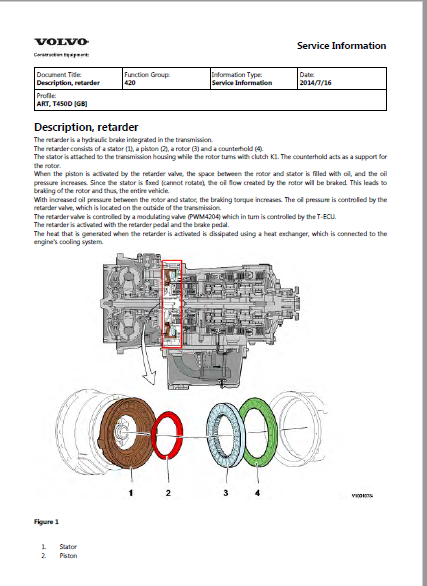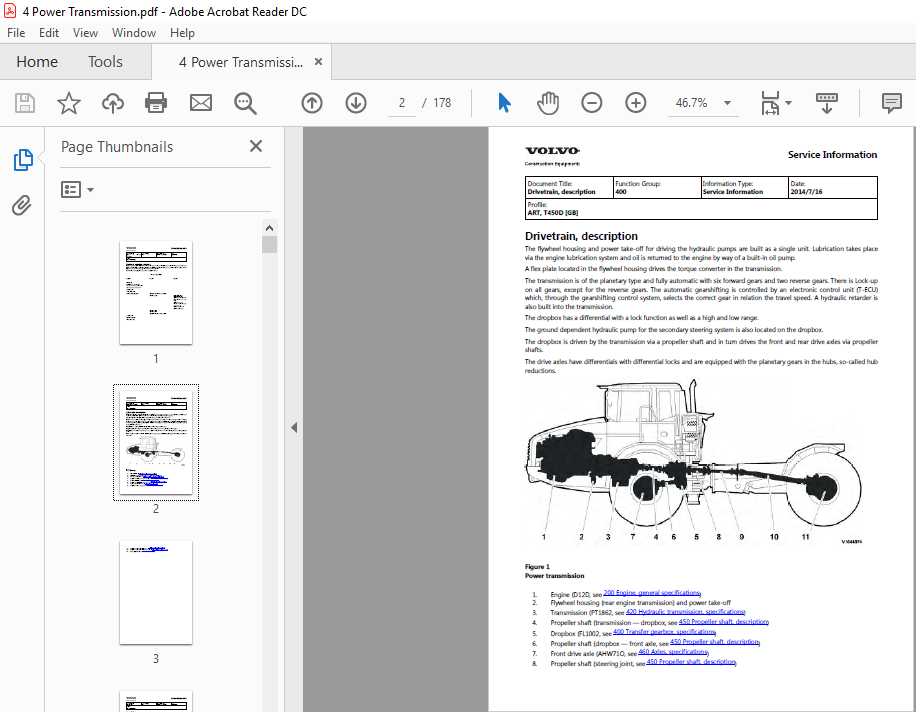 VIDEO PREVIEW:
PLEASE NOTE:
⦁ This is the SAME MANUAL used by the dealerships to diagnose your vehicle
⦁ No waiting for couriers / posts as this is a PDF manual and you can download it within 2 minutes time once you make the payment.
⦁ Your payment is all safe and the delivery of the manual is INSTANT – You will be taken to the DOWNLOAD PAGE.
⦁ So have no hesitations whatsoever and write to us about any queries you may have : heydownloadss @gmail.com