Stihl Fs160 Fs180 Fs220 Fs280 Workshop Manual
FILE DETAILS:
LANGUAGE:ENGLISH
PAGES:157
DOWNLOADABLE:YES
FILE TYPE:PDF
VIDEO PREVIEW OF THE MANUAL:
IMAGES PREVIEW OF THE MANUAL: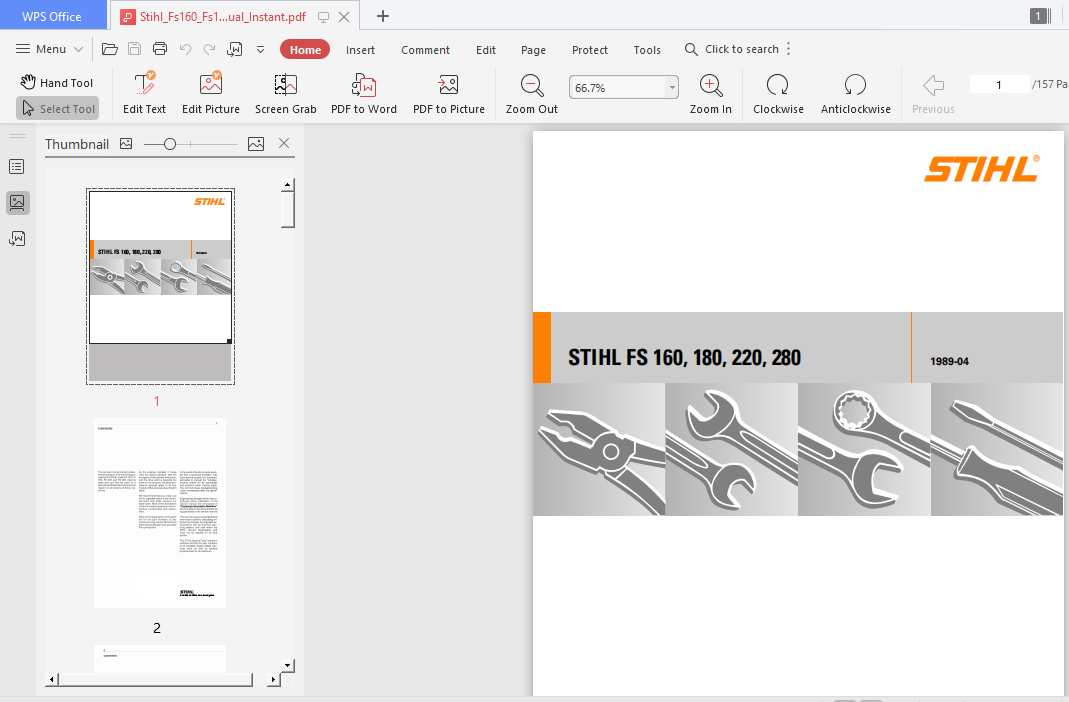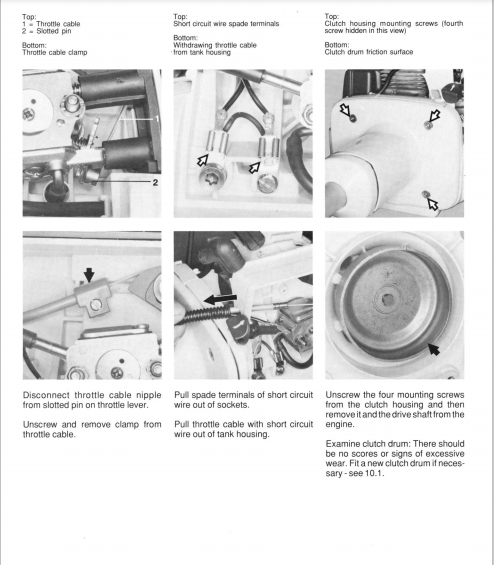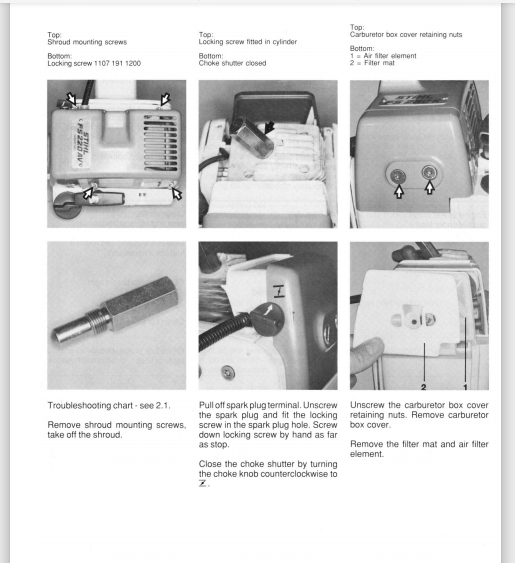 DESCRIPTION:
Stihl Fs160 Fs180 Fs220 Fs280 Workshop Manual
This service manual contains detailed descriptions of all servicing procedures for STIHL model FS 160. FS 180. FS 220 and FS 280 clearing saws and can thus be used as a basis for professional overhauls and repairs on all versions of these ma- chines.
As the engines installed in these units are almost identical. with the exception of the cylinder and piston. and the drive shaft is basically the same on all versions, the repair procedures generall apply to all four models. Differences are described in detail.
We recommend that you make use of the exploded views in the illustrated parts lists while carrying our repair work. Most of the illustrations show the installed positions of the individual components and assemblies. Refer to the latest edition of the parts list for the part numbers of any spares you may require. Microfilmed parts lists are always more up to date than printed lists.
In the event of faults it is quite possible that a particular condition may have several causes. It is, therefore. advisable to consult the "troubles- hooting charts" for all assemblies and systems when tracing faults. You will find these troubleshooting charts immediately after the specifications.
Engineering changes which have introduced since publication of this service manual are announced in "Technical Information Bulletins". Such bulletins should be treated as supplements to the service manual.
This service manual and all technical information bulletins describing engineering changes are intended exclusively for the use of STIHL servicing dealers and staff within the STIHL Service Organization and must not be passed on to third parties.
The"STlHLSpecialTools"manualil- lustrates and lists the part numbers of all available model-related servicing tools as well as general purpose tools for all machines.
TABLE OF CONTENTS:
Stihl Fs160 Fs180 Fs220 Fs280 Workshop Manual
Specifications 3
Engine 3
Fuel System 5
Ignition System 5
Gearhead 6
Weights 6
SpecialAccessories 6
Tightening Torques 7
Troubleshooting Charts 8
Clutch 8
Engine 8
Ignition System 9
Rewind Starter 9
Fuel System 10
Clutch 12
Disassembly 12
Assembly 14
Engine 16
Removing and Refitting
Muffler 16
Exposing the Cylinder 16
Cylinder and Piston 18
Removal 18
Installation 19
Crankcase 22
Removing the
Crankshaft 22
Installing the Crankshaft 24
Leakage Testing the
Crankcase 27
PressureTest 27
VacuumTest 30
Replacing the Oil Seals 31
lgnitionSystem 32
Troubleshooting Chart 32
Repairing Component
Pans .
Spark Plug –
Ignition Module
(FS 160- 220) .
Trigger Unit (FS 280) .
Ignition Coil (FS 280) –
ResistanceTeston
Primary Winding .
ResistanceTeston
Secondary Winding .
Ignition Lead –
Flywheel .
Rewind Starter –
RoutineMaintenance
Rope Rotor
Replacing Starter Rope
Replacing Rewind
Spring
Tensioning Rewind
Spring
Replacing Pawl
Replacing Starter
Rope Guide Bush
Replacing Starter Cup
Throttle Control ~
Replacing Throttle Cable
with Stop Switch Wire
Contact Springs in
Control Handle
Adjusting Throttle Cable
Replacing Molded
Support on Drive Shaft
(FS 220, FS 280)
Fuel System
Leakage Testing the
Carburetor
Disassemblingthe
Carburetor
Servicing the
Carburetor
Carburetor Adjustment
(F8160. F8180,
F8220)
Air Filter
Fuel Filter and
Fuel Hose
Tank Vent
Tank Housing
AV System
Repair
Cutting Tool Drive
Clutch Drum
Guard Tube and
Drive Shaft
Gearhead
Disassembly
Assembly
Special Servicing
Tools and Aids
Special Servicing Tools
Servicing Aids
PLEASE NOTE:
This is the SAME manual used by the dealers to troubleshoot any faults in your vehicle. This can be yours in 2 minutes after the payment is made.
Contact us at [email protected] should you have any queries before your purchase or that you need any other service / repair / parts operators manual.