MAHINDRA ML114 Series Loader Operator and Installation Instruction Manual
FILE DETAILS:
LANGUAGE:ENGLISH
PAGES:67
DOWNLOADABLE:YES
FILE TYPE:PDF
VIDEO PREVIEW OF THE MANUAL:
IMAGES PREVIEW OF THE MANUAL: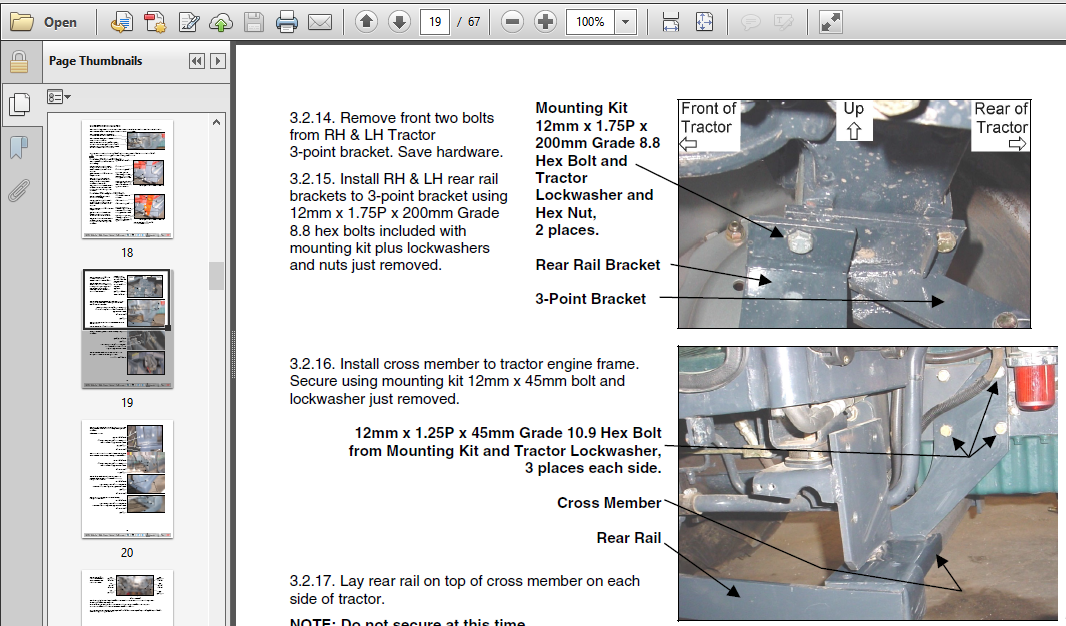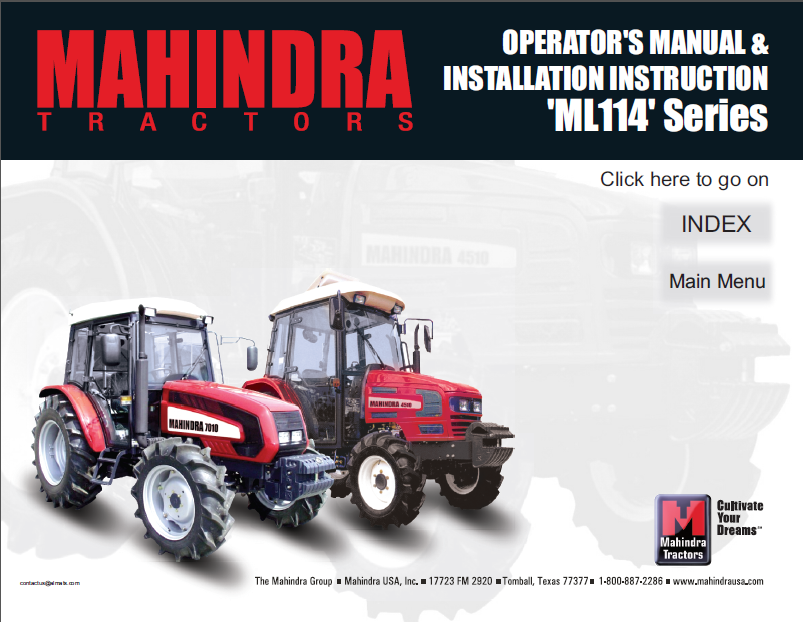 DESCRIPTION:
MAHINDRA ML114 Series Loader Operator and Installation Instruction Manual
INTRODUCTION :
This manual provides safety, installation, operation, maintenance, removing, storing, and reinstalling instructions for your new midmount loader. Your loader has been designed to give many years of satisfactory service. Successful operation and long life of the loader depends, of course, on proper operation and care. Please read this manual carefully and follow the instructions. Correct operation and maintenance will save much time and expense.
OBSERVE and follow all CAUTION, WARNING, and DANGER instructions to help prevent personal injury and damage to the loader. The reference to right hand (RH) and left hand (LH) used in this manual refers to the position when standing at the rear of the unit and facing forward. If, at any time, you have a service problem with your loader or need new parts, contact your local Mahindra dealer. Your dealer will need the loader model number and serial number to give you prompt, efficient service.
The serial number plate is located on the LH inside front area of boom. MAHINDRA ML114 Loader. This loader is a product of quality engineering and manufacturing. It is made of fine materials and under a rigid quality control system.
It will give you long, satisfactory service. To obtain the best use of your loader, please read this manual carefully. It will help you become familiar with the operation of the loader and contains many helpful hints about loader maintenance.
The immediate use of new techniques in the manufacture of products may cause some small parts of this manual to be outdated. Mahindra dealers will have the most up-to-date information. Please do not hesitate to consult with them.
TABLE OF CONTENTS:
MAHINDRA ML114 Series Loader Operator and Installation Instruction Manual
1 Specifications 14
11 Attachment Specifications14
2 Introduction 15
3 Installation Instructions16
31 Tractor Preparation 16
32 Mounting Kit Installation17
33 Hydraulic Installation21
34 Loader Installation26
35 Connect Hydraulics26
36 Bucket Level Indicator27
4 Pre-Operation Instructions28
41 Hydraulic Fluid 28
42 Initial Loader Operation28
43 External Loader Valve28
44 Loader Mounted Valve Equipped With
Single Handle Control28
45 Neutral Position29
46 Float Position 29
47 Regenerative Dumping Position 29
48 Initial Loader Operation29
49 Removing Air From Hydraulic System29
5 Daily Maintenance & Lubrication30
51 Daily Checks 30
52 Loader Lubrication 30
6 Operating Instructions32
61 Filling The Bucket 32
62 Lifting The Load 32
63 Carrying The Load 32
64 Dumping The Bucket 33
65 Lowering The Bucket 33
66 Operating With Float Control 33
67 Loading From A Bank 33
68 Peeling And Scraping 34
69 Loading Low Trucks Or Spreaders From A
Pile 34
610 Backfilling34
611 Handling Large Heavy Objects 35
612 Back Grading 35
7 Dismounting The Loader 36
8 Mounting The Loader39
9 Optional Grill Guard 41
91 Installation Instructions 41
10 Bucket– Pin On Or Skid Steer 42
101 Installation Instructions To Skid Steer Tool
Carrier42
102 Installation Instructions To Pin On Quick
Attach42
103 Installation Instructions Direct To Loader 42
11 Bale Probe – Pin On Or Skid Steer 43
111 Bale Probe 44
112 Assembly Instructions 44
113 Installation Instructions To Skid Steer Tool
Carrier 44
114 Installation Instructions To Pin On Quick
Attach 44
115 Installation Instructions Direct To Loader 44
116 Operating Instructions 44
12 Pallet Fork – Pin On Or Skid Steer 45
121 Skid Steer Pallet Fork 45
122 Assembly Instructions 46
123 Installation Instructions To Skid Steer Tool
Carrier 46
124 Installation Instructions To Pin On Quick
Attach 46
125 Installation Instructions Direct To Loader 46
126 Operating Instructions 46
127 Loader Parking Instructions 46
13 Optional Pin On Quick Attach System 47
131 Recommended Loader Factory Approved
Attachments 47
132 Pin On Quick Attach 47
14 Installing Bucket Or Attachment To Pin On
Quick Attach 48
141 Recommended Loader Factory Approved
Attachments 48
142 Keep These Areas Clean 48
143 Operating Instructions 48
15 Removing Bucket Or Attachment From Pin
On Quick Attach 50
151 Operating Instructions 50
16 Optional Skid Steer Tool Carrier System 51
161 Recommended Loader Factory Approved
Attachments 51
162 Non-Loader Factory Attachments 51
163 Skid Steer Tool Carrier System Service &
Lubrication 52
17 Installation & Operation Of Skid Steer Tool
Carrier System 53
171 Installation Instructions 53
172 Skid Steer Tool Carrier Handles In
Disengaged Position 53
173 Skid Steer Tool Carrier Handles In
Engaged Position 53
18 Installing Bucket Or Attachment To Skid
Steer Tool Carrier 54
181 Operating Instructions 54
13
19 Removing Bucket Or Attachment From Skid
Steer Tool Carrier57
191 Operating Instructions57
20 Trouble Shooting Procedures 58
21 Torque Chart 62
PLEASE NOTE:
This is the SAME exact manual used by your dealers to fix your vehicle.
The same can be yours in the next 2-3 mins as you will be directed to the download page immediately after paying for the manual.
Any queries / doubts regarding your purchase, please feel free to contact [email protected]