Liebherr L524 – L542 2plus1 Wheel Loader Service Manual – PDF DOWNLOAD
FILE DETAILS:
Liebherr L524 – L542 2plus1 Wheel Loader Service Manual – PDF DOWNLOAD
Language : English
Pages : 726
Downloadable : Yes
File Type : PDF
Size: 66.6 MB
DESCRIPTION:
Liebherr L524 – L542 2plus1 Wheel Loader Service Manual – PDF DOWNLOAD
Preface:
Intended readership This service manual is addressed to anyone whose task it is to ensure that the machines are ready for everyday use. This especially includes mechanics and workshop staff of Liebherr dealers and branches.
Contents:
The first chapter contains information on safety regulations and on the special tools needed for maintenance and repairs.
Chapter 2 gives you an overview of all the most important technical data of the machine as a whole and its individual assemblies.
Next comes the maintenance chapter, with the maintenance and inspection schedule, the testing and adjustment checklists, lubrication charts, description of maintenance tasks, testing and adjustment tasks and specifications of fuel
and lubricants.
The technical description of the machine is in the following chapters, structured according to fifteen function groups. The layout, function and technical data of the groups, components and parts are explained.
Chapter 19 contains information on troubleshooting, the service code table and a description of the "SCULI" service software.
Chapter 20 will be gradually updated with the latest options.
Instructions on use :
This manual describes several types and versions of machines. The information generally applies to the types and serial numbers stated at the bottom of the page. The exception to this is information which only applies to specific types and serial numbers, which are stated at the beginning of the section concerned (for example technical data of parts).
Where possible, the ID numbers of parts and components are stated in the heading.
This manual is available in German, English, French, Spanish, Italian and Russian.
Working instructions :
Always follow the safety regulations whenever you work on the machine. You will find a reference to this in the "General Information" section.
In order to perform these tasks you need a complete set of basic tools andcertain special tools, all in perfect working order. All tasks require absolute cleanliness.
IMAGES PREVIEW OF THE MANUAL: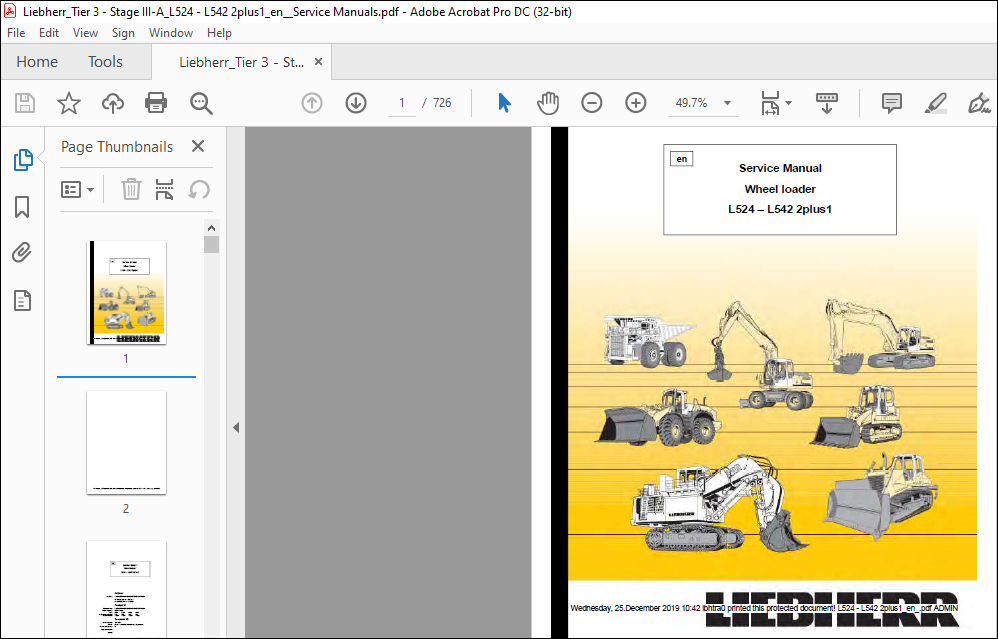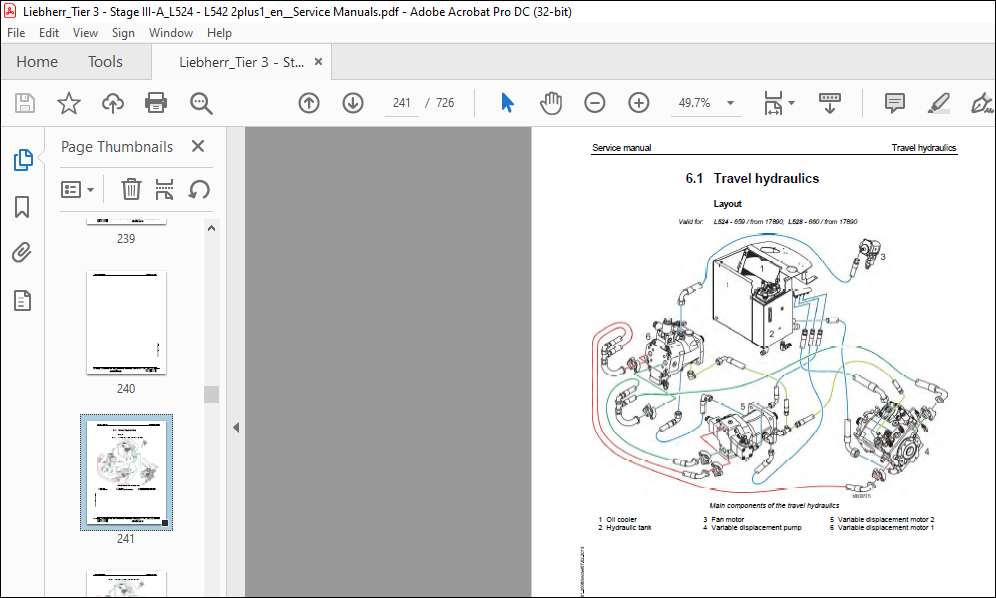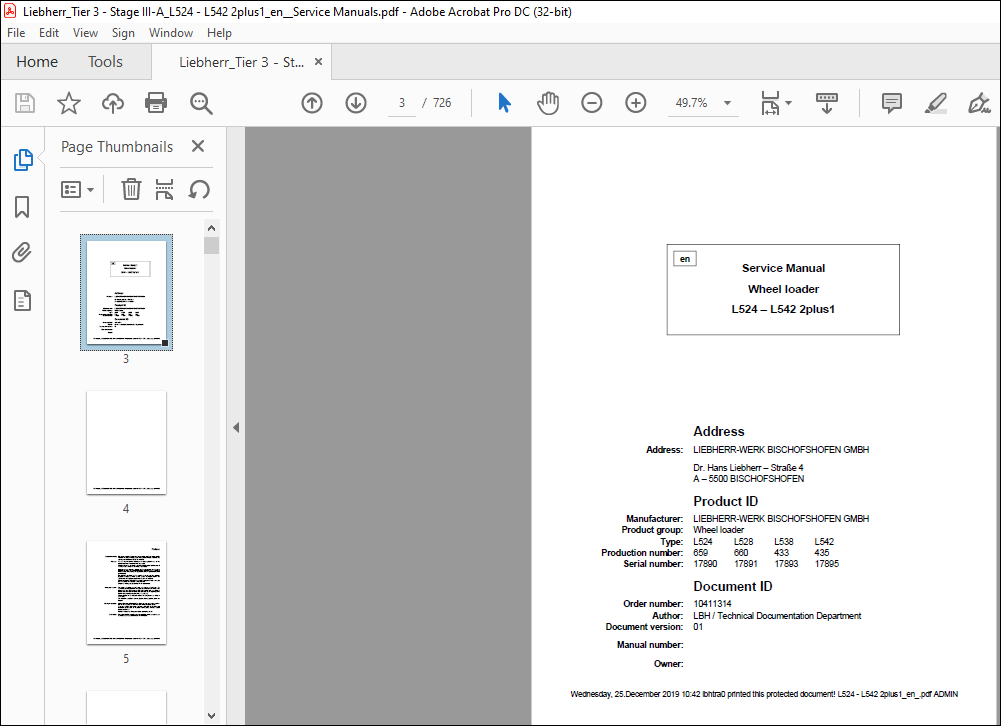 TABLE OF CONTENTS:
Liebherr L524 – L542 2plus1 Wheel Loader Service Manual – PDF DOWNLOAD
General information
Product description
Maintenance
Diesel engine and pump distributor gear
Cooling system
Travel hydraulics
Working hydraulics
Steering systemBrake system
Electrical system
Transfer gear 11
Axles and cardan shaft 12
Machine frame and ballast weight 13
Central lubrication system 14
Coverings and access 15
Cab, heating and air-conditioning 16
Lift arms and quick-change device 17
Equipment and accessories 18
Service codes and diagnosis 19
VIDEO PREVIEW OF THE MANUAL:
PLEASE NOTE:
This is the SAME MANUAL used by the dealerships to diagnose your vehicle
No waiting for couriers / posts as this is a PDF manual and you can download it within 2 minutes time once you make the payment.
Your payment is all safe and the delivery of the manual is INSTANT – You will be taken to the DOWNLOAD PAGE.
So have no hesitations whatsoever and write to us about any queries you may have : heydownloadss @gmail.com
S.V