Komatsu Hydraulic Excavator PC1600-1 Field Assembly Instruction Manual – PDF DOWNLOAD
DESCRIPTION:
Komatsu Hydraulic Excavator PC1600-1 Field Assembly Instruction Manual – PDF DOWNLOAD
GENERAL
A-1: POINTS REGARDING LOCAL ASSEMBLY
1. Selection of work place
1) The work place should be suitable for the machine. The following points should be considered.
• Area
• Hardness of ground surface
• Levelness
• Entry/exit roads, turning space
2) Assembly work on the hydraulic circuit must not be carried out in any place where dust or rain can get into
the circuit during the operation.
3) If the work is carried out outside, avoid places where there is rain or strong wind.
2. Preparation and checks of lifting tools and jigs
1) Check each lifting tool and jig thoroughly.
In particular, check stands and blocks made of wood to check that the inside is not rotted or cracked.
3. A Checks duurriin g actual operation
1) Apply the parking brake of the trailer and crane securely, then put blocks under the wheels.
2) Lower the pressure and temperature of the engine, hydraulic oil, and cooling water before starting work.
3) When starting the engine, always give an agreed signal, such as blowing the horn, to warn the people around
the machine. Check also that the work equipment levers and travel levers are in neutral, and that the fuel control
lever is at the low idling position.
4) Be careful to maintain the balance of parts being lifted by the crane.
5) Do not allow unauthorized persons into the working area.
4. Before starting the operation, read all the instructions, and, in particular, be sure that you understand the
caution items.
5. The leader should write out the caution items for each work process, and should explain them to ensure
that the workers understand them.
6. Hold a meeting every morning before starting work to confirm the operating plan and operating safety.
TABLE OF CONTENTS:
Komatsu Hydraulic Excavator PC1600-1 Field Assembly Instruction Manual – PDF DOWNLOAD
COVER……………………………………………………………………………… 1
CONTENTS…………………………………………………………………………… 2
A. GENERAL…………………………………………………………………………. 5
A-1: POINTS REGARDING LOCAL ASSEMBLY………………………………………………. 5
A-2: PRECAUTIONS WHEN ASSEMBLING,TIGHTENING TORQUE OF BOLTS,SCREWS AND TAPER SEAL HOLES…. 6
A-3: SEPARATE UNITS (TRANSPORTATION KITS)………………………………………….. 9
A-4: LIST OF PARTS SENT INDIVIDUALLY………………………………………………. 33
A-5: ASSEMBLY PROCEDURE,ASSEMBLY EQUIPMENT,AND SCHEDULE……………………………… 46
A-6: KIT LAYOUT DIAGRAM………………………………………………………….. 47
A-7: TOOLS AND EQUIPMENT TO BE USED……………………………………………….. 48
B. ASSEMBLY OF CHASSIS………………………………………………………………. 52
B-1: ASSEMBLY OF TRACK FRAME AND AXLE……………………………………………… 53
B-2: TRAVEL MOTOR PIPING…………………………………………………………. 56
B-3: IDLER CUSHION CYLINDER PIPING………………………………………………… 58
B-4: INSTALLATION OF TRAVEL MOTOR GUARD……………………………………………. 59
B-5: FILLING SWING CIRCLE WITH GREASE……………………………………………… 60
B-6: ASSEMBLY OF REVOLVING FRAME ASSEMBLY AND AXLE ASSEMBLY………………………….. 61
B-7: SWIVEL TRAVEL PIPING………………………………………………………… 63
B-8: SWING CIRCLE GREASE TUBE PIPING………………………………………………. 65
B-9: INSTALLATION OF LEFT AND RIGHT LADDERS………………………………………… 66
B-10: INSTALLATION OF LEFT CATWALK………………………………………………… 67
B-11: INSTALLATION OF RIGHT CATWALK……………………………………………….. 68
B-12: INSTALLATION OF CATWALK,HANDRAIL BESIDE OPERATOR'S CAB…………………………. 69
B-13: INSTALLATION OF OPERATOR'S CAB LADDER………………………………………… 71
B-14: INSTALLATION OF OPERATOR'S CAB HANDRAIL………………………………………. 72
B-15: INSTALLATION OF OPERATOR'S CAB LADDER,HANDRAIL………………………………… 73
B-16: INSTALLATION OF HANDRAIL AT REAR OF OPERATOR'S CAB…………………………….. 74
B-17: INSTALLATION OF HANDRAIL FOR STEP AT REAR OF OPERATOR'S CAB…………………….. 75
B-18: OPERATOR'S CAB FRONT FRAME,HANDRAIL………………………………………….. 76
B-19: LEFT DECK HANDRAIL…………………………………………………………. 77
B-20: RIGHT DECK HANDRAIL………………………………………………………… 78
B-21: INSTALLATION OF LADDER ON TOP OF HYDRAULIC TANK……………………………….. 79
B-22: INSTALLATION OF COUNTERWEIGHT……………………………………………….. 80
B-23: INSTALLATION OF COUNTERWEIGHT LADDERS………………………………………… 81
B-24: INSTALLATION OF HANDRAIL ON TOP OF FUEL TANK,COUNTERWEIGHT……………………… 82
B-25: INSTALLATION OF FUEL TANK VIBRATION STOPPER BRACKET……………………………. 83
B-26: INSTALLATION OF GREASE REEL,HOSE,BRACKET……………………………………… 84
B-27: INSTALLATION OF LEFT CAB BASE ASSEMBLY……………………………………….. 85
B-28: INSTALLATION OF OPERATOR'S CAB ASSEMBLY………………………………………. 88
B-29: INSTALLATION OF WIPER MOTOR COVER INSIDE OPERATOR'S CAB………………………… 89
B-30: INSTALLATION OF OPERATOR'S CAB ASSEMBLY………………………………………. 90
B-31: CONNECTION OF HYDRAULIC PIPING OF OPERATOR'S CAB ASSEMBLY………………………. 91
B-32: CONNECTION OF WIRING OF LEFT CAB BASE ASSEMBLY………………………………… 96
B-33: CONNECTION OF WIRING OF OPERATOR'S CAB ASSEMBLY……………………………….. 98
B-34: CONNECTION OF WINDOW WASHER HOSE OF OPERATOR'S CAB ASSEMBLY…………………….. 99
B-35: CONNECTION OF AIR PIPING OF LEFT CAB BASE ASSEMBLY……………………………..101
B-36: CONNECTION OF GREASE PIPING OF OPERATOR'S CAB ASSEMBLY………………………….102
B-37: CONNECTION OF AIR CONDITIONER PIPING OF LEFT CAB BASE ASSEMBLY…………………..104
B-38: CONNECTION OF AIR CONDITIONER PIPING OF OPERATOR'S CAB ASSEMBLY………………….107
B-39: INSTALLATION OF COUNTERWEIGHT LAMP (OPTION)……………………………………109
B-40: START ENGINE……………………………………………………………….110
B-41: FINAL TIGHTENING OF SWING CIRCLE MOUNTING BOLTS………………………………..115
C. INSTALLATION OF BACKHOE……………………………………………………………116
C-1: INSTALLATION OF BOOM CYLINDER TO CHASSIS……………………………………….117
C-2: INSTALLATION OF BOOM CYLINDER PIPING…………………………………………..119
C-3: BLEEDING AIR FROM BOOM CYLINDER……………………………………………….121
C-4: BOOM SUB-ASSEMBLY……………………………………………………………122
C-5: INSTALLATION OF BOOM ASSEMBLY…………………………………………………130
C-6: INSTALLATION OF BOOM CYLINDER TOP PIN………………………………………….134
C-7: CONNECTION OF ARM ASSEMBLY TO BOOM…………………………………………….136
C-8: INSTALLATION OF HOSES BETWEEN BOOM AND CHASSIS………………………………….139
C-9: INSTALLATION OF ARM CYLINDER TOP PIN…………………………………………..142
C-10: BLEEDING AIR FROM ARM CYLINDER……………………………………………….144
C-11: INSTALLATION OF HYDRAULIC HOSES BETWEEN BOOM AND ARM……………………………145
C-12: CONNECTION OF GREASE PIPING BETWEEN BOOM AND CHASSIS……………………………147
C-13: CONNECTION OF WIRING BETWEEN BOOM AND CHASSIS …………………………………151
C-14: INSTALLATION OF HOSES BETWEEN BOOM AND CHASSIS ………………………………..152
C-15: INSTALLATION OF HYDRAULIC HOSE,CLAMPS BETWEEN BOOM AND CHASSIS…………………..155
C-16: CONNECTION OF BUCKET ASSEMBLY TO ARM………………………………………….156
C-17: INSTALLATION OF BUCKET LINK………………………………………………….159
C-18: BLEEDING AIR FROM BUCKET CYLINDER…………………………………………….161
D. INSTALLATION OF LOADING SHOVEL……………………………………………………..162
D-1: INSTALLATION OF BOOM CYLINDER TO CHASSIS……………………………………….163
D-2: INSTALLATION OF BOOM CYLINDER PIPING…………………………………………..165
D-3: BLEEDING AIR FROM BOOM CYLINDER……………………………………………….166
D-4: BOOM SUB-ASSEMBLY……………………………………………………………167
D-5: INSTALLATION OF BOOM ASSEMBLY…………………………………………………170
D-6: INSTALLATION OF BUCKET CYLINDER FOOT PORTION……………………………………176
D-7: ARM SUB-ASSEMBLY…………………………………………………………….178
D-8: INSTALLATION OF ARM ASSEMBLY………………………………………………….181
D-9: INSTALLATION OF ARM CYLINDER TOP PIN…………………………………………..183
D-10: BLEEDING AIR FROM ARM CYLINDER……………………………………………….185
D-11: INSTALLATION OF SIDE LINK……………………………………………………186
D-12: INSTALLATION OF HOSE BETWEEN BOOM AND CHASSIS………………………………….187
D-13: INSTALLATION OF HYDRAULIC HOSE BETWEEN BOOM AND ARM…………………………….189
D-14: INSTALLATION OF FRONT LINK…………………………………………………..191
D-15: CONNECTION OF BUCKET ASSEMBLY TO ARM………………………………………….193
D-16: BLEEDING AIR FROM BUCKET CYLINDER…………………………………………….197
D-17: CONNECTION OF BOTTOM CYLINDER HOSE……………………………………………198
D-18: BLEEDING AIR FROM BOTTOM CYLINDER…………………………………………….199
D-19: CONNECTION OF GREASE HOSE BETWEEN BOOM AND ARM…………………………………200
D-20: CONNECTION OF GREASE HOSE AT THE ARM CYLINDER TOP………………………………202
D-21: CONNECTION OF GREASE HOSE AT THE ARM CYLINDER FOOT……………………………..203
D-22: CONNECTION OF GREASE PIPING BETWEEN BOOM AND CHASSIS……………………………204
D-23: CONNECTION OF WIRING BETWEEN BOOM AND CHASSIS………………………………….205
D-24: INSTALLATION OF ARM POTENTIOMETER…………………………………………….208
D-25: ADJUSTMENT OF WORK EQUIPMENT POTENTIOMETER…………………………………….210
D-26: ADJUSTMENT OF WORK EQUIPMENT CONTROL BOX (LOADING SHOVEL)……………………….211
E. CHECK OF ALL PARTS DURING AND AFTER ASSEMBLY…………………………………………218
E-1: CHECK OF ALL PARTS DURING AND AFTER ASSEMBLY WITH FIELD ASSEMBLY INSPECTION REPORT….218
E-2: FLUSH THE HYDRAULIC CIRCUIT AS FOLLOWS…………………………………………219
IMAGES PREVIEW OF THE MANUAL: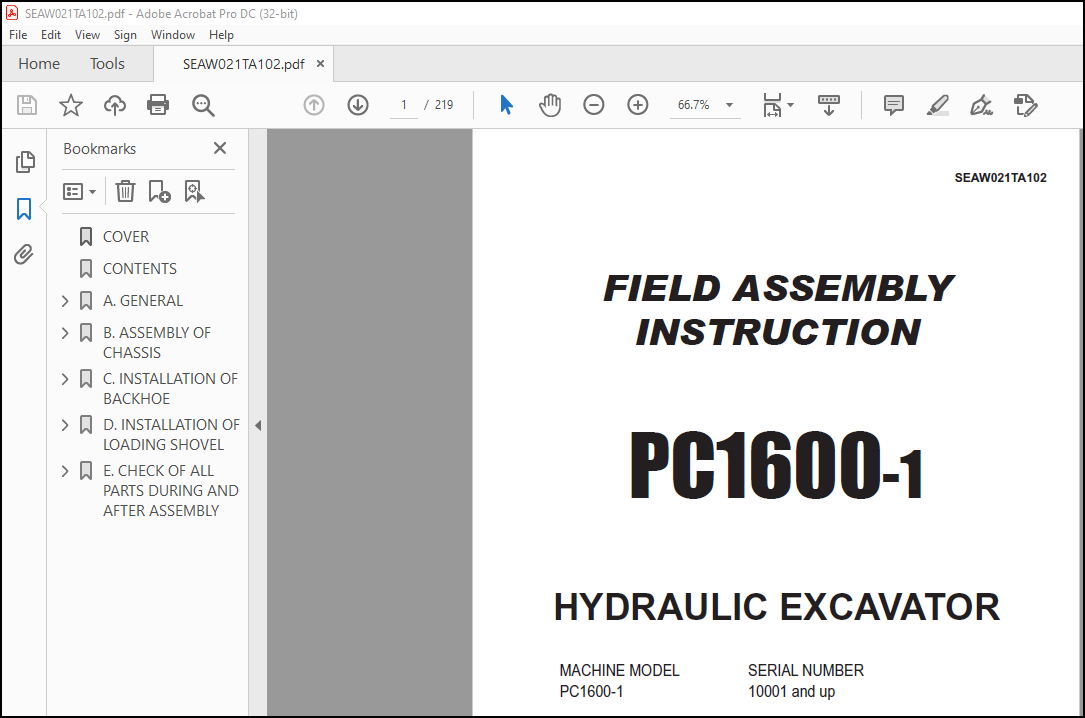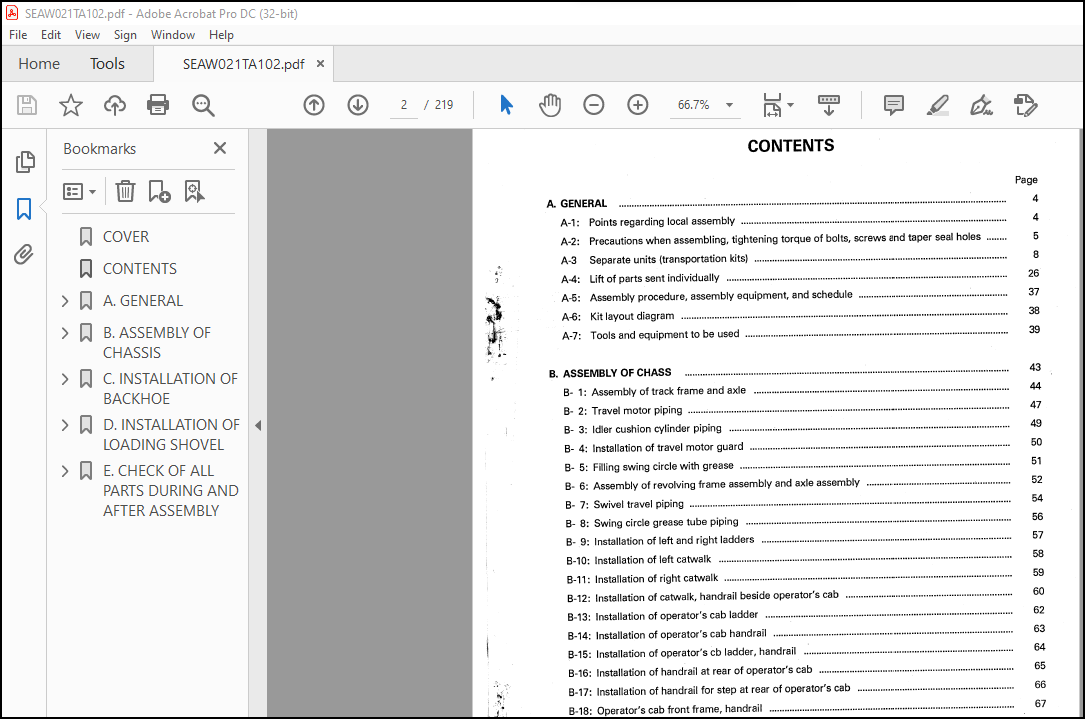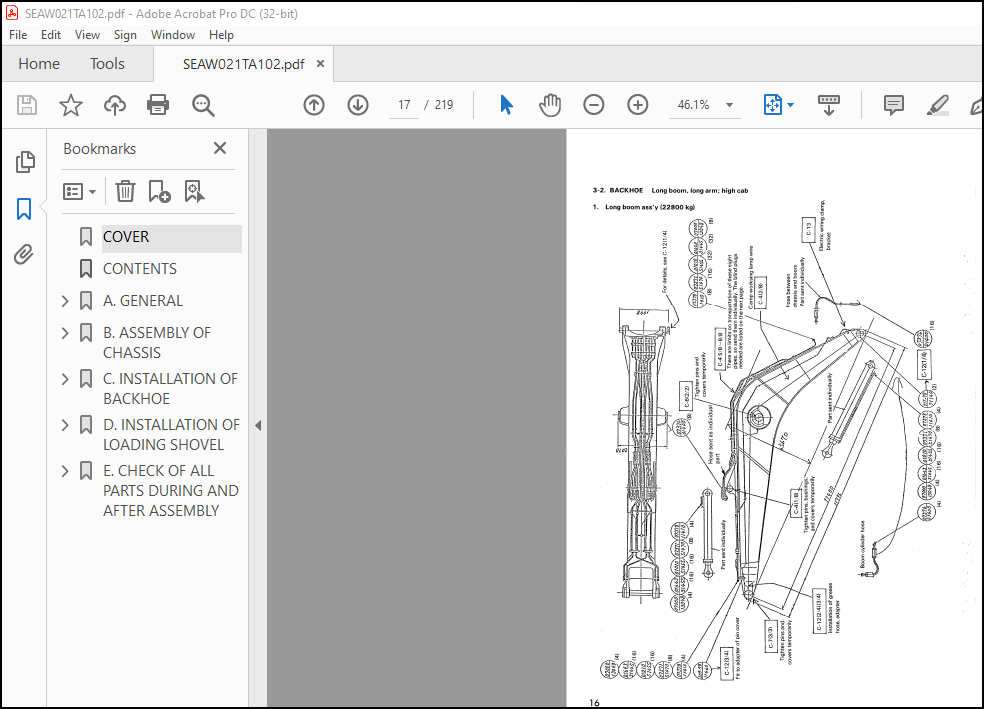 VIDEO PREVIEW OF THE MANUAL:

PLEASE NOTE:
This is the SAME exact manual used by your dealers to fix your vehicle.
The same can be yours in the next 2-3 mins as you will be directed to the download page immediately after paying for the manual.
Any queries / doubts regarding your purchase, please feel free to contact [email protected]
S.M