Iseki Collector SBC350 Operator's Manual – PDF DOWNLOAD
FILE DETAILS:
Iseki Collector SBC350 Operator's Manual – PDF DOWNLOAD
Language : English
Pages : 52
Downloadable : Yes
File Type : PDF
Size: 3.36 MB
DESCRIPTION:
Iseki Collector SBC350 Operator's Manual – PDF DOWNLOAD
INTRODUCTION :
This operation manual provides the information necessary for operating and maintaining your collector safely and properly The contents are mainly composed of the following two items:
Safety Instructions: Essential items which you should observe while operating the collector.
Technical instructions:Items which are necessary to operate, adjust, and service the collector properly.
Before starting to operate the machine for the first time, you should read this operation manual thoroughly and carefully until you are sufficiently familiar with the operating of the machine to do jobs safely and properly. The manual should be kept in a handy place so you can refer to it when required.
You are advised to refer to it from time to time to refresh your understanding of the machine. When you lend or sell your collector to another person, be sure to advise him or her to understand the contents of this manual thoroughly and give it to him or her for studying. When you have lost this manual, be sure to order a new one from your dealer. The collector is designed to be used on well-kept lawns.
Using the machine in other places are not authorized. Besides, the manufacturer does not pay for any damage caused by unauthorized use, that is, the risk is only borne by the user. Proper use of the machine also implies that the user follows the operational, adjusting, and servicing instructions indicated in the manual.
By the way, we want you to understand that the contents of this manual may be somewhat different from the standards pertaining to the machine that you actually own.
TABLE OF CONTENTS:
Iseki Collector SBC350 Operator's Manual – PDF DOWNLOAD
INTRODUCTION 2
CONTENTS 6
SAFETY INSTRUCTIONS 8
FOR SAFE OPERATION 8
SAFETYLABELS 14
MAINTENANCE OF THE SAFETY ONDERHOUD VAN DE VEILIGHEIDS STICKERS 16
DEALER SERVICE 16
NAMES OF MAJOR COMPONENTS 18
OPERATION INSPECTION 20
INSPECTION POINTS 20
INSPECTION AND SERVICE 20
COLLECTOR OPERATION 22
GATHERING MOWED GRASS 22
EJECTING COLLECTED GRASS 26
INSPECTION AND SERVICE OF EACH VERZAMELD GRAS LOSSEN 26
PART 28
INSPECTION OF SAFETY STARTER VERSCHILLENDE ONDERDELEN 28
SWITCH 28
OVERFLOW SENSOR 30
INSPECTION WINDOWS 30
CLEARING CLOGGED GRASS 32
INSPECTION AND REPLACEMENT DE V-RIEM CONTROLEREN EN
OF THE DRIVE BELT 32
PERIODICAL INSPECTION TABLE 36
TROUBLESHOOTING 39
HINTS FOR EFFICIENT OPERATION 44
IMAGES PREVIEW OF THE MANUAL: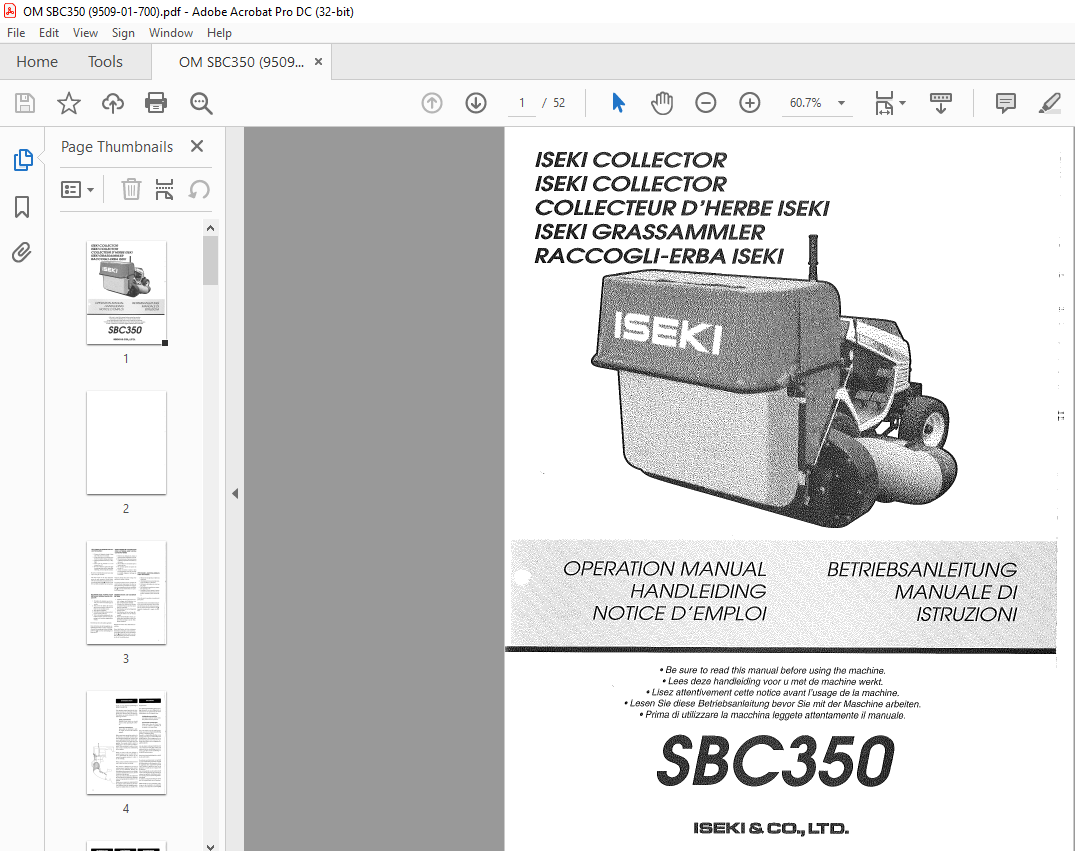 PLEASE NOTE:
This is the SAME manual used by the dealers to troubleshoot any faults in your vehicle. This can be yours in 2 minutes after the payment is made.
Contact us at [email protected] should you have any queries before your purchase or that you need any other service / repair / parts operators manual.
S.V