Hitachi Ex120-3 Excavator Parts Catalogue Manual Serial No 40001 And Up
FILE DETAILS:
LANGUAGE:ENGLISH
PAGES:418
DOWNLOADABLE:YES
FILE TYPE:PDF
VIDEO PREVIEW OF THE MANUAL:
IMAGES PREVIEW OF THE MANUAL: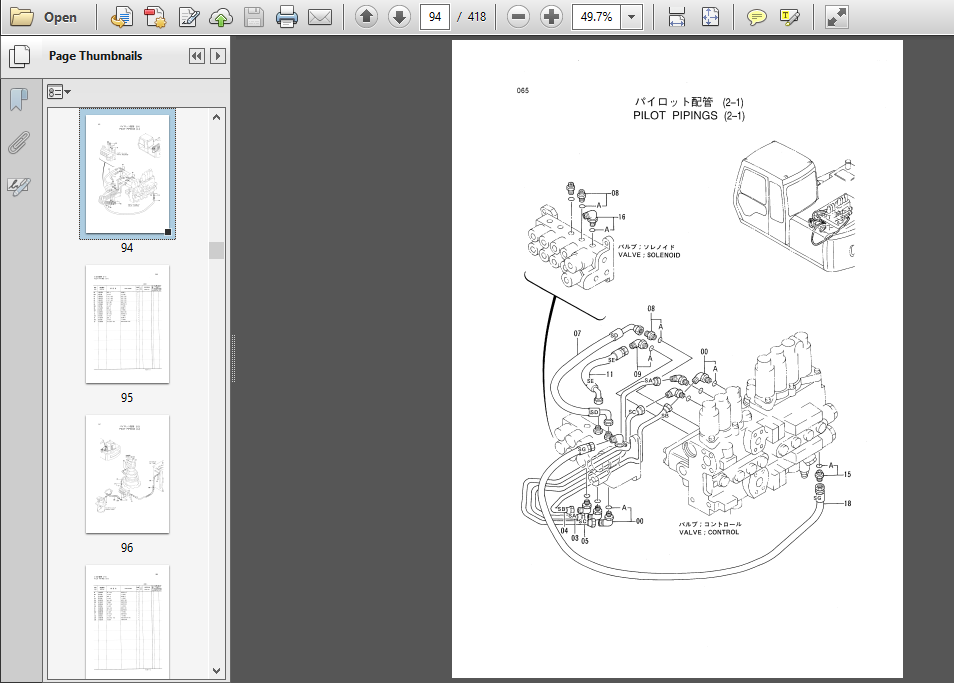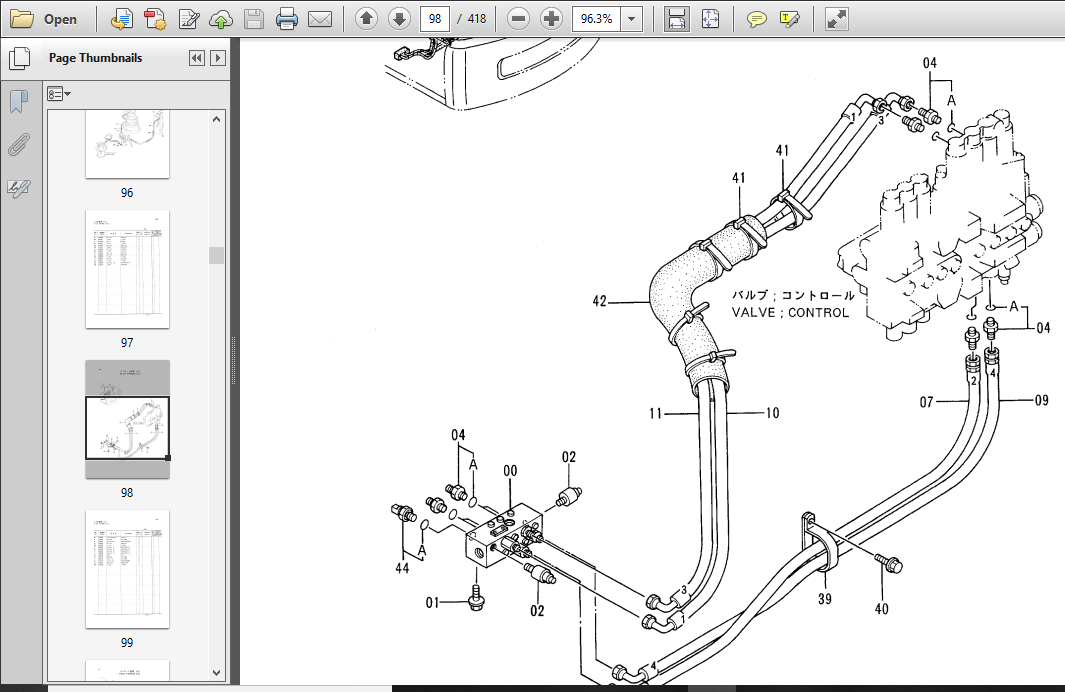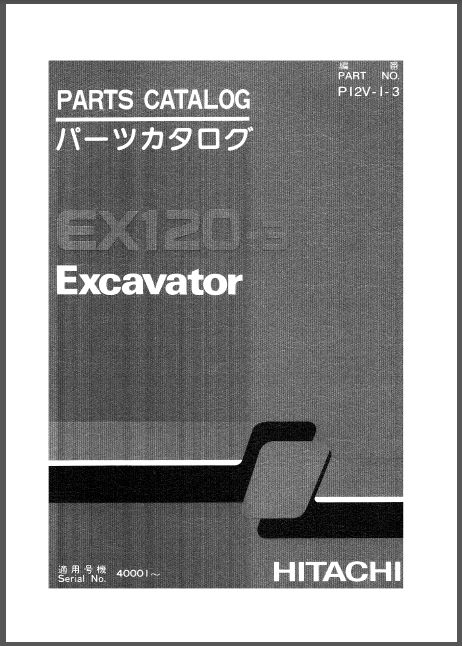 DESCRIPTION:
Hitachi Ex120-3 Excavator Parts Catalogue Manual Serial No 40001 And Up
 This parts catalog shows the component: of 51120-3 Hydraulic Excavator. The numerical part: No. index is provided at the end of this parts catalog. in the parts index. a part No. vith '8' cork shows a newly added part on the parts catalog.
 This parts catalog contains the must recent intonation available at the tile of printing. and the contents of the list are hosed on information in effect at that tine and are subject to change without notice.
 The references in the parts catalog of 'LEFT". 'RIGHT'. 'FRONT' and 'REAR' are identified as follows. The driver's seat is positioned 'LEFT' side. and the opposite side is 'RIGHT. The front End attachments is at the 'FRDKI'. The counterweight is attached at the 'REAR'. For the undercarriage. the travel voter is at tho 'RE.(R'. and the opposite in 'FRONT'.
 For the engine parts. please refer to the parts catalog of ISUZU diesel engine 4BDIT issued ' separately.
1. HOW TO ORDER PARTS:
When ordering parts. Please specify the following items as shown in the following example.
(EXAMPLE)
(1) Model of Machine (EX120-3) Shown on NAME~PLATE provided on MAIN FRAME ' on the lower right side of CAB
(2) Machine Serial No. (12V-40001) '
(3) Part No. (A810165) Ordering Parts
(4) Part Name ' (O-RING) . p
(5) Q'ty (2) Ordering Q'ty
(6) Purchaser's Name and Address
2. HOW TO USE THIS PARTS CATALOG :
ITEM Item No. shows the reference No. on the machine illustration.
PART NO. Part No. consists of a letter of the alphabet and numericals, or numericals only.
PART NAME. Components of an assembly part are shown with "~' marks and are shown on the line. or lines. below the assembly part. Also, if the component with "' mark  consists of further components part, these further components are shown by the marks.
Q'TY .Q'ty shows the quantity used for one machine, however quantity of components shows the quantity for one assembly part.
TABLE OF CONTENTS:
Hitachi Ex120-3 Excavator Parts Catalogue Manual Serial No 40001 And Up
FOREWORD
UPPER STRUCTURE
UNDER CARRIAG E
FRONT-END ATTACHMENTS
RUBBER CRAWLER PARTS
OPTIONAL PARTS
TOOLS AND SPARE PARTS
NAME – PLATE
PARTS INDEX
PLEASE NOTE:
This is the SAME exact manual used by your dealers to fix your vehicle.
The same can be yours in the next 2-3 mins as you will be directed to the download page immediately after paying for the manual.
Any queries / doubts regarding your purchase, please feel free to contact [email protected]