Fiat Allis 8-B Crawler Tractor Service Specifications Manual
FILE DETAILS:
Fiat Allis 8-B Crawler Tractor Service Specifications Manual
Size: 48.6 MB
Format: PDF
Language: English
Brand: Fiat
Type of machine: Tractor
Type of document: Service Manual
Model: Fiat Allis 8-B Crawler Tractor
Number of Pages: 184 pages
Form No.: 70698542
DESCRIPTION:
Fiat Allis 8-B Crawler Tractor Service Specifications Manual
GENERAL INORMATION
Study the Operation and Maintenance Instruction Manual before starting, operating, maintaining, fueling, or servic- ing machine. Read and heed all machine-mounted safety signs before starting, operating, maintaining, fueling or servicing machine. Machine-mounted safety signs have been color coded yel- low with black borders and lettering for warning and red with white borders and lettering for danger points. No unauthorized personnel should be allowed to service or maintain this machine. Do not perform any work on equipment that is not authorized. Follow the Maintenance and Service procedures. Study the Operation and Maintenance Instruction Manual before starting, operating, maintain- ing. fueling or servicing this machine. Always wear safety glasses with side shields.
Do not wear rings, wrist watches, jewelry, or loose or hang- ing apparel, such as ties, torn clothing, scarves, un- buttoned, or unzipped jackets that can catch on moving parts. Do wear proper safety equipment as authorized for the job. Examples: hard hats, safety shoes, heavy gloves, ear protectors, safety glasses or goggles, reflector vests, or respirators. Consult your employer for specific safety equip- ment requirements.
Do not use controls or hoses as handholds when climbing on or off machine. Hoses and controls are movable and donot provide a solid support. Controls may also be inadver- tently moved causing accidental machine or equipment movement. Do not jump on or off machine. Keep two hands and one foot, or two feet and one hand, in contact with steps and grab-rails and handles at all times. Machine should not be serviced with anyone in the opera- tor's seat unless they are qualified to operate the machine and are assisting in the servicing.
Keep operator's compartment, stepping points, grab-rails and handles clean of foreign objects, oil, grease, mud or snow accumulation to minimize the danger of slipping or stumbling. Never attempt to operate the machine or its tools from any other position than seated in the operator's seat.
Keep operator s compartment clear of loose objects. If movement of an attachment by means of the machine's hydraulic system is required for service or maintenance, do not raise or lower attachments from any position other than when seated in the operator's seat. Before starting ma- chine or moving attachment or tool, make sure to set brakes, sound horn and call for an all clear. Raise attach- ment slowly.
Always block with external support any linkage or part on machine that requires work under the raised linkage, parts, or machine per OSHA requirements. Never allow anyone to walk under or be near unblocked raised equipment.
Avoidworking or walking under raised blocked equipment unless you are assured of your safety.Never place head, body, limbs, fingers, feet or hands into an exposed portion between uncontrolled or unguarded scis- sor points of machine without first providing secure blocking. Never service or adjust a machine with the engine running, except as called for in the Operation and Maintenance Instruction Manuals.
Do not wear loose clothing or jewely near moving parts. When servicing or maintenance requires access to areas that cannot be reached from the ground, use a ladder or step platform that meets OSHA requirements to reach the ser- vice point. If such ladders or platforms are not available, use the machine handholds and steps as provided. Perform all service or maintenance carefully. Shop or field service platforms and ladders used to main- tain or service machinery should be constructed and main- tained according to OSHA requirements. Disconnect batteries and
TAG all controls according to OSHA requirements to warn that work is in progress. Block the machine and all attachments that must be raised per OSHA requirements. Never check or fill fuel tanks, storage batteries or use start- er fluid near lighted smoking materials or open flame due to the presence of flammable fluid. Brakes are inoperative when manually released for ser- vicing. Provision must be made to maintain control of the machine by blocking or other means.
Always place the fuel nozzle against the side of the filleropening before starting and during fuel flow. To reduce the chance of a static electricity spark, keep contact until after fuel flow is shut off. Use only designated towing or pulling attachment points. Use care in making attachment. Be sure pins and locks as provided are secure before pulling. Stay clear of drawbars, cables or chains under load. To move a disabled machine, use a trailer or low boy truck if available.
If towing is necessary, provide warning signals as required by local rules and regulations and follow opera- tion and maintenance instruction manual recommenda- tions. Load and unload on a level area that gives full sup- port to the trailer wheels. Use ramps of adequate strength, low angle and proper height. Keep trailer bed clean of clay, oil and all materials that become slippery.
Tie machine down securely to truck or trailer bed and block tracks (or wheels) as required by the carrier. Never align holes with fingers or hands. Use the proper aligning tool. Remove sharp edges and burrs from reworked parts. Use only grounded auxiliary power source for heaters, chargers, pumps and similar equipment to reduce the haz- ards of electrical shock.
Lift and handle all heavy parts with a lifting device of proper capacity. Be sure parts are supported by proper slings and hooks. Use lifting eyes if provided. Watch out for people in the vicinity Never place gasoline or diesel fuel in an open pan.
VIDEO PREVIEW OF THE MANUAL:
IMAGES PREVIEW OF THE MANUAL: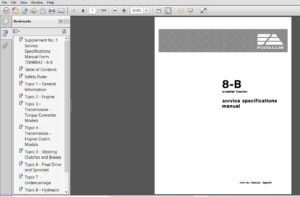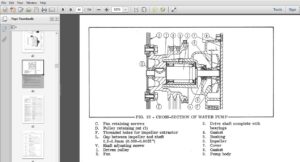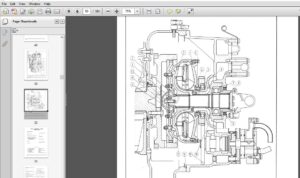 TABLE OF CONTENTS:
Fiat Allis 8-B Crawler Tractor Service Specifications Manual
Supplement No 1 Service Specifications Manual Form 70698542 – 8-B Crawler Tractor 3
Table of Contents 7
Safety Rules 9
Topic 1 – General Information 13
Topic 2 – Engine 22
Topic 3 – Transmission – Torque Converter Models 51
Topic 4 – Transmission – Engine Clutch Models 85
Topic 5 – Steering Clutches and Brakes 114
Topic 6 – Final Drive and Sprocket 131
Topic 7 – Undercarriage 137
Topic 8 – Hydraulic System 149
Topic 9 – Electrical System 173
 PLEASE NOTE:
⦁ This is not a physical manual but a digital manual – meaning no physical copy will be couriered to you. The manual can be yours in the next 2 mins as once you make the payment, you will be directed to the download page IMMEDIATELY.
⦁ This is the same manual used by the dealers inorder to diagnose your vehicle of its faults.
⦁ Require some other service manual or have any queries: please WRITE to us at [email protected]