CNH Cursor® 10 Tier 4A (interim) and Stage IIIB Moteur MANUEL DE SERVICE 51421982 – PDF DOWNLOAD (French)
DESCRIPTION:
CNH Cursor® 10 Tier 4A (interim) and Stage IIIB Moteur MANUEL DE SERVICE 51421982 – PDF DOWNLOAD (French)
Avant-propos:
La qualité de la terre, de l'air et de l'eau est importante pour toutes les industries et pour la vie en général. Lorsqu'une
législation ne réglemente pas encore le traitement de certaines substances indispensables à la haute technologie,
il convient de faire preuve de bon sens quant à l'utilisation et à la mise au rebut des produits chimiques et pétrochimiques.
Se familiariser avec la législation en vigueur dans le pays, et s'assurer qu'elle est bien assimilée. En l'absence de
toute législation, obtenir des informations auprès des fournisseurs d'huiles, de filtres, de batteries, de carburants,
d'antigels, d'agents de nettoyage, etc., en ce qui concerne les effets de ces substances sur l'homme et sur la nature
et les méthodes à employer pour les conserver, les utiliser et les mettre au rebut en toute sécurité. Le concessionnaire
CNH Industrial peut également fournir une assistance.
Conseils utiles
• Eviter d'utiliser des bidons ou autres systèmes d'alimentation en carburant sous pression non appropriés pour remplir
les réservoirs. De tels systèmes d'alimentation peuvent entraîner des déversements importants.
• En règle générale, éviter tout contact des carburants, huiles, acides, solvants, etc., avec la peau : la plupart de ces
produits contiennent des substances nocives pour la santé.
• Les huiles modernes contiennent des additifs. Ne brûlez pas les carburants contaminés ni les huiles usagées dans
des systèmes de chauffage ordinaires.
• Lors des vidanges, éviter de répandre les mélanges de liquide de refroidissement moteur usagés, l'huile moteur, le
liquide hydraulique, le liquide de frein, etc. Ne pas mélanger les liquides de frein ou les carburants vidangés avec
les lubrifiants. Conserver tous les liquides vidangés en toute sécurité jusqu'à ce qu'il soit possible de les mettre au
rebut selon les réglementations en vigueur et en fonction des ressources disponibles.
• Ne pas laisser les mélanges de liquide de refroidissement pénétrer dans le sol. Recueillir et mettre au rebut les
mélanges de liquide de refroidissement de manière appropriée.
• N'ouvrez pas vous-même le système de climatisation. Il contient des gaz qu'il ne faut pas évacuer à l'air libre. Les
concessionnaires CNH Industrial ou les spécialistes de la climatisation disposent d'un extracteur spécial pour cette
opération et sont en mesure de recharger le système correctement.
• Procéder immédiatement à la réparation des fuites ou pannes du circuit hydraulique ou du circuit de refroidissement
moteur.
• N'augmentez pas la pression d'un circuit sous pression car il existe un risque de défaillance des composants.
IMAGES PREVIEW OF THE MANUAL: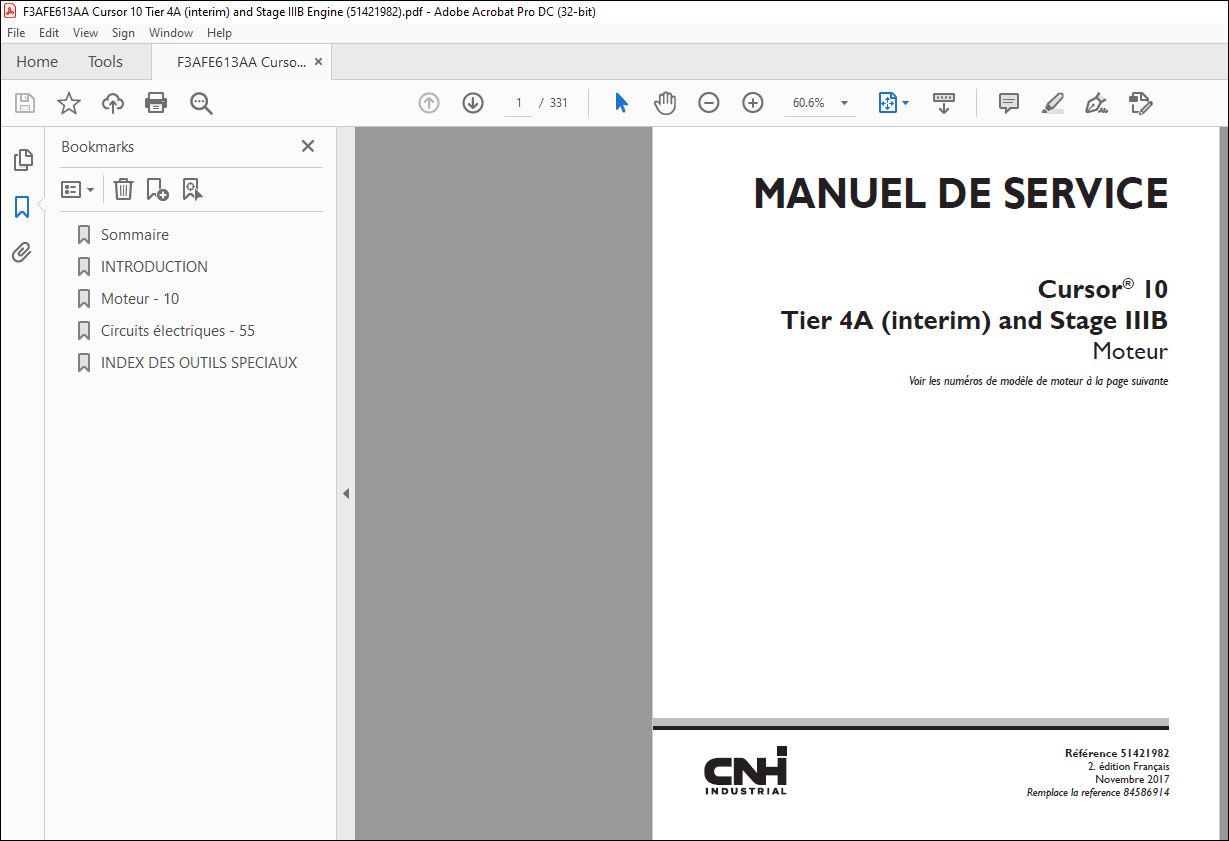 TABLE OF CONTENTS:
CNH Cursor® 10 Tier 4A (interim) and Stage IIIB Moteur MANUEL DE SERVICE 51421982 – PDF DOWNLOAD (French)
INTRODUCTION
Moteur…………………………………………………………………………… 10
[10.001] Moteur et carter . . . . . . . . . . . . . . . . . . . . . . . . . . . . . . . . . . . . . . . . . . . . . . . . . . . . . . . . . . . . . . . . . . . . 10.1
[10.102] Table et couvercles. . . . . . . . . . . . . . . . . . . . . . . . . . . . . . . . . . . . . . . . . . . . . . . . . . . . . . . . . . . . . . . . . 10.2
[10.106] Entraînement et pignons des distributeurs. . . . . . . . . . . . . . . . . . . . . . . . . . . . . . . . . . . . . . . . . 10.3
[10.101] Culasses . . . . . . . . . . . . . . . . . . . . . . . . . . . . . . . . . . . . . . . . . . . . . . . . . . . . . . . . . . . . . . . . . . . . . . . . . . . 10.4
[10.105] Bielles et pistons . . . . . . . . . . . . . . . . . . . . . . . . . . . . . . . . . . . . . . . . . . . . . . . . . . . . . . . . . . . . . . . . . . . 10.5
[10.103] Vilebrequin et volant . . . . . . . . . . . . . . . . . . . . . . . . . . . . . . . . . . . . . . . . . . . . . . . . . . . . . . . . . . . . . . . 10.6
[10.110] Equilibreur et amortisseur . . . . . . . . . . . . . . . . . . . . . . . . . . . . . . . . . . . . . . . . . . . . . . . . . . . . . . . . . . 10.7
[10.114] Entraînements des pompes . . . . . . . . . . . . . . . . . . . . . . . . . . . . . . . . . . . . . . . . . . . . . . . . . . . . . . . . 10.8
[10.210] Pompe de relevage et conduites. . . . . . . . . . . . . . . . . . . . . . . . . . . . . . . . . . . . . . . . . . . . . . . . . . . 10.9
[10.206] Filtres à carburant . . . . . . . . . . . . . . . . . . . . . . . . . . . . . . . . . . . . . . . . . . . . . . . . . . . . . . . . . . . . . . . . 10.10
[10.218] Système d'injection de carburant . . . . . . . . . . . . . . . . . . . . . . . . . . . . . . . . . . . . . . . . . . . . . . . . 10.11
[10.250] Turbocompresseur et conduites . . . . . . . . . . . . . . . . . . . . . . . . . . . . . . . . . . . . . . . . . . . . . . . . . 10.12
[10.254] Collecteurs d'admission/d'échappement et silencieux . . . . . . . . . . . . . . . . . . . . . . . . . . . 10.13
[10.500] Traitement d'échappement de réduction catalytique sélective (SCR) . . . . . . . . . . . 10.14
[10.400] Système de refroidissement moteur . . . . . . . . . . . . . . . . . . . . . . . . . . . . . . . . . . . . . . . . . . . . . 10.15
[10.414] Ventilateur et entraînement . . . . . . . . . . . . . . . . . . . . . . . . . . . . . . . . . . . . . . . . . . . . . . . . . . . . . . 10.16
[10.304] Système de lubrification moteur. . . . . . . . . . . . . . . . . . . . . . . . . . . . . . . . . . . . . . . . . . . . . . . . . . 10.17
Circuits électriques …………………………………………………………… 55
[55.015] Système de contrôle du moteur . . . . . . . . . . . . . . . . . . . . . . . . . . . . . . . . . . . . . . . . . . . . . . . . . . . . 55.1
[55.201] Système de démarrage du moteur. . . . . . . . . . . . . . . . . . . . . . . . . . . . . . . . . . . . . . . . . . . . . . . . . 55.2
[55.301] Alternateur . . . . . . . . . . . . . . . . . . . . . . . . . . . . . . . . . . . . . . . . . . . . . . . . . . . . . . . . . . . . . . . . . . . . . . . . . 55.3
[55.202] Assistance au démarrage à froid. . . . . . . . . . . . . . . . . . . . . . . . . . . . . . . . . . . . . . . . . . . . . . . . . . . 55.4
[55.010] Système d'injection de carburant . . . . . . . . . . . . . . . . . . . . . . . . . . . . . . . . . . . . . . . . . . . . . . . . . . 55.5
[55.014] Système d'admission et d'échappement du moteur . . . . . . . . . . . . . . . . . . . . . . . . . . . . . . . 55.6
[55.988] Circuit électrique de réduction catalytique sélective (SCR) . . . . . . . . . . . . . . . . . . . . . . . . 55.7
51421982 20/11/2017
[55.012] Système de refroidissement moteur . . . . . . . . . . . . . . . . . . . . . . . . . . . . . . . . . . . . . . . . . . . . . . . 55.8
[55.013] Système d'huile moteur . . . . . . . . . . . . . . . . . . . . . . . . . . . . . . . . . . . . . . . . . . . . . . . . . . . . . . . . . . . . 55.9
PLEASE NOTE:
Il s'agit du même manuel exact utilisé par vos concessionnaires pour réparer votre véhicule.
La même chose peut être la vôtre dans les 2-3 prochaines minutes car vous serez dirigé vers la page de téléchargement immédiatement après avoir payé le manuel.
Pour toute question/doute concernant votre achat, n'hésitez pas à contacter [email protected]
S.V