Cherry Qq6 S21 2006 – 2013 Workshop Service Manual
FILE DETAILS:
LANGUAGE:ENGLISH
PAGES:400+
DOWNLOADABLE:YES
FILE TYPE:PDF
VIDEO PREVIEW OF THE MANUAL:
IMAGES PREVIEW OF THE MANUAL: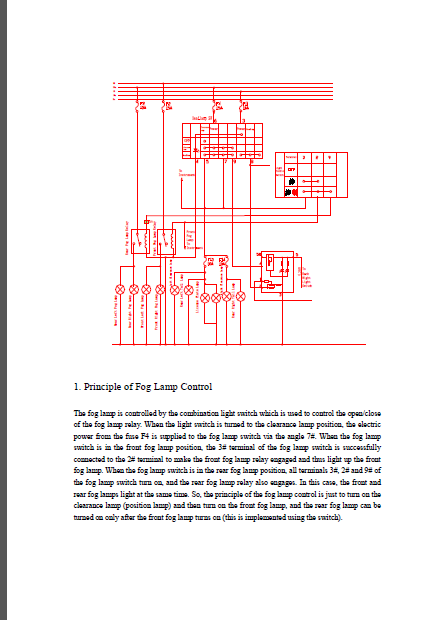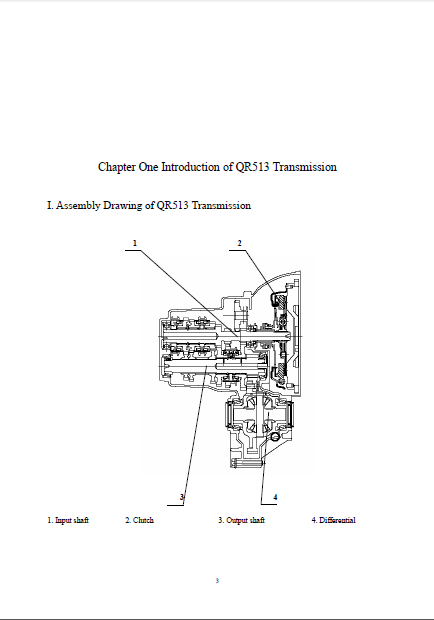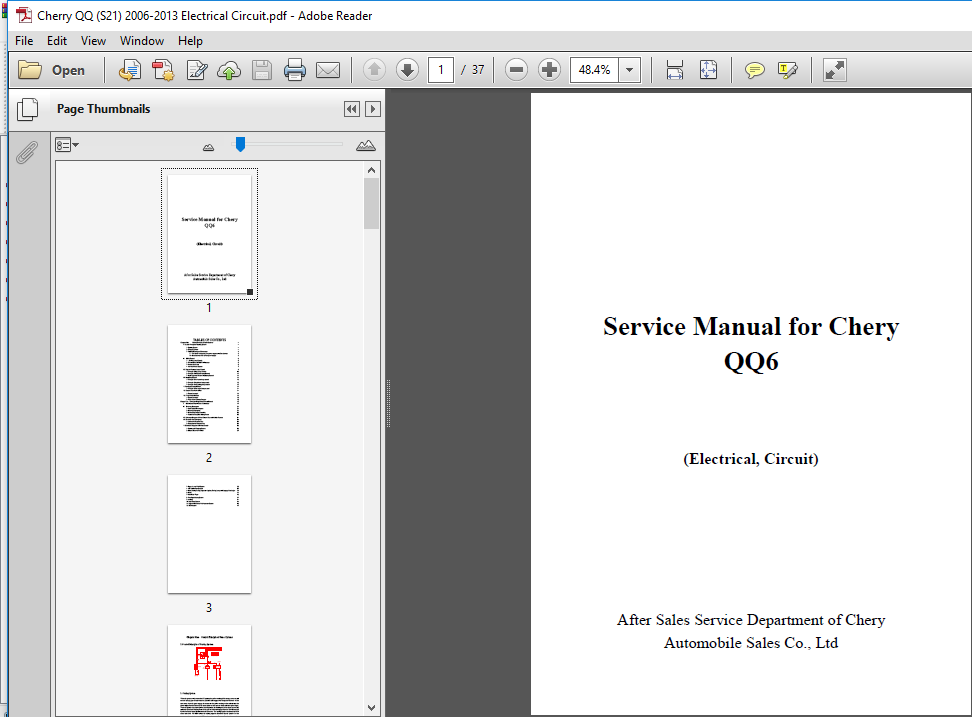 DESCRIPTION:
Cherry Qq6 S21 2006 – 2013 Workshop Service Manual
Principle of the sensor: Intake air temperature pressure sensor is a sensor that integrates an intake air pressure sensor and an intake air temperature sensor. Absolute pressure sensor element of intake manifold is composed of a silicon chip. A pressure diaphragm is etched on the silicon chip. On the pressure diaphragm, there are 4 piezo-resistances, which serve as strain sensors and constitute a Wheatstone bridge.
In addition to this pressure diaphragm, a signal processing circuit is also integrated on the silicon chip. The silicon chip and a metal housing constitute a closed reference, where the absolute pressure of the gas inside approaches to zero.
Thus, a micro-electronic mechanical system is formed. The active face of the silicon chip stands a pressure close to zero, while its back face stands the pending measuring intake manifold absolute pressure introduced by a connecting pipe.
The thickness of the silicon chip is merely several mm, so the absolute pressure change in intake manifold will bring mechanical deformation to the silicon chip. The 4 piezo-resistances will accordingly deform and their resistances also change.
The voltage signal in linear relation to the pressure is formed after process by the signal processing circuit on the silicon chip. The intake temperature sensor element is a negative temperature coefficient (NTC) resistance, which will change with the intake temperature. This sensor sends out a voltage indicating the intake temperature change to the controller.
TABLE OF CONTENTS:
Cherry Qq6 S21 2006 – 2013 Workshop Service Manual
TABLE OF CONTENTS
Chapter Engine Hood and Luggage Compartment
I Removal of Engine Hood
Preparation
Precautions
Disassembly/Reassembly of engine hood accessories
Removal Step
Installation Step
Disassembly and adjustment of the engine hood assy
Disassembly and assembly of air intake grille assy
Removal Step
Installation Step
Adjustment and assembly of the engine hood lock
Removal Step
Installation of engine hood lock
Removal of hood lock control cable
Removal Step
Installation Step
II Disassembly/Reassembly of rear boot lid
Preparation
Removal of Trunk Lid Ornament Plate
Removal Step
Installation Step
Installation of luggage boot lock
Removal Step
Installation Step
Removal of license plate lamp
Removal Step
Installation Step
Chapter Disassembly/Reassembly of Interior Decorations
I Disassembly/Reassembly of Seat Belt
Preparation
Precautions
Removal Step (Driver's seat belt is taken as an example)
Installation Step
II Disassembly/Reassembly of Seat
Front passenger seat removal step
Rear passenger seat removal step
Installation Step
III Disassembly/Reassembly of Console
Removal Step
Installation Step
IV Disassembly/Reassembly of Carpet
Removal Step
Installation Step
V Removal of Cushion Pad
Removal Step
Installation Step
Chapter Removal and Maintenance of Door
I Disassembly/Reassembly and Maitenance of Front Door
System Composition Diagram
Preparation
Precautions
Disassembly/Reassembly Step
Installation and Adjustment Step
II Disassembly/Reassembly and Maintenance of Rear Door
Preparation
Precautions
Removal Step
Installation and Adjustment Step
Chapter Disassembly/Reassembly and Maintenance of Front/Rear Bumper
Disassembly/Reassembly and Maintenance of Front Bumper
System Composition Diagram
Preparation
Precautions
Removal Step
Installation and Maintenance
Disassembly/Reassembly and Maintenance of Rear Bumper
System Composition Diagram
Preparation
Precautions
Removal Step
Installation Step
Chapter Disassembly/Reassembly and Maintenance of Headlamp and Fog Lamp
System Composition Diagram
Preparation
Precautions
Removal Step of Headlamp
Removal of Fog Lamp
Installation and Adjustment of Headlamp
headlamp Installation Step
Introduction to headlamp function
Front view
Back view
Adjustment of headlamp light
Tail Lamp Removal Step
Chapter Disassembly/Reassembly of Ceiling
Preparation
Precautions
Disassembly/Reassembly of Sun Visor
Removal Step
Installation Step
Disassembly/Reassembly of Roof Hand-Hold
Removal Step
Installation Step
Disassembly/Reassembly of Front Ceiling Lamp
Removal Step
Installation Step
Disassembly/Reassembly of A Pillar Trim
Removal Step
Installation Step
Disassembly/Reassembly of B Pillar Trim
Removal Step
Installation Step
Disassembly/Reassembly of C Pillar Trim
Removal Step
Installation Step
Disassembly/Reassembly of Ceiling
Removal Step
Installation Step
Chapter Disassembly/Reassembly of Instrument Panel
I Removal of Instrument Panel Accessories
Preparation
Disassembly/Reassembly of Central Console Panel, Audio Unit, Emergency Switch,
A/C Control Switch, Ashtray
Removal Step
Installation Step
Disassembly/Reassembly of Front Ashtray
Removal Step
Installation Step
Disassembly/Reassembly of Glove Case
Removal Step
Installation Step
combination instrument Disassembly/Reassembly of
Removal Step
Installation Step
Disassembly/Reassembly of Combination Switch, Wiper Switch, Ignition Switch,
Heliax Cable
II Removal of Instrument Panel
Disassembly/Reassembly of Instrument Panel
Removal Step
Installation Step
Removal of Instrument Panel cross beam
Removal Step
Installation Step
Chapter Air Conditioning (A/C) System
I System Composition
II Removal of Evaporator Assy
Preparation
Disassembly/Reassembly Step
Installation of Evaporator Assy
Disassembly/Reassembly of Evaporator Interior
Removal Step
Installation Step
III Troubleshooting
Chapter Body Dimension
I Chassis Control Point
II Body Assembly Dimension
Front View
Rear View
Left View
Top View
III Dimension of Engine Compartment
Windscreen Dimension
V Dimension of Opening of Each Part
Chapter Wire Harness
Section Battery Negative Electrode Harness
I Schematic Diagram of Harness
II Main Connectors Description
III Disassembly/Reassembly of Battery Harness
(I) Preparation
(II) Precautions
(III) Removal Procedure
Section Engine Compartment Harness
I Schematic Diagram of Harness
II Main Connectors Description
III Disassembly/Reassembly of Engine Compartment Harness
(I) Preparation
(II) Precautions:
(III) Removal Procedure
Section Electronic Injector Harness
I Schematic Diagram of Harness
II Main Connectors Description
III Disassembly/Reassembly of Engine Harness
(I) Preparation
(II) Precautions
(III) Removal Procedure
Section Interior Harness
I Schematic Diagram of Harness
II Main Connectors Description
III Disassembly/Reassembly of Interior Floor Harness
(I) Preparation
(II) Precautions
(III) Removal Procedure
Section Instrument Harness Assy
I Schematic Diagram of Harness
II Definition of Main Connectors
III Disassembly/Reassembly of Instrument Harness
(I) Preparation
(II) Precautions
(III) Removal Procedure
Section Evaporator Harness
I Schematic Diagram of Harness
II Definition of Main Connectors
III Disassembly/Reassembly of Evaporator Harness
(I) Preparation
(II) Precautions
(III) Removal Procedure
Section Front Left Door Harness
I Schematic Diagram of Harness
II Main Connectors Description
III Disassembly/Reassembly of Front Left Door Inner Harness
(I) Preparation
(二) , Precautions
(III) Removal Procedure
Section Front Right Door Harness
I Schematic Diagram of Harness
II Main Connectors Description
III Disassembly/Reassembly of Front Right Door Inner Harness
Removal Step
Installation Step
Section Rear Door Harness
I Schematic Diagram of Harness
II Main Connectors Description
III Disassembly/Reassembly of Rear Left Door Inner Harness
(I) Preparation
(II) Precautions
(III) Removal Procedure
IV Disassembly/Reassembly of Rear Right Door Inner Harness
Section Back Door Harness
I Schematic Diagram of Harness
II Main Connectors Description
III Disassembly/Reassembly of Back Door Inner Harness
(I) Preparation
(II) Precautions
(III) Removal Procedure
Section Defroster Harness
I Schematic Diagram of Defroster Positive Harness
II Schematic Diagram of Defroster Negative Harness
III Main Connectors Description
IV Disassembly/Reassembly of Rear Defroster Harness
(I) Preparation
(II) Precautions
(III) Removal Procedure
PLEASE NOTE:
This is the same manual used by the DEALERSHIPS to SERVICE your vehicle.
The manual can be all yours – Once payment is complete, you will be taken to the download page from where you can download the manual. All in 2-5 minutes time!!
Need any other service / repair / parts manual, please feel free to contact us at heydownloadss @gmail.com . We may surprise you with a nice offer