Case IH Tractor Diesel Engine and Fuel Systems for 300 & 400 series Service Manual
FILE DETAILS:
Case IH Tractor Diesel Engine and Fuel Systems for 300 & 400 series Service Manual_GSS1427B
Size : 74.3 MB
Format : PDF
Language : English
Number of Pages : 462 pages
Brand: Case IH
Type of machine: Tractor
Type of document: Service Manual
Model: Diesel Engine and Fuel Systems for 300 & 400 series
Part No: GSS1427B
DESCRIPTION:
Duo to a continuous program of rescurch and development, same procedures, specifications and parts may be altered in a constant oifort to improve our products.
When changes and improvements are made in our products, periodic revisions may be Inade to this manual to keep lt up-to-date. It Is suggested that customers contact their dealer for information on the Inter revision.
1. To prevent injury, do not allow children or bystanders around the machine while it is being adjusted anlfls'r serviced.
2. Always use safety stands in conjunction with hydraulic iacks or hoists. Do not rely on the jack or hoist to carry the load, they could fail.
3. Articulated Tractors — Always use the frame lock pin when servicing the tractor in the area of the hinged or pivot point of the frame. The lock pln must be in place when making adjust- ments with the engine running. The lock pin prevents accidental pivoting of the frame. Always remove the lock pin and store correctly before attempting to steer the tractor.
4. Always wear safety glasses when using a hammer, chisel or other tools that may cause chips to fly.
5. Keep work area organized and clean. Wipe up all or spills of any kind. Keep tools and parts off of the floor. Eliminate the possibility of a fall which could result in a serious injury.
6. Be sure to reinstall safety devices, guards or shields after adjusting and/or servicing the machine. Also, replace missing or damaged safety and/or instruction decals.
7. After servicing, be sure all tools, parts, or servicing equipment are removed from the machine.
8. When splitting tractors, or disassembling machines, be sure to use safety stands and adequate supports to prevent tipping or rollover.
9. Use a safety catch on all hoist hooks. Do not take a chance, the load could slip off of the hook.
10. When using an acetylene torch always wear welding goggles and gloves. Keep a "charged" fire extinguisher within reach. Be sure the ace- tylene and oxygen tanks are separated by a metal shield and are chained to the cart. Do not weld or heat areas near fuel tanks or fuel lines and utilize proper shielding around hydraulic lines.
IMAGES: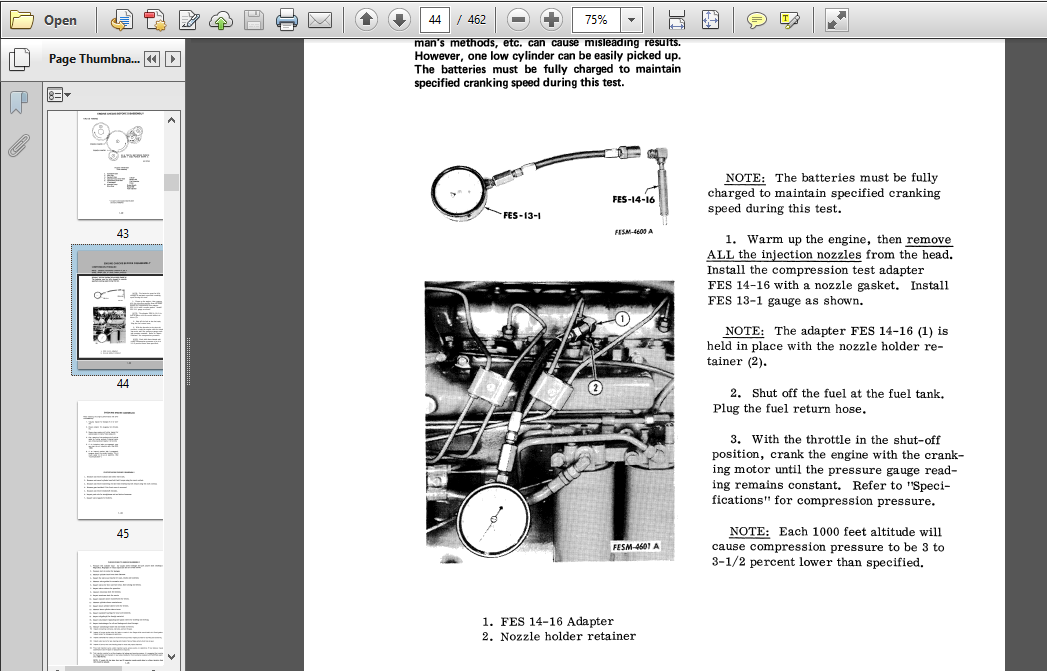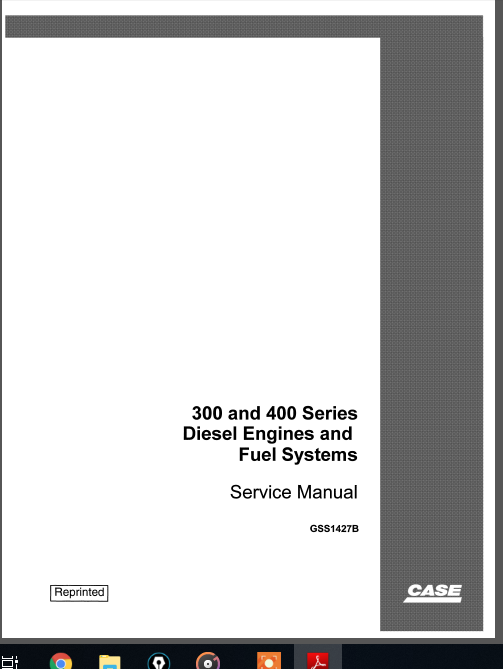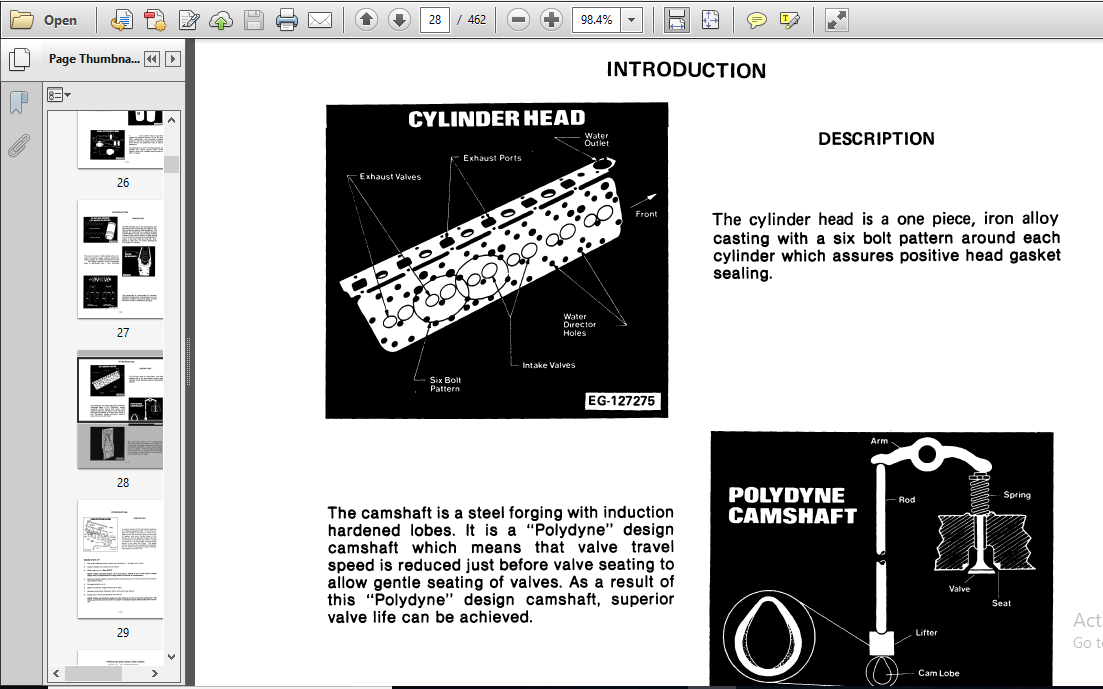 VIDEO PREVIEW:
TABLE OF CONTENTS:
Case IH Tractor Diesel Engine and Fuel Systems for 300 & 400 series Service Manual
GENERAL CONTENTS
Safe Work Rules
Standard Torque Data for Nuts and Bolts
Torque Values for Hose Clamps
Inch—Metric Conversion Tables
Special Service Tools Required
Service Information System (S.I.S.)
General Shop Practices for Engine Overhaul
Sealing Compound Use
SECTION 1 – ENGINE
Special Nut and Bolt Torque Data
Introduction
Problem and Analysis Guide
Engine Checks Before Disassembly
Checking Engine Assembled and Checks During Engine Disassembly
Checks Prior to Engine Reassembly
Checks Prior to Engine Startup and Engine Start-up
Specifications
Mounting Engine on Stand
Manifolds
Cylinder Head & Valves
Valve Train – Camshaft, Tappets and Push Rods
Timing Gear Train and Front Cover
Connecting Rods, Pistons, Rings and Sleeves
Crankshaft, Main Bearings, Flywheel and Crankcase
Lubrication System
Cooling System
SECTION 2 – FUEL SYSTEM – U.T.D.S. Model 100 (AMBAC) Injection Pump
Dimensional Tolerances
Explanation of Pump Type Designation
Pump Assemblies
General Pump Information and Pump Features
Removal of Pump
Pump Overhaul
Troubleshooting
Flow Bench Testing
Installation of Pump
Checks and Adjustments
ROBERT BOSCH MODEL MW INJECTION PUMP
General Pump Information
Plunger Positions During Injection Cycle
External Injection Pump Controls
RSV Governor and Aneroid
Optional Method of Installation
Adjustments
On-Engine Injection Pump Repairs
Checking Supply Pump Pressure and/or Inlet Restriction
Checking the Aneroid Diaphragm for Leaks
Trouble Finding & Testing
NOZZLES
Description and Operation
Nozzle Identification
General
SECTION 3 – TURBOCHARGER
Specifications
Description
General Maintenance and Cleaning Procedure
Inspection Before Removal
Turbocharger Testing
Removal and Servicing of Air Induction System After a Turbocharger Compressor Failure
Airesearch Turbocharger
Schwitzer Turbocharger
Installation
PLEASE NOTE:
⦁ This is the same manual used by the dealers to diagnose and troubleshoot your vehicle
⦁ You will be directed to the download page as soon as the purchase is completed. The whole payment and downloading process will take anywhere between 2-5 minutes
⦁ Need any other service / repair / parts manual, please feel free to contact [email protected] . We still have 50,000 manuals unlisted