case 580K Loader Backhoe Operators Manual 
SCREENSHOT OF THE MANUAL: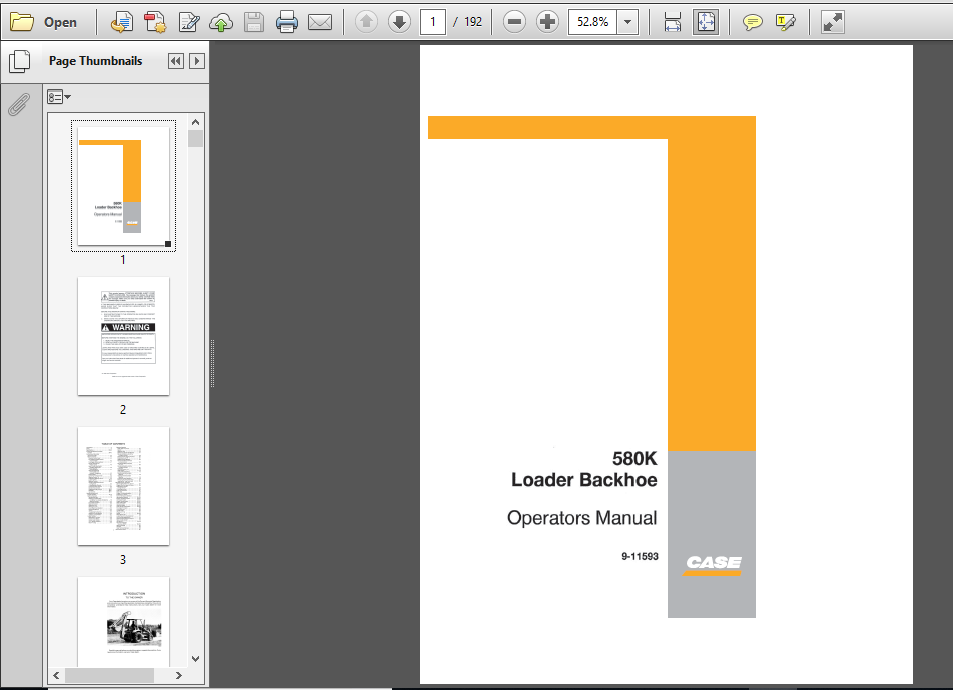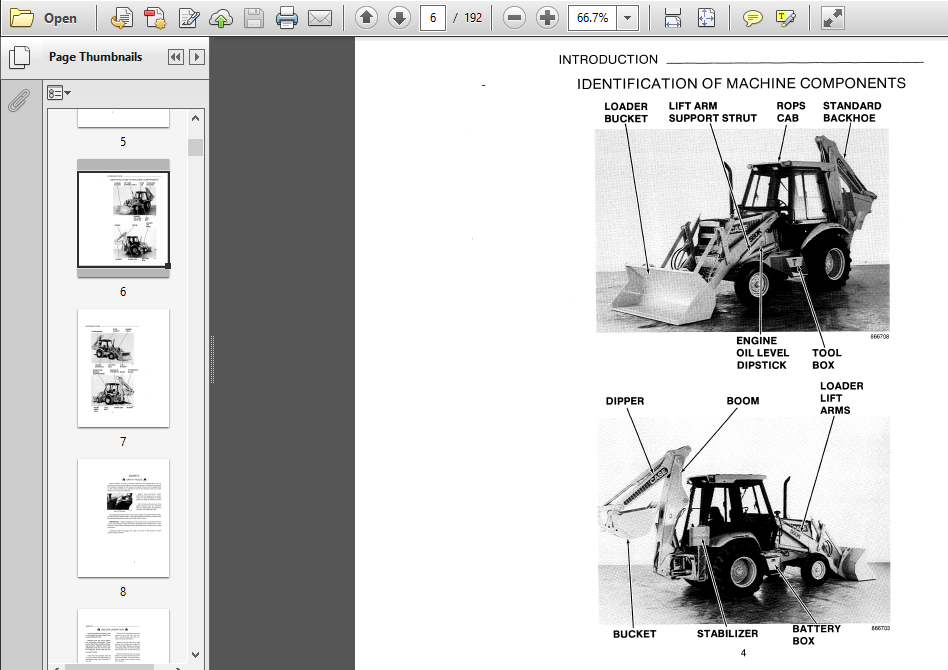 TABLE OF CONTENTS:
case 580K Loader Backhoe Operators Manual 
Introduction
Safety
Specifications
Product Identification and Serial
Numbers
Controls and Instruments
instrumentCiuster
MachineControls
Direction Control Lever
Four Speed Transaxle Control
andFootPedals
Turn Signal Control and Horn
Driving Working and
FlasherLamps
Hand Throttle Key Switch
and Ether Starting Aid
Flood Lamps and
RotatingBeacon
Alarm tor Engine and
Parking Brake and
Hydraulic Temperature
ParkingBrake
Control for Front Drive Axle
Steering Column Tilt
Telescoping Steering Column
LoaderControls
BackhoeControls
Auxiliary Attachments Control
torBackhoes
Tilting Backhoe Controls
Three Point Hitch Controls
Standard Seat Controls
Suspensions Seat Controls
SeatBelts
CabControls
Operating instructions
EngineOperation
MachineOperation
AdjustingtheSeat
Selecting Transaxle Gear/
and Belore Y0u Operate the Machine
MachineDlrection
FourSpeedTransaxie
MachineDirection
DifferentialLock
WorkingonaHill
Four-Wheel Drive Operation
ParklngtheMachine
Towing
Transporting the Machine
Operating in Cold Weather
Operating in Hot Weather
LoaderOperation
SafetyWhen YouWork
Clutch Cutout Button
Bucket Level Indicator
4-in-1 Bucket indicators
Retum-To-Dig
Backhoe Operation
Safety When You Work
General
StabilizerPads
Before You Dig With the Backhoe
Moving the Backhoe Out of the
Transport Position
Backhoe Bucket Digging Positions
Extendahoe Lock Pin
Digging with the Backhoe
Moving the Machine Forward
onLevelGround
Moving the Machine Forward
OnaHiil
Moving the Backhoe into the
Transport Position
FrostPoint
Concrete Breaker Fork
CaseCoupler
Lifting with the Backhoe
Removing the Demountable
Backhoe
installing the Demountabie
Backhoe
Three Point Hitch Operation
Removing the Three Point Hitch
installing the Three Point Hitch
Maintenance and Lubrication
General Safety Before You Service
Support Strut for Loader Lift Arms
Systemgard Lubricant
AnalysisService
Tilting Engine Hood
Fluid and Lubricants
DieselFuel
Engine Oil Recommendations
Engine Run-in Period
Run-in Maintenance Schedule
Maintenance Schedule
Engine Lubrication System
Air CleanerSystem
Engine Cooling System
DieselFueiSystem
Hydraulic System
ElectricaiSystem
Power Shuttle Transmission
Four Speed Transaxle
FrontDriveAxle
TransierCase
Wheeisandfires
Brakes
EtherStartingAid
Loader Retum-To-Dig Adjustment
Fan Drive Belt Replacement
Special Engine Starting Procedure
Spark Arrester Muffler
CabService
Roll-Over Protective
Structure [ROPS)
MachineStorage
SeatBelt
Case Technical Manuals
AfterDeliveryCheck
VIDEO PREVIEW:

DESCRIPTION:
Your Case dealer has given you a copy of the Owners Warranty Registration and instructions on machine operation. maintenance, and safety. If you do not completely understand these instructions, see your Case dealer for more information.Read this manual before you start the engine or operate the machine. If you need more information, see your Case dealer.
PLEASE NOTE:
⦁ This is the SAME exact manual used by your dealers to fix your vehicle.
⦁ The same can be yours in the next 2-3 mins as you will be directed to the download page immediately after paying for the manual.
⦁ Any queries / doubts regarding your purchase, please feel free to contact [email protected]