Bomag Trilplaat BPR 65 70 D Onderhoudsboek Handleiding – PDF DOWNLOAD (Dutch)
IMAGES PREVIEW OF THE MANUAL: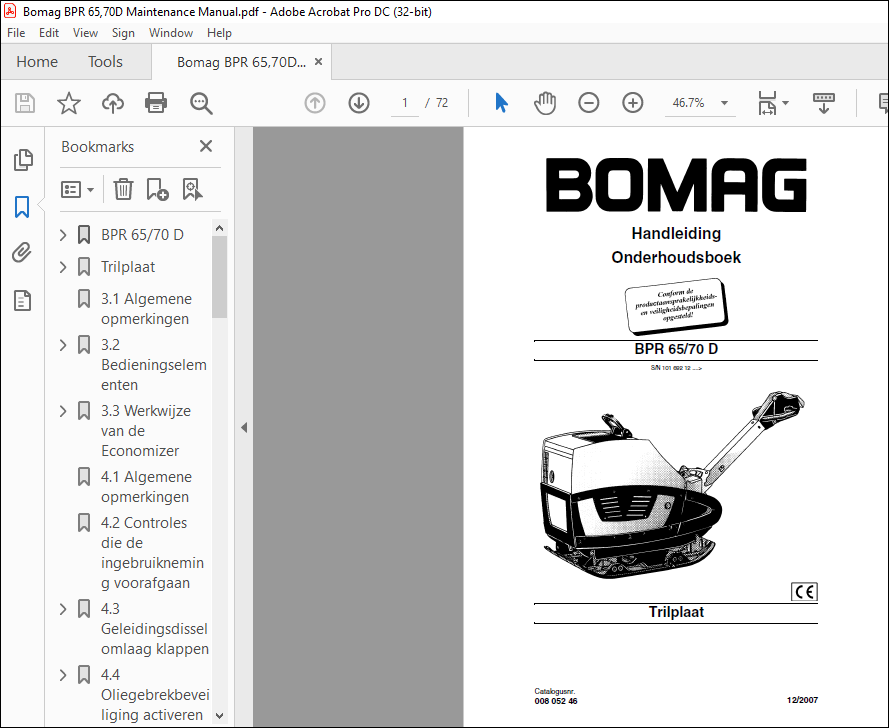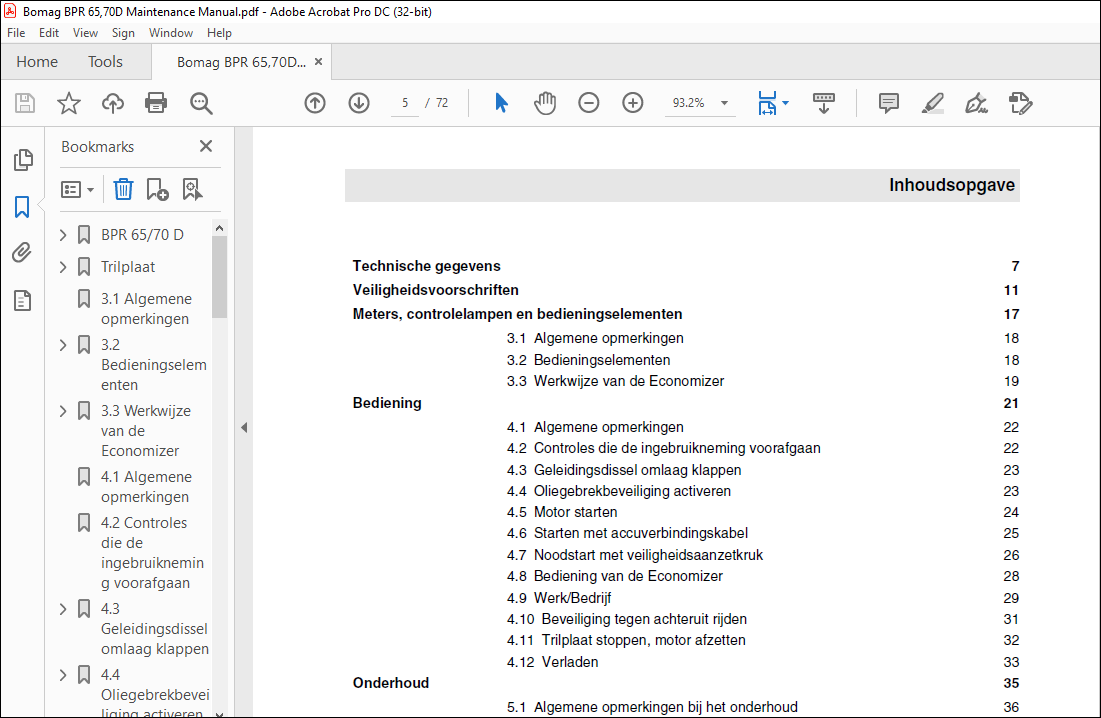 FILE DETAILS:
Bomag Trilplaat BPR 65 70 D Onderhoudsboek Handleiding – PDF DOWNLOAD (Dutch)
Language : English
Pages :72
Downloadable : Yes
File Type : PDF
Size:1.75 mb
DESCRIPTION:
Bomag Trilplaat BPR 65 70 D Onderhoudsboek Handleiding – PDF DOWNLOAD (Dutch)
S/N 101 692 12 ….>
Voorwoord
De BOMAG machines zijn producten uit het grote gamma BOMAG verdichtingsmachines. De grote ervaring van BOMAG en de modernste productie- en testmethoden, zoals bijvoorbeeld levensduurtests van alle belangrijke onderdelen en de hoge kwaliteitseisen, staan garant voor de grootst mogelijke betrouwbaarheid van uw machine.
Deze handleiding omvat:
Veiligheidsvoorschriften
Gebruikershandleiding
Onderhoudshandleiding
Storingstabellen
Het gebruik van deze handleiding
maakt het gemakkelijker de machine te leren kennen en
voorkomt storingen als gevolg van ondeskundige bediening.
Het opvolgen van de voorschriften in de onderhoudshandleiding
vergroot de betrouwbaarheid bij gebruik in de bouw,
verlengt de levensduur van de machine,
verlaagt reparatiekosten en brengt periodes van stilstand terug.
BOMAG is niet aansprakelijk voor de prestaties van de machine
bij gebruik dat niet overeenkomt met het normale gebruik, bij andere gebruikstoepassingen
die niet in de handleiding staan vermeld.
Het recht op garantie vervalt bij
verkeerde bediening,
achterstallig onderhoud en
verkeerde smeerstoffen.
Let op het volgende!
Deze handleiding is geschreven voor de operator en de onderhoudstechnicus op de bouw. Houd deze handleiding altijd binnen handbereik, bijvoorbeeld in het gereedschapsvak van de machine of in de daarvoor bestemde bak. De gebruikers- en onderhoudshandleiding hoort bij de machine.
Gebruik de machine uitsluitend na instructie en volg de voorschriften van deze handleiding op. Houdt u zich nauwgezet aan de veiligheidsvoorschriften. Houdt u zich evenzo aan de richtlijnen voor uw bedrijfstak en de vigerende ongevalspreventievoorschriften. Gebruik voor uw eigen veiligheid uitsluitend BOMAG reserveonderdelen.
BOMAG behoudt zich het recht voor in het kader van technische ontwikkelingen wijzigingen door te voeren zonder voorafgaande kennisgeving. Deze gebruikers- en onderhoudshandleiding is ook in andere talen leverbaar. Bovendien kunt u de onderdelencatalogus bij uw BOMAG-dealer bestellen onder vermelding van het serienummer van de machine.
Voor het juiste gebruik van onze machines in de grond- en asfaltbouw kunt u eveneens terecht bij uw BOMAG-dealer voor informatie.
De garantie- en aansprakelijkheidsvoorwaarden van de algemene handelsvoorwaarden van BOMAG worden door bovenstaande en volgende richtlijnen en opmerkingen niet uitgebreid of vervangen.
TABLE OF CONTENTS:
Bomag Trilplaat BPR 65 70 D Onderhoudsboek Handleiding – PDF DOWNLOAD (Dutch)
Technische gegevens 7
Veiligheidsvoorschriften 11
Meters, controlelampen en bedieningselementen 17
3.1 Algemene opmerkingen 18
3.2 Bedieningselementen 18
3.3 Werkwijze van de Economizer 19
Bediening 21
4.1 Algemene opmerkingen 22
4.2 Controles die de ingebruikneming voorafgaan 22
4.3 Geleidingsdissel omlaag klappen 23
4.4 Oliegebrekbeveiliging activeren 23
4.5 Motor starten 24
4.6 Starten met accuverbindingskabel 25
4.7 Noodstart met veiligheidsaanzetkruk 26
4.8 Bediening van de Economizer 28
4.9 Werk/Bedrijf 29
4.10 Beveiliging tegen achteruit rijden 31
4.11 Trilplaat stoppen, motor afzetten 32
4.12 Verladen 33
Onderhoud 35
5.1 Algemene opmerkingen bij het onderhoud 36
5.2 Bedrijfsstoffen 37
5.3 Bedrijfsstoffentabel 39
5.4 Inrijvoorschrift 40
5.5 Onderhoudstabel 41
5.6 Motoroliestand controleren 43
5.7 De brandstofreserve controleren 43
5.8 Hydraulicaoliestand controleren 44
5.9 Display voor het luchtfilteronderhoud controleren 44
5.10 Brandstoftank slik en water aflaten 46
5.11 Toestand van de accu controleren, polen invetten 47
5.12 Klepspeling controleren, regelen 48
5.13 Opwekasbehuizing, oliestand controleren 49
5.14 Motorolie verversen 50
5.15 De motoroliefilter vervangen 51
5.16 Brandstoffilter vervangen 52
5.17 Olie in de opwekasbehuizing verversen 52
5.18 Het rubberen stootblok controleren 53
5.19 V-riem controleren 54
5.20 Hydraulicaolie, ventilatiefilter en hydraulicaoliefilter vervangen 55
5.21 Drogeluchtfilter reinigen (bij veel stof) 59
Inhoudsopgave
6 BOMAG BPR 65/70 D
5.22 Machine reinigen 60
5.23 V-riem vervangen 61
5.24 Aanspanmomenten voor schroeven met metrische draad 61
5.25 De schroefverbindingen aantrekken 62
5.26 De motor bewaren 62
Storingstabel 65
6.1 Algemene opmerkingen 66
6.2 Motorstoringen 67
6.3 Storingen Economizer 70
PLEASE NOTE:
This is the SAME manual used by the dealers to troubleshoot any faults in your vehicle. This can be yours in 2 minutes after the payment is made.
Contact us at [email protected] should you have any queries before your purchase or that you need any other service / repair / parts operators manual.
S.M