Bobcat S100 Skid Steer Loader Operation & Maintenance Manual 
DESCRIPTION:
This Operation & Maintenance Manual was written to give the owner/operator instructions on the safe operation and maintenance of the Bobcat Loader. READ AND UNDERSTAND THIS OPERATION & MAINTENANCE MANUAL BEFORE OPERATING YOUR BOBCAT LOADER. If you have any questions, see your Bobcat dealer. This manual may illustrate options and accessories not installed on your loader.
Maintenance
The machine and some attachments have components that are at high temperatures under normal operating conditions. The primary source of high temperatures is the engine and exhaust system. The electrical system, if damaged or incorrectly maintained, can be a source of arcs or sparks.
Flammable debris (leaves, straw, etc.) must be removed regularly. If flammable debris is allowed to accumulate, it can cause a fire hazard. Clean often to avoid this accumulation. Flammable debris in the engine compartment is a potential fire hazard.
The operator's area, engine compartment and engine cooling system must be inspected every day and cleaned if necessary to prevent fire hazards and overheating. All fuels, most lubricants and some coolants mixtures are flammable. Flammable fluids that are leaking or spilled onto hot surfaces or onto electrical components can cause a fire.
SCREENSHOT OF THE MANUAL: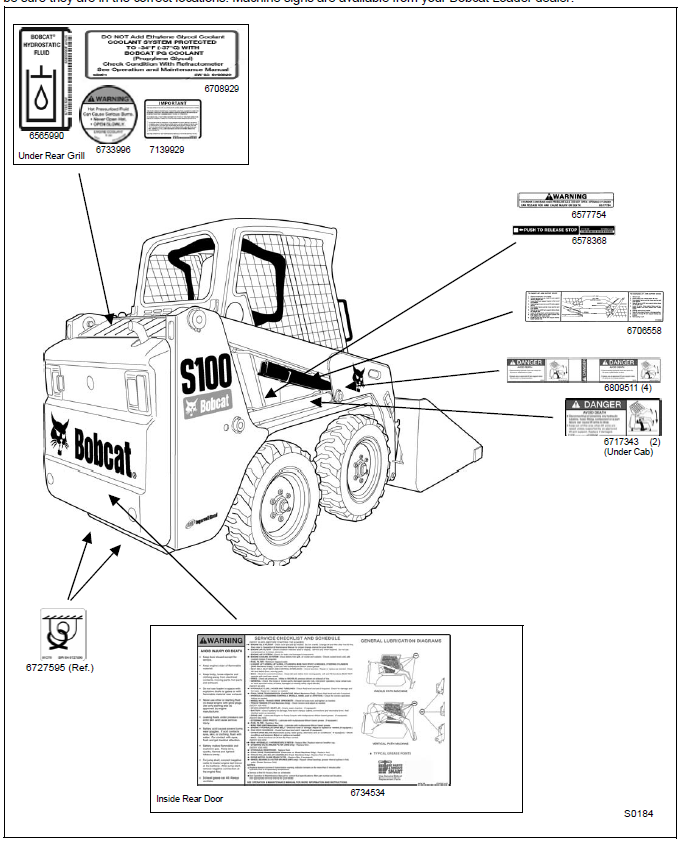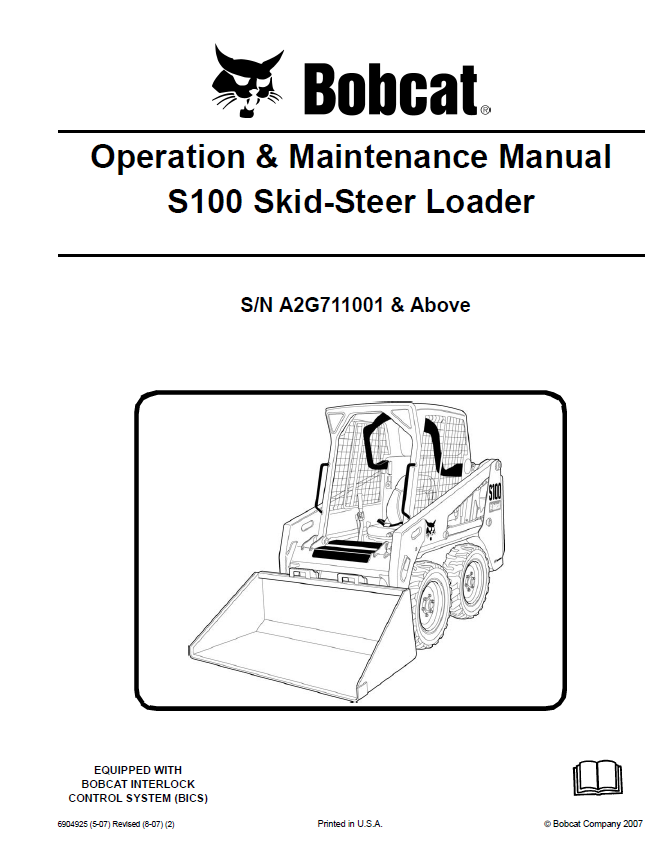 TABLE OF CONTENTS:
Bobcat S100 Skid Steer Loader Operation & Maintenance Manual SN Covered:
S/N AB6411001 – AB6419999
FOREWORD. . . . . . . . . . . . . . . . . . . . . . . . . . . . . . . . . . . . . . . . . . . III
SAFETY & TRAINING RESOURCES. . . . . . . . . . . . . . . . . . . . . . . .XI
OPERATING INSTRUCTIONS . . . . . . . . . . . . . . . . . . . . . . . . . . . OI-1
PREVENTIVE MAINTENANCE . . . . . . . . . . . . . . . . . . . . . . . . . PM-1
SYSTEM SETUP & ANALYSIS. . . . . . . . . . . . . . . . . . . . . . . . . . SA-1
MACHINE SIGN TRANSLATIONS . . . . . . . . . . . . . . . . . . . . . . MST-1
SPECIFICATIONS. . . . . . . . . . . . . . . . . . . . . . . . . . . . . . . . . . SPEC-1
WARRANTY . . . . . . . . . . . . . . . . . . . . . . . . . . . . . . . . .WARRANTY-1
ALPHABETICAL INDEX . . . . . . . . . . . . . . . . . . . . . . . . . . . . INDEX-1
VIDEO PREVIEW:
PLEASE NOTE:
⦁ This is not a physical manual but a digital manual – meaning no physical copy will be couriered to you. The manual can be yours in the next 2 mins as once you make the payment, you will be directed to the download page IMMEDIATELY.
⦁ This is the same manual used by the dealers inorder to diagnose your vehicle of its faults.
⦁ Require some other service manual or have any queries: please WRITE to us at [email protected]