BOBCAT 440 443 443B LOADER SERVICE REPAIR WORKSHOP MANUAL
IMAGES PREVIEW OF THE MANUAL: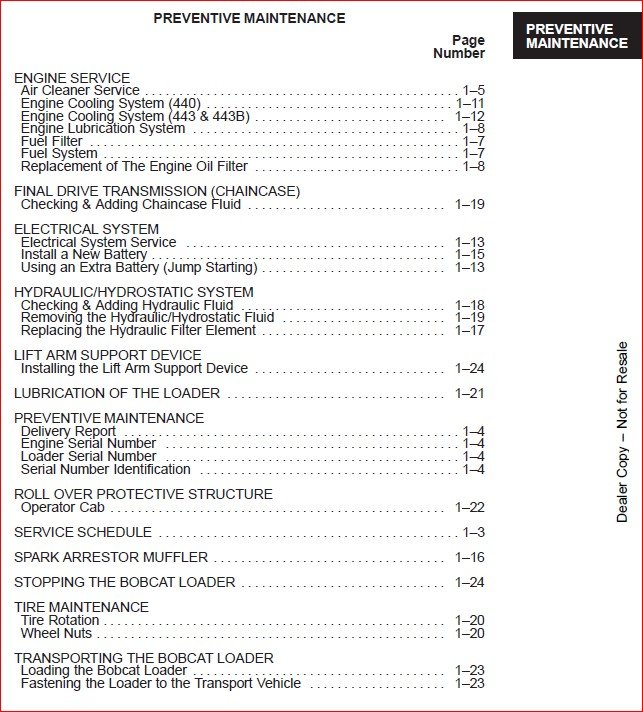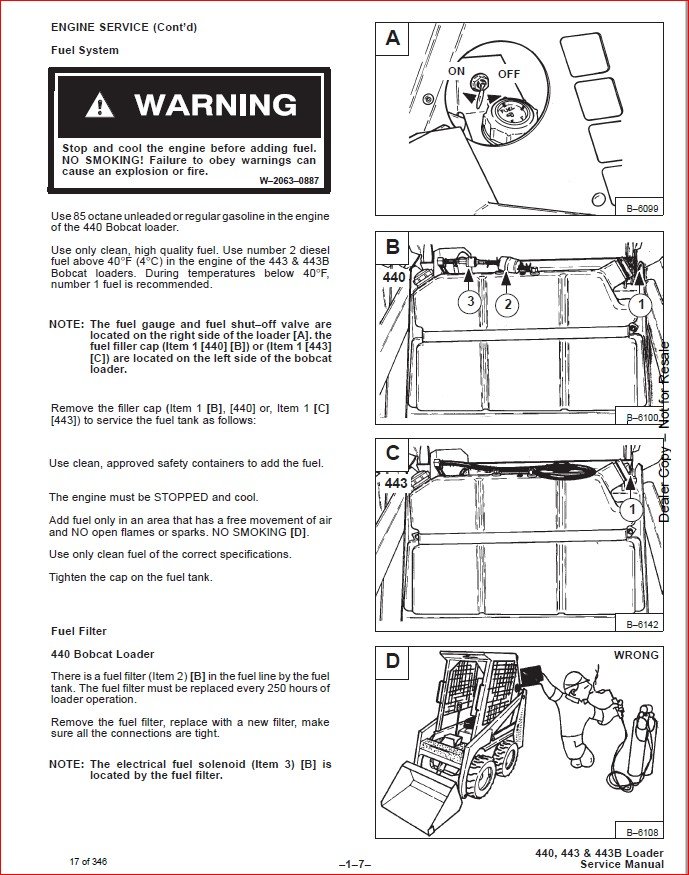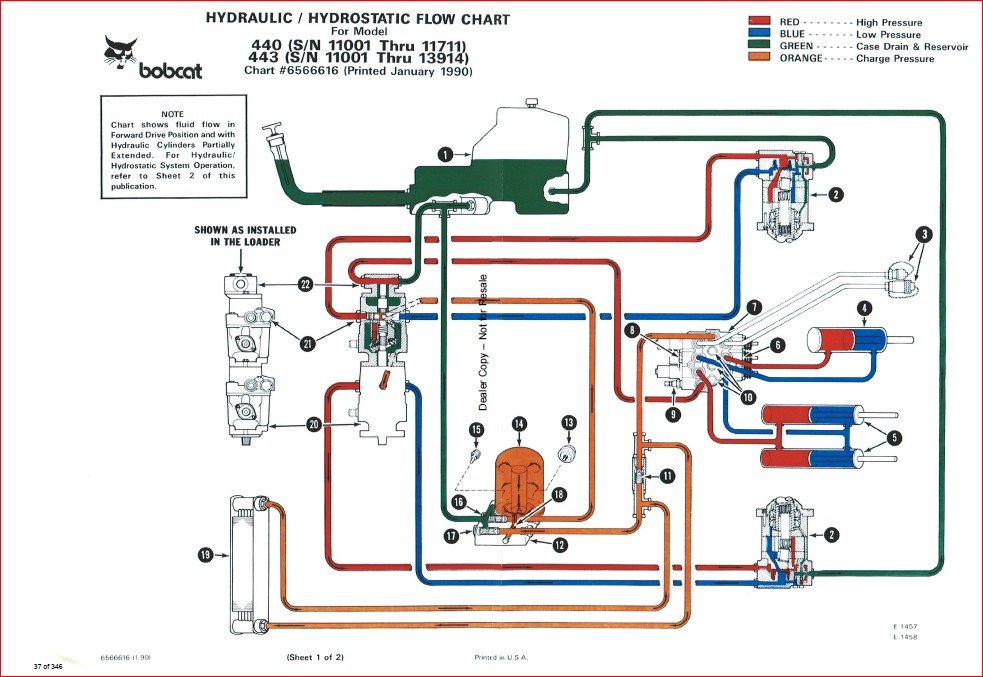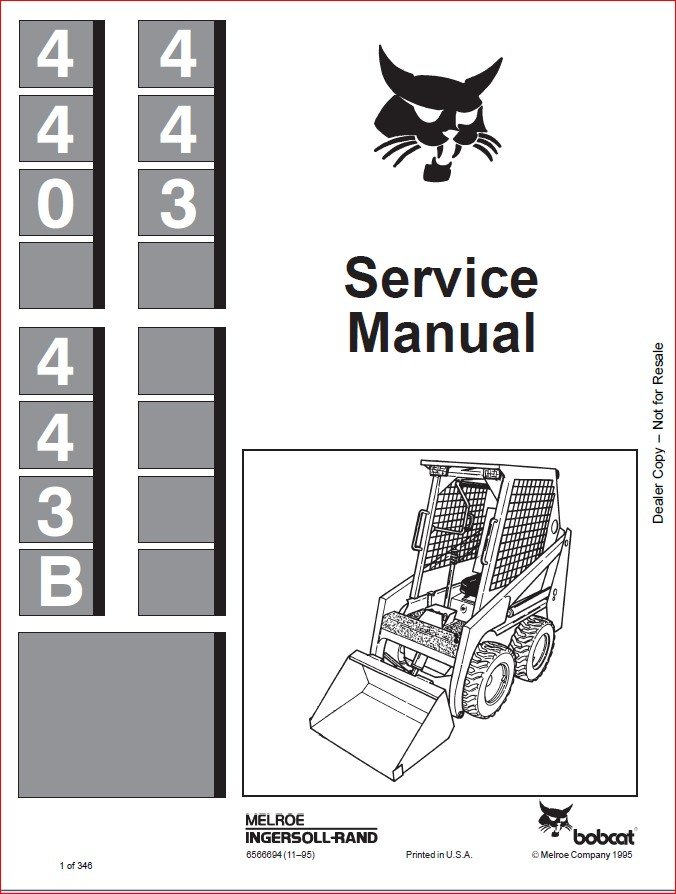 VIDEO PREVIEW:
TABLE OF CONTENTS:
ENGINE SERVICE
Air Cleaner Service 1–5
Engine Cooling System (440) 1–11
Engine Cooling System (443 & 443B) 1–12
Engine Lubrication System1–8
Fuel Filter 1–7
Fuel System 1–7
Replacement of The Engine Oil Filter 1–8
FINAL DRIVE TRANSMISSION (CHAINCASE)
Checking & Adding Chaincase Fluid 1–19
ELECTRICAL SYSTEM
Electrical System Service 1–13
Install a New Battery1–15
Using an Extra Battery (Jump Starting)1–13
HYDRAULIC/HYDROSTATIC SYSTEM
Checking & Adding Hydraulic Fluid 1–18
Removing the Hydraulic/Hydrostatic Fluid 1–19
Replacing the Hydraulic Filter Element1–17
LIFT ARM SUPPORT DEVICE
Installing the Lift Arm Support Device 1–24
LUBRICATION OF THE LOADER 1–21
PREVENTIVE MAINTENANCE
Delivery Report 1–4
Engine Serial Number 1–4
Loader Serial Number 1–4
Serial Number Identification 1–4
ROLL OVER PROTECTIVE STRUCTURE
Operator Cab 1–22
SERVICE SCHEDULE 1–3
SPARK ARRESTOR MUFFLER 1–16
STOPPING THE BOBCAT LOADER 1–24
TIRE MAINTENANCE
Tire Rotation 1–20
Wheel Nuts 1–20
TRANSPORTING THE BOBCAT LOADER
Loading the Bobcat Loader 1–23
Fastening the Loader to the Transport Vehicle 1–23
DESCRIPTION:
This manual is for the Bobcat loader mechanic. It provides necessary servicing and adjustment procedures for the Bobcat loader and its component parts and systems. Refer to the Operation & Maintenance Manual for operating instructions, starting procedure, daily checks, etc.
This is the Highly Detailed factory service repair manual for the Bobcat 440, 443, 443B Skid Steer Loader, this Service Manual has detailed illustrations as well as step by step instructions,It is 100 percents complete and intact. they are specifically written for the do-it-yourself-er as well as the experienced mechanic.
PLEASE NOTE:
This is not a physical manual but a digital manual – meaning no physical copy will be couriered to you. The manual can be yours in the next 2 mins as once you make the payment, you will be directed to the download page IMMEDIATELY.
This is the same manual used by the dealers inorder to diagnose your vehicle of its faults.
Require some other service manual or have any queries: please WRITE to us at [email protected]