1949-1951 Cessna 170A Parts Catalog Manual – PDF DOWNLOAD
IMAGES PREVIEW OF THE MANUAL: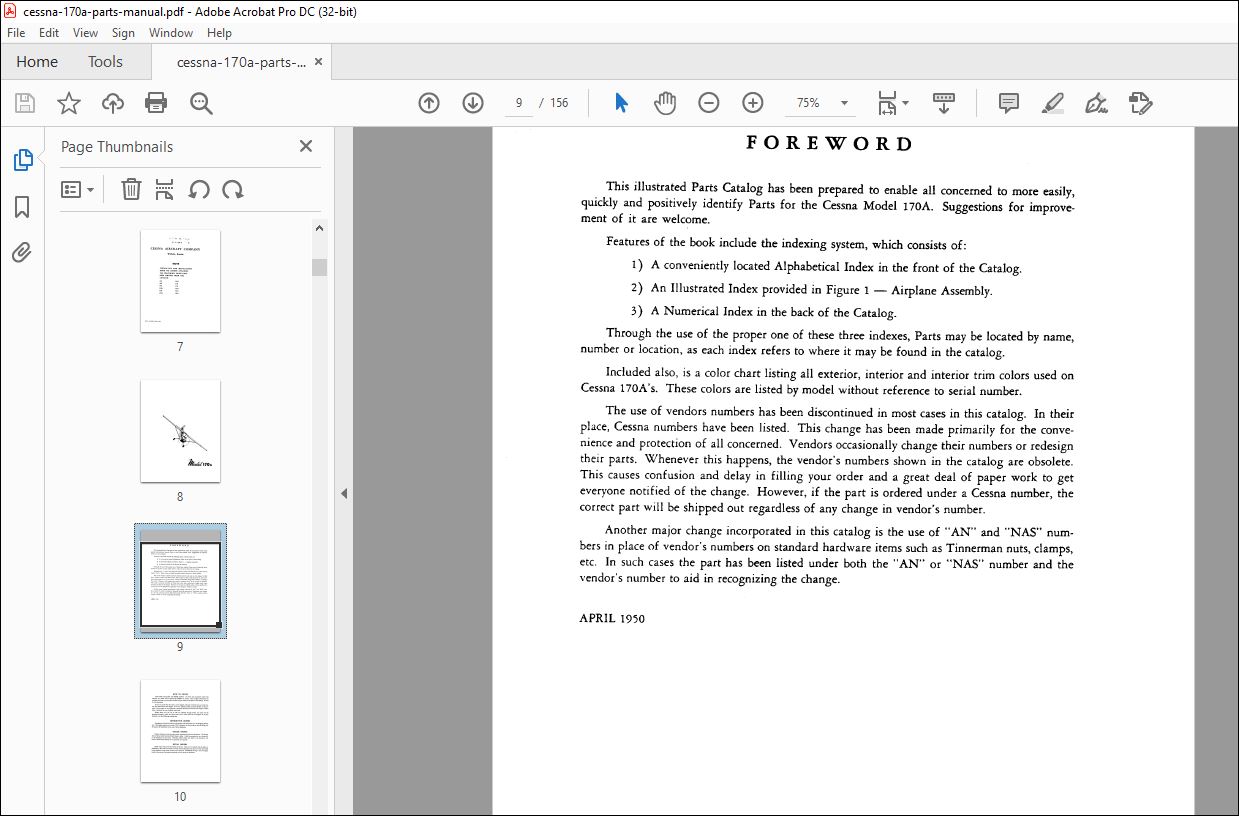 DESCRIPTION:
1949-1951 Cessna 170A Parts Catalog Manual – PDF DOWNLOAD
FOREWORD
This illustrated Parts Catalog has been prepared to enable ali concerned to more easily,
quickly and positively identify Parts for the Cessna Model 170A. Suggestions for improvement
of it are welcome.
Features of the book include the indexing system, which consists of:
1) A conveniently located Alphabetical Index in the front of the Catalog.
2) An Illustrated Index provided in Figure 1 – Airplane Assembly.
3) A Numerical Index in the back of the Catalog.
Through the use of the proper one of these three indexes, Parts may be Iocated by name,
number or location, as each index refers to where it may be found in the catalog.
Included also, is a color chart listing all exterior, interior and interior trim colors used on
Cessna 170A's. These colors are listed by model without reference to serial number.
The use of vendors numbers has been discontinued in most cases in this catalog. In their
place, Cessna numbers have been listed. This change has been made primarily for the convenience
and protection of all concerned. Vendors occasionally change their numbers or redesign
their parts. Whenever this happens, the vendor's numbers shown in the catalog are obsolete.
This causes confusion and delay in filling your order and a great deal of paper work to get
everyone notif ied of the change. However, if the part is ordered under a Cessna number, the
correct part will be shipped out regardless of any change in vendor's number.
Another major change incorporated in this catalog is the use of "AN" and "NAS" numbers
in place of vendor's numbers on standard hardware items such as Tinnerman nuts, clamps,
etc. In such cases the part has been listed under both the "AN" or "NAS" number and the
vendor's number to aid in recognizing the change.
TABLE OF CONTENTS:
1949-1951 Cessna 170A Parts Catalog Manual – PDF DOWNLOAD
Actuator
Elevator Tab 23
Stall Warning Indicator 5
Aft Section Assembly-Fuselage 39
Aileron
Assembly-Left 10
Assembly-Right 18
Altimeter 61, 64
Altimeter-Sensitive 104
Ammeter 61, 65
Antenna
G E Radio 97
Mast Bracket 31
Ash Receiver 67
Auxiliary Spar
Inboard-Left Wing 8
Inboard-Right Wing 16
Outboard-Left Wing 8
Outboard-Right Wing 16
Rudder 25
Axle-Landing Gear 49
Axle-Ski 49
B
PART NAME PAGE
Bulb
Dome Light 31
Instrument Light 64, 65
Tail Light 25
Wing Position 5, 13
Bushing
Bronze Tailwheel 53
Rudder Hinge 40
Seat Roller 77
Tailwheel Spring Attachment 40
e
Cabin Air Vent
Outlet Assembly-Left 29
Outlet Assembly-Right 29
Scoop Assembly-Left 9
Scoop Assembly-Right 17
Cabin Heater
Gasoline 95
Manifold 93
Cabin Trim and Upholstery 75
Cable
Aileron Control 85
Elevator Control 87
Elevator Tab Control 89
Flap Control 83
Parking Brake 45
Rudder Control 90
Camera Provision 127
j Cap Carburetor Heater Union 72
79 1
Fue! Tank 5, 13
Back Assembly-Rear Seat ¡ Card-Compass 61, 62, 107
Baffle-Engine 72 1 Carpet-Floor 75
Ball Joint-Throttle Control 71 Catch
'ar-Aileron Carry Thru 85 Cowl Fastener 67,69
Glove Compartment Door 62, 64
~attery · · · · · · · · · · · · · · · · · · · · · · · · · · · · · · · · · · · · · · · · · · · · · · · · · · · · · · 55 Rear Seat Back 39
Battery Box 29 Chain
Bellcrank Aileron Control 85
Aileron-Left 10 Elevator Tab e' :'
Aileron-Right 18 Cigar Lighter 62, M
Dual Brakes 111 Circuit Breaker 65
Elevator-Forward 47 Clamp
Elevator-Rear 87 Heater Mounting 95
Flap Control-Left 11 Parking Brake Cable 45
Flap Control-Right lQ Clip
Rudder 25 Door Handle 59
Belt-Safety Switch Limit 61
Front 29 Clock 104
Rear 79 Collar-Axle Attachment 117
B
1 1
Compass 61, 64
eze – nstrument • · · · · · · · · · · · · · · · · · · · · · · · · · · · · · · · · · · · · · 6l, 62 Cone Assembly-Fuselage Tail 40
Blast Tube-Oil Temperature 71 Connector and Spring Assembly-Tailwhcel 51
Bolt-Flap Stop 5, 13 Contactor • • • • • • • • • • • • • • • • • • 55
Bottom Assembly-Rear Seat Box 79 ContCroarl buretor Heat 62, 64
B Lock 121
attery · · · · · · · · · · · · · · · · · · · · · · · · · · · · · · · · · · · · · · · · · · · · · · · · · 29 Mixture 62, 64
Glove Compartment 62, 65 Parking Brake _ 62, 64
Bracket Starter 62, 64
Antenna Mast 31 Throttle 62, 65
Door Catch-Left 5 Control System
Door Catch-Right 16 Aileron 85
Microphone Mounting 96 Elevator 87
Radio Case Mounting 95 Elevator Tab 89
Seat Back 39 Flap 83
Seat Belt 29 Ruddcr 90
Stabilizer Hinge 23 Cover
Starter Control 33 Instrument Opening 61, 64, 65
Tailwheel Mounting 51 Instrument Panel-Left 62, 64
Brake Instrument Panel-Right 62, 64
Crosswind Landing Gear 117 Landing Light Gap 5
Disc-Rotating 50, 117 Muff 105
Lines ; 41 Radio Dial Cutout 62
Lining 50, 117 Shock Panel 61, 62
Main Wheel 50
Master Cylinder 43 Cowl-Engine 66, 69
ILLUSTRATED PARTS CATALOG
ALPHABETICAL INDEX
PART NAME PAGE PART NAMF PAG
D
Decal
Fuse Panel 62, 65
Headphone 61, 65
Operation Limitations 65
Panel Light Switch 62, 64
Spare Fuse 62, 61
Water Rudder Retract 109
Deflector-Heater 93, 95
Disc-Rotating-Brake SO, 117
Door Assembly
Cabin-Left • 57
Cabin-Right 59
Glove Compartment 62, 64
Dual Brakes 111
E
Elbow-Cabin Vent 9, 17
Elevator
Assembly-Left 27
Assembly-Right 27
Control System 87
Tab Control System 89
Engine Installation 71
Equipment-Instrument Panel 61, 62
Escutcheon-Door Handle 57, 59
Extension
Starter Arm 71
Tab 109
Eyebol~
Ho1sbng 123
Wing Tie Down 20
F
Fairing
Empennage 3
Wheel 121
Wing Forward-Left 3
Wing Forward-Right 3
Fillet-Wing 29
Fin and Dorsal Assembly 20
Fire Extinguisher 118
Firewall 33
Fittings-Floatplane 109
Flange-Pitot Static Line 33
Flap
Assembly-Left 11
Assembly-Right 19
Control System 83
Stop Bolt 5, 13
Floatplane Fittings 109
Floorboard
Aft Section 39
Center Section 31
Front Section 33
Landing Gear Cover 35
Front Seat 77
Fuel and Oil System 81
Fuse 64
G
Gage
Carburetor Air Temperature 129
Fuel 5, 13
Manifold Pressure 129
Oil Pressure 61, 65
Oíl Temperature 61, 65
Outside Air Temperature 104
Suction 107
Glass-Window 39, 57, 59
Goggles-Blind Flight 121
6rill–Cowl 67, 69
Grommet-Firewall 73
Gyro Installation-Venturi 107
H
Handle
Assist 33
Door Latch 57
Flap Lever 29
Front Seat Adjustment 77
Fuel Selector Valve 81
lnside Door 57, 59
Switch 61, 64
Headphone 96
Heater-Cabin
Gasoline 95
Manifold 93
Hinge
Aileron 10
Door-Left 57
Door-Right 5′
Elevator Outboard 4
Elevator Tab 2,
Flap 11
Glove Compartment Door 62, 64
Rudder 25, 40
Hoisting Provision 123
Hood-Cowl 67, 69
Hook-Headphone 95
Hom-Elevator Tab 97
I
Indicator
Airspeed 61 64
Stall Warning 62
Turn and Bank 104
Inspection Plate
Upholstered 29, 75
Wing 5, 13
Wing Attachment-Left 3
Wing Attachment-Right 3
Instrument
Optional 104
Panel 61, 62
J
Jack-Headphone 61, 65
Jack Point-Universal , 123
Jet Assembly-Primer 71
Fuselage K
Aft Section Assembly 39
Complete-Bare 29 Kit
Front and Center Section 31
Front Section Assembly 33 Cabin Heater 93, r
ILLUSTRATED PARTS CATALOG ~ Qssna
ALPHABETICAL INDEX
'ART NAME PAGE PART NAME PAGE
M
Cargo Rugs 123
Crosswind Gcar 116 Master Cylindcr-Brake 43
Dual Brakcs 111
Firc Extinguishcr 118
Microphone g6
Mixture Control 62, 64
Float Fittings 109
Hoisting Provision 123
Landing Light 113
Mooring Lug-Wing 20
Mount
Engine 71
Instrument Panel Shock 61, 64
Muff-Heater 71
Oíl Dilution System 110 Muffler-Engine Exhaust 71
Pncumatic Tailwhccl 119
N
Name Plate-M A A 29
Vcnturi Gyro 107
W~ccl Fa~rings 121
Wmtcnzation 105
Knob
Pull 62, 64
Push-Pull Control 62, 64
N avigation Light
Left 5
Right 13
Nose Cowl 67, 69
Thumb Latch 59
o
L "O" Ring
Landing Gear
Crosswind 117
Fuel Selector Valve 81
Master Cylinder 43
Installation 49 Oíl Dilution System 110
Landing Light 113
Landing Light Gap Cover 5 1 Optional Instruments 104
Latch Outlet Assembly-Cabin Air Vcnt 29
Assembly-Cowl Fastener 66, 69 Outside Air Temperaturc Gage 104
Asscmbly-Door 57
Assembly-Flap Lever 29
Assembly-Window 57, 59
Glove Compartment Door 62
Seat Back Adjustment 79
Lcading Edge Asscmbly
Lcft Center 9
Left In board 9
Left Out board 10
Right Center 17
Right Inboard 17
Right Out board 17
Leaf-Tailwheel Spring 40
Lcvcr Assembly-Flap 29
Light
Asscmbly-Dome 31
Landing 113
Tail 25
Wing Position-Left 5
Wing Position-Right 13
Lightcr-Cigar 62, 64
Liner-Baggage Compartment 75
Lining-Brake 50 1!
Link 'I
Ailcron Push-Pull 10, 18 1:
Dual Brakes 111 1!
Elcvator Control-Front 47 \,!¡
Elevator Control-Rear 87
Flap Push-Pull 11, 19
Lip–Lower Cowl 66, 69, 109 !i
I:! Load Coil-Antenna 96
Lock Assembly-Door 57, 59 ¡1
Lock-Control 121 ii
Lugs
Hoisting 123
Tic Down 20
p
Pad-Tailwheel Attachment (Rubber) 40
Panel
Instrument 61,62
Shock 61, 62
Stationary Instrument 62
Switch and Fuse 61, 64
Pants-Wheel 121
Parting Angle-Cowl 67, 69
Pawl-Flap 11, 19
Pedal
Brake and Rudder 45, 111
Co-Pilot's Rudder 45
Phone Jack 96
Piston-Brake 50
Pitot System 82
Placard
Baggage 109,
Heater 95
Platc
Floorboard Kick 75
Inspection 3, 5, 13, 29, 75
Lan-ding Gear Fillet 49
Plexiglass Decoration 62, 64
Pneumatic Tail Wheel 119
Primer-Engine 61, 64
Propeller
Metal 112
Optional 112
Spinner 112
Standard 3
Wood 3
Pylon-Elevator Actuating 27
ILLUSTRATED PARTS CATALOG
ALPHABETICAL INDEX
PART NAME
R
Radio Installation
PAGE
G E AS-2A 96
Rear Seat 79
Recording Tachometer 104
Regulator-Voltage 55
Resistor-Power 61, 65
Retainer
Compass Card 61, 62
Fuse 61, 64
Rheostat 61, 65
Ring-Cargo Tie Down 123
Roller-Seat , 77
Rudder
Assembly 25
Control System 90
Pedal Installation 45
Runner-Seat 31
s
Safety Belt
Bracket 29
Front 29
Rear 79
Scoop
Cabin Vent 9,17
Carburetor Air 67, 69
PART NAME PAGE
Speaker-Radio 96
Spinner-Propeller 112
Spring
Brake and Rudder Return 45
Flap Lever • 29
Flap Return 11, 19
Landing Gear 49
Tailwheel Leaf 40
Stabilizer Assembly · 23
Stack-Heater Exhaust 95
Stall Warning Unit
Instrument Panel 65
Wing 5
Step Assembly
Cabin 31
Floatplane 109
Stop
Control Lock 29
Tab Limit 89
Thumb Latch Bolt 59
Strainer
Fue! 81
Fue! Tank 5, 13
Strap
Assist 75
Battery Ground 55
Fuel Tank 7, 15
Shock Panel Ground 61, 64
S, ;n:en-Heater • • • • • • • • •- • • • 95 Structure Assembly
Seat Assembly ! Left Wing
~::~ra l~~
1
¡ Right Wing 1:
· · · · · · · · · · · · · · · · · · · · · · · · · · · · · · · · · · · · · · · · · · · · · · · · • · · • , Strut Assembly – Wing 20
Rear 79 [ S uppressor – G enerat or 96 , 99
Sensitive Altimeter 1041 Swit::ater 95
Shackle-Tailwheel Spring 40 lgnition 61, 65
Shaft ,,¡ Instrument Panel 61
Door Handle 57, 59 i: · Landing Light 64
Tab Control 89 MaSíer · · · · · · · · · · · · · · · · · · · · · · · · · · · · · · · · · · • · · · · · · · · · • • • • • 64
Ta ho t D · 71 ¡ ·¡ N avigation Lights 64
e me er nve · · · · · · · · ·· · · · · · · · · · · ·· · · · ··· · · · · · · · ·· · Oil Dilution 110
Shelf-Baggage · • • • · · · · · · · • · · · · · · · · · · • · • • • · · • • • • • • · • · · · • • · • • 75 1′ Turn and Bank 64
Shield Íl
Asbestos Grommct 73 ¡¡
Control Tee 75 ;' T
Firewall Hole 73 !1 Tab
Shirn Actuator 89
Fin Instalíation 23
Landing Gear 49, 117
Landing Gear Attachment 49
Stabilizer Attachment , 23
Skirt-Front Seat 77
Socket-Instrument Light 64, 107
Spar
Elevator Auxiliary 27
Elevator Front 27
Fin Rear 20
Fuselage-Front 35
Fuselage-Rear 39
Rudder Auxiliary 25
Rud•der Front 25
Stabilizer-Front 23
Stabilizer-Rear 23
Wing Front-Left 7
Wing Front-Right 15
Wing Inboard Auxiliary-Left 8
Wing Inboard Auxiliary-Right 16
Willl!; Outboard Auxiliary-·-Left 8
Wing Outboard Auxiliary–Right 16
Wing Rear-Left 7
Wing Rear-Right J 5
1
1
!
1
11
"!I
Control Wheel 89
Elevator 27
Tachomcter
Recording 104
Standard 61, 64
Tail
Cone Assembly – Aft Section 40
Light 25
Wheel Assembly 51
Whccl Spring Leaf 40
Tank
Assembly – Fuel -· Left 5
Assembly – Fuel – Right 13
Tee – Control 47
il
1,¡1 Thermometer – Outside Air lOl
¡ Thf'rmostat – Heate – 95
\ Tip Assembly – El~1ator 2
'¡ Rudder 25
Wing 8,16
1 Tubc – Vcnturi _ 107
Tube A ,sembly – Aih:ron Carry Thru 85
ILLUSTRATED PARTS CATALOG
ALPHABETICAL INDEX
PAGE l'ART NAME PAGE
u
Upholstery
Installation 75
Panel – Door – Left 57
Panel – Door – Right 59
V
Valve
Assembly – Fue! Control 95
Assembly – Manifold Cabin Heater 93
Fue! Selector 81
Safety 95
Solenoid 110
Vent – Fuel Tank 31
Venturi Tube 107
Vertical Speed lndicator 104
Volt – Ammeter Gage 104
w
Warning Unit – Stall 65
W edge – Landing Gear Support 49
Weight – Aileron Balance 10, 18
Wheel
Assembly – Crosswind Gear 117
Assembly – Main 50
Control 47
Fairings 121
Window
Assembly – Door 57,59
Assembly – Landing Light 113
Fuselage Aft Section 39
Windshield 36
Wing
Assembly – Left 5
Assembly – Right 13
Fillet – Left 40
Fillet – Right 40
Leading Edge Assembly – Left 9
Leading Edge Assembly – Right 17
Position Light – Left 5
Position Light – Right 13
Structure – Left 7
Structure – Right 15
Tip Assembly – Left 8
Tip Assembly – Right 16
Wing Unit – Stall Warning Indicator 5
Winterization Equipment 105
Wiring
Diagram 53
Installation 55
PLEASE NOTE:
This is the same manual used by the dealers to diagnose and troubleshoot your vehicle
You will be directed to the download page as soon as the purchase is completed. The whole payment and downloading process will take anywhere between 2-5 minutes
Need any other service / repair / parts manual, please feel free to contact [email protected] . We still have 50,000 manuals unlisted
S.V