Zetor Tractor Utilix HT 45 55 Operator's Manual – Pdf Download
FILE DETAILS:
Zetor Tractor Utilix HT 45 55 Operator's Manual – Pdf Download
Language : English
Pages : 154
Downloadable : Yes
File Type : PDF
Size:9.65 mb
DESCRIPTION:
Zetor Tractor Utilix HT 45 55 Operator's Manual – Pdf Download
ZETOR
This Operator's Manual for the Zetor tractors, which we are presenting to you will help you to become familiar with the operation and maintenance of your new tractor. Although many of you have rich experience with the operation of other tractors, please, read the information contained in this Operator's Manual very carefully. In the Manual you will find a lot of new information and get a perfect overview of how to use the tractor with maximum efficiency during various kinds of work. If you observe the rules of tractor operation and maintenance and driving safety, your new tractor will become your reliable and long-term friend. The manufacturer of the tractor wishes you thousands of hours of satisfactory work.
ABOUT THIS MANUAL
This manual has been prepared to assist you in following / adopting the correct procedure for running-in operation and maintenance of your new ZETOR Tractor. Your tractor has been designed and built to provide maximum performance, low fuel consumption and ease of use.
To maintain the condition and ensure trouble-free performance, it is important that maintenance is performed at the recommended intervals as described in this manual. Read this Manual carefully and keep it in a convenient place for future reference. If at any time you require advice concerning your Tractor, do not hesitate to contact your Authorized ZETOR dealer / Distributor.
He has trained personnel, genuine parts and necessary equipments to undertake all your service requirements. All data given in this book is subject to production variations.
Dimensions & weight are approximate only and the illustrations do not necessarily show Tractors in standard condition. For exact information about any particular Tractor, please consult your ZETOR dealer / Distributor.
INTRODUCTION & DESCRIPTION
1 – Left turn (counter clock wise)
2 – Right
3 – Front
4 – Left
5 – Rear
6 – Right turn (clock wise)
The word "Tractor" has been derived from "Traction," which means pulling. A tractor is required to pull or haul equipment, implements, or trolleys that are coupled to the tractor body through suitable linkage.
A tractor can also be used as a prime mover as it has a power outlet source, which is also called a Power Take-Off (PTO) shaft.
In this book, the operating, maintenance, and storage instructions for all models of ZETOR Diesel Tractors have been compiled. This material has been prepared in detail to help you better understand the maintenance and efficient operation of the machine.
If you need any information not given in this manual or require the services of a trained mechanic, please get in touch with the ZETOR Dealer/Distributor in your locality. Dealer/Distributors are kept informed of the latest methods of servicing tractors. They stock genuine spare parts and are backed by the company's full support
Through this manual.
Through this manual The use of the terms LEFT, RIGHT, FRONT and REAR must be understood, to avoid any confusion when following the introductions. The LEFT and RIGHT means left and right sides of the Tractor when facing forward in the driver's seat, Reference to the FRONT indicates the radiator end of the Tractor, while the REAR, indicates the drawbar end (Fig. U18N002).
When spare parts are required, always specify the Tractor and engine serial number when ordering these parts. (See Fig. U18N001).This will facilitate faster delivery and help ensure that the correct parts for your particular Tractor is received. The tractor serial number is punched on a plate attached to the left hand side of the engine body (See Fig. U18N001), For easy reference, we suggest you to write the number in the space provided in the owner's personal data.
TABLE OF CONTENTS:
Zetor Tractor Utilix HT 45 55 Operator's Manual – Pdf Download
Tractor identification 9
Warranty of the product 9
Parts 9
About this manual 11
Introduction & Description 13
Tractor an introduction 13
Description 14
ROPS (Roll over protection structures) 15
Roll over protective structures (ROPS) 15
Danger 15
Use of the tractor with the ROPS lowered can cause fatal injuries 15
Damage of the ROPS 15
How to adjust the Seat 16
For sliding seat 16
Seat suspension adjustment knob 17
Cushion strength adjustment 17
Safety instructions, Do's & Don'ts 19
Introduction to safety information 19
Signal words 19
Introduction to safety instructions Introduction to safety instructions 19
Protection children 19
Use of rops and seat belt 20
Precaution to avoid tipping 20
Safe parking of the tractor 20
Keep riders off tractor 20
Handle fuel safely-avoid fires 21
Stay clear of rotating shafts 21
Always use safety lights and devices 21
Practice safe maintenance 22
Avoid high-pressure fluids 22
Prevent battery explosions 22
Prevent acid burns 23
Service tractor safely 23
Work in ventilated area 24
Tractor runaway 24
Safety starter switch 24
Emergency exits 24
Safety precautions when using the loader 25
Towing safely 27
Falling object protective structure (FOPS) 27
Operator protective structure (OPS) 27
Use of hazardous substances 28
Safety tips during maintenance 30
Mounting and demounting implements 31
The following precautions are suggested to help prevent accidents 32
Do's-for better performance 35
Don'ts – for safe operation 36
Safety signs 37
General safety information 37
Decals on the dash cover 37
Decals on the chassis 38
Decals on the cabin 39
Universal symbols 41
Controls, Instruments & Operations 43
Description of tractor controls 43
Battery disconnector 43
Instrument and switches 44
Main switch (key switch) 45
Headlights, turn signal lights, beacon and horn switch 45
Tachometer 46
Hour meter 46
Fuel gauge and water temperature gauge 46
Hazard warning signal switch 46
CONTENTS
3
Warning lights 47
Independent PTO 48
PTO shaft revolutions 540 and 1000 rpm shifting lever 50
Connecting and disconnecting implement 51
Cruise control button 52
Cruise speed control switch 52
Load sensing button 52
Mode (sensitivity) switch 53
Tractor controls 54
Hand throttle (Throttle lever) 55
Speed and direction control pedals 55
Foot brakes 56
Parking brake lever 57
To avoid personal unjury: 57
Air brakes of trailers and semi-trailers 57
Air pressure indication 57
The button for temporary deactivation of brakes of the trailer or semi-trailer 58
One-hose and two-hose brakes 59
One-hose brakes 59
Two-hose brakes 59
Sub gear lever (Linear shift lever) 60
Diff-lock pedal 60
Front axle drive lever 61
Driver's seat 61
Tilt lever 62
Operating the hydraulics 63
Position control 63
Lowering speed control knob for the 3 point hitch 64
Outer hydraulic circuit 64
Outer hydraulic circuit controls 65
Remote hydraulic control valve coupler connecting and disconnecting 65
Connection 65
Disconnection 65
Joystick lever 66
Safety implement for joystick lever 66
Rear three-point hitch 67
Adjustment of the top link 68
Adjustment of the lift link on the lower link 69
Mounting implement 69
*Front three-point hitch 70
Controlling front three-point hitch 70
Hydraulic lock of the front three-point hitch 71
Working and transport position of the front three-point hitch 72
Driving with agricultural machines attached to the front three-point hitch 72
Towing equipment 72
Maximum permissible load of the hitch 72
Lower hitch 73
Connection and disconnection of implements 73
Multistage adjustable suspension 73
Disassembly of the rear PTO cover 73
Lower hitch disassembly 74
Height adjustment and disassembly of the multi-level hitch attachment tail piece 74
Starting the engine 75
Stopping the engine 75
Warming up 75
Warming up in cold weather 75
Running-in Period 75
Sharp change of direction in the field 76
Normal service braking and parking 76
Driving downhill 77
Operation of the diff lock 77
Check during driving 78
Oil pressure light 78
CONTENTS
4
Battery charging 78
Fuel gauge 78
Engine cooling water 79
Trailer socket (seven terminal electrical socket type) 79
Treads 80
Changing the front wheel tread 81
Changing the rear wheel tread 81
Front drive axle fenders 81
Setting wheel stops with front drive axle 82
Front loader mounting points 83
Main technical parameters 85
Check and service 85
Service inspections 85
Pre-start checks 85
Engine coolant 85
Engine oil 86
Transmission oil 87
Fuel 87
Tyre pressure 88
Tire size and inflation pressure 88
Tire inflation 88
Steering 89
Brake 89
Electrical installation 89
Installation of the front loader 89
Maintenance and adjustment schedule 90
Periodical check and service table 90
Diagram of filling points and lubrication points 93
Fuels, coolants and lubricants used – amounts 94
Recommended SAE viscosity grades for engine oil 94
ZETOR service fillings 94
Motor oils 94
Oil in the gearbox and final drivehousing 94
Oil for the front driving axle 94
Other recommended service fillings tested on Zetor tractors 94
Oil to gear systems of tractors 94
Fuel 94
Procedure to open the front hood 95
Front bonnet opening 95
Opening the side cover 95
Fuel system 96
Bleeding the fuel system 96
Changing oil in tractor 97
Changing engine oil 97
Draining oil from engine 98
Engine oil filter 98
Pouring oil to engine 98
Changing the transmission oil 99
Changing front axle oil 100
Cleaning and replacing filters 101
Engine oil filter 101
Fuel filter 102
Hydraulic oil filter 102
Changing coolant 103
Anti freeze 103
Cleaning the radiator 104
Greasing the tractor 105
Setting the play of controls 106
Adjusting the brake 106
Adjusting method 106
Adjusting the throttle lever 106
Adjusting toe-in 106
Checking the battery 107
CONTENTS
5
Battery maintenance 107
Battery charging 108
Battery disconnect 108
Battery disconnector 108
Fan belt adjustment 109
Alternator inspect 109
Alternator and fan belts inspect/adjust/replace 109
Air conditioner compressor belt adjustment 110
Air filter maintenance 110
Checking hoses and lines 111
Checking the wiring harness and fuses 111
Replacing fuses 112
Main fuses 112
Storage 113
For daily or short term storage 113
Long-term storage 113
Re-use after long term storage 113
Fuel saving tips 113
Air cleaning system 113
Engine 114
Fuel system 114
Oil system 114
Cooling system 114
How to use of jacks 115
Cabin 117
Instruments and related parts 117
Doors 118
Rear window 118
Side window 118
Work lights (front and rear) 118
Rearview mirrors 119
Cab ceiling 119
How to controls cabin 120
Interior devices 120
Ventilation 120
Re-circulation inlets fully closed 120
Control panel on right cab pillar 121
Windscreen washer tank 121
Interior lamp 122
Blower control switch 122
Temperature control 122
Air conditioner switch 122
Circulation diffuser 123
Heating system 123
Heating system configuration 123
Compressor belt adjustment 124
Air conditioning system 124
Roof hatch (if equipped) 124
Cab air intake filter 125
Radio, CD player (if equipped) 125
Ash tray 126
Cigarette lighter 126
Main technical parameters 129
Maximum permissible weight of the unit (tractor with trailer or semi-trailer) 131
Maximum permissible tractor axle load 131
Permitted maximum weight of set 'tractor + mounted machine' (kg) 131
Manoeuvrability condition 131
Permissible wheel combination for tractors and load capacity of tires 131
Traveling speed 132
Noise levels 133
Vibration referred to the operator position 134
Fault tracing 135
Engine troubleshooting 135
Brake and hydraulic system troubleshooting 137
Steering wheel and electric instruments troubleshooting 138
Towing the tractor 139
Wiring Diagram 141
UTILIX HT 45 / UTILIX HT 55 Electric system diagram (1) 141
UTILIX HT 45 / UTILIX HT 55 Electric system diagram (2) 142
UTILIX HT 45 / UTILIX HT 55 Cabin wiring diagram (1) 143
UTILIX HT 45 / UTILIX HT 55 Cabin wiring diagram (2) 144
UTILIX HT 45 / UTILIX HT 55 Cabin wiring diagram (3) 145
Power train 147
Index 149
IMAGES PREVIEW OF THE MANUAL: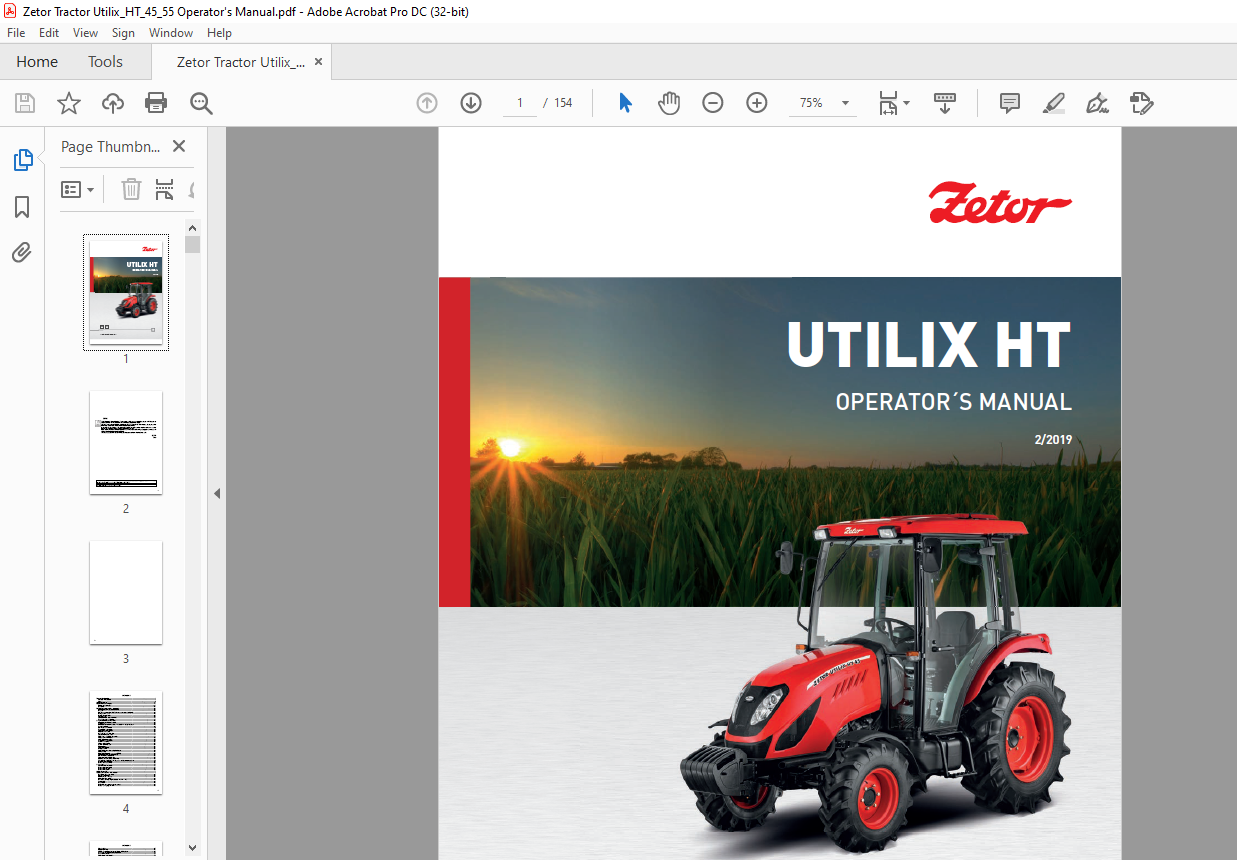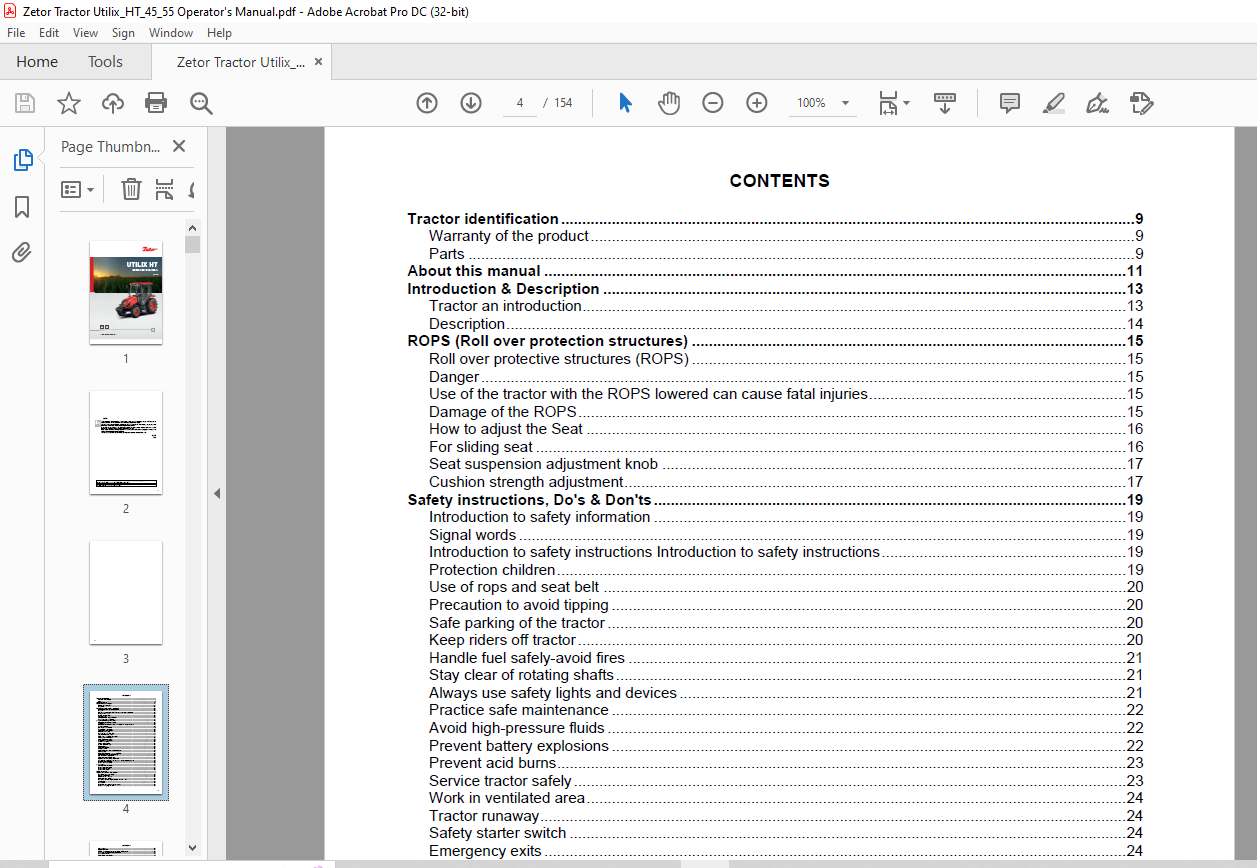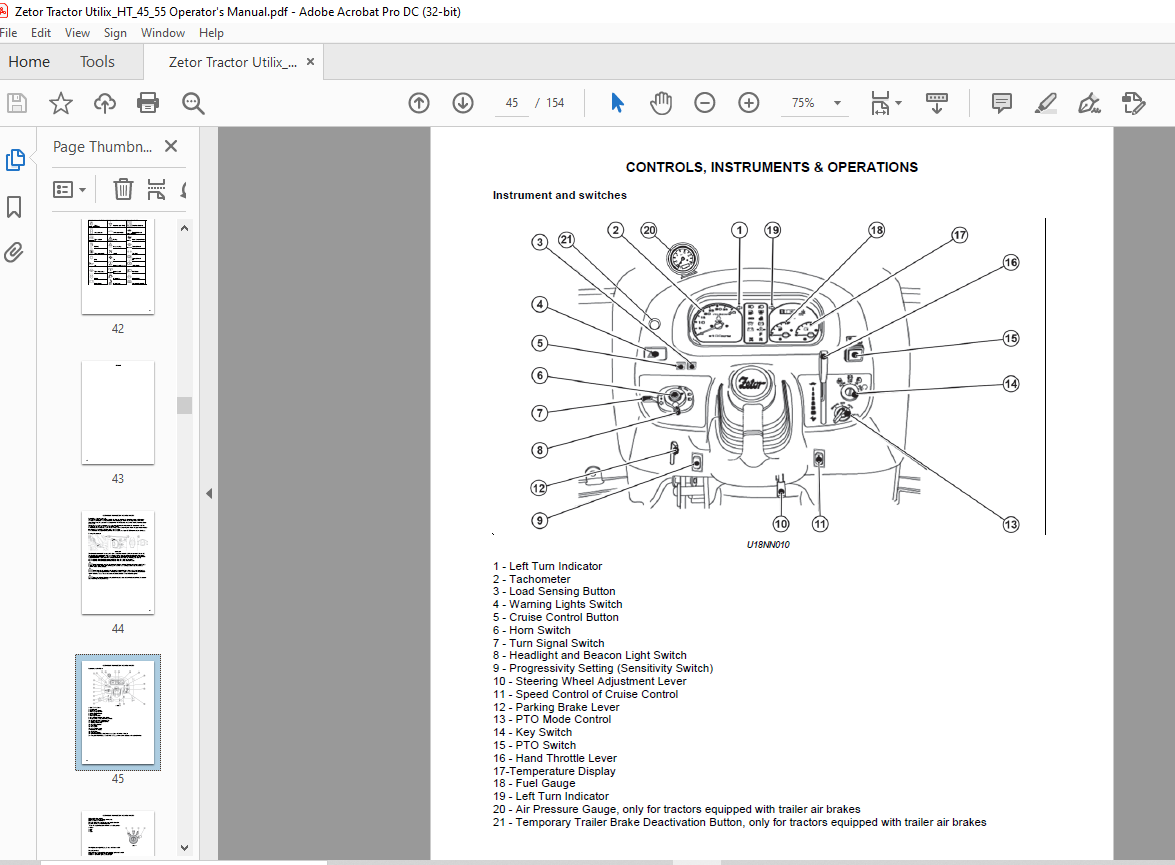 VIDEO PREVIEW OF THE MANUAL:
PLEASE NOTE:
This is the SAME manual used by the dealers to troubleshoot any faults in your vehicle. This can be yours in 2 minutes after the payment is made.
Contact us at [email protected] should you have any queries before your purchase or that you need any other service / repair / parts operators manual.
S.M