Zetor Tractor Proxima Plus 90 Proxima Plus 100 Proxima Plus 110 Operator's Manual – PDF DOWNLOAD
FILE DETAILS:
Zetor Tractor Proxima Plus 90 Proxima Plus 100 Proxima Plus 110 Operator's Manual – PDF DOWNLOAD
Language : English
Pages : 204
Downloadable : Yes
File Type : PDF
Size: 5.83 MB
DESCRIPTION:
Zetor Tractor Proxima Plus 90 Proxima Plus 100 Proxima Plus 110 Operator's Manual – PDF DOWNLOAD
ZETOR:
This present operation manual provides information with operation and maintenance of your new tractor the
PROXIMA PLUS series 2011.
Despite the fact that many of you have rich experience with operation of other types of tractors, please read this
manual carefully to acquaint yourself with its contents as thoroughly as possible.
In the manual, you can find a lot of information how to utilise the best your tractor with various types of work.
When following the given principles of operation and maintenance of the tractor and safety of driving, your tractor
will become your reliable partner for many years.
SAFETY INSTRUCTIONS FOR THE USERS:
General Safety Regulations:
The tractor should only be operated by a trained worker who has a valid qualification to drive the tractor and is thoroughly familiar with the operational and safety principles.

In addition to the safety warnings provided in the operational manual, it is essential to comply with all the applicable safety and traffic regulations of the country where the tractor is used.
Proper Clothing:
Avoid wearing loose clothing and keep long hair securely tied.

When performing any work, use appropriate personal protective equipment as prescribed, such as working shoes and gloves.
Starting the Engine:
Do not start the engine by driving from slopes.

If necessary to move the tractor for starting the engine, it is permitted to use another tractor or vehicle with the assistance of a tow bar.

Start the engine only from the driver's seat with the shifting lever in the neutral position and the clutch pedal depressed. Never start the engine using short-circuited terminals of the starter to avoid the risk of injury or death.

Ensure that the key in the ignition box is in the "I" position.

When using an electric heater to warm up the engine, first connect the power supply cord to the heater and then to the mains socket. When the engine is warm, disconnect the supply cord from the mains socket before removing it from the heater.
Driving:
Regularly inspect the hoses of the hydrostatic steering, brakes, and fuel system. If any signs of damage are observed, such as cracks, loose connections, or mechanical damage, replace the damaged components immediately. Hoses with specified lifespan should be replaced after the specified period.

When driving with trailers and implements on roads, connect the brake pedals with a latch.

Ensure that brakes and steering are always in perfect condition.

It is forbidden to drive downhill without shifting gears.

Exercise extra caution when driving the tractor on slopes, muddy, sandy, icy, and uneven surfaces.
IMAGES PREVIEW OF THE MANUAL: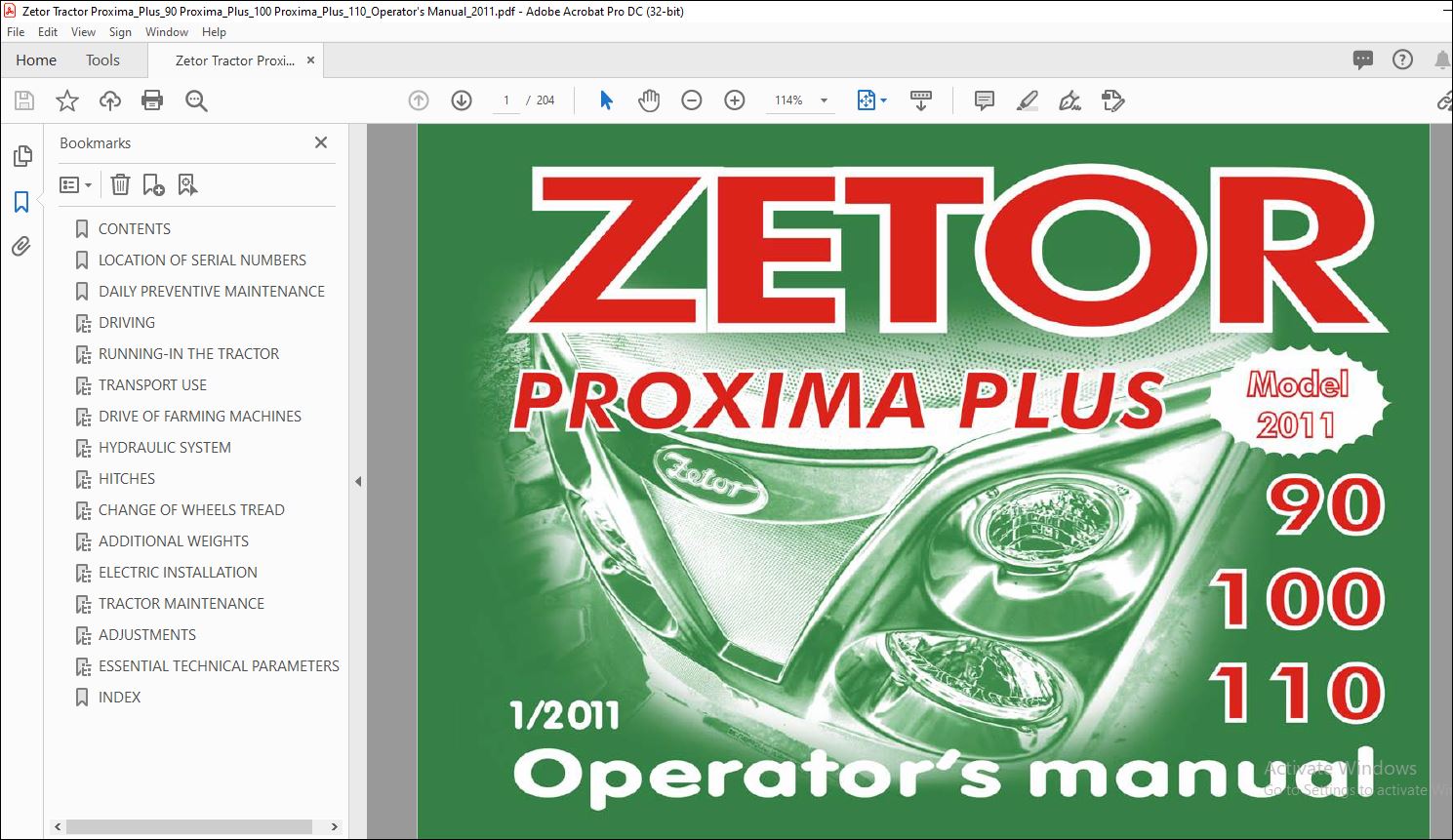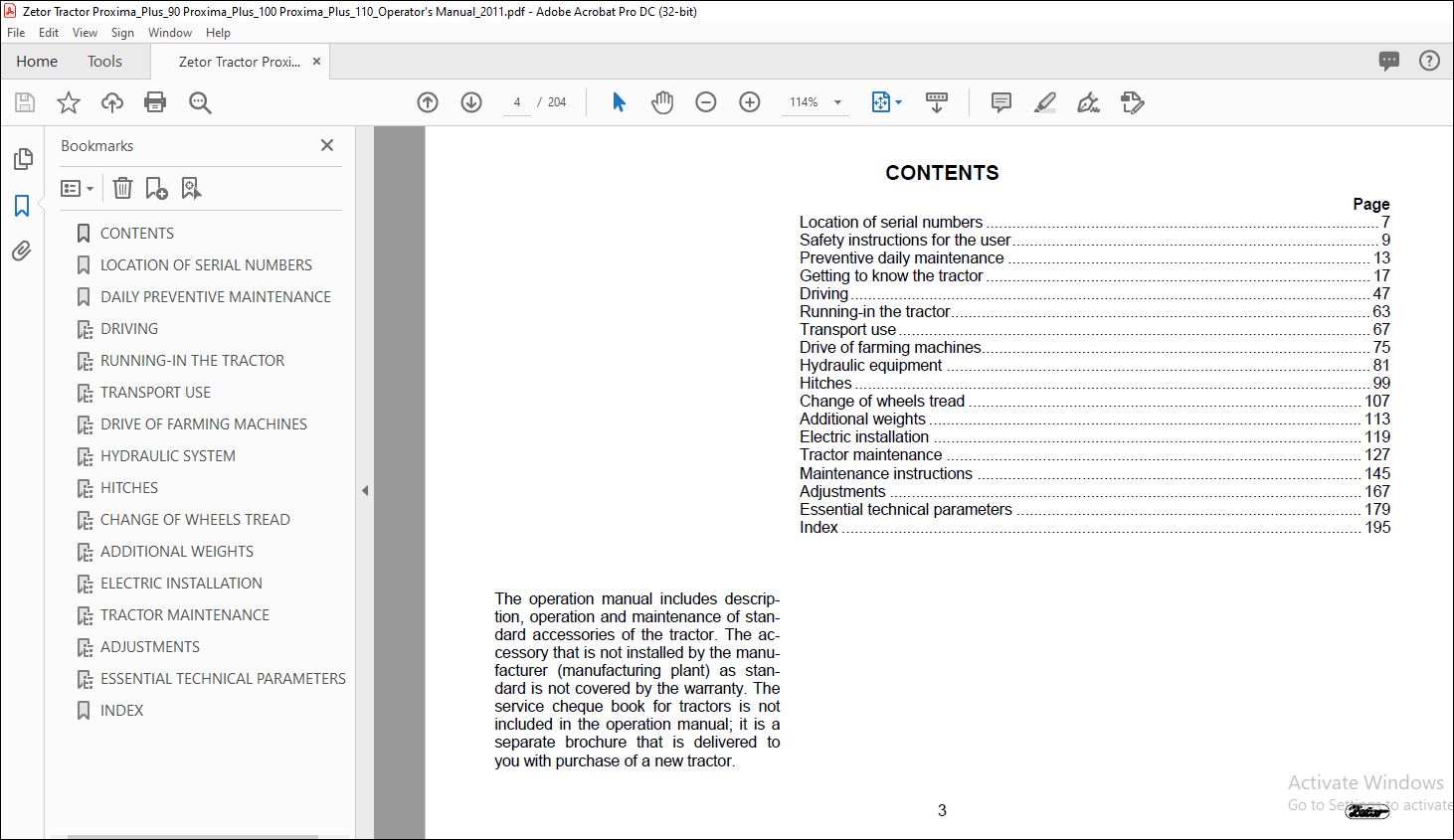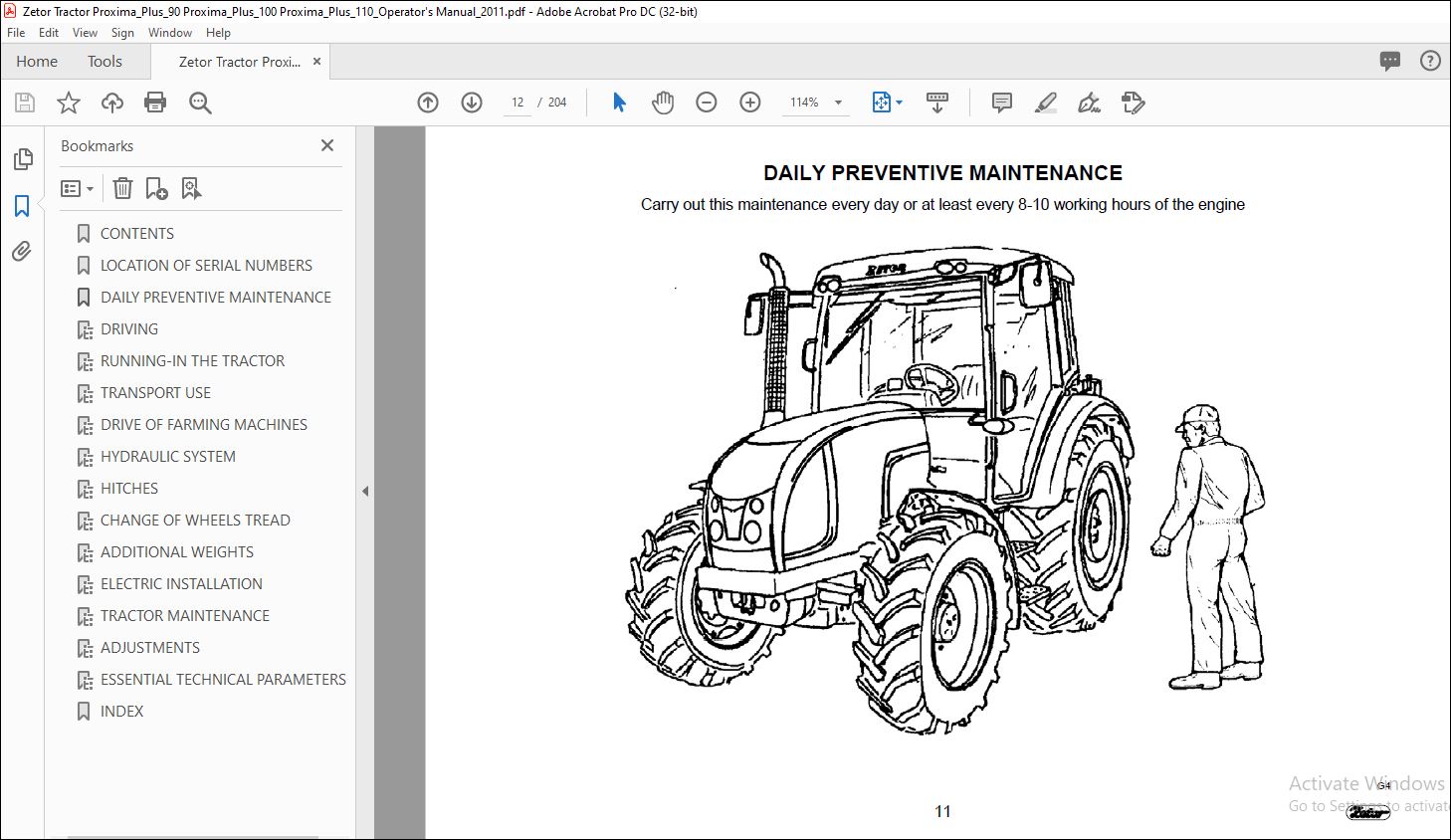 TABLE OF CONTENTS:
Zetor Tractor Proxima Plus 90 Proxima Plus 100 Proxima Plus 110 Operator's Manual – PDF DOWNLOAD
Location of serial numbers 7
Safety instructions for the user 9
Preventive daily maintenance 13
Getting to know the tractor 17
Driving 47
Running-in the tractor 63
Transport use 67
Drive of farming machines 75
Hydraulic equipment 81
Hitches 99
Change of wheels tread 107
Additional weights 113
Electric installation 119
Tractor maintenance 127
Maintenance instructions 145
Adjustments 167
Essential technical parameters 179
Index 195
VIDEO PREVIEW OF THE MANUAL:
PLEASE NOTE:
This is the SAME MANUAL used by the dealerships to diagnose your vehicle
No waiting for couriers / posts as this is a PDF manual and you can download it within 2 minutes time once you make the payment.
Your payment is all safe and the delivery of the manual is INSTANT – You will be taken to the DOWNLOAD PAGE.
So have no hesitations whatsoever and write to us about any queries you may have : heydownloadss @gmail.com
S.V