Zetor Tractor Major CL 80 Operator's Manual – PDF DOWNLOAD
IMAGES PREVIEW OF THE MANUAL: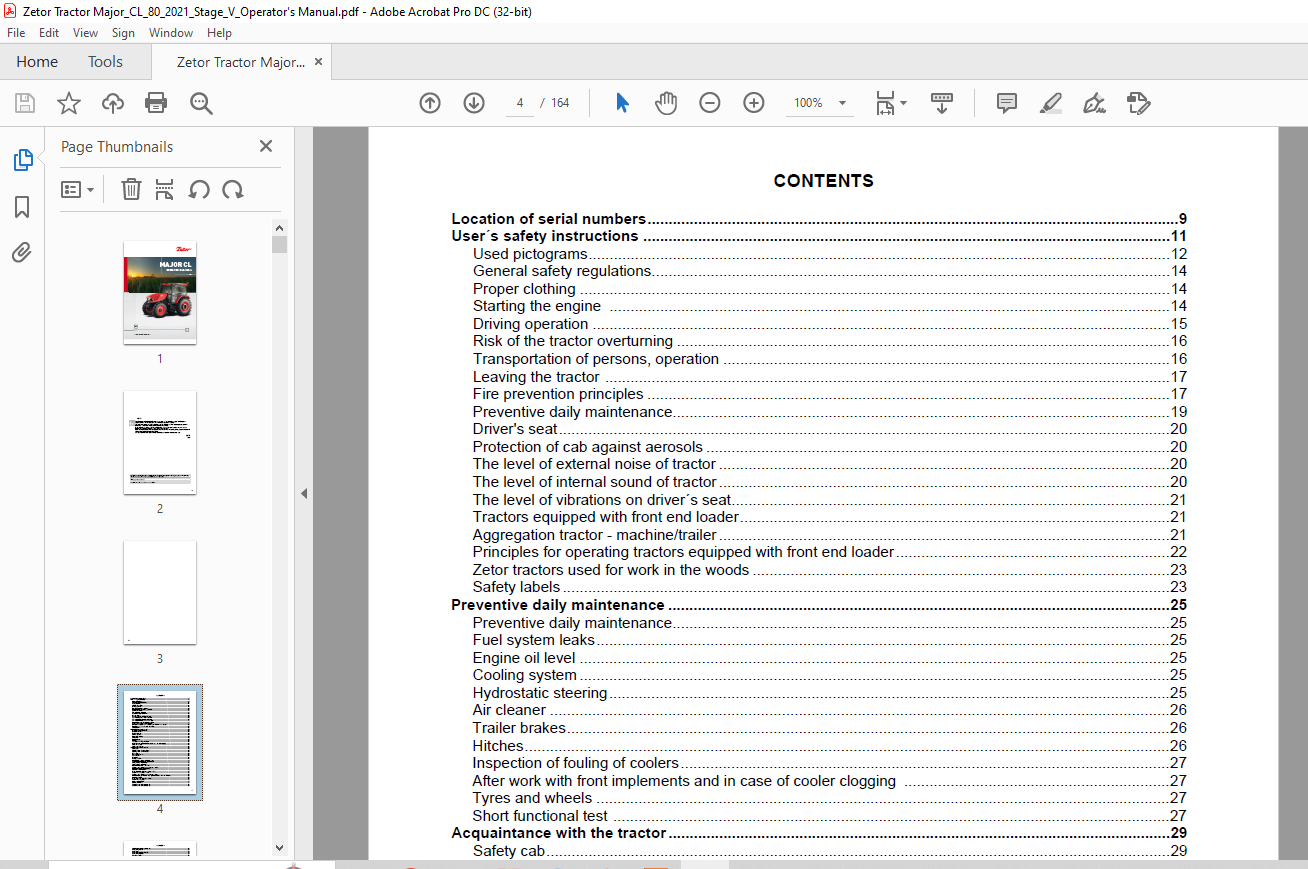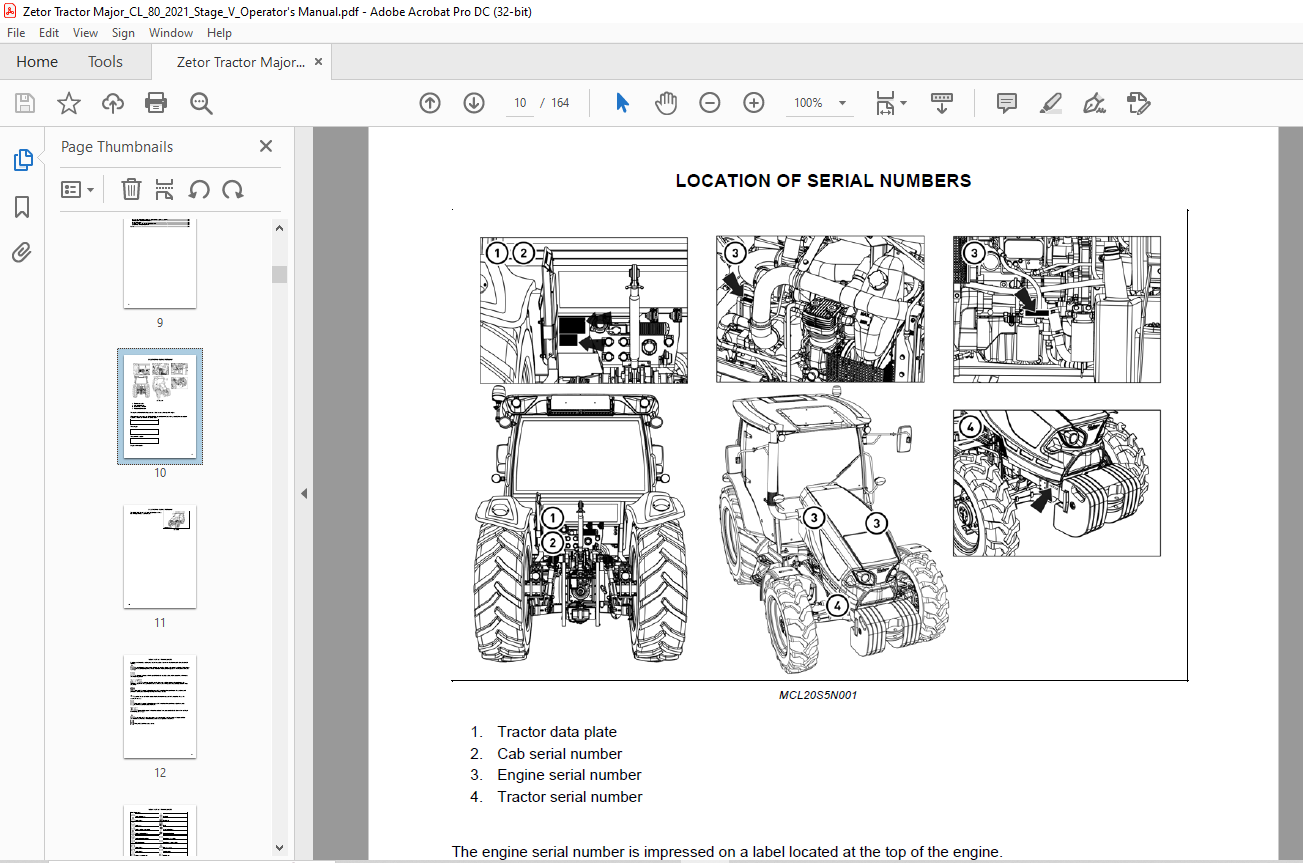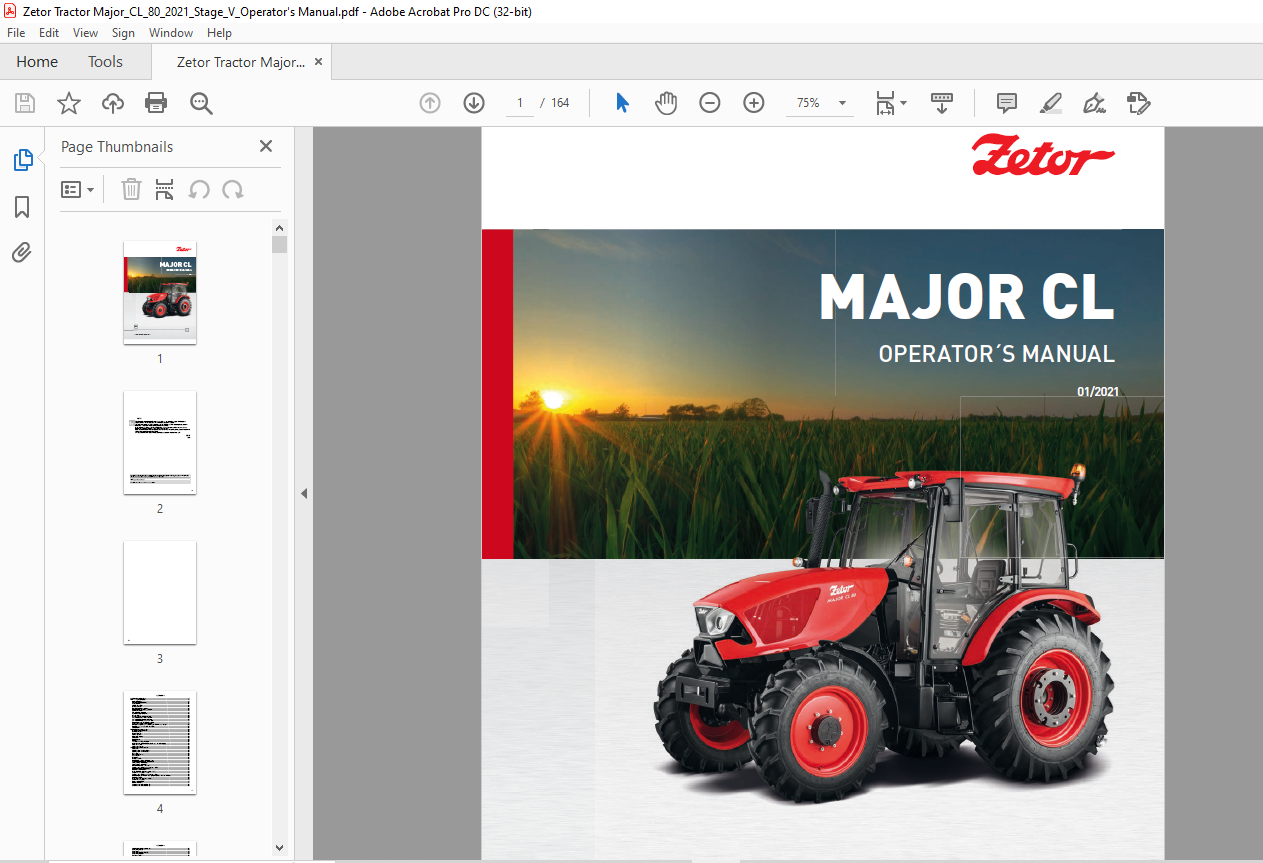 FILE DETAILS:
Zetor Tractor Major CL 80 Operator's Manual – PDF DOWNLOAD
Language : English
Pages : 161
Downloadable : Yes
File Type : PDF
Size: 14.1 MB
DESCRIPTION:
Zetor Tractor Major CL 80 Operator's Manual – PDF DOWNLOAD
ZETOR:
You are presented with a user manual amendment which covers the operation and maintenance of a new model of
the PROXIMA series 2011.
You are kindly asked to become familiar with the contents of this manual, even though you may be experienced in
operating other tractors.
The manual contains new information and overview of how the tractor may be used in different kinds of work.
If the operating, maintenance and safety rules are observed, your new tractor will become a reliable companion for
a long time.
General safety regulations:
􀁺 The tractor may only be operated by a trained person that has a valid driving licence and has been
thoroughly acquainted with the operation and safety rules.
􀁺 Besides the safety instructions mentioned in the Operator´s Manual you are obliged to respect
generally valid safety and traffic rules of the country where the tractor is used.
Proper clothing
􀁺 Do not wear loose clothing and free flying long hair.
􀁺 During all work use suitable (prescribed) means of personal protection (working boots, gloves,
goggles, etc.)
Starting the engine
􀁺 The engine cannot be started by driving the tractor downhill.
􀁺 The engine cannot be started by towing the tractor with another tractor.
􀁺 Only start the engine from the driver's seat with the shift lever and reversing lever in the neutral
position, PTO switched off and the clutch pedal depressed.
Life hazard when starting by means of short-circuiting the starter terminals!
􀁺 The key in the switch box must be in the 'I' position.
􀁺 When heating the engine with the * electric heater first plug the power supply cord to the heater and
only then to the electric mains. After the end of heating first disconnect the heater from the electric
mains.
TABLE OF CONTENTS:
Zetor Tractor Major CL 80 Operator's Manual – PDF DOWNLOAD
Location of serial numbers 9
User´s safety instructions 11
Used pictograms 12
General safety regulations 14
Proper clothing 14
Starting the engine 14
Driving operation 15
Risk of the tractor overturning 16
Transportation of persons, operation 16
Leaving the tractor 17
Fire prevention principles 17
Preventive daily maintenance 19
Driver's seat 20
Protection of cab against aerosols 20
The level of external noise of tractor 20
The level of internal sound of tractor 20
The level of vibrations on driver´s seat 21
Tractors equipped with front end loader 21
Aggregation tractor machine/trailer 21
Principles for operating tractors equipped with front end loader 22
Zetor tractors used for work in the woods 23
Safety labels 23
Preventive daily maintenance 25
Preventive daily maintenance 25
Fuel system leaks 25
Engine oil level 25
Cooling system 25
Hydrostatic steering 25
Air cleaner 26
Trailer brakes 26
Hitches 26
Inspection of fouling of coolers 27
After work with front implements and in case of cooler clogging 27
Tyres and wheels 27
Short functional test 27
Acquaintance with the tractor 29
Safety cab 29
Opening doors from the outside 29
Opening doors from the inside 29
Rear window 30
Bottom rear window 30
Side window 30
Hinged lid 31
Emergency exits 31
Mechanically Suspended Driver's Seat 32
Pneumatically Suspended Driver's Seat 32
Tilting steering wheel 'Basic' 33
Tilting steering wheel 'Lux' 33
Panel of switches on cab´s roof 34
Switches and controls on the dashboard 'Basic' 34
Direction indicator switch 'BASIC' 34
Headlights switch 'BASIC' 35
Front windshield wiper and washer 'BASIC' 35
Switch of warning lights 'BASIC' 35
Switches and controls on the dashboard 'LUX' 36
Direction lights, lower beam head lights, head lights and horn switches 36
Headlights switch 36
Front windshield wiper and washer 36
Switch of warning lights 37
Ignition switch 'Basic' 37
Ignition switch 'Lux' 37
Switch box key in the position (0) 38
Switch box key in the position (I) 38
CONTENTS
3
Switch box key in the position (II) 38
Cab heating 'Basic' 39
Cab heating 39
Cab heating registers 'BASIC' 39
Cab heating registers 39
Cab air condition 40
Dashboard 41
Information Display Basic View 42
Information Display Fault Notifications 42
Information display warning indication of the hand brake 42
Information display indication of activation of PTO shafts 43
Information display warning indication of PTO shafts 43
Manual fuel control lever 'BASIC' 43
Manual fuel control lever 44
Hydraulic control 'BASIC' 44
Hydraulic control 44
Auxiliary hydraulic switchboard control 44
Pedals 45
Differential lock 45
Reversing lever 46
Gear shifting lever 46
Road and reduced speeds shifting lever 46
Manual brake and PTO shaft disengagement lever 47
PTO shaft drive engagement lever 47
PTO shaft revolutions 540 and 1000 rpm shifting lever 48
Battery disconnector 48
Fuel tank 49
Minimum fuel amount in the fuel tank 49
Driving operation 51
Before you start the engine 51
Starting the engine 52
If engine does not start 53
Manipulation with starter 53
Immediately after start 53
Engine heating 53
Diesel particle filter regeneration 54
Engine Performance Limitation 54
Error signalling 55
Information display warning indication of the hand brake 55
Drive away 56
Selection of road or reduced speeds 57
Gear shifting 57
Selecting driving direction Reversing lever 57
Gear shifting from lower to higher gears 58
Gear shifting from higher to lower gears 58
Travelling up the slope 58
Travelling down the slope 58
Differential lock 59
Front drive axle control 59
Driving with front drive axle engaged 60
Foot brakes pedals 60
Brakes of trailers and semi trailers 60
Connection of the ABS system of the trailer or semi trailer 60
The button for temporary deactivation of brakes of the trailer or semi trailer 61
Trailer and semi trailer air brakes 62
Notification signalization of air pressure drop 62
One hose and two hose brakes 62
One hose brakes 62
Two hose brakes 63
*Hydraulic brakes of trailers 64
Connecting and disconnecting quick couplings of trailer hydraulic brakes 64
Stopping the tractor manual brake 64
Stopping the engine 65
CONTENTS
4
Leaving the tractor 65
Important notification 65
System of additional treatment of exhaust gases 66
Diesel particle filter 66
Conditions for DPF operation 66
DPF signalization 66
DPF filter regeneration 67
Running in the tractor 70
General principles of new tractor run in in first 100 hours of operation 70
In first 10 hours of operation 70
From 100 hours of operation 70
Transportation 72
Front hook 72
Multistage adjustable suspension 73
Vertical adjustment and multistage suspension disassembly 73
Automatic mouth of the CBM stage hitch 73
Swing drawbar 73
Modular suspension system for trailers and semitrailers 74
Swing drawbar bracket module 74
Aggregation with trailer and semitrailer 74
Maximum permitted vertical static suspensions load for trailers and semitrailers 75
Drive of agricultural machinery 76
Working with PTO shaft 76
PTO shaft covers 77
Information display indication of activation of PTO shafts 77
Rear PTO Speed Display 77
Information display warning indication of PTO shafts 78
Control elements of PTO shafts 78
The clutch release lever of the manual deactivation of the rear PTO shaft 78
PTO shaft drive engagement lever 79
PTO shaft revolutions 540 and 1000 rpm shifting lever 79
The button for activation of the front PTO shaft 80
Working modes of PTO shafts 80
Activation of the rear PTO shaft independent revolutions common working mode 81
Activation of the rear PTO shaft independent revolutions stationary working mode 83
Rear PTO shaft dependent revolutions 84
Front PTO shaft 84
Activation of the front PTO shaft common working mode 85
Activation of the front PTO shaft stationary working mode 86
Maximum transmitted output 87
Drive of machines with greater inertia masses 87
Hydraulic system 88
Hydraulic equipment 88
Hydraulic control panel 88
Means of internal hydraulic circuit regulation 88
Internal hydraulic circuit control elements 89
Free (floating) position 89
Speed of three point linkage lowering control 89
Hydraulic sensitivity system control 90
Position regulation of rear three point linkage heave 90
Power regulation of three point linkage heave 91
Mixed regulation of three point linkage heave 92
External hydraulic circuit 92
Extrernal hydraulic circuit control elements 93
Two section switchboard external hydraulic circuit controlling levers function 94
One section switchboard external hydraulic circuit controlling levers function 95
Quick couplers engagement and disengagement 95
Connecting machines and tools to External hydraulic circuit 96
Control of the front 3 point hitch 96
Front outlets of the external hydraulic circuit 97
Control of the external hydraulic circuit front outlets 97
Hitches 98
Rear three point linkage 98
CONTENTS
5
Safety principles when working with a three point linkage 98
Vertical adjusment of lifting draw bars 99
Fixed and free position of lower hydraulic draw bars 99
Limiting draw bars 99
Upper draw bar 100
Selection of holes in bracket 100
*Lower draw bar with slipping out end pieces 100
*Lower draw bar with CBM hooks 101
Securing lower draw bars with CBM hooks 101
*Front three point hitch 101
Controlling front three point hitch 102
Adjusting the lowering rate of the front three point hitch 102
Hydraulic lock of the front three point hitch 102
Working and transport position of the front three point hitch 103
Driving with agricultural machines attached to the front three point hitch 103
Wheel track change 104
Change of front wheels track with front drive axle 104
Setting wheel stops with front drive axle 105
Front drive axle fenders 105
Front wheels toe in 106
Adjustment of toe in of the wheels of the front driving axle 106
Rear wheel track change 107
Ballast weights 108
Ballast weights in front of bonnet grill 108
*Weight of the front three point hitch 108
Weights of rear wheels 108
Valve for filling tires with liquid 109
Making front wheels stable 109
Filling tires with liquid procedure 110
Draining liquid from tires procedure 110
Anti freezing solution for filling tires 111
Electric installation 112
Basic service information 112
Accumulator battery 112
Battery disconnector 112
Accumulator battery maintenance 113
Alternator 114
Alternator maintenance 114
Fuse box 'Basic' 114
Location of Fuses in the 'Basic' Fuse Box 115
Fuse box 'Lux' 117
Location of Fuses and Relays in the Fuse Box behind the Steering Column 118
Location of Fuses and Relays in the Fuse Box on the Rear Right Fender 119
Lights adjustment in tractor´s grill check 120
Lights adjustment in tractor´s grill 120
Lights adjustment in cab roof check 121
List of lamps 122
Tractor maintenance 124
Service inspections 124
Before starting the engine 124
After starting the engine 124
Steps taken after every 100 hours of operation 124
Steps taken after every 500 hours of operation 124
Steps taken beyond 500 Mth interval 125
Replacing fillings and filters 126
Used operation liquids and fillings amount 127
ZETOR service fillings 127
Motor oils 127
Specification of the oil for the gearbox housing and the final drive housing 127
Specification of oil for the front driving axle 127
Front PTO oil 127
Plastic lubricant for the tractor 127
A/C coolant 128
CONTENTS
6
Liquid for the cooling system of the tractors 128
Fuel 128
Tractor greasing plan 129
Safety instructions for lubrication of the tractor 129
Three point linkage and rear semi axes bearings 129
Front three point hitch 130
Maintenance instructions 132
Front bonnet opening 132
Checking oil levels in engine 132
Draining oil from engine 132
Replacing full continuous motor oil filter 133
Pouring oil to engine 133
Fuel filtering 134
Raw fuel filter clearing 134
Cartridge replacement in the raw fuel filter 134
Cartridge replacement in the fine fuel filter 135
Fuel system venting 135
Maintenance instruction of dry air filter 135
Air filter maintenance 136
Recovery of the mainair cleaner element 136
Replacing the safety element of the air cleaner 136
Reassembly of the air cleaner elements 136
Coolant replacement 137
Checking the oil in gear box, final drive housing and rear axle 138
Gear system drain plug 138
Oil replacement in gear system 138
Replacement of the transmission oil cleaner element with hydraulic pump suction filter 139
Replacement of the filter of the hydraulics suction 139
Replacing the filtration element of the hydrostatic steering 139
Venting hydraulic circuit of hydrostatic steering 140
Replacing the hoses of hydrostatic steering 140
Filling, controlling and draining hole of oil of front drive axle 141
Filling, controlling and draining hole of oil of front wheels reducers 141
Front PTO 141
Heating filtration element 142
Air condition filtration elements 142
Filtration elements cleaning 142
Air system tightness inspection 143
Draining the condensate from air collector 143
Air condition maintenance 143
Maintenance of the oil cooler of the front PTO 144
Maintenance and treatment of tires 144
Tractor shutdown and recommended points for tractor lifting 144
Diesel particle filter maintenance 144
Adjustment 146
Flat belt drive tension of accessories 146
Stretching the V Belt in the Air Conditioner Compressor 146
Stretching the V Belt in the Compressor 146
P T O shaft clutch control lever adjustment 147
Check and adjustment of bowden cable and the PTO dependent/independent speed shift sensor 147
Adjusting clutch pedal 148
Foot brake check 148
Foot brake adjustment 149
Parking brake adjustment 150
Main technical parameters 151
Main tractor's parameters (mm) 151
Tractor´s weight 151
Technical data of engines 151
Permitted maximum load of front axle (kg) 152
Permitted maximum load of rear axle (kg) 152
Permitted maximum weight of set 'tractor + mounted machine' (kg) 152
Permitted combinations of wheels for tractors 152
Front tires steerability 153
Bearing capacity of rear tires 153
Hydraulic system 154
Lifting force of the three point hitch 154
Tractor´s speed in km/h with engine nominal revolutions 154
Performance on rear PTO shaft 154
Dependent PTO shaft revolutions with nominal engine revolutions 155
Independent PTO shaft revolutions 155
Front PTO shaft 155
Clearance circle and turning circle diameter 155
Calculation of tractor load limit 156
Index 159
VIDEO PREVIEW OF THE MANUAL:
PLEASE NOTE:
This is the SAME exact manual used by your dealers to fix your vehicle.
The same can be yours in the next 2-3 mins as you will be directed to the download page immediately after paying for the manual.
Any queries / doubts regarding your purchase, please feel free to contact [email protected]
S.M