Zetor 5243 Turbo Parts Catalog Manual – PDF DOWNLOAD
DESCRIPTION:
Zetor 5243 Turbo Parts Catalog Manual – PDF DOWNLOAD
EXPLANATORY NOTES TO THE PRESENT SPARE PARTS CATALOG :
The Spare Parts Catalog lists items of spare parts composing Zetor 5213– 5243-TURBO.
Items forming the tractor are grouped into section (Engine, Gearbox) composed of groupes formed by one ore more sheets. All information,
illustrations and specifications in this catalog are based on the latest information available at the time of publication.
The up-dating of the catalog will také place by including information in ZETOR SERVICE REPORTS published regularly.
TEXT SECTION
The section index and alphabetical index of groupes hepls to identity easy a part. In the text section you will find six columns on each text page:
column 1 – contains the group nubber
column 2 – contains the drawing number
column 3 – contains the item number
column 4 – contains the part ordering number
column 5 – contains parts name, tractor model
column 6 – shows quantity of parts used on tractor
column 7 – contains additional explanatory notes: dimension, standard, note
Additional information coucerning options are given at the end of the group.
TABLE OF CONTENTS:
Zetor 5243 Turbo Parts Catalog Manual – PDF DOWNLOAD
01 CRANKCASE.I……………………………………………………………………………………………………………………………… 13
02 CRANKCASE.II…………………………………………………………………………………………………………………………….. 18
03 CRANKSHAFT MECHANISM………………………………………………………………………………………………………….. 21
04 VALVE GEAR…………………………………………………………. …………………………………………………………………… 24
05 CYLINDER HEAD………………………………………………. ………………………………………………………………………… 26
07 LUBRICATING SYSTÉM………………………………………………………………………………………………………….. …… 29
08 FUEL SYSTÉM………………………………………………………………………………………………………………………. ……. 32
09 COMPRESSOR……………………………………………………………………………………………………………………… ……. 47
11 DUAL CLUTCH………………………………………………………………………………………………………………………. ……. 49
12 AIR SUPPLY…………………………………………………………………………………………………………………………………. 51
13 COOLING SYSTÉM………………………………………………………………………………………………………….. ………….. 52
14 EXHAUST…………………………………………………………………………. ………………………………………………………… 54
15 TURBOCHARGING……………………………………………………………………………………………………………………….. 55
017 WATER PUMP………………………………………….. ………………………………………………………………………………… 57
18 GEARBOX…………………………. ……………………………………………………………………………………………………….. 58
19 TRANSMISSION MECHANISM…………………………………………………………………………………………… …………. 60
20 GEAR SHIFTING MECHANISM……………………………………………………………………………… ……………………… 66
21 MECHANICAL HAND CONTROLLED DECLUTCHING OF PTO………………………………………………………….. 70
25 FINAL DRIVE HOUSING….. …………………………………………………………………………………………………………… 72
26 DRUM TYPE FOOT BRAKE……………………………………………………………………………………………………………. 76
27a PEDALS ………………………………………………………………….. …………………………………………………………………. 79
28 REAR HALF – AXLE VITH PORTAL…………………………………………………………………………………………………. 84
29 HAND BRAKE ………………………………………………………………………………………………………………………………. 86
30 DRIVE AND CARDAN SHAFT…………………………. …………………………………………………………………………….. 89
31 FRONT WHEEL AXLE……………………………………………………………………………………………………………………. 94
32 FRONT WHEEL AXLE……………………………………………………………………………………………………………………. 97
33 FRONT AXLE WITH BRACKET………………………………………………………………………………………………………. 100
35 THROTTLE CONTROL………………………………………………………………………………………………………………….. 102
37 HYDROSTATIC STEERING……………………………………………………………….. ………………………………………… 104
46 HYDRAULIC POWER LIFT PUMP…………………………………………………………………….. ………………………….. 111
48 HYDRAULIC OUTER CIRCUIT TAPING…………………………………………………………………………………………… 115
50 THREE-POINT LINKAGE……………………………………………………………………………………………………… ………. 117
51 TRAILER COUPLING MULTISTAGE SUSPENSION LINKAGE……………………………………………………………. 120
52 FUEL TANK………………………………………………………………………………………………………………………………….. 121
53 ENGINE BONNET…………………………………………………………………………………………………………………………. 123
54a SEAT…………………………………………………………………………………………………………………………………………… 127
56a ELECTRICAL EQUIPMENT.DASHBOARD……………………………………………………………………………………….. 130
57 ELECTRICAL EQUIPMENT…………………………………………………………………………………………………………….. 133
58 CAB ELECTRICAL EQUIPMEMT…………………………………………………………………………………………………….. 145
62 REAR WHEEL BALLAST WEIGHTS………………………………………………………………………………………………… 149
63 FRONT AXLE BALLAST WEIGHTS………………………………………………………………………………………………… 150
64 FIXED AND SWINGING DRAWBAR……………………………………………………………………………………………….. 152
66 SPECIAL EQUIPEMENT OF THE DRIVER'S CAB…………………………………………………………………………….. 153
67 ASSEMBLY OF DISPARATE .WHEELS…………………………………………………………………………………………. 155
68 AIR BRAKES 157
70a FRONT MUDGUARDS ………………………………………………………………………………………………………………….. 162
71 STEERING BRACKET……………………………………………………………………………………………………… 163
76 APRON ………………………………………………………………………………………………….. 164
77 SAFETY FRAME………………………………… ………………………………………………………………………………………… 165
78 WARM-WATER HEATING EQUIPMENT………………………………………………………………………………………….. 167
79 SAFETY CAB……………………………………………………………………………………………………………………………….. 170
80 LIFTING MECHANISM…………………………………………………………………………………………………………………… 178
81 DISTRIBUTOR OF HYDRAULIC……………………………………………………………………………………………. ………. 182
82 CONTROLS.OF THE HYDRAULIC………………………… ………………………………………………………………………. 186
85 STANDARD EQUIPMENT AND SPARE PARTS……………………………………………………………………………….. 192
INDEX 195
IMAGES PREVIEW OF THE MANUAL: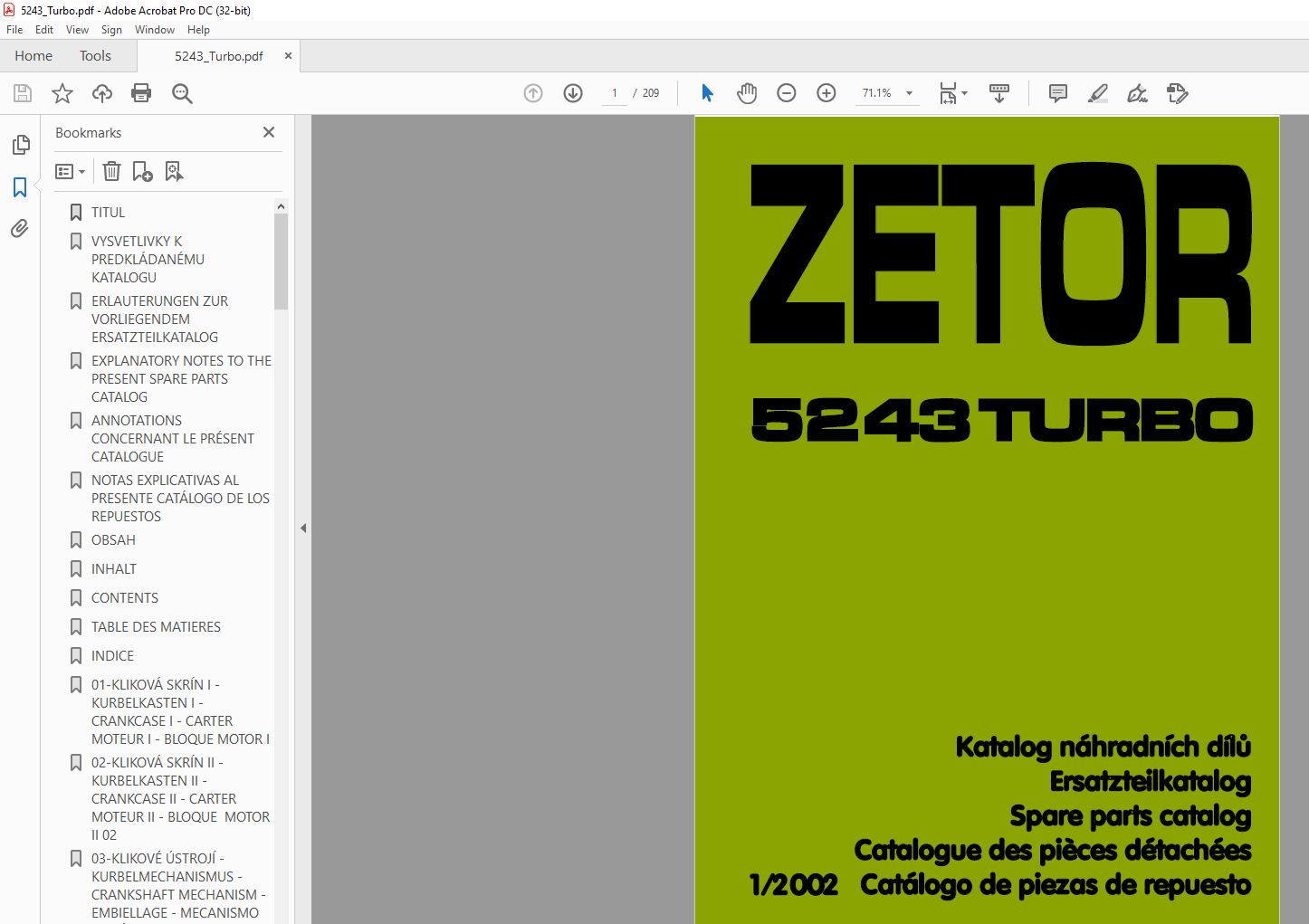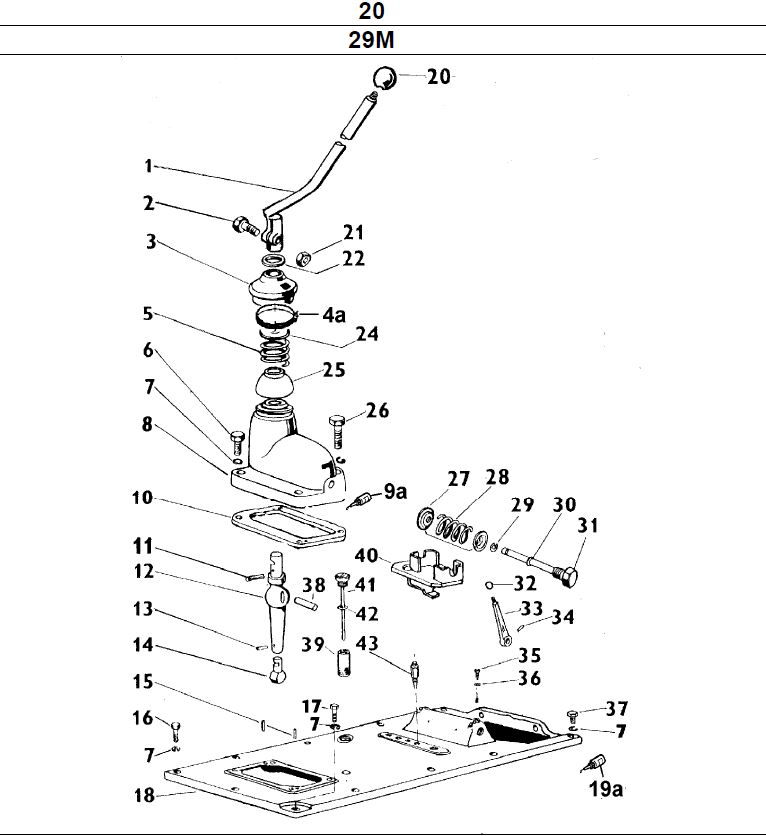 PLEASE NOTE:
This is the same manual used by the dealers to diagnose and troubleshoot your vehicle
You will be directed to the download page as soon as the purchase is completed. The whole payment and downloading process will take anywhere between 2-5 minutes
Need any other service / repair / parts manual, please feel free to contact [email protected] . We still have 50,000 manuals unlisted
S.V