Yamaha YZF R1P,R1PC Service Manual 
Video Preview:
Image Preview: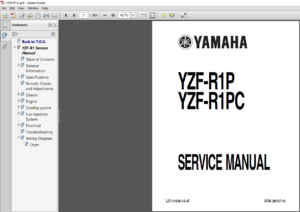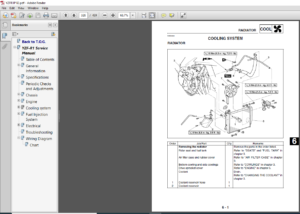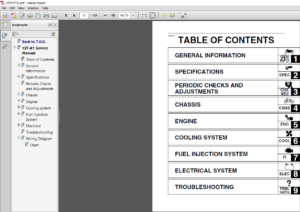 Table Of Contents:
Yamaha YZF R1P,R1PC Service Manual 
MOTORCYCLE IDENTIFICATION «1-1
VEHICLE IDENTIFICATION NUMBER ….1-1
MODEL LABEL «LEI-1
OUTLINE OF P] SYSTEM …….cI-2
FUEL INJECTION SYSTEM _~_1-16
THREE-WAY CATALYTIC CONVERTER SYSTEM "1-19
INSTRUMENT FUNCTION ~1-20
IMPORTANT INFORMATION ……1-23
PREPARATION FOR REMOVAL AND DISASSEMBLY 1-23
REPLACEMENT PARTS …c1-23
GASKETS. OIL SEALS AND O-FIINGS ….1-23
LOCK WASHERSIPLATES AND COTTER PINS «1-24
BEARINGS AND OIL SEALS -"1-24
CHECKING THE CONNECTIONS -1-25
SPECIAL TOOLS ……….1-26
CHAPTER 2
SPECIFICATIONS
GENERAL SPECIFICATIONS …………………….m……………………………………..2-1
ENGINE SPECIFICATIONS ………………………………………………………………..2-2
CHASSIS SPECIFICATIONS ..L2-11
ELECTRICAL SPECIFICATIONS ""245
CONVERSION TABLE …………………..-..-..-..-..-…………………-…………………..2-17
Description:
Yamaha YZF R1P,R1PC Service Manual 
The main function of a fuel suppiy system is to provide fuel to the combustion chamber at the opti- mum air-fuel ratio in accordance with the engine operating conditions and the atmospheric tempera- ture.
In the conventional carburetor system, the air-fuel ratio of the mixture that is supplied to the com- bustion chamber is created by the volume of the intake air and the fuel that is metered by the jet that is used in the respective chamber.
Despite the same volume of intake air. the fuel volume requirement varies by the engine operating condrtions, such as acceleration. deceleration. or operating under a heavy load. Carburetors that meter the fuel through the use of jets have been provided with various auxiliary devices.
so that an optimum air-fuel ratio can be achieved to accommodate the constant changes in the operating con- ditions of the engine. As the requirements for the engine to deliver more perfonnance and cleaner exhaust gases increase. it becomes necessary to control the air-fuel ratio in a more precise and finely tuned man- ner.
To accommodate this need. this model has adopted an electronically controlled fuel injection (Fl) system. in place of the conventional carburetor system.
This system can achieve an optimum air~fuel ratio required by the engine at all times by using a microprocessor that regulates the fuel in'fiction volume according to the engine operating conditions detected by various sensors.
The adoption of the Fl system has resulted in a highly precise fuel supply, improved engine response. better fuel economy. and reduced exhaust emissions. Furthermore. the air induction sys- tem (AI system) has been placed under computer control together with the FI system in order to realize cieaner exhaust gases.
Please Note:
This is the SAME exact manual used by your dealers to fix your vehicle.
The same can be yours in the next 2-3 mins as you will be directed to the download page immediately after paying for the manual.
Any queries / doubts regarding your purchase, please feel free to contact heydownloadss@gmail.com