Yamaha Xt 200 250 350 500 600 E Z Ep 660rx Repair Manual
FILE DETAILS:
LANGUAGE:ENGLISH
PAGES:500+
DOWNLOADABLE:YES
FILE TYPE:PDF
VIDEO PREVIEW OF THE MANUAL:
IMAGES PREVIEW OF THE MANUAL: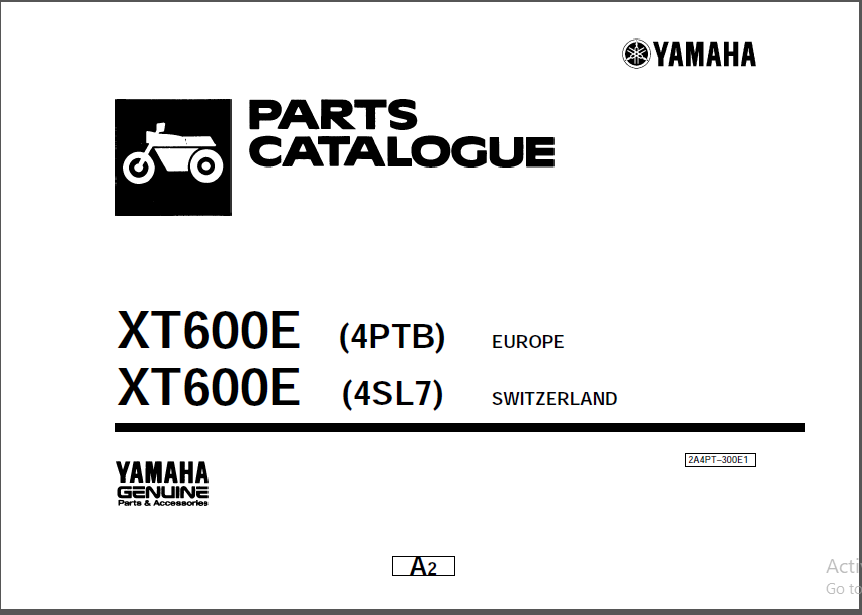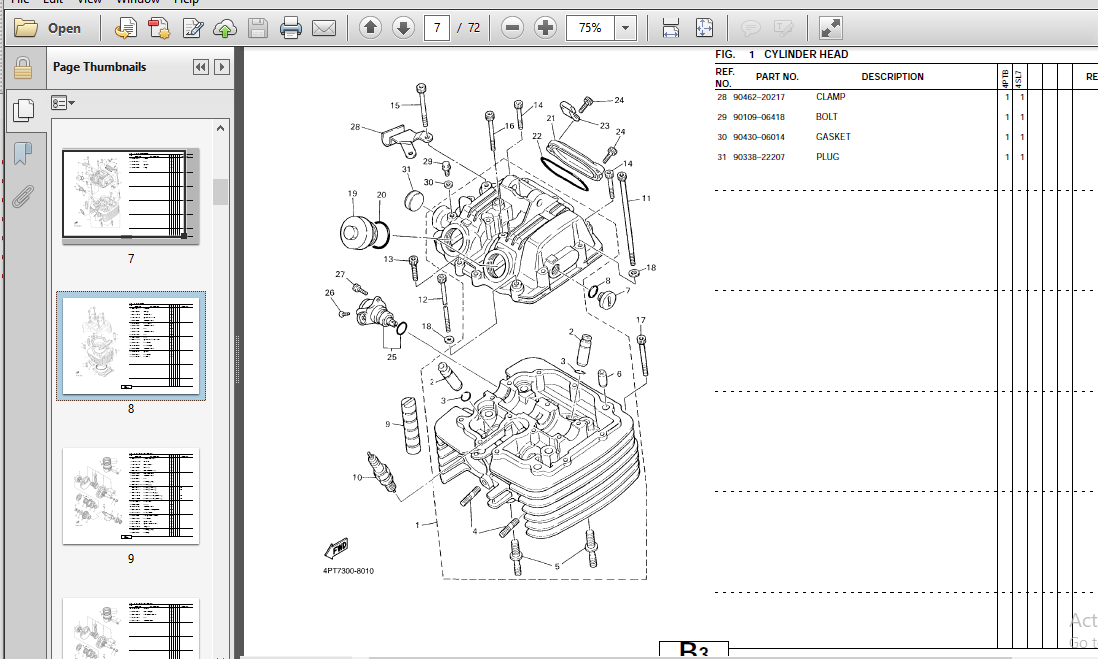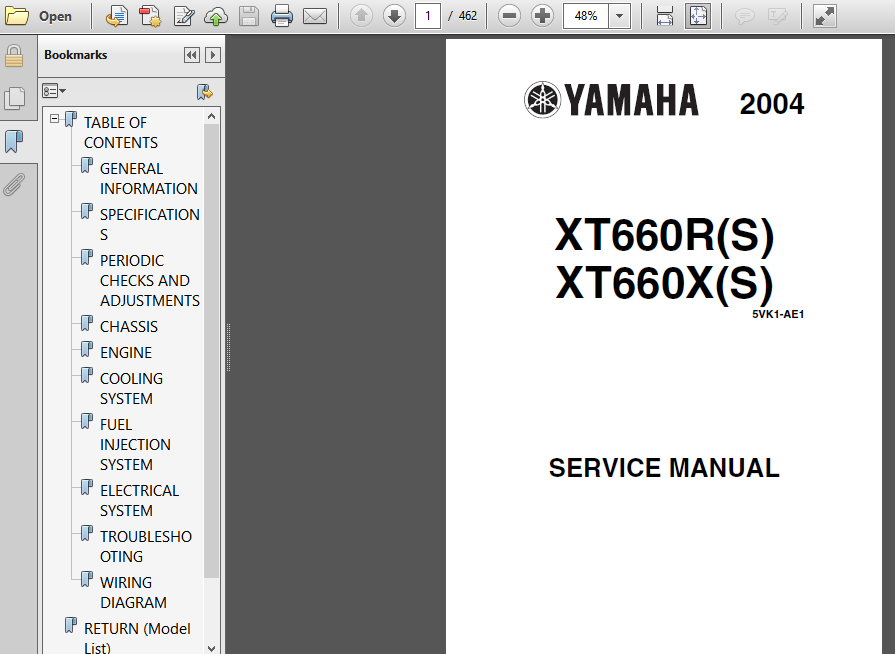 DESCRIPTION:
Yamaha Xt 200 250 350 500 600 E Z Ep 660rx Repair Manual
This manual was produced by MBK Industrie primarily for use by Yamaha dealers and their quali- fied mechanics. It is not possible to include all the knowledge of a mechanic in one manual. There- fore, anyone who uses this book to perform maintenance and repairs on Yamaha vehicles should have a basic understanding of mechanics and the techniques to repair these types of vehicles.
Repair and maintenance work attempted by anyone without this knowledge is likely to render the vehicle unsafe and unfit for use. Yamaha is continually striving to improve all its models. Modifications and significant changes in specifications or procedures will be forwarded to all authorized Yamaha dealers and will appear in future editions of this manual where applicable.
HOW TO USE THIS MANUAL
This manual is intended as a handy, easy-to-read reference book for the mechanic. Comprehensive explanations of all installation, removal, disassembly, assembly, repair and check procedures are laid out with the individual steps in sequential order.  The manual is divided into chapters. An abbreviation and symbol in the upper right comer of each page indicate the current chapter. Refer to "SYMBOLS".
Each chapter is divided into sections. The current section title is shown at the top of each page, except in Chapter PERIODIC CHECKS AND ADJUSTMENTS, where the sub-section title(s) appears.  Subsection titles appear in smaller print than the section title.
To help identify parts and clarify procedure steps, there are exploded diagrams at the start of each removal and disassembly section. Numbers are given in the order of the jobs in the exploded diagram. A circled number indicates a disassembly step. Symbols indicate parts to be lubricated or replaced.
Refer to "SYMBOLS".  A job instruction chart accompanies the exploded diagram, providing the order of jobs, names of parts, notes in jobs, etc. Jobs requiring more information (such as special tools and technical data) are described sequentially.
TABLE OF CONTENTS:
Yamaha Xt 200 250 350 500 600 E Z Ep 660rx Repair Manual
MOTORCYCLE IDENTIFICATION
VEHICLE IDENTIFICATION NUMBER
IMPORTANT INFORMATION
PREPARATION FOR REMOVAL AND DISASSEMBLY
REPLACEMENT PARTS
GASKETS OIL SEALS AND O-RINGS
LOCK WASHERS/PLATES AND COTTER PINS
BEARINGS AND OIL SEALS
CHECKING THE CONNECTIONS
SPECIAL TOOLS
GENERAL SPECIFICATIONS
ENGINE SPECIFICATIONS
CHASSIS SPECIFICATIONS
ELECTRICAL SPECIFICATIONS
CONVERSION TABLE
GENERAL TIGHTENING TORQUE SPECIFICATIONS
TIGHTENING TORQUE
ENGINE TIGHTENING TORQUE
CHASSIS TIGHTENING TORQUES
LUBRICATION POINTS AND LUBRICANT TYPES
COOLING SYSTEM DIAGRAMS
LUBRICATION CHART
LUBRICATION DIAGRAMS
PERIODIC MAINTENANCE AND LUBRICATION CHART
COWLING AND COVER
REMOVING THE FUEL TANK
REMOVING THE FUEL PUMP
INSTALLING THE FUEL PUMP
INSTALLING THE FUEL HOSE
AIR FILTER CASE
REAR MUD GUARD AND REAR FENDER
AIR FILTER CASE
INSTALLING THE AIR FILTER CASE JOINT CLAMP
ADJUSTING THE VALVE CLEARANCE
ADJUSTING THE EXHAUST GAS VOLUME
ADJUSTING THE ENGINE IDLING SPEED
ADJUSTING THE THROTTLE CABLE FREE PLAY
CHECKING THE SPARK PLUG
CHECKING THE IGNITION TIMING
MEASURING THE COMPRESSION PRESSURE
CHECKING THE ENGINE OIL LEVEL
CHANGING THE ENGINE OIL
ADJUSTING THE CLUTCH CABLE FREE PLAY
CHECKING THE AIR FILTER ELEMENT
CHECKING THE THROTTLE BODY JOINT
CHECKING THE FUEL HOSE
CHECKING THE BREATHER HOSE
CHECKING THE EXHAUST SYSTEM
CHECKING THE COOLANT LEVEL
CHECKING THE COOLING SYSTEM
CHANGING THE COOLANT
FRONT WHEEL AND BRAKE DISC
REMOVING THE FRONT WHEEL
CHECKING THE FRONT WHEEL
CHECKING THE FRONT BRAKE DISC
INSTALLING THE FRONT WHEEL
ADJUSTING THE FRONT WHEEL STATIC BALANCE
REAR WHEEL, BRAKE DISC, AND REAR WHEEL SPROCKET
BRAKE DISC AND REAR WHEEL SPROCKET
REMOVING THE REAR WHEEL
CHECKING THE REAR WHEEL
CHECKING THE REAR BRAKE DISC
CHECKING THE REAR WHEEL DRIVE HUB
CHECKING AND REPLACING THE REAR WHEEL SPROCKET
INSTALLING THE REAR WHEEL
ADJUSTING THE REAR WHEEL STATIC BALANCE
FRONT AND REAR BRAKES
FRONT BRAKE PADS (XTSGOR)
FRONT BRAKE PADS (XTSGOX)
REAR BRAKE PADS
REPLACING THE FRONT BRAKE PADS
REPLACING THE REAR BRAKE PADS
FRONT BRAKE MASTER CYLINDER
REAR BRAKE MASTER CYLINDER
DISASSEMBLING THE FRONT BRAKE MASTER CYLINDER
DISASSEMBLING THE REAR BRAKE MASTER CYLINDER
CHECKING THE FRONT AND REAR BRAKE MASTER
ASSEMBLING AND INSTALLING THE FRONT BRAKE MASTER
ASSEMBLING THE REAR BRAKE MASTER CYLINDER
INSTALLING THE REAR BRAKE MASTER CYLINDER
FRONT BRAKE CALIPER (XTGGOR)
FRONT BRAKE CALIPER (XTGGOX)
REAR BRAKE CALIPER
REMOVING THE FRONT BRAKE CALIPER
REMOVING THE REAR BRAKE CALIPER
CHECKING THE FRONT AND REAR BRAKE CALIPERS
INSTALLING THE FRONT BRAKE CALIPER
INSTALLING THE REAR BRAKE CALIPER
EXHAUST PIPES AND MUFFLERS
LEADS, CABLES, HOSES AND IGNITION COIL
INSTALLING THE ENGINE
REMOVING THE CYLINDER HEAD
CHECKING THE CYLINDER HEAD
CHECKING THE TAPPET COVERS AND CAMSHAFT SPROCKET
CHECKING THE TIMING CHAIN TENSIONER
CHECKING THE CAMSHAFT SPROCKET
INSTALLING THE CYLINDER HEAD
ROCKER ARMS AND CAMSHAFT
REMOVING THE ROCKER ARMS AND CAMSHAFT
CHECKING THE CAMSHAFT
CHECKING THE DECOMPRESSION SYSTEM
CHECKING THE ROCKER ARMS AND ROCKER ARM SHAFTS
INSTALLING THE CAMSHAFT AND ROCKER ARMS
VALVES AND VALVE SPRINGS
REMOVING THE VALVES
CHECKING THE VALVES AND VALVE GUIDES
CHECKING THE VALVE SEATS
CHECKING THE VALVE SPRINGS
INSTALLING THE VALVES
CYLINDER AND PISTON
REMOVING THE CYLINDER AND PISTON
CHECKING THE CYLINDER AND PISTON
CHECKING THE PISTON RINGS
CHECKING THE PISTON PIN
INSTALLING THE PISTON AND CYLINDER
CHECKING THE RADIATOR
INSTALLING THE RADIATOR
CHECKING THE THERMOSTAT
INSTALLING THE THERMOSTAT
DISASSEMBLING THE WATER PUMP
CHECKING THE WATER PUMP
ASSEMBLING THE WATER PUMP
INSTALLING THE WATER PUMP
FUEL INJECTTON SYSTEM
WIRING DIAGRAM
ECU SELF-DIAGNOSTIC FUNCTION
ALTERNATE OPERATION CONTROL (FAIL-SAFE ACTION)
FAIL-SAFE ACTION TABLE
TROUBLESHOOTING CHART
DIAGNOSTIC MODE
TROUBLESHOOTING DETAILS
THROTTLE BODY ASSEMBLY
CHECKING THE FUEL INJECTOR
CHECKING THE THROTTLE BODY
INSTALLING THE THROTTLE BODY ASSEMBLY
CHECKING THE FUEL PUMP
CHECKING AND ADJUSTING THE THROTTLE POSITION
AIR INDUCTION SYSTEM
AIR CUT-OFF VALVE
AIR INDUCTION SYSTEM DIAGRAMS
AIR CUT-OFF VALVE ASSEMBLY
CHECKING THE AIR INDUCTION SYSTEM
ELECTRICAL COMPONENTS
CHECKING SWITCH CONTTNUITY
CHECKING THE SWITCHES
CHECKING THE BULBS AND BULB SOCKETS
CHECKING THE CONDITION OF THE BULBS
CHECKING THE CONDITION OF THE BULB SOCKETS
CHECKING THE LEDS
IGNITION SYSTEM
CIRCUIT DIAGRAM
TROUBLESHOOTING
ELECTRIC STARTING SYSTEM
CIRCUIT DIAGRAM
STARTING CIRCUIT CUT-OFF SYSTEM OPERATION
TROUBLESHOOTING
STARTER MOTOR
CHECKING THE STARTER MOTOR
ASSEMBLING THE STARTER MOTOR
CHARGING SYSTEM
CIRCUIT DIAGRAM
TROUBLESHOOTING
LIGHTING SYSTEM
CIRCUIT DIAGRAM
TROUBLESHOOTING
CHECKING THE LIGHTING SYSTEM
SIGNALING SYSTEM
CIRCUIT DIAGRAM
TROUBLESHOOTING
CHECKING THE SIGNALING SYSTEM
COOLING SYSTEM
CIRCUIT DIAGRAM
TROUBLESHOOTING
STARTING FAILURES
ELECTRICAL SYSTEMS
INCORRECT ENGINE IDLING SPEED
ELECTRICAL SYSTEMS
POOR MEDIUM-AND-HlGH-SPEED PERFORMANCE
FAULTY GEAR SHIFTING
SHIFTING IS DIFFICULT
SHIFT PEDAL DOES NOT MOVE
JUMPS OUT OF GEAR
FAULTY CLUTCH
CLUTCH SLIPS
CLUTCH DRAGS
OVERHEATING
COOLING SYSTEM
CHASSIS
ELECTRICAL SYSTEMS
OVERCOOLING
COOLING SYSTEM
POOR BRAKING PERFORMANCE
FAULTY FRONT FORK LEGS
LEAKING OIL
MALFUNCTION
UNSTABLE HANDLING
PLEASE NOTE:
This is the same manual used by the DEALERSHIPS to SERVICE your vehicle.
The manual can be all yours – Once payment is complete, you will be taken to the download page from where you can download the manual. All in 2-5 minutes time!!
Need any other service / repair / parts manual, please feel free to contact us at heydownloadss @gmail.com . We may surprise you with a nice offer