Yamaha F15A F9.9C FT9.9D F15 Marine Outboards Service Manual
DESCRIPTION:
Yamaha F15A F9.9C FT9.9D F15 Marine Outboards Service Manual 
FOREWORD:
This manual has been prepared by the Yamaha Motor Company Ltd. primarily for use by Yamaha dealers and their trained mechanics when performing maintenance procedures and repairs to Yamaha equipment. It has been written to suit the needs of persons who have a basic understanding of the mechanical and electrical concepts and procedures inherent in the work, for without such knowledge attempted repairs or service to the equipment could render it unsafe or unfit for use.
Because the Yamaha Motor Company, Ltd. has a policy of continuously improving its prod- ucts, models may differ in detail from the descriptions and illustrations given in this publica- tion. Use only the latest edition of this manual. Authorized Yamaha dealers are notified periodically of modifications and significant changes in specifications and procedures, and these are incorporated in successive editions of this manual.
MANUAL FORMAT:
The procedures in this manual are organized in a sequential, step-by-step format. The infor- mation has been compiled to provide the mechanic with an easy to read, handy refer- ence that contains comprehensive explana— tions of all cflsassembly, repair, assembly, and inspection operations. In this revised format, the condition of a faulty component will precede an arrow symbol and the course.
 Bearings
Pitting/damage —> Replace.
TABLE OF CONTENTS:
Yamaha F15A F9.9C FT9.9D F15 Marine Outboards Service Manual 
GENERAL INFORMATION
SPECIFICATIONS
PERIODIC CHECKS AND ADJUSTMENTS
FUEL SYSTEM
POWER UNIT
LOWER UNIT
BRACKET UNIT
ELECTRICAL SYSTEM
TROUBLE ANALYSIS
VIDEO PREVIEW OF THE MANUAL:
IMAGES PREVIEW OF THE MANUAL: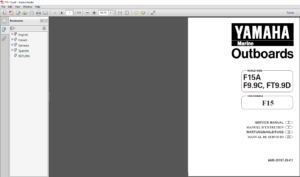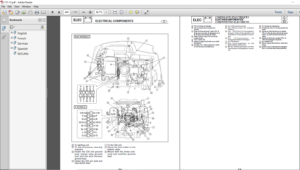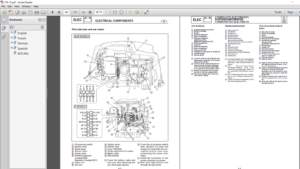 PLEASE NOTE:
This is the SAME manual used by the dealers to troubleshoot any faults in your vehicle. This can be yours in 2 minutes after the payment is made.
Contact us at heydownloadss@gmail.com should you have any queries before your purchase or that you need any other service / repair / parts operators manual.