Wacker Neuson WL60 WL70 Wheel loaders Operator's Manual – PDF DOWNLOAD
IMAGES PREVIEW OF THE MANUAL: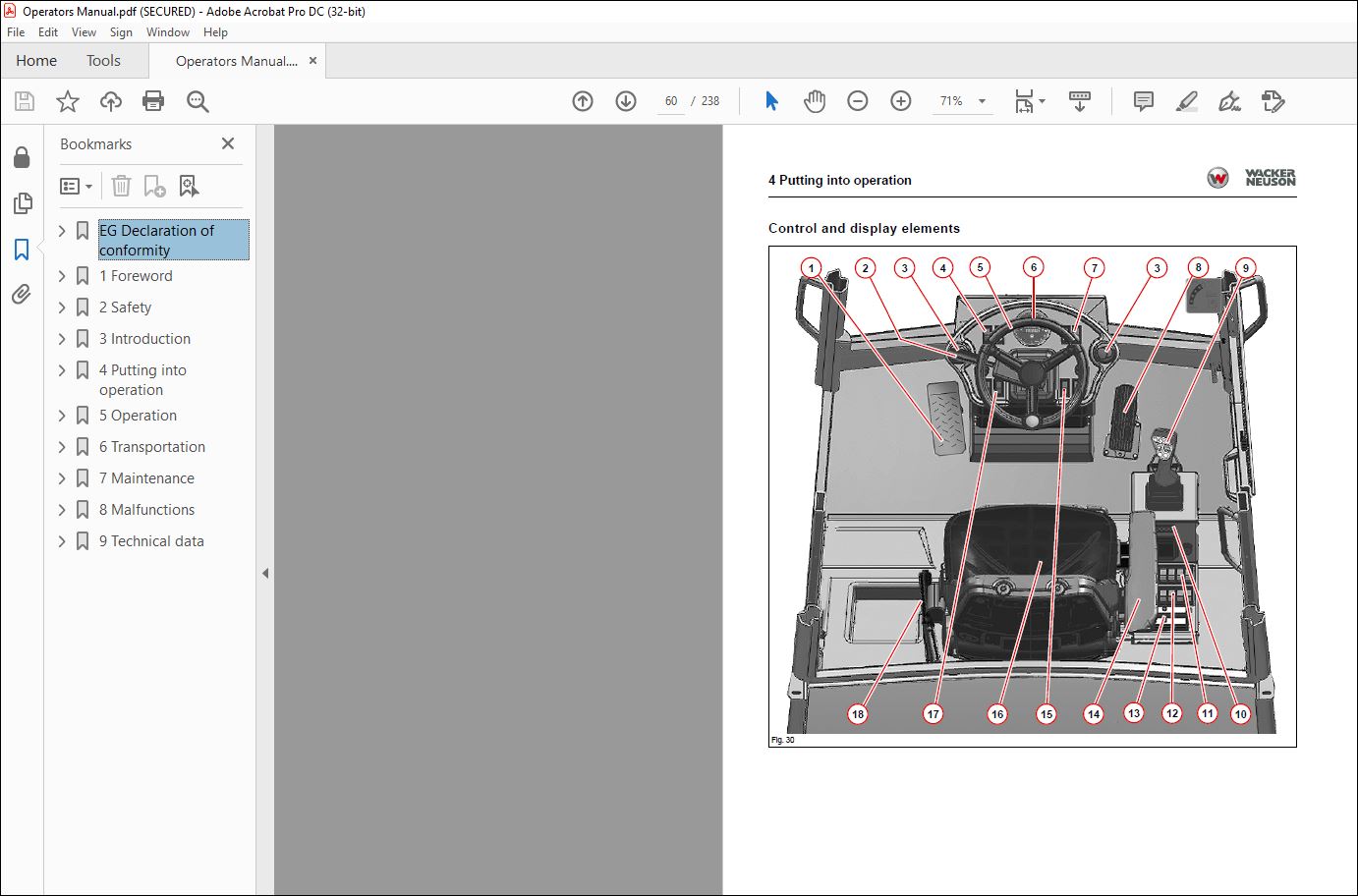 DESCRIPTION:
Wacker Neuson WL60 WL70 Wheel loaders Operator's Manual – PDF DOWNLOAD
1 Foreword
1.1 Operator's Manual
Notices on this Operator's Manual
This Operator's Manual describes how to operate and perform maintenance on the machine. It provides operating and maintenance personnel with the necessary knowledge of the machine's functional characteristics to ensure safe handling, correct maintenance, inspection and cleaning, and to ensure that the technical safety regulations for the machine are
complied with. Your own safety, as well as the safety of others, depends to a great extent on how the machine is moved and operated. Therefore, carefully read and understand this Operator's Manual prior to the first drive. By reading the Operator's Manual, the operator familiarizes himself more quickly with the machine, and uses it more safely and efficiently.
If required, the user/owner of the machine must supplement the Operator's Manual with instructions and regulations regarding environmental protection and national accident prevention regulations.
Operational safety and readiness of the machine do not only depend on the operator's skill, but also on maintenance and servicing of the machine.
This is why regular maintenance and service work is absolutely necessary. Please refer to chapter Cleaning and maintenance work on page 7-17 for an overview of the maintenance and service work. An inspection booklet is also supplied with the machine.
Information
The maintenance and repair work that is not specified in this Operator's Manual may only be performed by an authorized service center.
The Operator's Manual must be read and applied by all persons involved in work with or on the machine, for example with regard to:
• Operatiion, including setting up, rectifying malfunctions during
operation, maintenance, disposal of auxiliary and operating material,
and disposal of the entire machine.
• Repairs (inspection, maintenance).
• Transportation.
Your dealer and the Wacker Neuson service team will be happy to answer any questions you may have on this Operator's Manual. All technical indications in this Operator's Manual refer to series models tested under standard operating conditions for Central Europe and describe the standard functions of these series models. The equipment and its functional modes and accessories depend on the relevant model and the product options, as well as on the national requirements. Illustrations may show optional/additional equipment that is not mentioned in the text or not supplied as standard
TABLE OF CONTENTS:
Wacker Neuson WL60 WL70 Wheel loaders Operator's Manual – PDF DOWNLOAD
EGDeclaration of conformity
1 Foreword
11 Operator's Manual 1-1
12 Warranty and liability 1-5
2 Safety
21 Safety symbols and signal words 2-1
22 Qualification of operating personnel 2-2
23 Conduct 2-3
24 Operation 2-4
25 Lifting gear applications 2-8
26 Trailer operation 2-10
27 Operation of attachments 2-11
28 Towing, loading and transporting 2-12
29 Maintenance 2-14
210 Measures for avoiding risks 2-18
3 Introduction
31 Machine overview 3-1
32 Brief description of the machine 3-2
33 Notices and regulations on use 3-5
34 Labels 3-10
4 Putting into operation
41 Cabin/control stand 4-1
42 Overview of control elements 4-9
43 Indicator lights and warning lights (overview) 4-17
44 Preparations 4-29
45 Starting and stopping the engine 4-35
5 Operation
51 Steering system 5-1
52 Accelerator actuation 5-1
53 Brake 5-2
54 Travel operation 5-3
55 Differential lock 5-10
56 Lights/signaling system 5-11
57 Wiper/wash system 5-15
58 Heating and ventilation 5-16
59 Operating hydraulics 5-18
510 Attachments 5-26
511 Work operation 5-31
512 Emergency lowering 5-43
513Options 5-45
514 Putting the machine out of operation/back into operation 5-60
515 Permanently putting the machine out of operation 5-62
6 Transportation
61 Towing the machine 6-1
62 Loading the machine 6-4
63 Transporting the machine 6-9
Table of contents
I-2 BA WL60 / WL70 * 01/2014 * BA_RL60_RL70IVZfm * [en]
I Table of contents
7 Maintenance
71 Notices on maintenance 7-1
72 Maintenance overview 7-4
73 Fluids and lubricants 7-14
74 Maintenance accesses 7-15
75 Cleaning and maintenance work 7-17
76 Lubrication work 7-19
77 Fuel system 7-20
78 Engine lubrication system 7-24
79 Cooling system 7-26
710 Air filter 7-30
711 V-belt/toothed belt 7-33
712 Hydraulic system 7-35
713 Electrical system 7-39
714 Heating, ventilation and air conditioning system (option) 7-44
715 Washer system 7-45
716 Axles/traveling drive 7-46
717 Braking system 7-47
718 Tires 7-48
719 Maintenance and servicing work on attachments 7-51
720 Maintenance of options 7-52
721 Exhaust gas treatment 7-53
8 Malfunctions
81 Malfunctions, causes, remedies 8-1
9 Technical data
91 Models and trade names 9-1
92 Engine 9-1
93 Drive/axles 9-2
94 Brakes 9-2
95 Tires 9-3
96 Steering system 9-3
97 Operating hydraulics 9-3
98 Electrical system 9-4
99 Tightening torques 9-7
910 Coolant 9-8
911 Noise emissions 9-8
912 Vibration 9-9
913 Weights 9-10
914 Payload/load-carrying capacity/lift capacity 9-10
915 Dimensions 9-12
VIDEO PREVIEW OF THE MANUAL:
PLEASE NOTE:
This is the same manual used by the dealers to diagnose and troubleshoot your vehicle
You will be directed to the download page as soon as the purchase is completed. The whole payment and downloading process will take anywhere between 2-5 minutes
Need any other service / repair / parts manual, please feel free to contact [email protected] . We still have 50,000 manuals unlisted
S.M