Wacker Neuson Wheel Loader WL57 Operating Manual
FILE DETAILS:
Wacker Neuson Wheel Loader WL57 Operating Manual 
Language : English
Pages : 312
Downloadable : YES
Format : PDF
Size : 9.86  MB
DESCRIPTION:
Wacker Neuson Wheel Loader WL57 Operating Manual 
BASIC INFORMATION :
In Germany, the following rules must be followed when driving on public roads: Loaders with a maximum speed of up to 20 km/h require no approval. They do however require an operating license, which is issued by the motor vehicles registration office. In addition, the name (first name and surname) and the place of residence or the company name and the location of the company's registered office must be clearly displayed on the left-hand side of the loader in non-smudging lettering (§64b of the German Road Traffic Licensing Regulations, StZVO).
The operator is responsible for ensuring that appropriate insurance cover is in place. The operator must check with his insurance provider whether or not the loader is covered under the terms of his public liability insurance, or whether he needs to take out separate third party insurance for this purpose.
Every new user must be instructed before using the loader for the first time. Notes on using the operator's manual:
Read the operator's manual carefully before using the loader. • Observe all safety instructions.
 Follow the regulations and laws which are applicable in the place of use.
 Follow the regulations of the federal association of statutory accident insurances (VGB).
Always keep the operator's manual in a clean and orderly state together with the loader.
Symbols will he used to highlight any hazards to persons or material which cannot be ruled out during the course of normal work which is carried out in accordance with the proper use of the loader. Descriptions relate to the direction of travel of the loader, so directional information should always be interpreted looking in the direction of travel.
TABLE OF CONTENTS:
Wacker Neuson Wheel Loader WL57 Operating Manual 
Preface 9
1 BASIC INFORMATION 10
11 Notes about this operator's manual 11
12 Explanation of the symbols used in this operator's manual 12
13 Warranty and liability 14
14 Proper use 16
2 BASIC SAFETY INSTRUCTIONS 18
21 Organizational measures 19
22 Personnel selection and qualifications/general duties and obligations 21
23 Safety instructions for particular phases of operation 22
231 Safety instructions for normal operation 22
232 Safety instructions for special operating modes 24
24 Safety instructions for special types of hazard 27
241 Transport of large bales or packaged goods 27
242 Working in the vicinity of overhead power lines 28
243 Electrical power 29
244 Fire hazard 29
245 Gas, dust, vapor, smoke 29
246 Hydraulic systems, pneumatic systems 30
247 What to do if the loader tips overNoise 30
248 Noise 31
249 Oil, grease and other chemical substances 31
Contents
3
25 Transporting and towing/restarting 31
26 Final decommissioning/dismantling 31
27 Safety stickers used 32
28 Safety devices 36
281 Fire extinguisher 36
282 Rotating beacon 36
283 Load holding control valves on the lifting and tipping cylinders 37
284 Audible reverse warning device 37
285 Battery disconnect switch 38
286 Seat belt 39
287 Emergency exit 39
288 Locking mechanism for the lift frame 40
3 TECHNICAL DATA 41
31 Technical description 41
32 Loader data44
33 Lifting diagram 49
34 Identification plates 50
35 Dimensions 52
351 If fitted with standard lift frame 52
352 If fitted with telescopable lift frame54
Contents
4
4 DESCRIPTION OF THE INDICATOR, WARNING AND OPERATING ELEMENTS 58
41 Operating elements and instruments 58
42 Indicator lamps and warning lamps 60
43 Indicator devices 66
44 Toggle switches 68
45 Switches / rotary switches 72
5 CONTROLS AND OPERATION 74
51 Before starting up 74
511 Refueling 74
512 Entering 76
513 Doors and windows 78
514 Adjusting the operator's seat 81
515 Adjusting the steering column84
516 Seat belt 85
52 Starting up 88
521 Lighting system and forward warning device 88
522 Wipers and windshield washer system90
523 Headlights and rotating beacon 92
524 Ventilation and heating of the cab 94
525 Before starting the engine96
526 Starting the engine 97
Contents
5
53 Driving mode 100
531 Parking brake 100
532 Preparation for travel in public traffic 101
533 Description of the drive hydraulics 102
534 Driving 103
535 Stopping and parking 107
54 Work operation 108
541 Control lever for the lift frame110
542 Working with the telescopable lift frame112
543 Locking mechanism for the lift frame117
544 Activating the optional hydraulics118
545 Changing attachments 121
546 Bucket 131
547 Manure fork 137
548 Pallet fork 139
549 What to do if the loader tips over 144
5410 Differential pawl 145
5411 Precautionary measures for various weather conditions 147
55 Optional equipment 149
551 Optional multi-function lever for multiple functions 160
56 Safety instructions for trailer operation 170
561 Requirements for trailer operation171
562 Safety precautions171
563 Trailer coupling operation 172
564 Automatic trailer coupling 172
565 Coupling the trailer to the machine 173
566 Specifications for automatic trailer coupling option174
Contents
6
6 TOWING AND TRANSPORTING 176
61 Towing 176
62 Transporting 179
7 Measures in the event of power loss 187
8 RELIEVING RESIDUAL PRESSURE IN THE HYDRAULIC SYSTEM 188
9 SECURING THE LOADER 191
10 SERVICING AND INSPECTION 192
101 Basic safety instructions for servicing and inspection 192
102 Servicing and inspection intervals 198
103 Lubrication schedule 210
104 Cleaning the loader 214
105 General safety check 216
106 Specifications and filling quantities 216
107 Maintenance and inspection work 218
1071 Preparation for maintenance and inspection work 218
1072 Maintenance of the engine 224
1073 Maintenance of the fuel system 230
1074 Maintenance of the air filter system 236
1075 Maintenance of the cooling system 240
1076 Servicing the air conditioning system 249
1077 Maintenance of the hydraulic system 250
Contents
7
1078 Maintenance of the axles 259
1079 Maintenance of the brakes 263
10710 Servicing the tyres and wheels 265
10711 Servicing the cab vent filter 269
10712 Filling the container for the windshield washer system 270
10713 Maintenance of the electrical system 271
108 Emergency starting / jump-starting 280
109 Shutting down and restarting the loader 282
11 TROUBLESHOOTING AND EMERGENCY MAINTENANCE 284
12 SAFETY INSTRUCTIONS FOR REPAIRS 288
121 General safety regulations for repairs 288
122 Engine 291
123 Welding work 291
124 Hydraulic system 293
125 Brakes 293
13 FINAL SHUTDOWN OF THE LOADER / DECOMMISSIONING294
14 APPENDIX296
Ordering replacement parts296
Index 298
List of figures304
VIDEO PREVIEW OF THE MANUAL:
IMAGES PREVIEW OF THE MANUAL: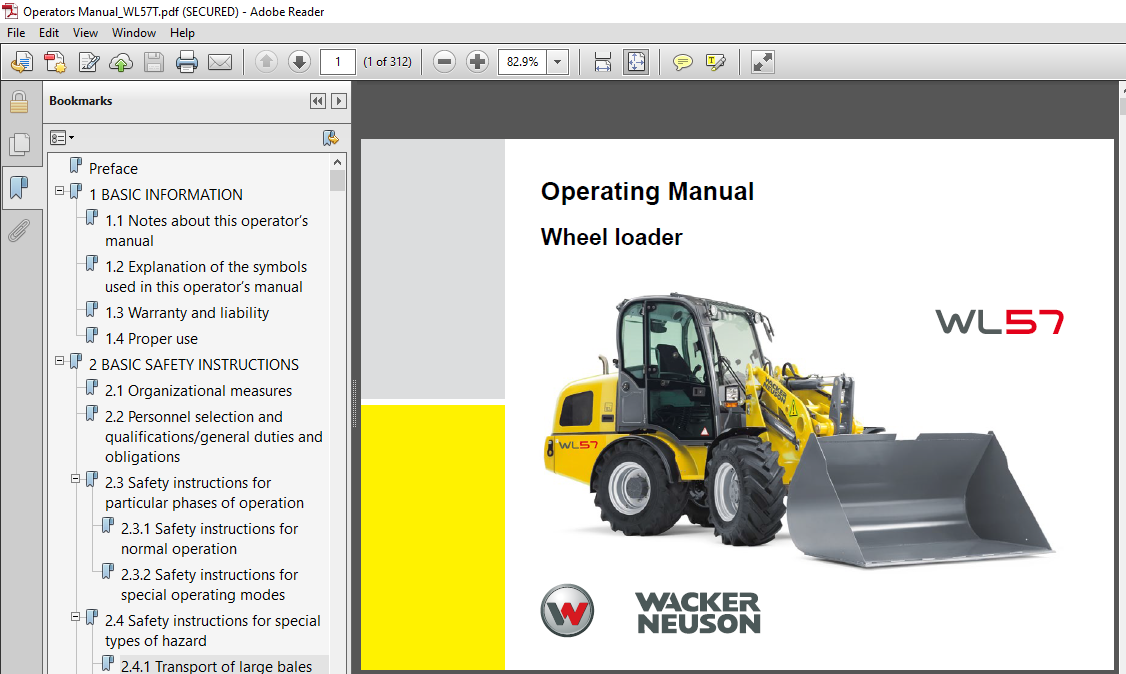 PLEASE NOTE:
This is the SAME exact manual used by your dealers to fix your vehicle.
The same can be yours in the next 2-3 mins as you will be directed to the download page immediately after paying for the manual.
Any queries / doubts regarding your purchase, please feel free to contact [email protected]