Wacker Neuson Telehandlers TH627 Operator's Manual
FILE DETAILS:
Wacker Neuson Telehandlers TH627 Operator's Manual 
Language : English
Pages : 486
Downloadable : YES
Format : PDF
Size : 16.3 MB
DESCRIPTION:
Wacker Neuson Telehandlers TH627 Operator's Manual 
PREFACE :
Operator's manual :
This Operator's Manual only applies to the machines on the cover sheet. It provides information on how to use, adjust and operate the machine, and on how to perform maintenance on it, and is therefore only intended for the operator and operating company. Before performing machine travel or operation for the first time, the user must be briefed on this machine and must carefully read and understand this Operator's Manual, in particular chapter "Safety instructions".
Work on the machine may only be performed by trained and instructed personnel that have been authorized by the operating company. Any person involved in operation, inspection, maintenance, servicing, repair work or transport of the machine must read, understand and follow the complete instructions in the Operator's Manual and in particular the safety instructions.
The buyer/operating company is responsible for the operators' training in safe working on and with the machine. The basis for this in the Federal Republic of Germany is the "DGUV principle 308-009." Get informed on and follow the legal regulations of your country. recommend repeating the training sessions at regular intervals. The buyer/operating company is responsible for ensuring that any additional safety regulations applicable in the country of use of the machine are followed. The machine may only be operated by persons who are physically, mentally and professionally suited for this work. Persons under the influence of alcohol or drugs may not use the machine. The operator is the person performing machine operation and/or travel.
• Before putting the machine into operation, the operator of the machine must ensure that it is in a perfect condition, and during operation, the operator must observe the regulations regarding operation.
• The operator is responsible for ensuring that the machine and its use do not pose a risk.
• Before working with the machine, operators must familiarize themselves with all the control elements and their functions, and with the handling of the machine.
TABLE OF CONTENTS:
Wacker Neuson Telehandlers TH627 Operator's Manual 
EC Declaration of Conformity EG-1
Declaration of manufacturer EG-2
1 Preface
11 Operator's manual 1-1
12 Warranty and liability 1-4
2 Safety
21 Safety symbols and signal words 2-1
22 Conduct and safety instructions 2-2
23 Qualification of operating and maintenance personnel 2-3
24 Operation 2-4
25 Lifting gear applications 2-8
26 Trailer operation 2-10
27 Attachment operation 2-11
28 Towing, loading and transporting 2-12
29 Maintenance 2-15
210 Measures for avoiding risks 2-18
3 Introduction
31 Machine overview 3-1
32 Brief description of machine 3-4
33 Information and regulations on use 3-6
34 Labels 3-24
4 Putting into operation
41 Cabin/control stand 4-1
42 Overview of control elements 4-29
43 Overview of indicator lights 4-34
44 Preparatory work 4-49
45 Starting and stopping the engine 4-58
5 Operation
51 Steering system 5-1
52 Accelerator actuation 5-7
53 Brake 5-10
54 Machine travel operation 5-14
55 Differential lock 5-21
56 Lights/signalling system 5-23
57 Wiper/wash system 5-32
58 Heating, ventilation and air-conditioning system 5-34
59 Operating hydraulics 5-36
510 Attachments 5-63
511 Work operation 5-84
512 Emergency lowering 5-108
513 Options 5-110
514 Putting out of operation/back into operation 5-162
515 Permanently putting out of operation 5-164
6 Transport
61 Towing the machine 6-1
62 Loading the vehicle 6-4
63 Transporting the vehicle 6-8
7 Maintenance
71 Information on maintenance 7-1
72 Maintenance overview 7-4
73 Fluids and lubricants 7-13
74 Maintenance accesses 7-17
75 Cleaning and service work 7-20
76 Lubrication work 7-25
77 Fuel system 7-35
78 Engine lubrication system 7-39
79 Cooling system 7-42
710 Air filter 7-49
711 V-belt/toothed belt 7-52
712 Hydraulic system 7-54
713 Electrical system 7-61
714 Heating, ventilation and air conditioning system 7-67
715 Washer system 7-71
716 Axles/drive 7-72
717 Braking system 7-73
718 Tires 7-75
719 Maintenance of attachments 7-78
720 Maintenance of options 7-79
721 Exhaust gas treatment 7-83
722 Machine preservation 7-84
8 Malfunctions
81 Diesel engine malfunctions 8-1
82 Malfunctions of the travel drive 8-3
83 Disorders in the work hydraulics 8-4
84 Malfunctions of the electrical system 8-5
85 Malfunctions in the air conditioning system (option) 8-34
9 Technical data
91 Model and trade names 9-1
92 Engine 9-1
93 Traveling drive/axles 9-2
94 Brakes 9-4
95 Tires 9-4
96 Steering system 9-5
97 Work hydraulics 9-6
98 Electrical system 9-8
99 Tightening torques 9-16
910 Coolant 9-17
911 Noise emissions 9-17
912 Vibration 9-18
913 Weight 9-18
914 Payload/lift capacity/stability 9-19
915 Dimensions 9-24
Index
Index S-1
VIDEO PREVIEW OF THE MANUAL:
IMAGES PREVIEW OF THE MANUAL: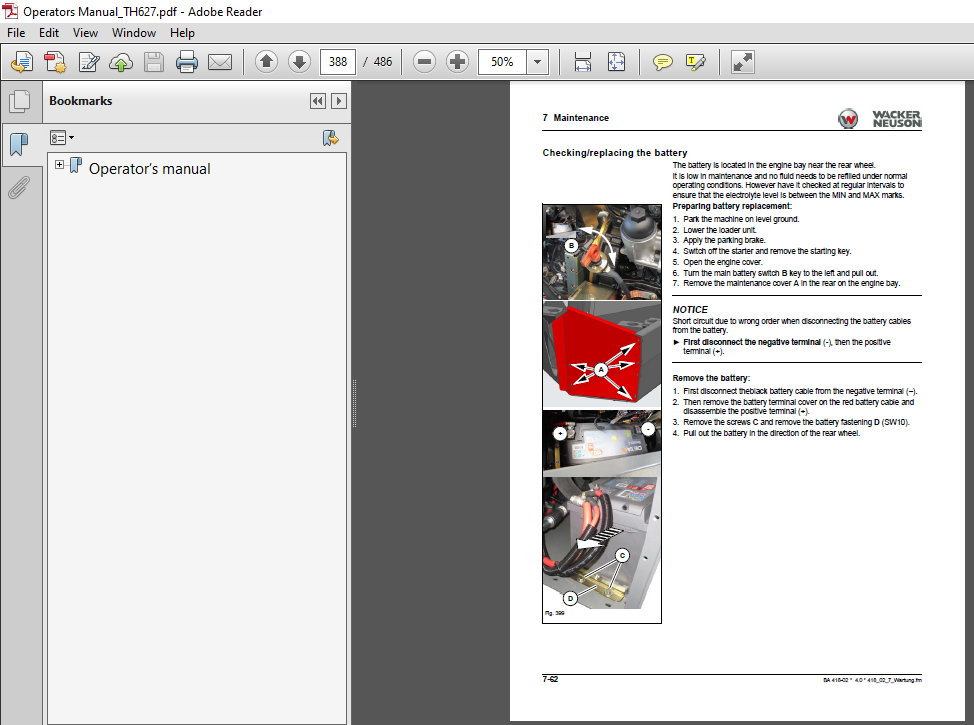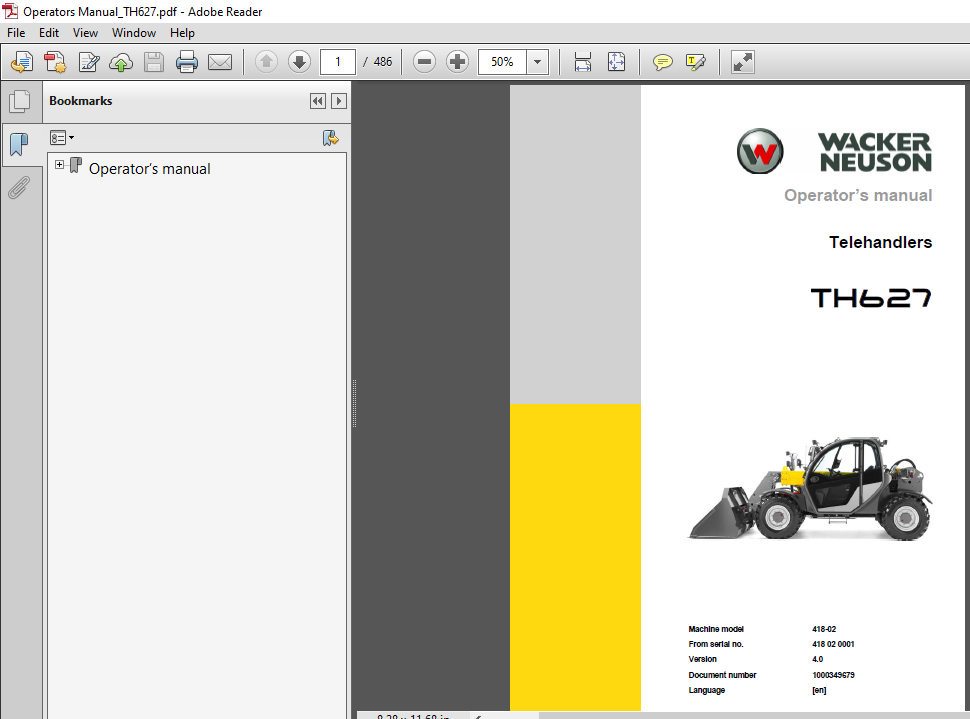 PLEASE NOTE:
This is the same manual used by the dealers to diagnose and troubleshoot your vehicle
You will be directed to the download page as soon as the purchase is completed. The whole payment and downloading process will take anywhere between 2-5 minutes
Need any other service / repair / parts manual, please feel free to contact [email protected] . We still have 50,000 manuals unlisted