Wacker Neuson HPU8 Electro-hydraulic power unit Tracked Excavators Spare parts list Manual – PDF DOWNLOAD
IMAGES PREVIEW OF THE MANUAL: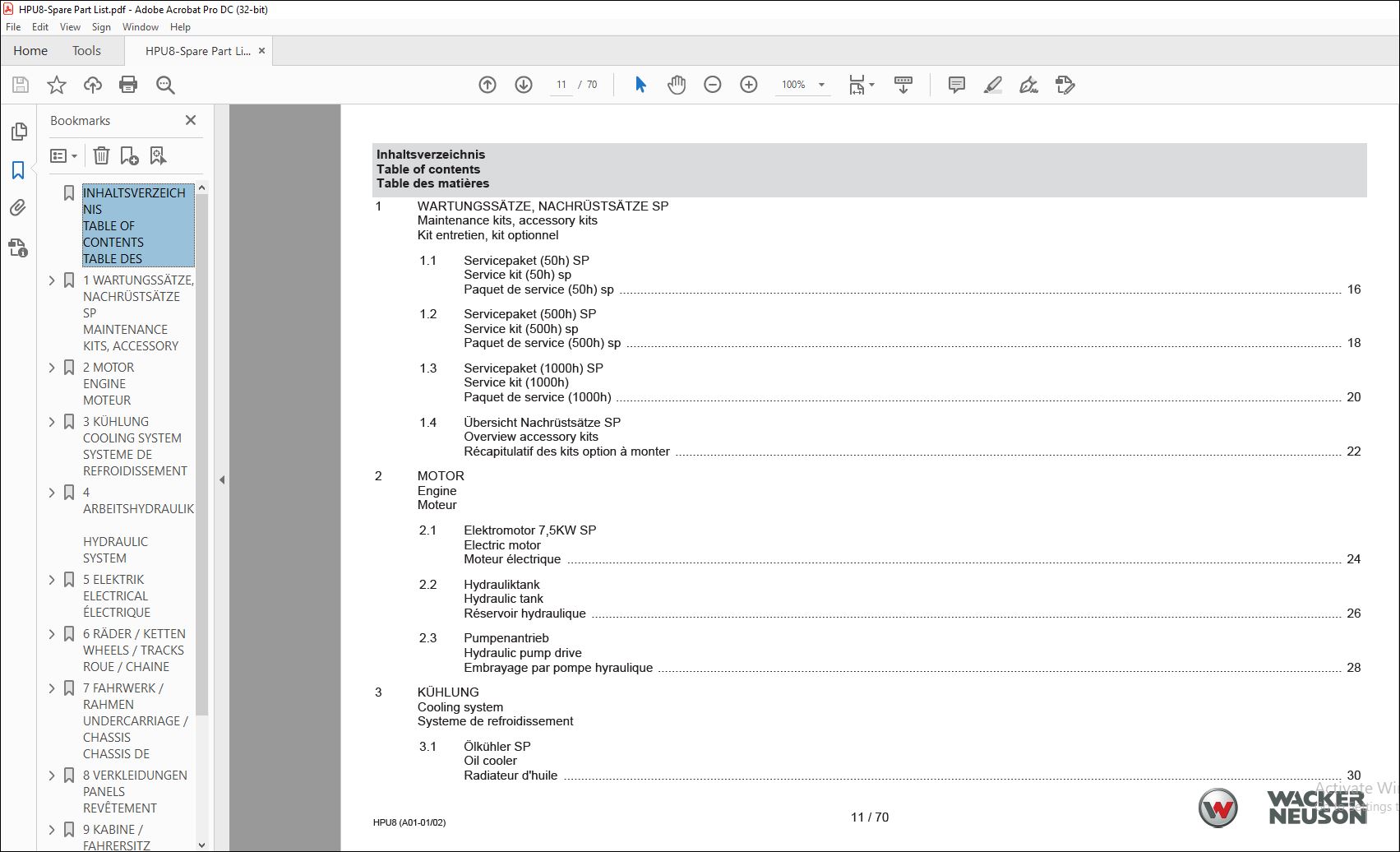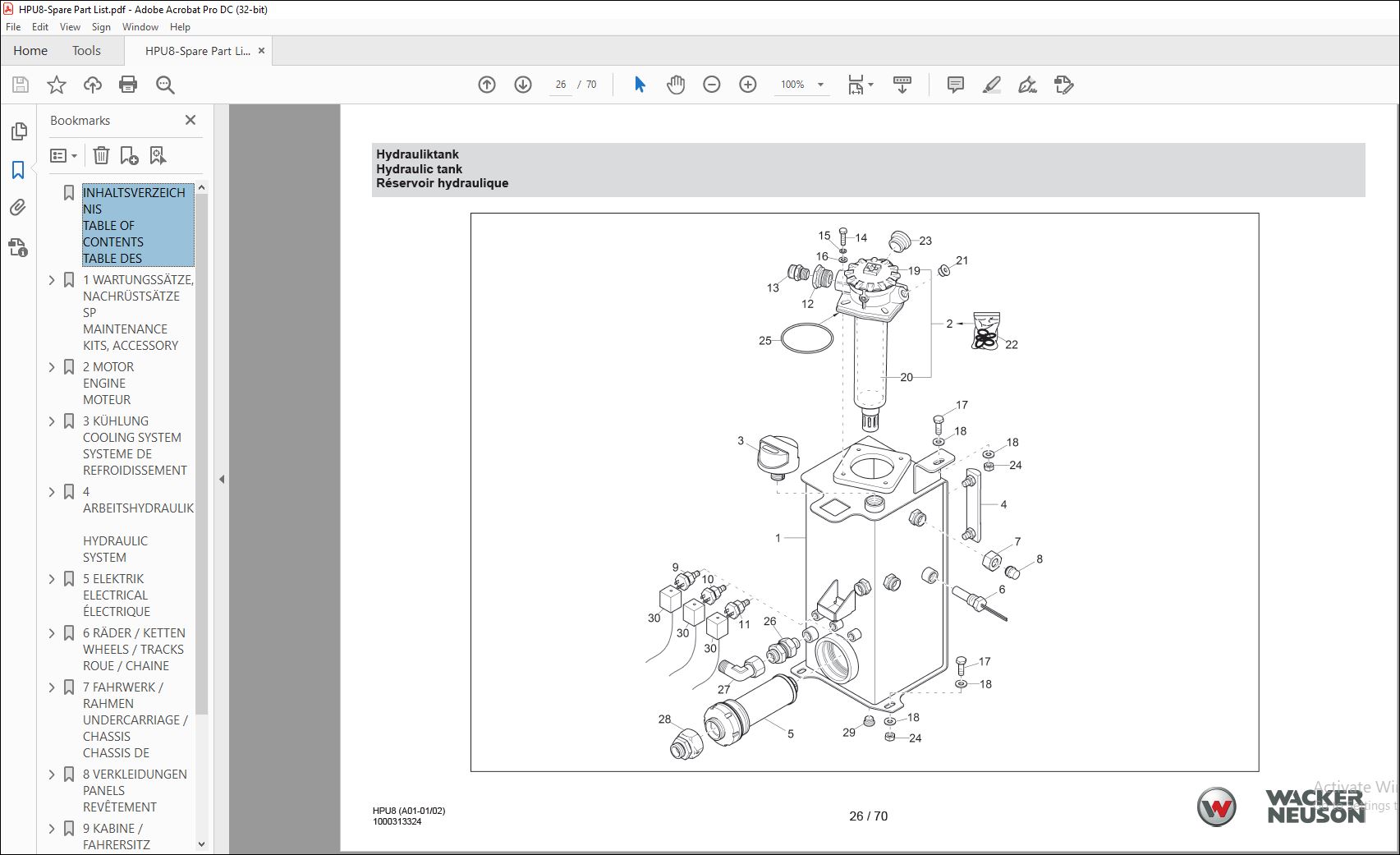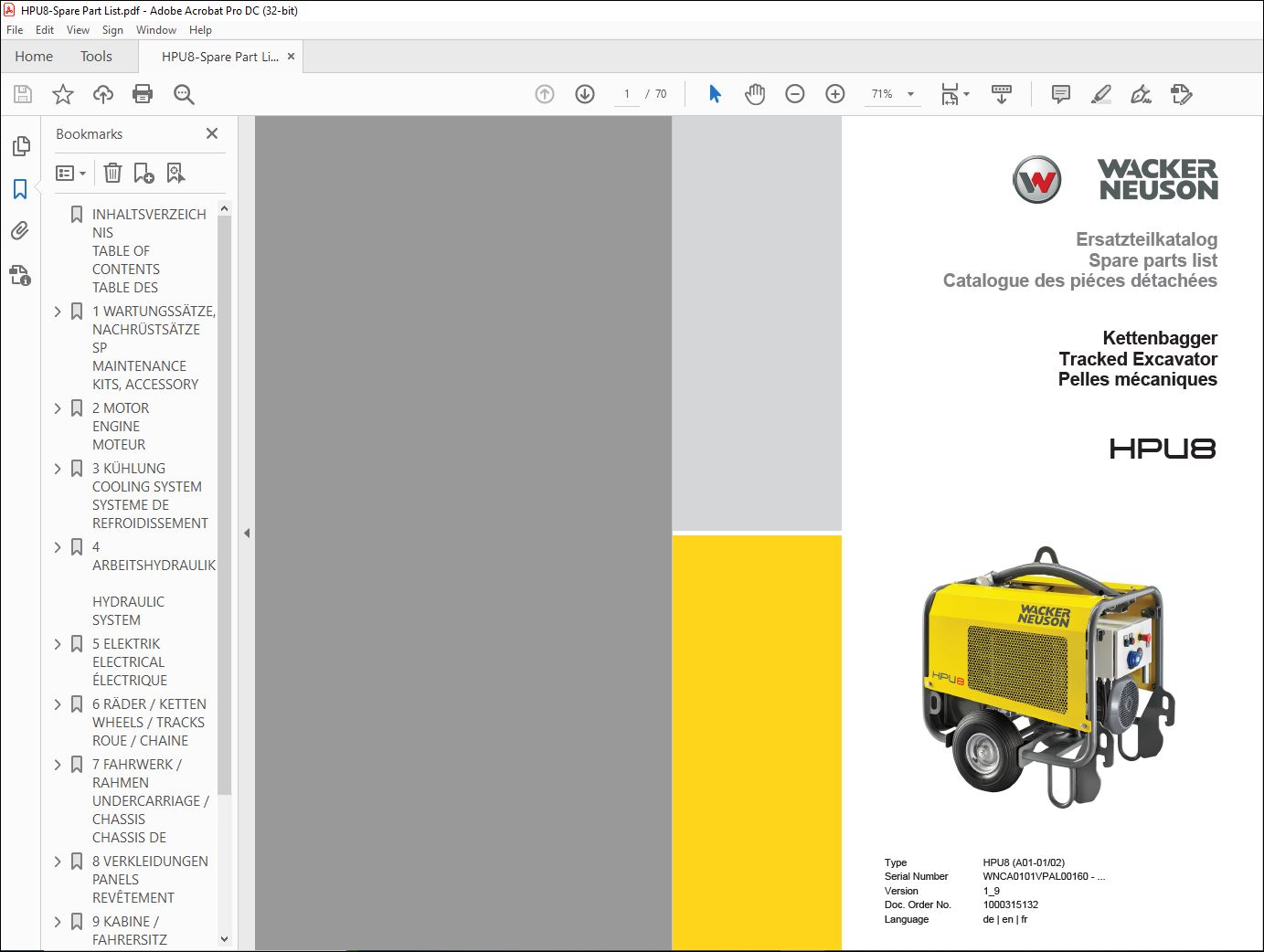 DESCRIPTION:
Wacker Neuson HPU8 Electro-hydraulic power unit Tracked Excavators Spare parts list Manual – PDF DOWNLOAD
General information on the spare parts catalog
General information
When ordering spare parts, make sure that all information on the machine is complete. This includes the sales designation of the machine, the serial number and the year of manufacture. When placing orders for engine or axle parts, the type and serial number of the components are also required. The following additional information is also required:
Material number and item number. The serial number is stamped into the machine frame. It can also be found on the type label. The serial number must be stated in full. The machine on the cover picture may have special equipment (options/accessories). The illustration is not binding for the version.
The number of spare parts stated in the spare parts catalog refers to the assembly shown in this drawing. This spare parts catalog contains all options that are available for the machine from the factory. For this reason, options may also be shown with which the machine is not equipped. Not all options shown are available in all countries/regions.
Options/accessories are partially retrofittable. Not all options can be combined with each other. In some cases, the catalog also shows components that are not available as spare parts. These components are not depicted as items on the drawings. The illustration serves only the purpose of understanding and makes no claim to the illustrated component.
The "left" and "right" indications in the description or information always refer to the machine in the direction of forward travel.. We are constantly working to improve and optimize our products in the course of technical development. For this reason, it may be possible that illustrations in the spare parts catalog differ from the actual design.
The manufacturer reserves the right to make changes to the spare parts at any time. This applies both to the stated quantity of spare parts and to the technical design. To obtain the latest information on the machine, please contact an authorized dealer. Technical specifications, dimensions and weights are not binding and correspond to the state at the time of printing.
Responsibility for errors or omissions not accepted. Unauthorized technical modifications to the machine lead to a significant impairment of operational safety. Operational safety is only ensured by using original spare parts and approved attachments/accessories.
The manufacturer shall assume no liability for damage caused by unauthorized technical modifications or the non-use of original spare parts.
TABLE OF CONTENTS:
Wacker Neuson HPU8 Electro-hydraulic power unit Tracked Excavators Spare parts list Manual – PDF DOWNLOAD
INHALTSVERZEICHNIS
TABLE OF CONTENTS
TABLE DES MATIÈRES11
1 WARTUNGSSÄTZE, NACHRÜSTSÄTZE SP
MAINTENANCE KITS, ACCESSORY KITS
KIT ENTRETIEN, KIT OPTIONNEL16
11 SERVICEPAKET (50H) SP
SERVICE KIT (50H) SP
PAQUET DE SERVICE (50H) SP16
12 SERVICEPAKET (500H) SP
SERVICE KIT (500H) SP
PAQUET DE SERVICE (500H) SP18
13 SERVICEPAKET (1000H) SP
SERVICE KIT (1000H)
PAQUET DE SERVICE (1000H)20
14 ÜBERSICHT NACHRÜSTSÄTZE SP
OVERVIEW ACCESSORY KITS
RÉCAPITULATIF DES KITS OPTION À MONTER22
2 MOTOR
ENGINE
MOTEUR24
21 ELEKTROMOTOR 7,5KW SP
ELECTRIC MOTOR
MOTEUR ÉLECTRIQUE24
22 HYDRAULIKTANK
HYDRAULIC TANK
RÉSERVOIR HYDRAULIQUE26
23 PUMPENANTRIEB
HYDRAULIC PUMP DRIVE
EMBRAYAGE PAR POMPE HYRAULIQUE28
3 KÜHLUNG
COOLING SYSTEM
SYSTEME DE REFROIDISSEMENT30
31 ÖLKÜHLER SP
OIL COOLER
RADIATEUR D'HUILE30
4 ARBEITSHYDRAULIK
HYDRAULIC SYSTEM
INSTALLATION HYDRAULIQUE32
41 HYDRAULIKPUMPE
HYDRAULIC PUMP
POMPE HYDRAULIQUE32
42 DRUCKBEGRENZUNGSVENTIL SP
PRESSURE LIMIT RELIEF VALVE
SOUPAPE LIMITRICE DE PRESSION34
43 3/2 WEGEVENTIL SP
3/2 VALVE
3/2 CLAPET36
44 HYDRAULIKTANK INSTALLATION SP
INSTALLATION HYDRAULIC OIL TANK
INSTALLATION RESERVOIR HUILE HYDRAULIQUE38
45 LANZE SP
CONNECTION LANCE
LANCE DE CONNEXION40
5 ELEKTRIK
ELECTRICAL
ÉLECTRIQUE42
51 SCHALTKASTEN SP
CONTROL BOX
ARMOIRE ÉLECTRIQUE42
52 SCHALTKASTEN (OPTION HPU 9KW) SP
CONTROL BOX (OPTION HPU 9KW) SP
ARMOIRE ÉLECTRIQUE (OPTION HPU 9KW) SP44
53 SCHALTKASTEN 2 (OPTION HPU 9KW) SP
CONTROL BOX (OPTION HPU 9KW) SP
ARMOIRE ÉLECTRIQUE (OPTION HPU 9KW) SP46
54 SCHALTKASTEN 3 (OPTION HPU 9KW) SP
CONTROL BOX (OPTION HPU 9KW) SP
ARMOIRE ÉLECTRIQUE (OPTION HPU 9KW) SP48
55 LADEGERAET
CHARGING UNIT
CHARGEUR50
6 RÄDER / KETTEN
WHEELS / TRACKS
ROUE / CHAINE52
61 RÄDER SP
WHEELS
ROUE52
7 FAHRWERK / RAHMEN
UNDERCARRIAGE / CHASSIS
CHASSIS DE TRANSLATION / CHASSIS54
71 ROHRRAHMEN SP
FRAME
CADRE54
8 VERKLEIDUNGEN
PANELS
REVÊTEMENT56
81 VERKLEIDUNG SP
TRIM
RÉVÊTEMENT56
9 KABINE / FAHRERSITZ
CABIN / DRIVER SEAT
CABINE / SIÈGE DU CONDUCTEUR58
91 DOKUMENTENBOX
DOCUMENTS BOX
BOITE À DOCUMENTS58
92 DOKUMENTENBOX (OPTION HPU 9KW) SP
DOCUMENT BOX (OPTION HPU 9KW) SP
BOITE À DOCUMENTS (OPTION HPU 9KW) SP60
93 AUFBEWAHRUNGSFACH SP
STORAGE BOX
BOÎTE DE RANGEMENT62
10 AUFKLEBER, WERKZEUG
STICKER, TOOL KIT
ÉTIQUETTE ADHÉSIVE, OUTILLAGE64
101 AUFKLEBER
STICKER
AUTOCOLLANT  64
102 AUFKLEBER (OPTION HPU 9KW) SP
STICKER (OPTION HPU 9KW) SP
AUTOCOLLANT (OPTION HPU 9KW) SP66
VIDEO PREVIEW OF THE MANUAL:
PLEASE NOTE:
This is the same manual used by the dealers to diagnose and troubleshoot your vehicle
You will be directed to the download page as soon as the purchase is completed. The whole payment and downloading process will take anywhere between 2-5 minutes
Need any other service / repair / parts manual, please feel free to contact [email protected] . We still have 50,000 manuals unlisted
S.M