Wacker KRAMER-ALLRAD 550/650 Wheel loaders Operator's Manual – PDF DOWNLOAD
IMAGES PREVIEW OF THE MANUAL: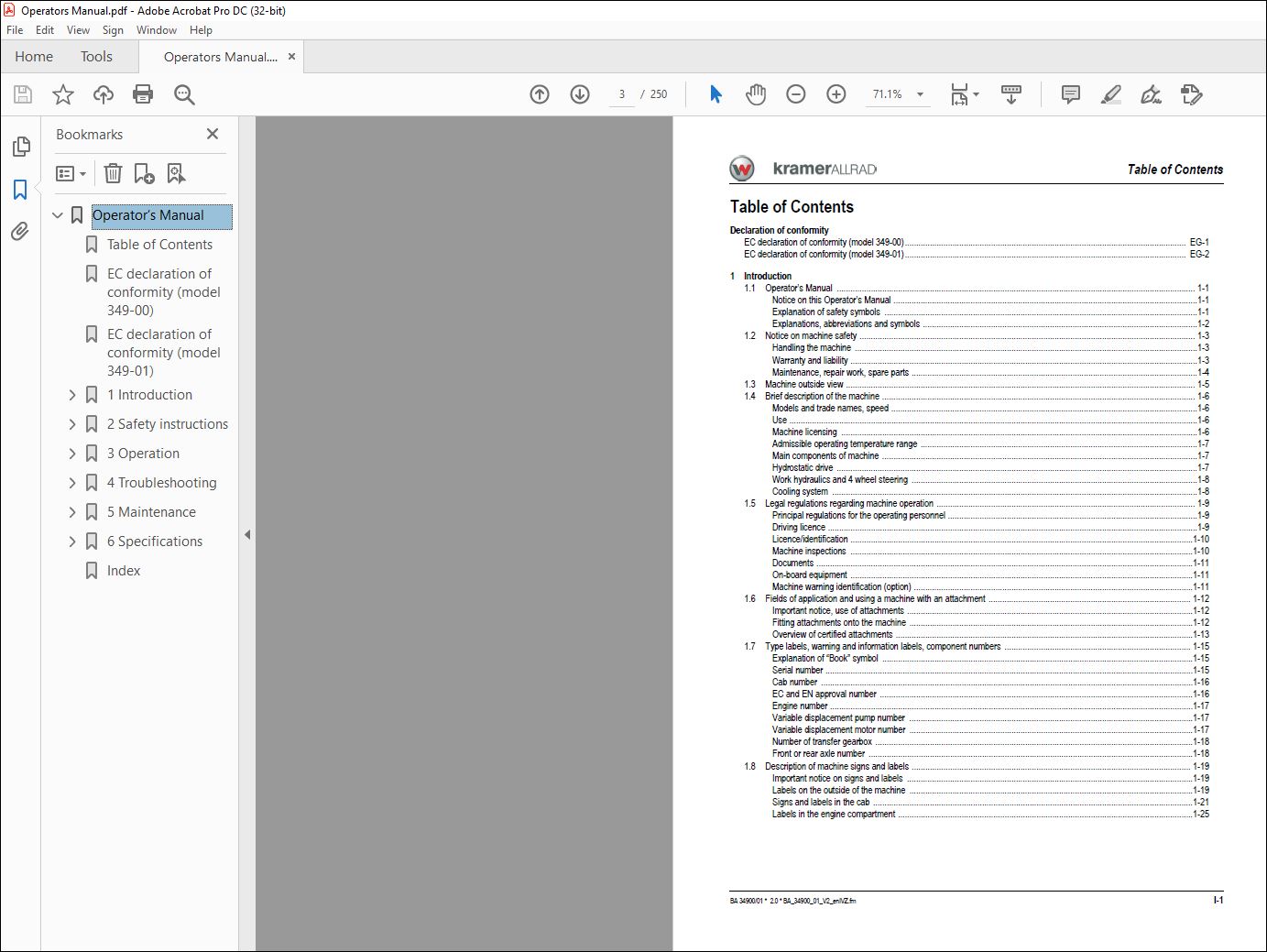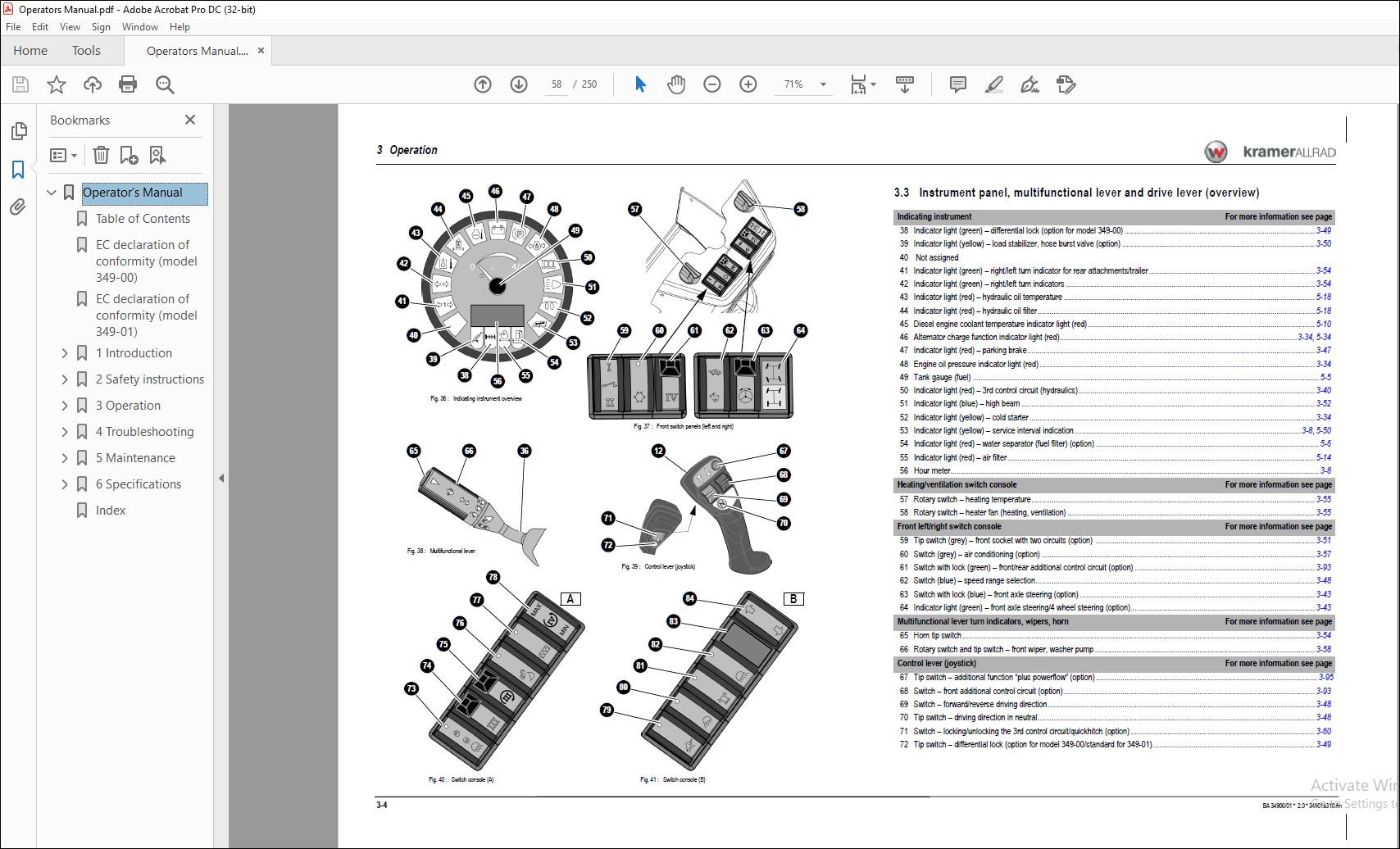 DESCRIPTION:
Wacker KRAMER-ALLRAD 550/650 Wheel loaders Operator's Manual – PDF DOWNLOAD
1 Introduction
1.1 Operator's Manual
Notice on this Operator's Manual
This Operator's Manual applies only to the wheel loader models: 349-00/349-01 (550/650)
It is primarily designated for the machine operator and provides instructions on:
• use
• mode of operation
• safety instructions
• operation, set-up and maintenance of the machine
Important! Carefully read and understand the Operator's Manual before starting up, servicing or repairing the machine
Pay particular attention to the "Safety Instructions" given in chapter 2.
• The Operator's Manual and any supplements must always be at hand at the place of
use of the machine, and must therefore be kept in the storage compartment or net
behind the seat.
• Immediately replace an incomplete or illegible Operator's Manual by a new one.
• In addition to the Operator's Manual, observe and instruct the operator in all other
generally applicable legal and other mandatory regulations relevant to accident
prevention and environmental protection.
• Observe the Operator's Manual of the attachments.
Kramer-Werke GmbH keep abreast of the latest technical developments and constantly
improve their products.
We may from time to time need to make changes to diagrams and descriptions in this documentation
which do not reflect products which have already been delivered and which will
not be implemented on these machines.
Technical data, dimensions and weights are only given as an indication. Responsibility for
errors or omissions not accepted.
Please contact your dealer if you require more information on the machine or the Operator's
Manual.
TABLE OF CONTENTS:
Wacker KRAMER-ALLRAD 550/650 Wheel loaders Operator's Manual – PDF DOWNLOAD
Declaration of conformity
EC declaration of conformity (model 349-00) EG-1
EC declaration of conformity (model 349-01) EG-2
1 Introduction
11 Operator's Manual 1-1
Notice on this Operator's Manual 1-1
Explanation of safety symbols 1-1
Explanations, abbreviations and symbols 1-2
12 Notice on machine safety 1-3
Handling the machine 1-3
Warranty and liability 1-3
Maintenance, repair work, spare parts 1-4
13 Machine outside view 1-5
14 Brief description of the machine 1-6
Models and trade names, speed 1-6
Use 1-6
Machine licensing 1-6
Admissible operating temperature range 1-7
Main components of machine 1-7
Hydrostatic drive 1-7
Work hydraulics and 4 wheel steering 1-8
Cooling system 1-8
15 Legal regulations regarding machine operation 1-9
Principal regulations for the operating personnel 1-9
Driving licence 1-9
Licence/identification 1-10
Machine inspections 1-10
Documents 1-11
On-board equipment 1-11
Machine warning identification (option) 1-11
16 Fields of application and using a machine with an attachment 1-12
Important notice, use of attachments 1-12
Fitting attachments onto the machine 1-12
Overview of certified attachments 1-13
17 Type labels, warning and information labels, component numbers 1-15
Explanation of "Book" symbol 1-15
Serial number 1-15
Cab number 1-16
EC and EN approval number 1-16
Engine number 1-17
Variable displacement pump number 1-17
Variable displacement motor number 1-17
Number of transfer gearbox 1-18
Front or rear axle number 1-18
18 Description of machine signs and labels 1-19
Important notice on signs and labels 1-19
Labels on the outside of the machine 1-19
Signs and labels in the cab 1-21
Labels in the engine compartment 1-25
Table of Contents
I-2 BA 34900/01 * 20 * BA_34900_01_V2_enIVZfm
Table of Contents
2 Safety instructions
21 Identification of warnings and dangers 2-1
22 Designated use and exemption from liability 2-2
23 General conduct and safety instructions 2-3
Organizational measures 2-3
Selection and qualification of personnel, basic responsibilities 2-5
24 Safety instructions regarding operation 2-6
Normal operation 2-6
Applications with lifting gear 2-8
Trailers and attachments 2-9
Transporting, towing, loading 2-9
25 Safety instructions for maintenance 2-10
26 Maintenance work on protective ROPS and FOPS structures 2-12
Cab, roll-over bar, protective screen 2-12
27 Warning of special hazards 2-12
Electric energy 2-12
Gas, dust, steam, smoke 2-12
Hydraulic system 2-13
Noise 2-13
Oil, grease and other chemical substances 2-13
Battery 2-13
Tyres 2-13
3 Operation
31 Description of control elements 3-1
32 Inside of cab (overview) 3-2
33 Instrument panel, multifunctional lever and drive lever (overview) 3-4
34 Functional description: indicator lights 3-6
Indicator light check 3-6
Indicator lights and warning lights on the indicating instrument 3-6
35 Important notices before putting the machine into operation 3-9
Operating personnel 3-9
Running-in period of wheel loader 3-9
36 Checklist 3-10
Starting checklist 3-10
Operation checklist 3-11
Parking checklist 3-11
37 Cab 3-12
Safety instructions for prevention of contact with hazardous substances 3-12
Safety instructions regarding cab entrance and exit 3-12
Locking/unlocking the door 3-13
Securing an open door 3-14
Opening, closing and locking the right-hand window 3-15
38 Right-hand window emergency exit 3-16
Notice on emergency exit 3-16
Emergency exit 3-16
39 Seat 3-17
Important information 3-17
Seat adjustment: overview 3-17
Weight adjustment 3-18
Horizontal adjustment 3-18
Backrest adjustment 3-18
BA 34900/01 * 20 * BA_34900_01_V2_enIVZfm I-3
Table of Contents
310 Operator's seat with air suspension 3-19
Important information 3-19
Weight adjustment (air suspension) 3-19
Horizontal adjustment (air suspension) 3-20
Backrest adjustment (air suspension) 3-20
Backrest extension (air suspension) 3-21
Lumbar support (option) 3-21
311 Seat belt (lap belt) 3-22
Specific notices on the seat belt 3-22
Fastening the seat belt 3-22
Unfastening the seat belt 3-23
Longer/shorter lap belt adjustment 3-23
312 Fire extinguisher (option) 3-23
Fire extinguisher operation 3-23
313 Engine cover lock 3-24
Opening/closing the engine cover 3-24
314 Battery master switch 3-24
Battery master switch operation 3-24
315 Key-based drive interlock (option) 3-25
Key-based drive interlock: scope of delivery 3-25
Coding ("training") new ignition keys 3-25
Enabling (locking) the drive interlock 3-26
Disabling (releasing) the drive interlock 3-26
Deleting coded keys 3-26
Safety functions 3-26
316 Drive interlock with code input (option) 3-27
Keyboard for entering codes (overview) 3-27
Entering/changing the personal code 3-28
Enabling the drive interlock 3-28
Disabling the drive interlock 3-29
Putting the drive interlock out of operation 3-29
Putting the drive interlock back into operation again 3-30
Interruption of drive interlock power 3-30
Drive interlock maintenance 3-30
317 Hydraulic oil preheating (option) 3-31
Important information on putting the preheating into operation 3-31
Putting the preheating into operation 3-31
318 Fuel preheater (option) 3-31
Notice on the fuel preheater 3-31
319 Putting the diesel engine into operation 3-32
Important safety instructions 3-32
Notices on preparing to start the engine 3-32
Preparing to start the engine 3-33
Starting the engine 3-34
Avoiding running the engine under low-load conditions 3-35
Stopping the engine 3-35
320 External starting aid (battery) 3-36
Safety instructions regarding external starting aids 3-36
Providing external starting aid 3-36
I-4 BA 34900/01 * 20 * BA_34900_01_V2_enIVZfm
Table of Contents
321 Initial steps for putting the machine into operation 3-37
Important notices on putting the machine into operation 3-37
Preparing for driving on public roads 3-38
Functional check of all control elements 3-39
Transport position of bucket, multipurpose bucket 3-39
Transport position of pallet forks 3-39
Locking the loader unit and 3rd control circuit control levers 3-40
Mechanical locking of loader unit control lever (option) 3-40
Locking the electrically actuated 3rd control circuit (option) 3-41
Locking the lift and tilt rams (option for Italian version) 3-41
322 Checking and synchronizing the steering system 3-42
Important safety instructions 3-42
Check the steering system for correct operation 3-42
Wheel synchronization 3-42
323 Changing from 4 wheel to front axle steering (option) 3-43
Safety information on changing steering mode 3-43
Changing to front axle steering or 4 wheel steering 3-43
324 Accelerator pedal 3-43
Speed control with the accelerator pedal 3-43
325 Manual throttle (option) 3-44
Engine speed regulation with manual throttle 3-44
326 Low-speed control (option) 3-45
Operation of low-speed control 3-45
327 Brake/inching pedal 3-46
Important notices on brake/inching pedal actuation 3-46
Inching with the brake/inching pedal 3-46
Braking with the brake/inching pedal 3-46
328 Parking brake 3-47
Notice on the parking brake 3-47
Applying the parking brake 3-47
329 Starting machine travel 3-48
Important notice 3-48
Selecting speed range and driving direction 3-48
330 Differential lock (model 349-00 ) 3-49
Important notice 3-49
Switching the differential lock ON or OFF 3-49
331 Load stabilizer (option) 3-50
Notice on the load stabilizer function 3-50
Switching the load stabilizer ON and OFF 3-50
332 Backup warning system (option) 3-51
Instructions regarding the backup warning system 3-51
333 Electric connection – front socket (option) 3-51
Putting the front socket into operation 3-51
334 Rear window heating (option) 3-51
335 Machine lights 3-52
Machine lights operation 3-52
Working lights operation 3-53
Interior light operation 3-53
336 Signalling system 3-54
Turn indicator operation 3-54
Hazard warning system operation 3-54
337 Rotating beacon (option) 3-55
Rotating beacon operation 3-55
338 Cab heating and ventilation 3-55
Heating and ventilation system operation 3-55
339 Auxiliary heating (option) 3-56
Operating and setting the auxiliary heating 3-56
BA 34900/01 * 20 * BA_34900_01_V2_enIVZfm I-5
Table of Contents
340 Air conditioning (option) 3-57
Important notice 3-57
Air conditioning operation 3-57
341 Front/rear wipers 3-58
Window wiper operation 3-58
342 Loader unit control lever (overview) 3-59
Operating the control lever for the lift and tilt rams, and for the additional control circuit (option) 3-59
343 Operating and securing the 3rd control circuit 3-60
Locking and unlocking attachments (standard mechanical actuation) 3-60
Locking and unlocking attachments (optional electrical actuation) 3-60
344 Pressure release on quick couplers (3rd control circuit) 3-61
Releasing the pressure on the hydraulic quick couplers 3-61
345 Emergency lowering of loader unit in case of diesel engine breakdown 3-62
Lowering or raising 3-62
346 Equipping the machine with a standard bucket 3-63
Field of application and use of bucket 3-63
Checking the mounting bore of the attachment 3-63
Picking up a standard bucket 3-64
Locking a standard bucket 3-65
Removing a standard bucket 3-65
347 Working with a bucket 3-66
Safety instructions on work operation 3-66
Important safety instructions for transporting material in a full bucket 3-67
Loading loose material 3-68
Loading if the material is hard to penetrate 3-68
Removing material/digging in soft soil 3-69
Removing material/digging in hard soil 3-70
Grading 3-70
Loading heaped material (non-compacted material) 3-70
Loading heaped material (compacted material) 3-71
Practical hints for loading vehicles 3-71
Freeing the machine 3-71
348 Fitting a multipurpose bucket 3-72
Fields of application for multipurpose bucket 3-72
Installing a multipurpose bucket 3-72
Connecting hydraulic lines to the wheel loader 3-73
Checking the function of the multipurpose bucket 3-74
Setting down the multipurpose bucket 3-75
349 Working with the multipurpose bucket 3-76
Safety instructions on work operation 3-76
Important safety instructions for transporting material in a full multipurpose bucket 3-77
Grading and scraping 3-78
Removing and spreading material in thin layers 3-78
Pulling out material from slopes 3-79
Moving material with longer reach 3-79
Picking up remaining material completely 3-79
Grabbing bulky material 3-80
Pulling out and setting posts 3-80
Backfilling round gravel and precise unloading 3-81
Unloading from the bottom of the bucket for increased tilt heights 3-81
350 Fitting pallet forks 3-82
Fields of application for pallet forks 3-82
Picking up pallet forks with the quickhitch 3-82
Removing the pallet forks from the quickhitch 3-83
Driving on public roads with pallet forks 3-83
Pallet forks with foldable fork arms (option) 3-83
I-6 BA 34900/01 * 20 * BA_34900_01_V2_enIVZfm
Table of Contents
351 Working with the pallet forks 3-84
Safety instructions regarding the use of the pallet forks 3-84
Brief instructions for fork arms 3-86
Load diagram for pallet forks 3-87
Adjusting the fork arms of the pallet forks 3-88
Picking up loads with the pallet forks 3-89
Transporting loads with the pallet forks 3-90
352 Continuous operation of 3rd control circuit (option) 3-91
Important notice on continuous operation of the 3rd control circuit 3-91
Continuous operation (3rd control circuit with mechanical actuation) 3-91
Continuous operation (3rd control circuit with electrical actuation) 3-92
353 Front/rear hydraulic additional control circuits (option) 3-93
Using the additional control circuits 3-93
Connections for additional control circuits (overview) 3-94
"plus powerflow" operation (switchable pressure relief valve) (under preparation) 3-95
Safety instruction regarding the additional front control circuits 3-96
Continuous operation of front additional control circuits 3-97
Continuous operation of additional functions of additional front control circuit 3-98
Operation of additional control circuit (tipping trailer connection 3-99
354 "Hose burst valve" safety feature (option) 3-100
Important notice on the hose burst valve 3-100
Switching off the hose burst valve 3-100
355 Trailer couplings (option) 3-101
Important notice on trailer operation 3-101
Description of automatic trailer coupling 3-102
Coupling the trailer onto the machine 3-102
Uncoupling the trailer from the machine 3-103
Ball coupling (option) 3-103
356 Towing the machine 3-104
Safety instructions for towing away 3-104
Towing gear (towing eye hooks) 3-104
Getting ready for towing 3-105
Towing the machine 3-106
Once towing is over 3-106
357 Crane handling the machine 3-107
Safety instructions regarding crane handling 3-107
Crane handling the machine 3-108
358 Loading and transporting the machine on a transport vehicle 3-109
Safety instructions regarding loading on a transport vehicle 3-109
Loading and tying down the machine 3-110
359 Decommissioning the machine for longer time 3-111
Preserving the piston rods of the hydraulic rams 3-111
Preserving the diesel engine 3-111
360 Final decommissioning of machine 3-112
Notice on decommissioning 3-112
Preparing disposal 3-112
Disposal 3-112
4 Troubleshooting
41 Diesel engine malfunctions 4-1
42 Malfunctions in the air conditioning system (option) 4-4
5 Maintenance
51 Important information on maintenance and service work 5-1
Important information for maintenance personnel 5-1
Important safety instructions on maintenance work 5-2
BA 34900/01 * 20 * BA_34900_01_V2_enIVZfm I-7
Table of Contents
52 Safety prop for loader unit (option for Italian version) 5-3
Installing the safety prop 5-3
53 Fuel system 5-4
Safety instructions for refuelling 5-4
Diesel fuel specification 5-4
Stationary fuel pumps 5-5
Refuelling 5-5
Bleeding the fuel system 5-6
Checking/cleaning the additional fuel filter (water separator, option) 5-6
54 Engine lubrication system 5-7
Safety instructions regarding inspections and maintenance work on the engine 5-7
Checking the engine oil level 5-7
Adding engine oil 5-8
55 Washer system tank 5-8
Refilling washer fluid 5-8
56 Engine and hydraulics cooling system 5-9
Safety instructions regarding cooling system maintenance 5-9
Notices on inspection and cleaning work on the cooling system 5-9
Temperature gauge: diesel engine coolant 5-10
Checking the coolant level 5-10
Adding coolant 5-11
Cleaning the radiator fins 5-12
57 Air filter 5-13
Checking the air filter for dirt 5-13
Replacing the air filter cartridge 5-14
58 V-belt 5-15
Checking/retightening the V-belt on the fan wheel 5-15
Checking/retightening the V-belt (compressor of optional air conditioning) 5-16
59 Hydraulic system 5-17
Safety instructions regarding maintenance of the hydraulic system 5-17
Monitoring the hydraulic oil and the return filter 5-18
Checking the hydraulic oil level 5-19
Adding hydraulic oil 5-20
Important notices on the use of biodegradable oil 5-21
510 Checking hydraulic pressure lines 5-22
Safety instructions regarding checks 5-22
511 Lubrication work on the axles 5-23
Lubricating the rear axle 5-23
Lubricating the front and rear axle planetary drive bearings 5-23
512 Lubrication work on the loader unit 5-24
Safety instructions regarding lubrication work on the loader unit 5-24
Lubricating the loader unit, lift, tilt and lock rams 5-24
513 Lubricating with the central lubrication system (option) 5-25
Functional description of the central lubrication system 5-25
Lubrication time control 5-25
Repair work 5-25
Setting the lubrication and break times 5-26
Filling the central lubrication system 5-26
514 Maintenance of the braking system 5-27
Specific safety instructions regarding the brake system 5-27
Checking/adding brake fluid 5-27
515 Tyres 5-28
Daily tyre checks 5-28
Wheel change 5-29
516 Heating and ventilation system maintenance 5-30
Important notice on the heating system 5-30
Cleaning the dust filter of the heating system 5-30
I-8 BA 34900/01 * 20 * BA_34900_01_V2_enIVZfm
Table of Contents
517 Air conditioning (option): maintenance 5-31
Safety instructions regarding the air conditioning 5-31
Daily functional and visual checks of the air conditioning 5-31
Cleaning the heat exchanger (condenser) 5-32
518 Electrical system 5-33
Important notice 5-33
Safety instructions regarding the electrical system and the battery 5-33
Checking the battery 5-34
Replacing the battery 5-35
Inspection and maintenance work on the electrical system at regular intervals 5-35
Checking the alternator 5-36
Checking/replacing fuses on the board 5-36
Checking/replacing fuses of the main fuse box 5-37
519 Cleaning and maintenance work 5-38
Important safety instructions regarding cleaning work 5-38
Cleaning inside the cab 5-39
Cleaning the pedals 5-39
Cleaning the door locks and arresters 5-40
Cleaning the seat belt 5-40
Cleaning the exterior of the machine 5-40
Cleaning the engine compartment 5-41
Checking screw connections 5-41
Checking pivots and hinges 5-41
520 Maintenance of attachments and of the work equipment 5-41
521 Maintenance of the automatic trailer coupling (option) 5-42
Cleaning and lubricating the trailer coupling 5-42
Check the trailer coupling for wear 5-42
522 Maintenance work "Aggressive Media" (option) 5-43
Anticorrosion protection applied in the factory 5-43
Components coated with anticorrosive wax 5-43
Measures for maintaining anticorrosive protection 5-44
Applying the protective anticorrosion coating 5-45
Treatment of oxidized surfaces 5-45
523 Fluids and lubricants 5-47
524 Explanation of symbols on the maintenance label 5-48
525 Maintenance label 5-49
526 Maintenance plan 5-50
Important notice on the maintenance plan 5-50
Maintenance plan overview 5-50
6 Specifications
61 Important notice 6-1
62 Models and trade names (overview) 6-1
63 Frame 6-1
64 Engine 6-1
65 Drive 6-2
Variable displacement pump 6-2
66 Front/rear axles 6-3
Front axle 6-3
Rear axle 6-3
67 Brakes 6-4
Service brake 6-4
Parking brake 6-4
BA 34900/01 * 20 * BA_34900_01_V2_enIVZfm I-9
Table of Contents
68 Steering system 6-4
69 Work hydraulics 6-5
Hydraulic pump, control valve, hydraulic oil tank 6-5
Protection: lift, tilt and quickhitch rams 6-5
Lift and tilt ram speed 6-6
Usable consumer pressure at 3rd control circuit 6-6
Usable consumer pressure at additional control circuit (option) 6-6
610 Electrical system 6-7
Electric units/light bulbs 6-7
Checking/replacing the main fuse box and the switching relays 6-7
Fuse assignment 6-8
Switching relay assignment on board 6-9
Switching relay assignment on bracket 6-9
611 Tyres 6-10
Tyres 6-10
612 Weights 6-10
613 Noise levels 6-11
Noise levels (self-propelled work machines) 6-11
Noise levels (agricultural and forestry tractors) (option) 6-11
614 Coolant compound table 6-12
615 Vibrations, oscillation and acceleration value 6-12
616 DIN/EN – American measures 6-13
617 Tightening torques 6-14
General tightening torques 6-14
Specific tightening torques 6-14
618 Payloads and capacities 6-15
Loader unit with bucket 6-15
Loader unit with pallet forks 6-15
Trailer weight/drawbar load: trailer couplings (option) 6-16
619 Dimensions with bucket 6-17
620 Dimensions with pallet forks 6-18
Index
Index
A
Accelerator pedal 3-43
Adding coolant 5-11
Additional control circuits (option)
Additional functions 3-98
Front quick couplers 3-97
Tipping trailer connection 3-99
Air conditioning (option) 3-57
Air filter 5-13
Attachments
Overview 1-13
Auxiliary heating (option) 3-56
B
Backup warning system (option) 3-51
Battery master switch 3-24
Biodegradable oil 5-21
Brake/inching pedal 3-46
Braking system 5-27
Brake fluid 5-27
Safety instructions 5-27
Brief instructions for fork arms 3-86
C
Cab
Door 3-12
Right-hand window 3-15
Side window emergency exit 3-16
Cab emergency exit 3-16
Cab overview 3-2
Central lubrication system (option) 5-25
Changing wheels 5-29
Checking the alternator 5-36
Checking the battery (safety instruction) 5-34
Checking the mounting bore of the attachment 3-63
Checking/replacing fuses
Board 5-36
Main fuse box 5-37
Continuous operation of electrical 3rd control circuit (option) 3-92
Continuous operation of mechanical 3rd control
circuit (option) 3-91
D
Decommissioning the machine
Final 3-112
Temporarily 3-111
Differential lock 3-49
Disposal of machine 3-112
Drive interlock with code 3-27
Driving licence 1-9
Driving on public roads
With a bucket 3-63
With pallet forks (foldable fork arms) 3-83
With the multipurpose bucket 3-72
With the pallet forks 3-83
E
EC approval number, agriculture and forestry
certification (option) 1-16
Emergency lowering of the loader unit with the
engine stopped 3-62
Engine
Adding engine oil 5-8
Avoiding running the engine under low-load conditions 3-35
Check the engine oil 5-7
Preparing to start the engine 3-32, 3-33
Start 3-34
Stopping 3-35
Engine cover lock 3-24
External starting aid 3-36
F
Fields of application
Bucket 3-63
Multipurpose bucket 3-72
Pallet forks 3-82
Fluids and lubricants 5-47
Front axle steering (option) 3-43
Front socket (option) 3-51
Front/rear wipers 3-58
Fuel preheater (option) 3-31
Fuel system
Bleeding 5-6
Checking/cleaning the water separator 5-6
Refuelling 5-5
Functional check of all control elements 3-39
Fuses 6-8
H
Hazard warning system 3-54
Heating system dust filter 5-30
Hose burst valve (option) 3-100
Hydraulic connections
Front additional control circuit 3-98
Multipurpose bucket 3-73
Tipping trailer connection 3-99
I
Indicator lights and warning lights 3-6
Installing
Multipurpose bucket 3-72
Pallet forks 3-82
Standard bucket 3-63
Instrument panel overview 3-4
Interior light 3-53
K
Key-based drive interlock (option) 3-25
Index
S-2 BA 34900/01 * 20 * BA_34900_01_V2_enSIXfm
Index
L
Labels
in the engine compartment 1-25
Inside the cab 1-21
On the outside of the machine 1-19
Type labels and component numbers 1-15
Light system 3-52
Load diagram 3-87
Load stabilizer (option) 3-50
Loader unit operation 3-59
Locking the control levers 3-40
Locking the electrically actuated 3rd control circuit (option) 3-41
Locking the lift and tilt rams (Italian version) 3-41
Lowering the loader unit with the engine stopped 3-62
Lubrication work
Axles 5-23
Loader unit 5-24
With the central lubrication system (option) 5-25
M
Machine
Brief description 1-6
Crane handling 3-107
Fields of application 1-12
Loading and transporting 3-109
Machine overview 1-5
Notice on use 1-12
Regulations on use 1-9
Machine licensing 1-6
Machine lights 3-52
Maintenance
Adding hydraulic oil 5-20
Air conditioning 5-31
Air filter cartridge 5-14
Automatic trailer coupling (option) 5-42
Braking system 5-27
Checking the engine oil level 5-7
Checking the hydraulic oil level 5-19
Electrical system 5-33
Engine and hydraulics cooling system 5-9
Engine lubrication system 5-7
Fluids and lubricants 5-47
Fuel system 5-4
General cleaning and maintenance work 5-38
Heating and ventilation system 5-30
Hydraulic pressure lines 5-22
Hydraulic system 5-17
Maintenance of attachments 5-41
Maintenance work if the machine is used in a
saline environment 5-43
Pivots and hinges 5-41
Screw connections 5-41
Tyre care 5-28
V-belt 5-15
Maintenance plan 5-50
Malfunctions
Air conditioning (option) 4-4
Diesel engine 4-1
Models and trade name of the machine 1-6
N
Notice on machine safety 1-3
Maintenance, repair work, spare parts 1-4
Notices before putting the machine into operation 3-9
Notices on the seat belt 3-22
O
Oil preheater (option) 3-31
Operating personnel 3-9
Operating temperature range 1-7
Operation of 3rd control circuit 3-60
Operator's Manual
Explanation of abbreviations and symbols 1-2
Explanation of safety symbols 1-1
Notice on this Operator's Manual 1-1
Overview of additional control circuit connections (option) 3-94
Overview of machine outside view 1-5
P
Pallet forks 3-84
Adjusting the fork arms 3-88
Parking brake 3-47
Payloads
Bucket 6-15
Pallet forks 6-15
Trailer coupling (option) 6-16
Pressure relief valve "plus powerflow" (option) 3-95
Putting the machine into operation
Driving on public roads 3-38
Preparing the machine 3-37
BA 34900/01 * 20 * BA_34900_01_V2_enSIXfm S-3
Index
R
Rear window heating (option) 3-51
Regulations
Documents 1-11
Licence, identification 1-10
Machine inspections, regulations for accident prevention 1-10
On-board equipment 1-11
Warning identification 1-11
Regulations/use 1-9
Relays 6-9
Releasing the pressure on the quick couplers 3-61
Removing
Standard bucket from the quickhitch 3-65
The multipurpose bucket from the quickhitch 3-75
The pallet forks from the quickhitch 3-83
Replacing the battery 5-35
Rotating beacon (option) 3-55
Running-in period 3-9
S
Safety instruction
Accessing/exiting the cab 3-12
Changing steering mode 3-43
Cleaning 5-38
Crane handling 3-107
External starting aid 3-36
Loading on a transport vehicle 3-109
Maintenance 2-10
Towing the machine 3-104
Transporting with a full bucket 3-67
Transporting with a full multipurpose bucket 3-77
Work operation (pallet forks) 3-84
Work operation with a bucket 3-66
Working with the multipurpose bucket 3-76
Safety instructions 2-1
Additional front control circuits (option) 3-96
Applications with lifting gear 2-8
Battery 2-13
Electric energy 2-12
Gas, dust, steam, smoke 2-12
General conduct 2-3
Hydraulic system 2-13
Identification of warnings and dangers 2-1
Mechanical locking of control lever
(joystick/loader unit) (option) 3-40
Noise 2-13
Oil, grease and other chemical substances 2-13
Operation 2-6
Protective ROPS and FOPS structures 2-12
Selection of personnel and basic responsibilities 2-5
Trailers and attachments 2-9
Transporting, towing, loading 2-9
Tyres 2-13
Use and exemption from liability 2-2
Warning of special hazards 2-12
Seat 3-17
Air suspension (option) 3-19
Backrest adjustment 3-18
Backrest adjustment (air suspension option) 3-20
Backrest extension (air suspension option) 3-21
Horizontal adjustment 3-18
Horizontal adjustment (air suspension option) 3-20
Lumbar support (air suspension option) 3-21
Seat adjustment (overview) 3-17
Seat belt 3-22
Weight adjustment 3-18
Weight adjustment (air suspension) 3-19
Seat belt 3-22
Selecting speed range and driving direction 3-48
Serial number 1-15
Service brake 3-46
Signalling system 3-54
Spare parts 1-4
Specifications 6-1
Additional control circuit (option) 6-6
Axles 6-3
Brakes 6-4
Coolant compound table 6-12
Dimensions with bucket 6-17
Dimensions with pallet forks 6-18
Electric units 6-7
Electrical system 6-7
Engine 6-1
Frame 6-1
Fuses 6-8
Light bulbs 6-7
Main fuse box with switching relays 6-7
Metric/American measures 6-13
Noise levels 6-11
Steering system 6-4
Switching relays 6-9
Tightening torques 6-14
Tyres 6-10
Vibration values 6-12
Weights 6-10
Work hydraulics 6-5
S-4 BA 34900/01 * 20 * BA_34900_01_V2_enSIXfm
Index
Steering system
Changing to front axle steering or 4 wheel
steering (option) 3-43
Checking 3-42
Wheel synchronization 3-42
T
Trailer couplings (option) 3-101
Automatic trailer coupling 3-102
Ball coupling 3-103
Transport position
Bucket, multipurpose bucket, pallet forks 3-39
Transporting loads with the pallet forks 3-90
Tyres 5-28, 6-10
W
Warranty and liability 1-3
Washer system 3-58
Tank 5-8
Working
With standard bucket 3-66
With the multipurpose bucket 3-76
With the pallet forks 3-84
Working lights
VIDEO PREVIEW OF THE MANUAL:
PLEASE NOTE:
This is the same manual used by the DEALERSHIPS to SERVICE your vehicle.
The manual can be all yours – Once payment is complete, you will be taken to the download page from where you can download the manual. All in 2-5 minutes time!!
Need any other service / repair / parts manual, please feel free to contact us at heydownloadss @gmail.com . We may surprise you with a nice offer
S.M