VOLVO Engine TAD 1640 & 1641 & 1642 GE TAD 1641 & 1642 VE Workshop Service Repair Manual – PDF Download
COVERS: TAD1640GE, TAD1641GE, TAD1642GE, TAD1641VE, TAD1642VE
IMAGE PREVIEW: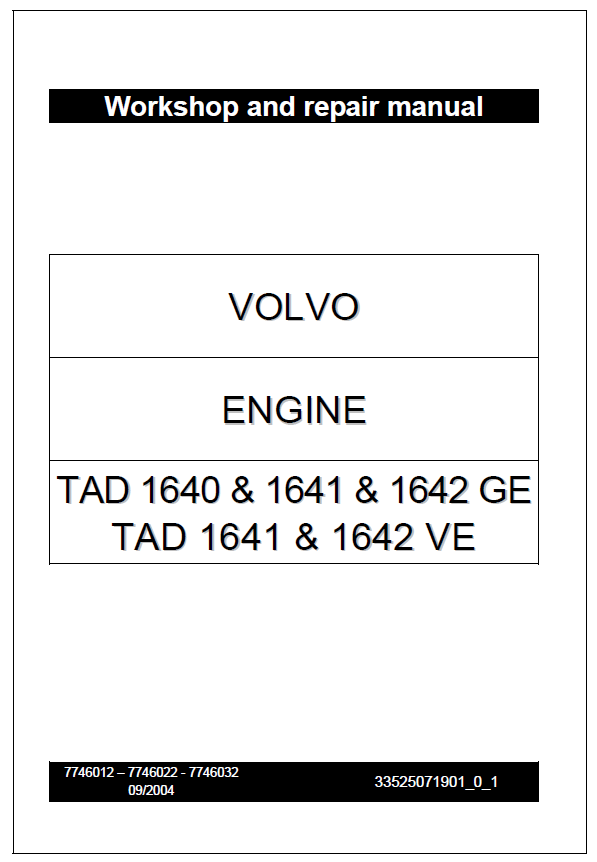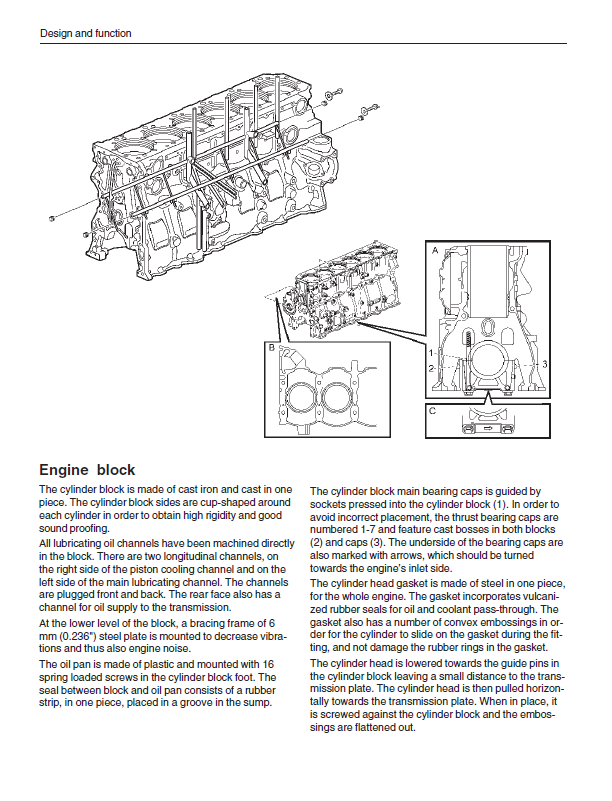 VIDEO PREVIEW:
DESCRIPTION:
This workshop manual contains technical data, descriptions and repair instructions for the Volvo Penta products or product versions noted in the table of contents. Check that you have the correct Workshop Manual for your engine.
About this Workshop Manual
This workshop manual contains engine descriptions and repair instructions for the standard versions of TAD1640GE, TAD1641GE, TAD1642GE, TAD1641VE and TAD1642VE engines. The workshop manual, Technical data section, contains specifications and tightening torques for the standard versions of TAD1640GE, TAD1641GE, TAD1642GE, TAD1641VE and TAD1642VE engines. This document contains all the references from the Workshop manual. The Engine Designation and Engine Numbers can be found on the product plate. Please always include both the engine designation and the engine number in all correspondence. The Workshop Manual is produced primarily for the use of Volvo Penta workshops and qualified Volvo service technicians.
For this reason the manual presupposes a certain basic knowledge and that the user can carry out the mechanical/electrical work described to a general standard of engineering competence. Volvo Penta products are under a continual process of development and we therefore reserve all rights regarding changes and modifications. All the information in this manual is based on product specifications available at the time the book was published. Any material changes introduced into the product or service methods after this date are notified by means of Service Bulletins. Spare parts Spare parts for the electrical and fuel systems are subject to various national safety requirements. Volvo Penta Original Spares comply with these requirements. No damage whatever, occasioned by use of non-original Volvo Penta spares for the product, will be compensated by the warranty offered by Volvo Penta.
File Format: PDF.
Language: English.
Printable: Yes.
Requirement: Adobe Reader.
Compatibility: Windows/ Mac and Linux OS.
PLEASE NOTE:
This is the SAME MANUAL used by the dealerships to diagnose your vehicle
No waiting for couriers / posts as this is a PDF manual and you can download it within 2 minutes time once you make the payment.
Your payment is all safe and the delivery of the manual is INSTANT – You will be taken to the DOWNLOAD PAGE.